Breaking fresh ground
Slowly the shopping basket of many Romanians is filling
with fresh food and vegetables, wine, chocolate and meat: is the middle class finally arriving? 'The Diplomat - Bucharest' analyses the market in fast moving consumer goods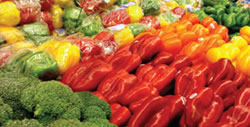 Most consumers are still looking along the shelves of their supermarket for the lowest price, while Romania is also seeing the emergence of a professional class demanding premium products.
But of most interest to retailers and producers is the middle ground.
Lately in the fast moving goods market – in this respect, any product a family buys from a store weekly - Romania has seen an increase in the consumption of meat, fresh produce, chocolate, beer and wine.
There is also the beginnings of an interest in convenience food.
This is an indication that tastes are moving towards greater alignment with the west and also that the economic health of the country is improving. Interestingly, it is both a reaction to faster living and a move towards healthier eating.
It could mean that the myth of the emerging middle class, which has haunted Romania for so long, may finally be appearing.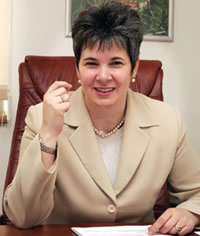 "Consumers are going more and more for quality," says Orkla Romania's general manager Aliz Kosza. "In the last two years they are willing to pay added value for healthy products."
They are also more open to experiment.
"Consumers are open to try new things and are demanding," says Doina Cavache, corporate affairs manager at Kraft Foods Romania. "The latest trends are towards the highest quality products, as consumers are gaining a better understanding of what quality can offer."
The boom in the next few years will be in fresh produce, according to cash and carry store Metro's general manager Francois Oliver.
"Consumers have switched their habits and Romanians have orientated toward healthy food and fresh food, especially fish," he adds.
Shopping habits
There are five main retail outlets in Romania, including cash & carry, dominated by Metro and Selgros, hypermarkets such as Carrefour and Cora, supermarkets such as Kaufland and discount stores.
But there is also a dynamic network of independent local shops and kiosks, which will continue to be powerful as 45 per cent of Romanians remain living in the countryside and villages.
Pia Krauss, marketing manager for Selgros, has seen important increases in sales of fresh produce, cosmetics, beer and non-alcoholic beverages. There has also been an increase in the sale of frozen products, fruits, vegetables and semi-prepared products. In discount stores, Rainer Exel general manager of chain MiniMAX discount, has seen a rise in meat and non-food purchases.
Metro's Oliver says that Romanian brands still dominate the stores. In general, international brands are here, but do not have the volume and range of the west. They are often premium in Romania, where they would be FMCG in Germany or the UK, and are consequently, if imported, more expensive in real terms.
The EU will bring greater competition but also, as the market grows, the volumes of products from abroad will increase: this means their price is likely to come down and could compete with Romanian brands.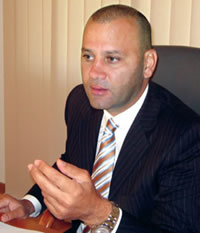 "We expect in 2007 there will be an influx of products, but a strong brand will stand its ground," says James Kodor, general manager of distribution firm Whiteland, which also produces ketchup and sauces under the Don Gustosso brand. "Price is always important but not as much as it used to be. People are looking for better quality. Are people loyal to brands or to price? In the urban market where we operate, I think brand is important."
But Romanian consumers may stay loyal to some trusted brands.
"We have to adapt locally and keep local traditions to maintain our market position and have further growth," says Kosza.
She believes sticking with local brands that have no intention to go global could be key to keeping customers, not introducing a new portfolio of products from abroad. "There is a saying: think global act local," says Kosza. "I think that we even don't think too global, we are very, very local. This is one of the keys of Orkla's success."
Part of this is a reaction to consumer psychology.
During a big change for a country such as EU integration, offering continuity in a time of upheaval is a good marketing strategy.
Local VS global
The FMCG market tends to be dominated by global players, such as Nestle, Unilever and Procter & Gamble: all are present in Romania. Their strategy is often to buy up an existing local product and adopt it into their 'brand family', which will include international products.
Meanwhile, Romania still has some strong independent FMCG firms, but experts predict that around half of Romanian food producers may disappear after EU integration.
Food safety standards are the main problem these companies face. The investment needed for this is huge. For even the most up-date factory this can move into millions of Euro. This is impossible for a small producer to sustain. Some may look for a bank loan or a venture capitalist, others will need to sell out.
According to Robert Luke, managing director of private equity fund GED Capital Development, the opportunities left for global players to buy up local FMCGs are "fewer and fewer".
"There are one or two brands which still have potential, such as moisturising cream Gerovital," says Luke. "A company with brands, or portfolio of brands in one business area, which could be interesting for international players is European Drinks."
But this Oradea-based producer of food and drink is destined for a massive expansion strategy: the European Bank of Reconstruction and Development is planning to lend the firm 250 million Euro, in what could secure the firm's short-term future as a powerful Romanian company.
"La Dorna could be also an attractive purchase for one of the large multinational dairy products companies," adds Luke. "There are two companies in the meat segment which have developed their brands and would be of interest to purchase: Cris Tim and Angst. In wine there are brands such as Murfatlar or Jidvei."
STEADY GROWTH
Facts and forecasts from
the Economist Intelligence Unit
Household consumption per head
2005: 3,120 USD
2006: 3,360 USD
2007: 3,580 USD
Consumer Expenditure
in USD Millions:
Food, beverage and tobacco
2005: 28,134
2006: 29,580
2007: 30,951
Cosmetics and toiletries
2006: 604 USD million
2007: 643 USD million
Retail sales growth predicted:
2005: 29.4 per cent
2006: 13.7 per cent
2007: 11.9 per cent
Industrial food products are seeing great demand, says Kosza. These products are sold on to other food companies who make prepared or semi-prepared foods. This is a reflection of changing consumer attitudes from home-baking to convenience food. From the pattern of development in Poland, Orkla predicts there will be a growth in pre-prepared foods in Romania.
"Consumers are switching more from housewife-status to busy-woman status," says Kosza.
Wine: floodgates ready to open
Romanians are drinking more wine.
There is no accurate data for the exact quantity of booze they are now consuming, but insiders believe the market is growing by about five to ten per cent a year. It is now worth about 350 million Euro. Because about 90 per cent of wine in the shops is domestically grown, this is a market where Europe could threaten local producers.
The local wine is dominated by four brands: Murfatlar, Vincon, Jidvei and Cotnari, who account for about 70 per cent of the wine purchased, while the remaining 30 per cent are from smaller growers.
"A lot of wine is of low quality," says Ana Rodica Capatina, general manager of Carl Reh Winery. "[Such producers] will disappear for two reasons, because they do not respect the rules and competition will come from abroad."
A growing market and a more liberated trade system will mean winegrowers from the big three countries - Spain, Italy and France - will be ready to offload some of their surplus stock on Romanian consumers. If they employ a compelling market strategy, this could be a tough call for local producers.
Chocolate: solid growth
Chocolate is witnessing a continuous growth in consumer value. In chocolate, around 90 per cent of Kraft's Romanian portfolio is made locally and occupies brands across the demographic spectrum. Areas where Kraft is selling most of its highest quality products, such Milka and Toblerone, are the more developed areas economically where consumer purchasing power is higher, such as Bucharest, Banat and Transylvania. "Our mainstream and value products, such as Africana, Nova Brasilia, Poiana and Silvana, are registering good sales in eastern and southern area," says Doina Cavache, corporate affairs manager at Kraft Foods, "where the income per capita is lower due to the economical environment less developed."
Meat: spicing it up
Although the meat revolution has yet to storm Romania and the consumption per capita is still low compared to western Europe, sausages and cured meats are gaining popularity.
Meat consumers in Romania prefer a strong taste and spicy food.
The south of the country prefers to eat salami, the east prefers sausages and the Banat region, bacon. But in the Muntenia region of the south, there is an increase in purchase of premium products, according to Campofrio.
"The sausage market increased by ten per cent and a lot on segments at either end of the scale: bulk products and cured products," says Ovidiu Wencz, general manager of Campofrio Romania.
Most of the local producers are still Romanian. Exceptions include Campofrio and Reinert. About 80 per cent of products in the sausage market are locally made. While bulk is locally made, the ratio of domestic to import in cured meats is about 50:50.
"There is a high demand for meat in Romania," says Kodor. "Meat is different from cheese, where the market is fragmented. There are a few big meat players and a lot of small producers. There is a lot of competition on the meat market."
Romanian firm Cris Tim is tipped by many analysts as one of the most powerful and successful players on the market. "We should not underestimate the power of Romanian producers," says Wencz. "For the moment there aren't any signals the international producers are coming. Who will come now will have to invest a lot to gain what Campofrio, Cris Tim or Angst gained in the last years. But they will come."
US firm Sara Lee could enter this segment, while Smithfield is committing over 500 million Euro to pig production and could enter the consumer segment. There are also German, Spanish and Italian producers which have an eye on the local market.
Meanwhile, pate is Orkla's most dynamic category. Its growth is between 20 and 25 per cent per year.
Margarine: slipping up and down
In margarine production, Orkla recently bought Dutch Royal Brinkers and is now volume market leaders in the margarine market as a whole.
"This has had a moderate growth," says Kosza. "In the past five years it has seen decreasing, stable and increasing trends."
The per capita consumption is still may behind other eastern European countries and a third of the Nordic countries.
Condiments and sauces: taste craze
The recent explosion in the number of food magazines and new recipes available to Romanians, means that many consumers are toying with new culinary experiences. This has seen an increase in the demand for condiments, where Fuchs has around 45 per cent of the herbs and spices market. "There is local competition which sells usually at lower prices with lower quality and less sophisticated spice compositions," says Jens Bachmeier general manager of the company. The local condiments market still has room to develop in terms of the variety of its products and tastes on offer. "There is still a lot of potential in consumer's habits," says Bachmeier. "There is still a lot to learn about the variety and possibility of using the spices. In condiments Romanians, compared to Germans, prefer food that is much more seasoned."
Before 1989 ketchup did not exist in the minds of the Romanian consumers. Global sauce brand Heinz is still a premium product on the market and is likely to remain so following EU integration. Orkla's Kosza says her company's market leading product Tomi still increases sales by 30 to 35 per cent per year. Meanwhile, tomato paste, mayonnaise and mustard are also still small markets, though their volumes are increasing. Among Romanian companies, there are hundreds of small producers in the mustard category and, experts believe, unless they can find a niche, their time is pretty much up.
Beer: foreign domination
Romanians like beer, but not as much as most of Europe. They have a Latin flirtation with the amber brew, rather than the indecent obsession of the Anglo-Saxons. The market is now dominated by foreign companies, such as Brau Union, InBev, SAB Miller and Tuborg, with only a few small local producers left. In the first six months the beer industry sold 7.8 million hectolitres, an increase of 16 per cent, according to Trade Association Brewers of Romania. Beer consumption is likely to increase for the year 2006 to 16 million hectolitres of beer and an average consumption of 74 litres per year. The average Romanian consumers around 1.3 litres of beer a week (about two and a half pints). This is less than half of the beer guzzlers in the Czech Republic.
Distribution:
local firms rule
The distribution of FMCGs is still dominated by local firms. "There are international logistics companies coming on the market," says James Kodor, general manager of Whiteland, distributor of FMCG brands Hochland and Meggle, Campina and Reinert. "But the local operators are strong. In the next three years the situation will change a little bit." Whiteland saw an increase of 47 per cent in 2005 in the sales of the products they distribute compared to 2004.
Dairy: milking opportunities
Growth of fresh dairy products is a dynamic sector, according to a GFK study published this year. This includes a 400 per cent rise in 2005 on 1998 for plain yoghurt and an almost tenfold increase for fruit yoghurts. Fresh dairy consumption in Romania is around five kg per capita compared to 15 kg per capita in Bulgaria and 33 kg per capita in France. "The entrance of Romania in the EU will bring new players on the market, new standards for quality and food safety, and new prices," says Jacques Ponty, general manager of Danone Romania and Bulgaria. Local production dominates the dairy sector with around 85 per cent of the market. James Kodor says that, from the dairy products Whiteland distributes, only ten per cent come from abroad. "If we talk about the big players which are in the dairy market in this sector, 65-70 per cent are foreign," he adds. In cheese, Romanians prefer hard cheese, melted cheese and feta. "The Romanians are now tasting other types of cheese which ten years ago they would not try," says Kodor. "But these are niche segments. Generally Romanians prefer stronger tastes in cheese and meat."