Making moves
With Daewoo Craiova now sold back to the Government, South Korea is still looking at bringing heavy industry and manufacture to Romania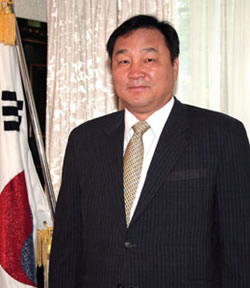 The Diplomat met the new Ambassador Choi Ihl-song as he was busy preparing the visit of the South Korean president to Romania.
The head of state will be joined by around 100-strong Korean business delegation scouting for new opportunities.
"Korean companies could come to Romania and invest in any field," says the Ambassador.
Electronics companies LG and Samsung have only representative offices and no factories in Romania.
"At this moment they are focusing on Hungary, Poland and the Czech Republic," says Ihl-song. "But as I was told by officials from Samsung and LG, they are studying the possibilities in Romania to set up a production unit. It is only at the discussion stage."
In car manufacture, Hyundai and Kia have decided to invest in the Czech Republic, Slovakia and Turkey.
"It will take time to find ways to invest in Romania," he says. "In my personal opinion, they have already decided to invest in other parts of Europe."


Ambassador
Choi Ihl-song
Age: 54 years old
Married with two children
Studies: Sociology at Seoul University, Royal Army School in UK and Moscow Diplomatic Academy
Previous Postings: general director for European Affairs Bureau of the Korean Ministry of Foreign Affairs, specialist for Russia and CIS countries
Foreign languages: English and Russian
Hobby: golf
Taking on his first post as Ambassador, Ihl-song brings 20 years of experience in eastern European politics, having previously worked as general director for European Affairs at the Korean Ministry of Foreign Affairs and as a specialist for Russia and the CIS countries.
An expert in Russian matters, he has also witnessed the benefits and drawbacks of transition in these countries.
"Sometimes people can enjoy the changes and I think that Romania is moving in the right direction from dictatorship to democracy," says the Ambassador.
In business, Daewoo Heavy Industries has large scale operations in Mangalia and Samsung Otelinox in Targoviste. Recently Korean firm Doosan Heavy Industries took over Romanian power generation equipment material producer Kvaerner IMGB and nuclear power firm KHNP plans to take part in the auction for the construction of reactors III and IV in nuclear power plant in Cernavoda.
Korean car producer Daewoo Craiova, which was not bought by a strategic investor when the Daewoo company went bankrupt six years ago, has just been sold back to the Romanian Government, which now has to ensure a resale.
"Daewoo Motors was not a failure in Romania," says Ihl-song, "but it was in Korea."
Trade is still low between South Korea and Romania, adds Joo-Young Yoon, general director of the Commercial Office of the Embassy of the Republic of Korea.
There also needs to be a push from the Romanian side to promote its best products overseas.
Korea roughly exports a total of almost 237.1 billion Euro of goods per year. Just under 316 million Euro is exported to Romania.
"This is trivial compared to the total volume export of South Korea, and we have to increase and enhance the trade volume between the two countries," Yoon says.
There is a surplus from the Korean side, with the Asian state exporting goods valued at 306 million Euro at end-2005, while Romania witnesses a sharp export deficit, with only 68.7 million Euro worth of exports to South Korea.
"Romania is now on the threshold of EU accession and it is only normal that both authorities and local companies are more attracted to doing trade with west European and Union member states," says Yoon. "If we look at it statistically, trade from EU countries increases worldwide by almost 8.7 per cent per year. Inter-trade between member states is bigger than with countries outside the Union, and Romania will be integrated in the EU."
Korean companies rush to look for foreign markets to meet the aim of supporting its economy through export. South Korea sells to Romania mainly automobile parts, passenger cars, SUVs and cell phones, which together account for more than 50 per cent of all exports to this country. "Romania lacks such products to export them." says Yoon. "But some types of raw materials are delivered to Korea, so this may increase. Romania has to learn to promote its market overseas."
Think drink
TRADE TALK
South Korea
Total FDI: 194.2 million Euro
For the year ending 2005
Total trade volume: about 374.7 million Euro
Total exports to Romania: 306 million Euro
Total imports from Romania: 68.6 million Euro
Top five exported goods: Car parts, cellular phones, cars (jeep and saloon types) and diesel engines for vessels.
Top five imported goods: Ferro-silico-manganese, spark ignition engines, power transmission shaft and gear, scrap iron and machine tools for cutting metal
250 South Koreans live in Romania
1,000 to 2,000 Romanians are working in South Korea, especially for Daewoo Shipyards
Top five Korean companies present in Romania: Samsung, Daewoo Mangalia, LG Electronics, Doosan (IMGB), Otelinox Targoviste
But there are exceptions. The commercial attache says Romanian-made wines such as 'La Cetate' entered the Korean market and now enjoy a fairly significant popularity.
Ambassador Ihl-song adds that Romania could have a good market for wine in Korea.
"I like white Romanian wine very much," says the Ambassador. "When I was appointed ambassador to Romania, the chairman of the Korean wine association called me and told me: 'You're going to Romania for testing the real Romanian white wine. Is a good opportunity to promote Romanian wine in Korea'."
Young adds that the Korean wine market is dominated by the Chilean wines, mainly because of a Free Trade Agreement (FTA) in place with Chile.
"There is a proposal now to conclude a FTA with the European Union as well, and then, when Romania becomes a member, the entire balance of trade will change, because all will be set by the European Commission," adds Young.
Car sale
Daewoo Craiova
Car manufacturer and car components producer
Total turnover in 2004: almost 220 million Euro
Total turnover in 2005: about 206 million Euro
Market share in the first five months of 2006: eight per cent
No of dealers: 78
No of employees: 3,800
Daewoo has been one of the biggest car makers since 1994 in Romania, but when the mother company Daewoo Motors was declared bankrupt in 2000, its car division was sold to General Motors (GM).
However, GM did not want to purchase the Daewoo Craiova factory. This has left the Korean owners and staff in a state of limbo.
The Romanian Ministry of Economy of Trade has now taken over 51 per cent of shares in Daewoo Craiova for 46.8 million Euro, which places the entire ownership of the company in Government hands.
Now it will re-privatise the Craiova factory and begin the negotiations with car manufacturers who have shown interest: GM, Ford, Renault-Nissan and Chinese car manufacturer Chery.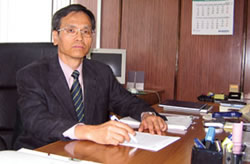 JS Chung, outgoing president of Daewoo Craiova, believes the plant in Craiova is prepared to undertake the production of any type of passenger car.
"The workforce is well prepared and very disciplined," Chung says. "Of course, various types of cars require various levels of investment, less investment would be required for cars in the same class as the ones already being made."
The Craiova factory of DWAR is still producing cars and parts. These include Daewoo models such as Nubira II, Matiz and Cielo for the Romanian market. Meanwhile, engines and gearboxes account for almost half of Daewoo Craiova's total turnover this year, according to Chung. The export sales for parts increased by 68 per cent and 36 per cent compared to the same period of 2005.
In the first five months of 2006, Daewoo registered a market share of eight per cent in cars sold in Romania, almost the same as December 2005.
"We planned for a slight increase in car sales, but prepared for a much bigger growth of export sales of parts," says Chung. "Engine export sales will be more than three folds higher, while gearbox export will increase by roughly 65 per cent. We expect a 40 per cent higher turnover compared to last year."
This includes a mini class – Matiz, family car – Cielo and a larger, more luxury family car brand – Nubira II. Daewoo Craiova has an unlimited license to build the cars and will build the components for a further ten years.
The assembly lines for the production of engines and gearboxes, however, are specific to the cars Daewoo is building in Craiova.
Chung thinks that the best option would be to continue the current product range of Daewoo models. Currently GM is building a Chevrolet with a similar model to Matiz.
"All other variants would waste, to a lower or higher degree, some of the plants' capabilities." he says.
Chung adds that there have been no lay-offs at the Craiova plant in the last five years. In fact, he says, the number of employees has increased to match the requirements of larger orders.
"In May only we employed almost 300 more workers, mainly for engine and gearboxes production," says Chung.
Premium position
LG Electronics Romania
Electronics producer
Sells locally: plasma TVs, LCD TVs, digital optical storages, home theatre systems, DVD players, micro audio systems, air conditioning, refrigerators, microwave ovens, vacuum cleaners and mobile phone handsets
2005 sales: 50 million Euro. Plans to increase sales by 50 per cent in 2006
Employees: 45
Detecting a market boom in 2003, LG Electronics decided to start up a Romanian subsidiary and has since seen a significant growth on the local market in a relatively short time, says its president, Han Khyu.
This is especially commendable in the often tricky area of premium brand and high technology products, where LG has built up a strong local stake.
The company achieved a sales turnover of 50 million Euro in 2005 - a 250 per cent increase on the previous year.
The next stage will offer more potential, as there will be a freer trade in goods.
"The upcoming European Union accession will bring premium products at highly decreased prices, due to the necessity to eliminate excises currently applied to these products, which will eventually lead to a sharp increase in demand," says Khyu.
Romania still has to deal with being a "price sensitive" market, argues the president.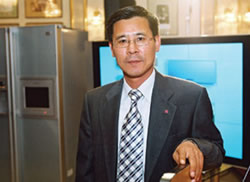 Most people still have a low purchasing power.
"On the other hand, Romanians are tech-conscious people, showing a high interest in next-generation products," he says. "We can see this trend all the more with the young generation."
The company is now local market leader in six categories - plasma TVs, LCD TVs, digital optical storages, home theatre systems, DVD players and micro audio systems and is number two in air conditioning, microwave ovens and vacuum cleaners.
"The electronics and IT segments registered the most dynamic sales due to the fact that Romanian people are known for their high interest in next-generation product," says Khyu. "We expect steady growth of the premium product sales in the upcoming period."
LG Romania plans to strengthen the Digital Display division by the end of the year, focusing especially on plasma and LCD TV, as well as GSM mobile communications division (handsets).
Glory box
Daewoo Electronics
Electronics and home appliances producer
Entered market: 1995
Total sales 2005: 20 million Euro
Forecast for 2006: 35 million Euro
Number of employees: six
Best sold product: 54 and 72 inch TVs
With large-size TVs as its biggest sellers, Daewoo Electronics distributes its brands in shop chains such as Altex, Domo, Flanco, hypermarkets such as Cora and Carrefour and cash & carry outlets Metro and Selgros.
It also coordinates the sales in Bulgaria and Macedonia from Romania.
The products sold on the market are imported from Poland, UK, Spain, China and South Korea. With headquarters in Germany and factories in several European markets the possibility of opening a production unit in Romania are not so high.
"I don't know when it is possible to have a factory in Romania, but the building of the factory is delayed because of the situation of the [Romanian] infrastructure," says Young Dal Kim, president of Daewoo Electronics.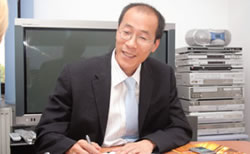 The firm sells best 54 and 72-inch TVs, washing machines and refrigerators in Romania.
In the first half of this year Daewoo Electronics sold locally 40,000 TVs and is forecasting sales of 100,000 this year – 20 per cent more than 2005.
Its market share on TVs is more than ten per cent.
"I forecast that next year we will increase the sales of plasma, LCD and DVD products," says Kim.
As for the refrigerators, it sold around 15,000 items and 6,000 air bubble washing machines.
In 2005, Daewoo Electro-nics restarted its business in Bulgaria and in the first semester of 2006 registered 12 million Euro in sales.
Narrowing competition
Hyundai Romania
Part of Tiriac Holdings
Units sold in 2005: 4,051
Target for 2006: 7,000
Turnover 2005: 110.6 million Euro
Estimated turnover 2006: 337.3 million Euro
Profit 2005: 2.9 million Euro
Estimated profit 2006: 4.3 million
Number of dealers: 29
Number of employees: 188
Renault-Dacia's Logan has been a success as a mid-priced family car in Romania, but hot on its wheels is Hyundai's Accent, which is a strong competitor in the same category.
The car represents almost 60 per cent of the total company's sales in Romania, with costs starting from 7,800 Euro up to 10,500 Euro for the full option diesel.
"We have had Logan customers that changed their mind and bought an Accent and this pleases us very much," says Narcis Ghita, general director of Hyundai Auto Romania.
Hyundai opened a new assembly line for the Accent in Turkey this year. Because the model is now made in Europe, it does not have the 30 per cent tax duty that car imports have previously suffered from.
In the SUV segment, Hyundai has the Tucson and the Santa Fe on sale, which have been market leaders since the beginning of 2006.
"This year we expect to hold our supremacy in the SUV class," says Ghita. "We rely very much on the new Santa Fe, for which we had an unexpected amount of orders. Because of this, our stock is drained and our customers have had to wait six months for the car."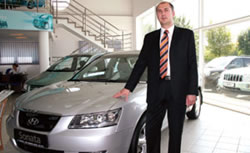 Ghita expects the Santa Fe, which won the 4X4 of the year award, according to Romanian car journalists, to sell 1,000 units per year.
Reliability has been a key factor in this success, argues Ghita.
"There has been an excellent increase in quality in Hyundai," he says. "Reliability is a characteristic of Asian cars now. German cars are no longer leaders in this category."
After Russia, the Romanian car market is the largest in central and south-eastern Europe. In Russia, Hyundai sells 30,000 units every year. Romania ranks second with a target of 7,000 units by the end of 2006.
"I think if we continue to double our sales this year and reach 10,000 sold units at some point in the next few years, Hyundai could open a rep office in Romania," says Ghita.
Utility drive
Kia Romauto
Importer of the Kia brand
Units sold in 2005: 1,180
Best sold models:
SUV Sorento (258 sold units)
SUV Sportage (306)
Town car Picanto (210).
2006 predicted sales 2,400
Kia Romauto sold 1,180 units in the first year as the importer of Kia Motors locally and among its best sold models are the Sorento and Sportage SUVs and the small town car Picanto, as well as saloon, luxury, utility and hatchback models.
"I think the advantage of Kia brand in Romania is the fact that it has a very well developed range of models which are present in all classes," says Kia Romauto director, Dan Chitaru.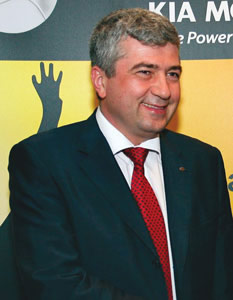 In 2007 Kia will have two models produced at its first factory in Europe in Zilina, Slovakia, manufacturing the hatchback model based on the C'eed concept and the SUV Sportage.
Zilina will produce 300,000 units per year with 3,000 employees.
"I think the best quality of Kia is the amount of car you get for your money, compared to our competitors," says Chitaru. "This is the strategy that made Kia, together with Hyundai, the sixth best sold car brand in the world. We are not selling cheap cars, the price difference between us and the other car manufacturers in the same class is ten or 20 per cent less. But we offer more car for the same money. Our philosophy is to sell cars with lots of equipment that cost the same as a competitor in its standard version."
Heavy metal
Otelinox
Steel product manufacturer
Bought by Samsung in 1997
Employees: 833
Investments 2006: 2.7 million Euro
Samsung-owned steel product plant Otelinox will invest 2.7 million Euro this year to increase the capacity and range of its production.
"We want to assemble a new line which will produce stainless steel welded pipes," says Adrian Glavan, general manager of Otelinox.
Targoviste-based Otelinox was bought in 1997 by Samsung Deutschland, which now owns 75 per cent of the company.
Otelinox has three production units: two steel mills and a precision engineering unit which creates thin and ultra thin strips. In this last unit the company invested almost 16 million Euro in 2002 and manufactures 15,000 tonnes of products per year.
Today, Otelinox has 833 employees and aims to hire at least 20 new people every year.
About 95 per cent of the stainless steel iron plates and strips are exported to Europe, USA and Asia. Exclusively to the Romanian market, Otelinox produces steel carbon bars and coil dedicated to the construction market and wire for welding.
Otelinox is the only producer of stainless plate and precision stainless plate in central and eastern Europe.
In this field Otelinox is the leader on the Romanian market - with a 60 per cent market share, according to Glavan.
Report by Mihai Alexandrescu,
Ana-Maria Smadeanu
and Corina Mica