Trading up with the east
Chinatown could be coming to Bucharest, while the world's most populous nation is looking at Romania's wine potential, finds Ana-Maria Smadeanu as she talks to Chinese Ambassador Xu Jian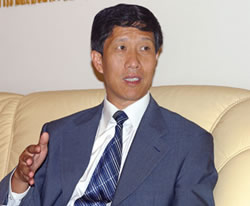 Chinese have an affection for Romania that dates back before 1989.
The people of the far eastern country were big fans of Communist cinema. One of their favourite movies was 'Trandafirul Galben' (The Yellow Rose), where the Chinese flocked to see seed-eating outlaw Margelatu, played by heartthrob Florin Piersic, battle unscrupulous rulers and land-owners of pre-1848 Romania.
Although there may be some nostalgia for a more revolutionary time, both countries are now committed to a course of free market economics.
However, trade from Romania to the east needs a boost, while investment from China is still wanting.
President Basescu's visit last year to China saw Romanian officials make contact with Chinese leaders, where he noticed the massive evolution of China's tiger economy. This ended with the signing of a partnership between Romanian Agency for Foreign Investments (ARIS) and its Chinese counterpart.

Ambassador Xu-Jian
Appointed: 2004
Age: 50
Married with one child
Education: University of Bucharest
Previous postings: Ambassador of China in Slovenia, deputy director of department of Ministry of Foreign Affairs for Eastern Europe and Central
Asia.
Hobby: walking in Herestrau, jogging, swimming, karaoke
Today there are more than 8,000 Chinese firms in Romania - most of whom have import-export activities in the multitude of products now manufactured in China. Few are producers.
But in investment, the Chinese could do more in Romania. Two major investors, bicycle manufacturer DH Sport and mixed-interest producer Friendly & Joy (F&J) have big plans locally. In total, China has invested about 160 million Euro.
"This is less compared to our potential," says Chinese Ambassador to Romania Xu Jian. "A lot of Chinese companies want so much to invest here and to take part in several projects. I think DH Sport and F&J are the most representative of my country. Those who are strong in Romania reinvest their money here."
In Bucharest's Colentina district there is a plan to build a new Chinatown on the existing site of a market hub for Chinese goods, including a new mall and housing, built with some Chinese capital in cooperation with the Romanian Niro Group.
Strike a balance
TRADE TALK
Total bilateral trade in 2005: almost 1.33 billion Euro - in China's favour
Exports to Romania: textile, shoes, tools and home appliances
Imports from Romania: metal, tools, fertilisers
Total investments in Romania: almost 160 million Euro
Most important investments: DH Sport, F&J and ZTE
Bilateral trade has soared in the first five months of this year – but the balance is hugely in China's favour. In 2005, it was 1.33 billion Euro. This doubled from January to May to about 1.5 billion Euro, with China's exports representing 1.44 billion Euro of this figure.
To get the balance right, the Chinese President promised Basescu that China will send a delegation to check out the market opportunities, which is due for this month.
Like South Korea, the Ambassador sees a huge potential in Romania's wine, particularly the red variety.
"Romania has good wines," says Xu Jian. "But for the moment Romanians are only promoting their wines in China - I hope that in time the wines will enter the Chinese market."
Infrastructure projects could also be attractive for Chinese companies. Until 2004, China Road and Bridge Corporation was interested in building the Braila bridge and Dalian Construction in the development of Bucharest's second ring-road – which is planned outside the existing one. When Basescu visited Beijing, he suggested that Chinese companies should participate. The auctions are due this month.
"We hope that our companies will win the tenders," says the Ambassador.
The number of Chinese living in Romania increases every year. Now there are 4,100 Chinese with visas for at least one year. But they are still finding it hard to receive a three-month visa. This puts off many business people and investors who would like to investigate the country, before they go back east to make a decision on whether to pour in their money. But because the visa procedure is complicated and takes time, more of them are giving up. "We have discussed this at a high level and we hope to solve the problem," says the Ambassador.
In comparison, last year the Chinese Embassy issued 6,000 visas for Romanians to go to China.
Most Romanians investing in the east are Chinese-funded firms opening a subsidiary back home. There is certainly the space for more to come.
"I hope more will invest," says the Ambassador, "because China is a large market."
Saddling up
DHS ROMANIA
Total investment: almost eight million Euro
Factories in Petrosani, Deva. Brasov and Afumati
2005 Profit: 1.5 million Euro. Up ten per cent on 2004
2005 Bicycles sold: 160,000
2006 Target bike sales: 200,000 units
Few Romanians ride bicycles.
Many streets are pockmarked with holes that trip up any intrepid cyclists, while drivers are not very patient when it comes to giving access to two wheelers – forcing many of them onto the pavement – where they then become a hazard to pedestrians.
The idea of local councils introducing cycle lanes is as mythic as Dracula returning to housekeep Castle Bran.
Yet, bike manufacturer DHS has built up a profitable business with its trade in street, mountain, race and trekking bikes.
"The Romanian market is still at the beginning and is uneducated regarding the bicycle culture as an amusing and health-enhancing means of transport," says Lucian Contras, executive director of DHS Romania. "In the west this culture exists in the Netherlands, Germany and France, where a family has more bicycles than cars. In eastern European countries, the Czech Republic is the closest to the west from this point of view and in Hungary, the bicycle is also very popular.
DHS invested six million Euro in its new production facility in Deva in 2004, comprising almost 15,000 sqm of production halls, storehouses and offices.
"DHS has the biggest production capacity in south-east Europe (in this sector) and we are already exporting over 50 per cent of the production to our main partner Germany, as well as Italy, Hungary and the Republic of Moldova," says Contras.
This year, German group Prophete bought 30 per cent of Eurosport DHS.
"With this transaction we hope to be a big player on the European market," says Contras.
Jumping for joy
Friendly and Joy (F&J)
Mixed interest group of companies: Sinoroma (Tobacco)
Lemking Industry (wood processing)
Vortex (home appliances)
Food and textiles
Turnover 2005: about 43 million Euro
Friendly and Joy (F&J) has four businesses in Romania in tobacco, wood production, textiles and electronics, and could build up an important project to redevelop the industry of Buzau with a grant opportunity from China.
Because of the huge rate of imports, in the past three months the Chinese Government has initiated a programme called 'China Industrial Area' where Chinese companies active in foreign countries could win grants from Beijing if they build factories and develop important businesses.
This could mean up to 50 per cent of the costs to build a factory.
F&J will participate in the tender with its project in Buzau, Muntenia where the company has a greenfield investment in the wood industry and a tobacco factory.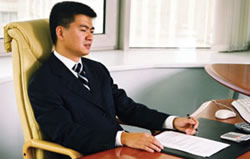 The Chinese Government will approve this kind of project in only one south-eastern European country and by the end of September the winner will be known.
Last year F&J was preparing to build a TV set factory in Bucharest, but because this field is seeing fast innovations in technology the factory remains only at project stage. The firm will start discussions on its possible set-up after 2007.
"Even if we are building a small factory the investment will be at least 30 million Euro," says Roger You vice president of the company.
The most important investment for F&J last year was the tobacco company Sinoroma, which has cigarette brands 'Double Horses' and 'Golden Monkey', where the firm modernised the equipment and invested about 15.7 million Euro.
The company created a premium brand 'Dubliss' which is piloting on the market this year. The price per pack is 4.2 RON (1.2 Euro) and sells well in Iasi.
"In October we will introduce it on the market, because I am satisfied by the result of the testing period," says You.
F&J intends to launch a small-size 16-cigarette packet of 'Double Horses' and 'Golden Monkey' to make the cigarettes more accessible to Romanian smokers, who are suffering financially from high taxes for their cigarettes. F&J has a 27 per cent market share of the lower-priced tobacco segment.
Coming into land
ZTE Romania
Telecom manufacturer and wireless solutions provider
Set up in Romania: 2002
Employs 50 people
China's largest listed telecom manufacturer and leading wireless solutions provider, ZTE, partnered with the Romanian state's postal service Posta Romana in 2002 to create an alternative landline operator to Romtelecom.
But the 'Postelecom' project is yet to happen.
ZTE general manager Clark Chuanzhong Li says there has been "a misunderstanding" on the Romanian market.
"We are only the supplier for Postelecom, and helped the project get financial support. We even tried to get [telecom operator] China Unicom to become a shareholder in the project, but nothing happened. There are signs, though, that the Romanian Government, especially the Minister of IT&C, Zsolt Nagy, is determined to put Postelecom in operation," adds Chuanzhong.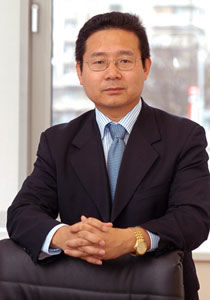 The general manager finds it only natural that, because the state has invested a lot of money in the project, it does not die.
"Money shouldn't be lost just because the project is delayed," says Chuanzhong. "We have a commercial contract signed with Postelecom and we will still be the equipment supplier."
Until the project gets the go-ahead, ZTE is working with more than most of the local telecom operators, says Chuanzhong. "So far this year we have implemented projects worth in the range of ten million Euro, supplying equipment and even providing some financial aid, through facilitating loans through banks," he adds.
One year ago the general manager said ZTE would be interested in building a manufacturing plant for producing telecom equipment in Romania. But this project has been dropped. The reason?
"Let's just say that the conditions have not been met for us, as a Chinese investor, to set up a production facility in Romania," says Chuanzhong. "Politically, the situation is very confusing, despite the very good relations that Romanians have with the Chinese. But from our side, it it hard to come to Romania, because one needs a visa to enter this country."
Despite dropping plans to build a production facility in Romania for the moment, Chuanzhong adds the company does not intend to stop here.
"For the rest of the year we intend to focus on tackling the remaining 20 per cent of local telecom operators we do not have in our business, and to increase business volume in Romania," he says.
Eastern home
Niro Group
Romanian partner for the Chinese businesses in Romania
Employees: 1,000
Investment 2006: 70 million Euro
Turnover 2005: 17.1 million Euro
Romanian company Niro Group intends to build a Chinatown in east Bucharest by 2013 in an investment that could total one billion Euro.
So far the company has refurbished its retail complex 'Dragonul Rosu' Red Dragon Mega Shop in Colentina, with stores owned by Chinese business men, with 1,500 new units.
The total needed to invest in the retail, business and residential project would be one billion Euro, says Nicu Dumitru president of Niro Group. 'Chinatown' will cover an 800-hectare area, 8,000 commercial, exhibitions and business spaces and a neighborhood of condominiums.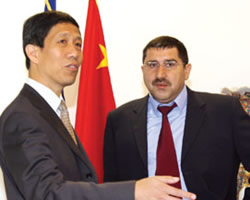 The plan for the China Business Center is ready, with 100,000 sqm and an office building with 23 levels. Apartments for the 'Central Park' residential area have also been sold.
"We chose eastern Bucharest because there wasn't a Chinese market in Romania in 1993," says Dumitru. "I've offered the Chinese, Turkish, Arab and Romanian businessmen commercial spaces because this was what they needed."
Chinese rev up
Rochin
Importers of Great Wall Motors
Dealership plan: 12
Sales target by 2010: 7,000 units
Chinese private car firm Great Wall Motors, which shifts about 400,000 vehicle units per year, has been brought to Romania by Rochin Motors, part of the Greek Alexandrion Group.
"We were looking to start a new business. We saw the car, we liked it and we decided to bring it to Romania," said Spiros Iosifidis, general manager of Rochin Motors.
The first model on sale in Romania is the Hover CUV, a crossover between an SUV and an MPV (Multi Purpose Vehicle).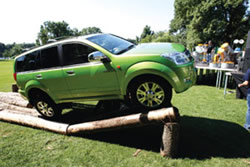 The car is powered by an Euro 3, 2.4-litre gasoline engine made by Mitsubishi. Great Wall Motors intend to equip the cars with an Euro 4 engine for the west European car markets. A diesel engine will be available in October.
The Hover CUV is available in two versions: Luxury and Super Luxury with two or four wheel drive. Costs are between 13,090 and 17,940 Euro without VAT. Rochin has sold 45 cars so far and targets sales of 300 by the end of the year. The next plan is to import the model priced under 10,000 Euro.
"Our main competitors are the South Korean brands Hyundai and Kia," says Iosifidis, "but our prices are lower and I think we offer the best value for money in this segment. Romania is still a price driven market and this could be in our advantage."
Additional reporting by Mihai Alexandrescu and Corina Mica