Seeking confident partners
Confidence is what Romania needs, argues Jean-Claude Richard, Ambassador of Switzerland to Romania, as he talks to Ana-Maria Smadeanu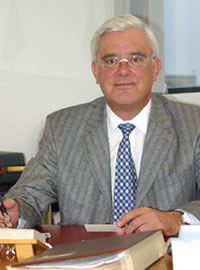 Romania's image may need some improvement in Switzerland in order to attract more business from the mountainous state.
Though firms such as cement firm Holcim have invested heavily here and the Swiss are arguably the only major foreign player in the newsprint media, there is still an absence of major investment.
"I am sure that after Romania joins the EU, it will catch the attention of Swiss investors and they will consider Romania as a credible partner. It is a question of image," says Jean-Claude Richard. "Some Swiss investors had a bad experience in Romania, they came here and lost a lot of money."
Before the revolution, Romania was considered a very poor country and, even long after, TV reportages only focused on the most poverty-stricken areas of the country. "At a general level, this image is not true," says Richard. "But Romania has to gain its confidence," he adds.

Jean-Claude Richard
Age: 60
Married with one children
Education: Economic and political sciences
Previous postings: Belgrade, Mexico (1991 to 1995), Ambassador to Senegal and Cuba Hobbies: Reading, music, sports and film
There is also an absence of a large Romanian expat community in Switzerland. Now, more than 20 per cent of the Alpine country's population are foreigners. Most of these people come from ex-Yugoslavia, half from Kosovo alone.
But even though they have not needed travel visas since 2004, Romanians have not decided to travel en masse to the landlocked state, preferring Italy and Spain as a choice for work migration. Only around 2,000 work visas annually are given for Romanians to work in Switzerland. Meanwhile 300 Swiss live in Romania.
Trade talk
Foreign direct investment: Approx. 192 million Euro
Exports to Romania 2005: 320 million Euro
Mostly: Machinery, pharmaceuticals and watches.
Imports from Romania 2005: 128 million Euro
Mostly: Agriculture products, wood and pharmaceutical products
Most important investors include: Holcim, ABB, Nestle
Politically, the commitment between the two countries is firm and well-established, but trade is tipped heavily in Switzerland's favour – at 320 million Euro compared to 128 million Euro from Romania. Both exports and imports are increasing, but the Ambassador is convinced that his country could do more to attract more important investments in Romania.
There already are some large companies that invested in Romania. Along with Holcim, there is utility firm ABB, pharmaceutical company F Hoffmann La Roche and Nestle.
But in money, Swiss banks are not so interested in investing in Romania because the country already has a surfeit of leading financial groups.
In media, the Swiss are present with the Ringier Group, which owns daily quality paper
Evenimentul Zilei
, sports paper
Pro Sport
, economic weekly
Capital
and the leading tabloid daily
Libertatea
. But on the whole, the investors are not huge in number.
"It is very difficult to answer which Swiss company I would like to see on the Romanian market," says Richard. "It takes time for investors to see that everything is alright with Romania. When Romania will be a member of the European Union it will be a step forward in attracting people."
Richard says that the Embassy and the Chamber of Commerce are in "discussions" with different companies from his country.
"But we cannot say if those companies will invest in Romania," he adds.
Chilling out
NESTLE
Food firm
Turnover in Romania 2005: 82 million Euro (excluding Delta)
Total investment in Romania: above 20 million Euro (excluding Delta)
Number of employees: 600
Brands include: Joe, Kit Kat, Maggi, Nescafe
Last year the Nestle Group bought out Greek company Delta Icecream, adding iced products to Nestle's local portfolio. Other recent launches include Nescafe cappuccino and whole grain breakfast cereals.
"In retail, wholegrain breakfast cereal is the highest growth category that we have," says Paul Nuber general manager of Nestle Romania. "Another thing we are very happy with, is our vending business. You see a lot of people walking with Nescafe plastic cups coming from vending machines."
But still absent is espresso product Nespresso.
"The espresso business worldwide is growing so fast and entrance on the local market is in discussion, but we don't have enough resources yet. It's just a matter of time," says Nuber.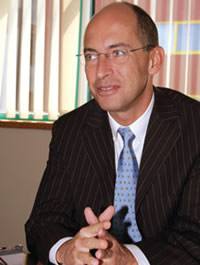 Other divisions have come and some have gone - Anavie mineral water entered the market for a period, but was taken out in 1999. This was due to production costs and issues regarding the water source.
But Nuber says that Nestle will look into this sector again in the future.
Nestle is now creating European-wide joint venture with dairy company Lactalis where the Swiss producer is responsible for the yoghurt business. Nestle's dairy products are also missing from the local market.
"I definitely want to put Romania on their list of priorities. There is input from my side, but the business decision will be taken in time," says Nuber.
Some products, such as Nestea, are distributed by other companies, with Coca Cola HBC - now the market leader on ice tea. Another product is San Pellegrino, with a main target of HoReCa, although now available in supermarkets.
From Nestle's portfolio, all the Joe products, ice cream and coffee sachets are made in Romania. The rest are imported from other European countries.
Nestle launched Joe Delight as a summer product last year, but will not renew it for this year. Instead, for summer 2006, there is Joe wafers with fruit cream product 'Cool Lemon'.
This year also saw the second edition of the cooking food product 'Maggi heart' campaign – where the brand encourages consumers to stick a poster of their logo in the window. They then wait for Maggi representatives to visit a selection of their houses and give out cash prizes dependent on the number of Maggi products in their cupboards.
"This year there were fewer hearts in the windows," says Nuber, "but more products in the houses."
The Romanian tooth: sweet but sophisticated
Heidi
Owned by Laderach
Chocolate producer
Entered the market: 1994 under the Heidi brand
One factory in the outskirts of Bucharest
Market share: Five per cent
Swiss company Laderach created Heidi for the Romanian market in 1994 with 200,000 Euro in a 400 sqm factory on the outskirts of Bucharest.
Today, the factory has 3,000 sqm and a total investment of four million Euro in Heidi and a five per cent chunk of the chocolate market, placing the Swiss producer in fourth position.
The Laderach chocolate is also sold in Plaza Romania, Timisoara and Iasi. Laderach will invest around half a million Euro in two other Bucharest stores, one of which will be in a mall and the second not yet established.
"Laderach sold surprisingly well. We forecast to sell approx. 640,000 Euro for this year and approx. 6.7 million Euro for Heidi," says Konrad Hafner general manager.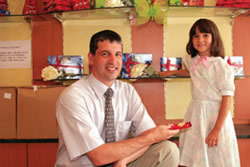 Heidi produces 1,300 tonnes of chocolate, over 13 million pieces per year.
"The Romanian chocolate consumer likes new things and surprisingly, has a taste for sophistication," says Hafner. "The Romanian market has surpassed countries like Hungary, Turkey and Bulgaria in terms of the percentage of people who consume a premium product."
For this year Heidi created a dark chocolate variety which has started to sell well and a new line in this range will be an important launch this Autumn.
Heidi also produces chocolate characters for special occasions like Easter and Christmas.
"In Switzerland there is a market for 12 million chocolate characters but in Romania the figure is much lower," he adds.
This Easter, Heidi sold around one million chocolate characters. About 40 per cent of these chocolate bunnies, Santa Clauses, Christmas trees and suchlike are imported from Germany and Hungary. But it is very hard to transport them, especially across the mountains, where the bunnies and Santas could risk injury.
Heidi has export targets for raw chocolate in countries like Republic of Moldova, Czech Republic, Switzerland and the USA. But this only represents around eight per cent of total production. The Heidi brand itself also sold in the Czech Republic.
Pharma futures
F. Hoffmann La Roche
Pharmaceutical company
Ranking on the market: 2nd with 6.8 per cent market share
Active in Romania first in the 1924-1945 time-frame, then re-opened local office in 1992
Roche's portfolio in Romania includes over 40 high technology original products, mainly addressing oncology, virology, nephrology and transplantation.
2005 turnover: 74 million Euro
F Hoffman La Roche sold its Over-The-Counter division to Bayer in December 2004, and now focuses on prescription and original drugs, not generics, as well as diagnostic and testing equipment.
"We provide the entire range of treatment in a disease, from diagnosing it, to treating it, monitoring it after the treatment and adjusting the treatment when needed," says Dan Zamonea, general manager, F Hoffman La Roche Romania.
In Romania, its main areas of expertise are in oncology, hepatitis, anaemia, HIV/AIDS infections, obesity and transplant.
"We are also taking a closer look at Parkinson's Disease and osteoporosis, as well as breast cancer," says Zamonea.
A future step to setting up more opportunities in the Romanian market will be the establishment of the private healthcare insurance.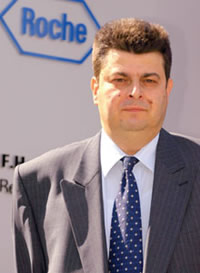 "This is a medium-sized market, under development, with a great growth potential. Medical needs are the same, regardless of country or region," he adds. "But from the point of view of the system, this favours investments."
Roche had production collaborations with local pharmaceutical companies such as Sindan and Terapia – both companies of which were taken over in the last six months. "We are continuing the agreement with Terapia, by which they produce medicines under license for Roche," says Zamonea. "We can discuss with other local companies about similar agreements, but that will be mainly based on research."
The company does not produce generic drugs, so is not interested in taking over profitable state drug firm Antibiotice Iasi.
"But we might, at some point in the future, consider investing in Romania, mainly in the biotechnology field," he adds.
Roche produces Tamiflu, the antiviral medicine that fights bird flu. This medicine fights all flu strains and can be used in a pandemic. Bird flu now is just for animals, but there will be a time when the virus will mutate and will be transmitted to humans.
"Only when the two viruses will be combined can we talk about a vaccine," says Zamonea. "Tamiflu is very effective if used 48 hours after the exposure to the virus, and has an expiry period of five years. Bird flu is a cyclic phenomenon, it happens three times a century starting with the 1700s, and the last pandemic happened at the end of the 1960s in Hong Kong and Taiwan."
EU accession may not bring that many modifications to the Romanian market, says the drug boss.
"It may speed up the process at which a drug is introduced here after being launched worldwide, and make it simultaneous from the present three to six months time frame," he says. "Our main goal for Romania is to bring in the newest and effective therapies as soon as they are launched worldwide."
Holding out
Energy Holding
Energy trader and producer, power supplier
Offices in Romania and Bulgaria, plans to open office in Greece
2005 turnover: 255 million Euro (preliminary data)
2005 profit: 10.12 million Euro (preliminary data)
Employees: 64 in 2005
Energy trader and producer Energy Holding is looking to buy hydropower plants as they are privatised, says senior vice president Roy Maybud.
"Anything doing with hydro we would be very interested to take a look at," he says.
"We had a plan to pursue a wind energy projects, but we put it on the shelf due to problems in the past year and a half. But we do not exclude looking into this sometime next year," says Maybud.
The privatisation process in Romania's energy field has been slowed down, he adds. "To a certain extent this is a bit unfortunate and the only thing I could see happening before 2007 would be a larger segment being privatised."
Energy Holding is very seriously contemplating biofuels/biodiesel and biomass power generation. "There is a distinct future in this area," says Maybud. "Romania has about five million hectares of unused and misused agricultural land, while the EU has a goal of having 5.7 per cent biofuels being used by 2010. This is an ambition programme, which requires billions of tonnes of biodiesel to be put into the market. Because of all this misused and unused land, Romania is a prime candidate."
He adds that the only country that has a better position than Romania is Ukraine, but the republic suffers because it is not part of the EU, and Poland, but that country has less areas of unused land.
Going automatic
ABB
Swiss – Swedish Utility company
Total value of projects: Around 100 million Euro
Representative projects: Rehabilitation of the Oradea Centrul substation including the complete replacing of the existing high, medium and low voltage equipment
Retrofitting the Pitesti South substation, Transelectrica Pitesti
ABB first came in Romania as power generators and had a project to build a wind energy complex in Romania, but the project was moved to Bulgaria, says ABB country manager Peter Simon.
The Swiss-Swedish group has taken a closer look at the local energy market. "Switzerland is mainly based on hydro energy, while Sweden is nuclear," says Simon. "Hydro power makes sense when you have an excess of electricity. In nuclear or thermal plants you cannot increase or decrease the output, it has to be the same all day long, whereas in hydro power you can afford to produce an excess in energy."
In Romania, 30 per cent of the energy output comes from hydro power, which Simon says is enough for a country this size.
ABB is now sourcing low voltage products and components from Romanian suppliers, for its automation business, worth more than 17 million Euro in 2005.
"Romania is a very important country for ABB in the automation field," says Uwe Tschirner, executive director for automation technologies at ABB Romania.
Simon said total value of all its projects revolves around 100 million Euro.
"The automation market is now growing," says Simon. "Companies are mostly private, and whereas the first action after privatisation was to restructure the company, now it's high time for investments."

Style magnet
FRANKE
Kitchen systems and food service systems producer
Entered the market: 1998
Sales in 2005: 9.3 million Euro
Showrooms: 25 by the end of the year
For this year kitchen systems and food service systems producer Franke will continue to expand its number of showrooms.
"We estimate that at the end of this year, the national showroom network will include 25 shops," says Valeriu Cobaschi, general manager Franke Romania. "At the same time, the regional development is a continuous challenge for us, and we opened at the beginning of this year, the first Franke showroom in Belgrade."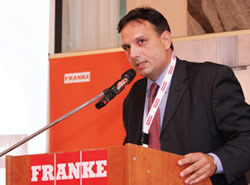 In 2005 sales increased by 35 per cent compared to the previous year, up to 9.3 million Euro, placing Franke Romania third in profit and performance among companies in the holding group.
Locally, Franke is the market leader in the sale of sinks and built-in kitchen products.
"The Romanian consumer is not less informed, educated or refined when it comes to arranging or equipping the personal space," says Cobaschi. "He has become cosmopolitan and unwilling to compromise when it comes to quality, innovation and style."
Air alliance
Swiss International Airlines
Airline, part of the Star Alliance
Number of flights: One in the afternoon Bucharest- Zurich
Turnover 2005: Four million Euro (up ten per cent on 2004)
With a current occupancy rate of 87 per cent Swiss International Air Lines is preparing to launch its second flight next year.
"We are one of the most important routes of SWISS worldwide," says Andrea Brezean, country sales manager for Romania and the Republic of Moldova. Along with Zurich, the places passengers are travelling to include Geneva, London, Paris and a few German cities. Most passengers travelling with SWISS are business people.
German airline Lufthansa has bought 49 per cent of SWISS and is expecting, by the end of 2006, to buy the remainder, but SWISS will keep its brand. SWISS is also part of the Star Alliance, along with Lufthansa and 17 other airlines.
"We are interested in increasing the number of flights and look for opportunities in other regions of the country. We are checking these along with Lufthansa," Brezean says.
"We are a dynamic company and if we have to delay one more year the second flight and open in a destination which wasn't operational before, we will do it."
The impact of low cost air line companies exists and will put pressure on other operators. Brezean says these have the advantage of a low price, but the disadvantages include the location of the airport, which can often be far from the passenger's desired destination.
"I don't think there is a problem now, but there will be after 2007, when the Open Sky strategy will be applied, which allows every single transporter who wants to operate from Romania the ability to do it," she adds. "But I see it as a challenge."
Checking out goods
Societe Generale de Surveillance (SGS)
Global consultancy firm
Branches in Bucharest, Constanta, Braila, Galati, Cluj-Napoca, Brasov
Founded in Romania: 1925
Employees: 210
Turnover 2005: approx 4.5 million Euro
Turnover end of 2006: approx 5.4 million Euro
Societe Generale de Surveillance (SGS) is a global firm testing, surveying and inspecting cargo and merchandise between the transport destinations, such as shipping.
In Romania, SGS was founded in Braila in 1925. At that time, Braila was the harbour that registered the largest amount of shipments of cereals after Chicago.
"We can be hired by the buyer, the seller or by both. We release a certificate, recognised by all the commercial institutions, courthouses and arbitration courts. We assume responsibility for the merchandise at the moment of inspection," says Ovidiu Mantho, managing director of SGS.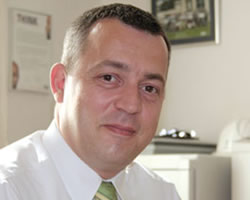 "The biggest merchant in a country is the Government," says Mantho. "From our point of view they are the number one potential clients."
By Ana-Maria Smadeanu,
Corina Mica
Mihai Alexandrescu