Still waiting in the wings
As the USA celebrates 4 July, its big bucks are waiting to see results from Romania's new laws on corruption and justice before choosing to make the Balkan country the next Poland, as John Rodgers, economic counsellor at the US Embassy talks to Michael Bird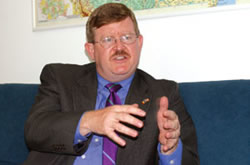 For a cautious investing nation such as America, Romania is improving its business climate, but it is not yet guaranteeing the same financial security as the European Union.
Many US companies are interested in the nation's new anti-corruption strategy and reform of the judiciary, but they will not come with big bucks until they see that such legislation can be implemented.
Owing to corruption and bureaucratic incompetence, many US investors have already taken their cheque-books elsewhere.
"That money will never come back," says US economic counsellor John Rodgers. "The new money is waiting to see how the laws are implemented and as soon as this money sees that it will be well cared for and warmly received, it's going to come in. Businessmen are cynical – they want to see results."
Rodgers says the new 16 per cent flat tax on income tax and profits has had an immediate effect, but is only "intriguing" investors.
"Several companies say they like it, but it is only one check mark on their big list," says Rodgers. "Still on the negative side, there is corruption and bureaucratic red tape."
Many US small and medium-sized enterprises want to be sure there is a court system that goes after the miscreants if a deal falls through, someone steals all the investment money and when bureaucrats ask for cash under the table. "Recent good actions include the tax code and a good labour code," says Rodgers. "The bad actions of state: not enforcing contracts, not requiring judiciary to go after people who are crooks and not having bureaucrats who ask for bribes for every 'stampila' in this country – it harms the entrepreneurial spirit."
Road works
Rodgers says the US is "eagerly awaiting" detailed plans of Government as it creates a strategy for infrastructure work, but there have been problems.
The US constructor of the Govern-ment-sponsored 415 km Transylvanian Highway, Bechtel, has witnessed delays in payments, non-payment and renegotiations in its contracts . This meant construction kept on starting and stopping, before beginning again last month.
"Road construction cannot go in fits and starts," says Rodgers. "We are still concerned about seeing sustainability built into the project, especially on timely payments for work done."
Other American contractors may be interested in further infrastructure deals, but Rodgers says this depends on the funding – whether it comes from the Romanian state or a mixture of EU, Romanian funds or international financial institutions.
"American contractors are looking closely at how Bechtel is being treated as to whether or not they come here," he says.
Rodgers says unless the Romanian Government treats contractors well, there won't be as much competition for the job and competition will be distorted.
"Then you're not going to get such a good deal," he says.
Farming futures
Following Communism, agricultural land was split apart and given back to individual farmers in a fragmentation that some experts believe was the biggest mistake of the post-Ceausescu era. Re-consolidation is now necessary to make these plots profitable, but cash is needed.
Rodgers says that at present agriculture in Romania is "limping".
"Many farmers cannot afford to take out loans to buy a tractor," says Rodgers. "There is so much subsistence-based farming using a plough and horses – it's simply picturesque but isn't viable as an economic future."
America backs the reintroduction of legislation that permits the sale of genetically modified (GMO) seeds, which have been banned in Romania, despite the fact that it is the largest farmer of GMOs in Europe, together with Spain.
"I believe the issue will work itself out over time – through scientific data and evidence that say that GMOs have absolutely no long term or short term health effects damaging to human existence or plant diversity," says Rodgers.
Because of a good telecommunications structure that does not care about holes in the road, zeroes and ones are making money for the US and Romania.
"Some sectors are more dynamic and more inviting and have less corruption – the IT sector is one of them," says Rodgers
The US has large scale investments in back office, programming and some R&D from Oracle, Hewlett Packard and Microsoft – mainly for the cheap labour force and the brain power of Romanians. But it isn't always what Rodgers believes is unfairly called 'outsourcing'.
"Oracle has invested heavily in its attachment to the future of the workers here – an investment in developing the intellectual capacity and workforce – this isn't paper filing," he says.
But is the Dacian nation likely to follow in the steps of the Celtic tiger at the other end of Europe?
"I wish I could say Romania was the new Ireland – but it isn't true," says Rodgers.
Ireland went out aggressively to target foreign direct investment with low corporate tax rates and a good infrastructure offer, particularly in the hi-tech sector - and won business.
"They said: you will like Ireland, gave service with a smile and a package of incentives, without fiddling around too long," says Rodgers. "It's a negotiation that is fast and serious and has goal in mind to put investment here or move on. We urged the Romanian Government to pursue such an FDI strategy and as yet we have not seen it. We are hopeful it will come."
There are rumours of interest from at least one giant US hardware manufacturer, but with USA's total foreign direct investment standing at around 650 million Euro - where are the big names with over 500 million Euro ready to pour into eastern Europe? A lot of them, it seems, are busy learning Polish.
"Smithfield is bringing over 500 million Euro – that is real money, man," says Rodgers.
Pig breeder and pork processor Smithfield is in the process of investing 850 million USD (approx 680 million Euro) in pig rearing and processing in Romania in the largest commitment so far from a US investor.
"It's good for western Romania," Rodgers says. "A huge number of farmers will be paid to rear hogs. Feed will have to be produced for the pigs. Never denigrate the investments that don't have the cachet of Renault and Dacia."
Pork talk
Smithfield Romania
Pork processor and pig breeder
So far invested: 250 million USD (approx 200 million Euro) in acquisitions, renovations and updating
Current pig estate: 36,000 sows producing 500,000 hogs a year
Current employees: 1,500
"Smithfield predicts that Romania will become Europe's leading food producer in the years ahead," says Richard JM Poulson, executive vice president, general counsel and senior advisor to the chairman of Smithfield Foods.
Smithfield estimates to open this November what is probably the largest abattoir in Europe, following a 30 million USD (approx 24 million Euro) modernisation programme.
The Timisoara-based abattoir covers 69,680 square metres, with 95 per cent of the pigs coming for slaughter from Smithfield's own operations. Its full capacity is the slaughter of 16,000 pigs per day, which could be the figure by 2011.
This is a regional commitment to the agriculture of the west of Romania, which could also benefit enterprise in private farms, animal feed and fertilisation.
"Arad, Bihor and Timis have the agricultural potential of Iowa," says corporate affairs director of Smithfield Romania, Mircea-Ioan Cotosman.
By 2010 or 2011 Smithfield plans to breed four million pigs per year – which means a lot of slurry. This has nitrogen which can help fertilise the land of the Banat region.
"This can be used as organic fertiliser for 120,000 hectares of land," says Cotosman.
The plan also means 1.5 million tones of grain for food, which the firm says it will purchase locally.
Currently, 65 per cent of Romanian pork is imported. Selling the pork products on the Romanian market will be the first priority, but in the future, Romania could become a net exporter of pork, argues Cotosman.
Problems include the fact that classical swine fever is still in Romania, due to domestic pigs mixing with wild boars and picking up the virus: this means Romania cannot export its pork.
Cotosman says Smithfield's farms and those of its contractors will have biosecurity measures in place to ensure hogs and boars do not mix.
But this will not stop a national ban.
Germany and Spain have regional areas which are declared free from swine fever. In the regions where Smithfield is active, the Banat, is separated by mountains and a border. "This region could be declared in future as swine fever free," says Cotosman.
By late Autumn Smithfield estimates it will also own over 20 new wean to finish farms for its pigs. In addition, the company aims to have over 200 contract growers by 2011. So far, Smithfield has ten signed contracts with contract growers to build farms from scratch– and over 50 prospects are in the process of going through the motions.
"By 2010 we intend to employ 3,500 people plus a further 600 in contracted farms," says Cotosman.
The company may look to make further acquisitions in the supply chain from farm to fork in Romania.
Crop ready
Agricultural group
1,300 employees in 46 sites located in east and south of Romania
Turnover per year: 100 million Euro
Total storage capacity: 850,000 metric tonnes
Purchases: Grain silo company in the south-eastern grain belt: Comcereal Alexandria. Now rebranding as Cargill Cereale.
Oil seed crushing, refining and bottling company, Olpo, now renamed as Cargill Oils
Silos FNC Calarasi – now known as Cargill Siloz.
In Romania, Cargill can buy crops at the farm gate, transport to silos, store products and then bring them to the domestic and export markets.
Now the firm is building a team of field representatives to assist farmers in southern Romania with financing, risk management and technical advice, taking into account EU accession and its bible of new rules.
The company is active in the domestic wheat market and trades feed barley, maize, sunflower seeds and soybeans.
"Romania is normally a surplus country for agricultural products," says director general Cargill Romania, Martin Schuldt. "There is definitely a surplus in wheat, rape and sunflower seeds." 2005 saw a surplus of wheat of half a million tonnes, 400,000 tonnes of sunflower seeds and 400,000 tonnes of corn. Cargill will export wheat mainly to Greece, Spain and Italy. It also sells rape, sunflower seeds and corn to the starch industry in western Europe.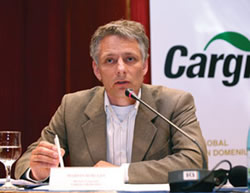 This year the agricultural group says it will invest in the conditions of its silos, while the company says in the short term it will not build any more from scratch.
"There are not any specific plan to acquire a new company," says Schuldt, adding that there are no plans for Cargill to enter the live animal sector "at the moment".
Schuldt says the company is going to farmers in the next two months to provide advice on EU accession challenges, such as having to ensure all foods can be traced back to their origin. Cargill has its own truck fleet and rail cars to take grain to Constanta – as well as using inland shipping on the Danube to Constanta.
Recently, the Government has banned the growing of genetically modified (GMO) crops. Schuldt says Cargill trades in what the market has. "We are not pro or contra (GMO)," he says.
Financial director Jose Fauda said last year was "not a great year" due to bad weather conditions. He said the firm locally broke even. Schuldt says the countries along the Danube, where Cargill is active, and those such as Russia and Ukraine continue to be an important suppliers of grain. In the future he says Romania will remain an important producer of mainly grain and sunflower seeds, as well as rape to a lesser extent.
Getting this show on the road
Infrastructure group
Building Autostrada Transilvania (Transylvanian Highway)
A four lane 415 km highway from Brasov to Bors, at the Hungarian border, through Sighisoara and Cluj-Napoca.
Direct employees: 4,000 at height of construction
Bechtel has resumed work on the four-lane, 415 km Autostrada Transilvania (Transylvanian Highway), linking Brasov to Hungary, following late payments from the Romanian Government.
This will be on the Campia Turzii to Cluj West sections in earthworks and structure.
"We have 13 km of land available and we will focus on that," said external affairs officer with Bechtel Romania, Bogdan Sgarcitu.
In June 2005 Bechtel employed 1,200 people, but due to late payments and non-payments from the National Company of Motorways and Roads (CNADNR), work was suspended.
The American giant had to lay off 600 people.
Now it is rehiring staff
"We want to hire 1,000 people in the next few months for construction of earthworks and structure," said Sgarcitu. Then the paving of this section will begin.
"We hope that now we will have a full construction season with no further holes," says Sgarcitu.
The Government needs to expropriate all the land which the highway passes over – something not yet completed. Bechtel predicts it will finish the highway by 2013 – one year later than initially predicted.
Bechtel will employ 4,000 at the height of construction and a total of 10,000 including sub-contractors. The construction is entirely under Bechtel's supervision.
Support systems
Software company
Entered the market: 1996
Number of employees: 75
An investment plan: 13 million Euro for the technical support centre
Microsoft is preparing to open its technical support centre in Bucharest by the beginning of 2007, but is still looking for the right location in a plan that could see up to 1,500 people employed by the IT giant by 2009.
"Romania has a special place on Microsoft's map," says Ovidiu Artopolescu general manager of Microsoft Romania.
The expertise of Romanian IT brains helped Microsoft chose Romania from east and western Europe as the country to invest its initial 13 million Euro.
The centre, offering technical support to the customers of Microsoft, is looking for a location in Bucharest and then will start a recruitment drive. Microsoft will start training around 100 people, but this will increase.
"We want to open the centre at the beginning of 2007. In three years I am expecting to employ around 1,500 people," says Artopolescu.
This support centre will deal with the main problems of the most important clients of Microsoft.
In April 2006 Micro-soft Romania started to coordinate the activity of the company in the Republic of Moldova.
"We have hopes that the business in Moldova will develop very well," says Artopolescu. "When everything will go well, we will create a Moldavian branch coordinated there."
This could happen in 2008.
Other local projects include a visa on-line system, which helps foreigners demanding a visa for Romania. The projects started five years ago.
"It is mentioned in the country report from Brussels," says Artopolescu very proudly.
By December 2006, around 100 global Embassies and consulates will be working with this system.
Face value
Cosmetics company
Number of employees: 390
Turnover 2005: approx 95 million Euro
Total investment: 9.4 million Euro
Market share: 19 per cent
What do eight out of ten Romanian women have in common with Salma Hayek?
Last year 79 per cent of Romanian women aged between 15 to 69 used same cosmetics brand the Mexican starlet advertises for Avon.
Awareness is not a problem for the firm. Locally, the firm has sold 45 million products in 2005 and according to a Consumer Strategy Study 2005, only six per cent of the Romanian women had not heard about Avon. Its Romanian sales are the highest from all the European countries where it is active.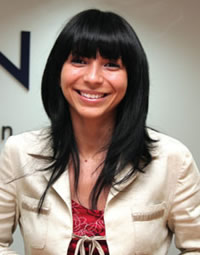 "Taking into account our position, we will develop along with the market and help women in beauty and skin care," says Angela Cretu, managing director of Avon Romania.
In the cosmetics and toiletries segment, the 120-year old firm is the leader with a 19 per cent market share, above competitors L'Oreal and Oriflame.
Romania is also set to become a regional hub. Two months ago the company opened a 9.4 million Euro 11,500 sqm distribution centre in Chiajna, west Bucharest, covering orders for Romania, Bulgaria, Republic of Moldova, Macedonia and Albania with a storage capacity of 3,300 sqm.
Bucharest is the city where Avon sells best, but Cretu says sales in the rural areas have increased. While rural Romanian women prefer perfumes, in Bucharest skin care products are the reigning queen.
New products in its brochure include accessories such as jewellery and hand-bags, scarves and hats. Accessories represent only six per cent of Avon's sales. 65 per cent of Avon orders are made on line. But the black market in Avon goods is also a headache, with many small kiosks and stores selling their products unofficially. "We are in the process of resolving this problem," says Cretu.
General interest
Diversified technology media and financial services company
Started activity in Romania: 1982
Number of employees: around 700 now (with the three new companies Ralfi, Lasemart and Domenia Credit)
American technology media and financial services company General Electric has recently bought from the Romanian American Enterprise Fund (RAEF) three companies for 100 million Euro.
The acquisitions include consumer finance firms Ralfi with the Estima Finance brand, Lasemart with leasing company Motoractive and mortgage loan company Domenia Credit.
GE wants full ownership of these companies and intends to buy the rest of their shares.
Last year General Electric helped establish a customer service platform called Genpact, which needed a total investment of 80 million Euro. GE owns 40 per cent of the company.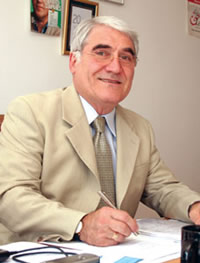 Romania has the regional executive office of GE south eastern Europe, which covers 12 countries. Locally the company started its activity with a representative office in 1982 and the first contract was signed in 1984 for the delivery of a turbine and generator for nuclear power plant Cernavoda.
In the 1990s the company started to look into opportunities to sell GE products in Romania.
"It started with consumer and industrial goods but we developed a certain strategy so that initially we put a special emphasis on sourcing goods from Romania," says Dan Ionescu regional executive GE south eastern Europe. "We are keeping this strategy in place because we think Romania needs to generate exports and jobs."
Put in train
Rail freight manufacturer
Started operations in Romania: 1999 through purchase of Astra Vagoane, Arad county
Production capacity: 3,000 freight wagons per year
Last year was "very bad" for the freight car industry, but this year Albert Hartmann, vice president marketing and sales at freight car company Trinity Rail Europe, says a lot of orders have been placed with all suppliers.
Currently the most popular products Trinity produces in its factory in Arad County are tank and intermodel wagons.
From the eastern European market Trinity has seen some new orders from the state railways in the Czech Republic and in Romania from private investors.
Trinity is not currently looking to extend its plant or to open any other production facilities in Romania.
Cashing in
Investment fund
Advent CEE III value: 330 million Euro
Investments in Romania:
Beer producer Brewery Holdings (sold to BBAG)
Outdoor ad firm Euromedia (sold to Plasty Prod)
Connex/MobiFon (sold to Vodafone)
Pharma producer Terapia (sold to Ranbaxy)
Paint producer Dufa, re-branded into Deutek.
Investment fund Advent International last year launched Advent CEE, its third investment fund tackling the central and eastern European market, worth a cool 330 million Euro.
"We hope to have another investment in Romania this year," says Emma Popa-Radu, partner, Advent International. "We are in discussions with several companies. As a policy, we try not to invest more than 35 per cent of a given fund in one country alone."
Advent invests between 15 and 50 million Euro in equity, and investments so far exited in Romania include Brewery Holdings, Connex/MobiFon and pharma producer Terapia. Still in its portfolio is paint producer Dufa, which has been re-branded into Deutek.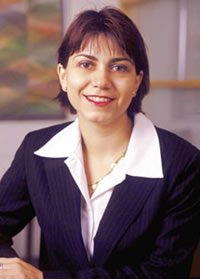 "There are not that many large companies that could attract private equity in Romania," says Popa-Radu. "The pool is relatively small and, at a regional level, there is a diversification of investments that counts. Romania is years behind countries like Poland or Hungary, which is good, because it means it offers more opportunities for private equity investments. There are underdeveloped sectors that offer high increase rates."
Traditional sectors Advent focuses on include pharmaceuticals, media, telecommunications, retail, business and financial services. The investment fund has three methods of investing: capital development, buy-out (private companies or spin-offs) and privatisations.
Advent has not been involved in privatisation deals in Romania yet, although the fund bought out BTC, the Bulgarian state telecom operator. The fund stays for between three and five years before making an exit.
Hip to the chip
Latest results for first quarter 2006 Romania
Total value of retail transactions: Approx. 367 million Euro, up 127 per cent on the year-ago period
Number of Visa cards: Over four million in total - up 34 per cent on the same period 2005.
Credit cards: 17.3 per cent of all Visa cards issued
In Romania, at the end of the first quarter of 2006, the number of Visa cards passed four million – one for every five people in the country.
Currently Visa's goal is to finalise the "complete migration of all member banks and retailers towards chip cards" globally, says Catalin Cretu, vice president Visa International CEMEA.
Romania migrated towards the chip and pin technology starting last year, with Banca Comerciala Romana the first local bank that accepted Visa chip cards, while ProCredit Bank was the first to issue them.
"The continuation of this migration process will contribute to aligning Romania to other more advanced markets, countries which are already EU members, and will increase protection against fraud," argues Cretu. "We are in talks with several banks that are members of the Visa network to upgrade the ATMs and POSs and we expect that the acceptance network will increase."
Banking on Banat
FMCG producer
Brands: Ariel, Tide, Lenor, Ace
Market share: 40 per cent detergents and beauty products
60 per cent for women care
20 per cent oral hygiene
Procter & Gamble chose Romania as a representative country in terms of its Balkan business plans, serving eight regions such as Serbia, Montenegro, Bulgaria, Bosnia and Herzegovina, the Republic of Moldova, Macedonia, Albania and Kosovo, which import P&G products manufactured in Romania.
Since 1995, when the company bought a factory in Timisoara, P&G invested 35 million USD (approx 28 million Euro) in its production. Its distribution centre close by is the regional hub for central and eastern Europe operations.
Brands such as Ariel, Tide, Bonux, Mr Proper and Ace, shampoos and soaps, oral hygiene products and women's hygiene products are produced in Timisoara.
Procter & Gamble has had an annual increase of 15 per cent in turnover on the local market.
"We are still waiting to see an increase in terms of sales in all segments, aware as we are of the consumption level in Romania, which is lower than in the central south eastern countries and Romanians' opening interest towards new personal care issues and house care products," says Jose Medran general manager of the company.
"We intend to increase the investment in Timisoara detergent factory as well as the distribution centre," adds Medran.
Getting the balance right
FMCG producer
Entered the market: 1994
Brands: Poiana, Milka, Sugus, Jacobs, Philadelphia, Carte Noir
Romanians love to eat chocolate and drink coffee, but their consumption is between three and four times lower than the former Yugoslav countries – which means plenty of space to expand before the country is on the sugar and caffeine rush of its Serbian neighbour.
In Romania, multinational Kraft specialises in the coffee and chocolate markets. Jacobs coffee is one of its strongest products, along with chocolates Milka and local brand Poiana, which are numbers two and one in the chocolate market respectively.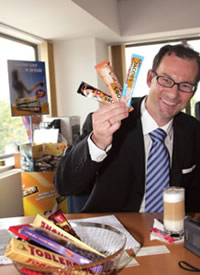 Poiana and other Kraft products are made in Brasov where the American firm bought a factory in 1994. The US brand has invested 28 million USD (approx 22 million Euro) in its factory since the purchase and, starting from the beginning of this year, Kraft Romania is exporting to central Europe.
"Eastern European plants are becoming sometimes more modern than western ones," says Peter Muller, Kraft Romania managing director.
In coffee, brands also include Romanian-native Nova Brasilia and the globally ubiquitous Carte Noir. Recently, the multinational launched two chocolates filled with air bubbles - Poiana Senzatii – which is now exported to Czech Republic and Slovakia under another brand name and Milka Luflee.
"We have tried to have a balance between the international and local brands," says Muller.
More than 90 per cent of the Kraft products are made locally, while the raw chocolate for Milka and Philadelphia cheese is imported.
Sales out of Bucharest are excellent in Transylvania and the west, says Muller, while Moldavia and the south are lower.
"We are looking for business opportunities especially in a dynamic market as Romania," says Muller. "The Romanian consumer has a very good understanding of quality and innovation. It's loyal to brands when it comes to quality, but at the same time loves trying new things."
Muller sees an increasing trend in the market as consumers pass from loose coffee to packaged coffee. In terms of instant coffee mixes, such as sachets of Caffe Latte and 3-in-1 coffee, sugar and milk powder, Muller says the market is almost doubling every year.
Chew wave
FMCG company
Entered the market: 1993
Brands: Orbit, Airwaves, Winterfresh, Solano, Hubba Bubba
Market share of chewing gum: 98 per cent
World leader in chewing gum Wrigley has 98 per cent share of its main category in Romania, with Orbit the most popular brand, followed by Airwaves and Winterfresh.
Last year globally Wrigley bought the sweets division from Kraft Foods. In Romania Wrigley was about to take over the Kraft's local sweet brands Sugus and Silvana and their factory in Brasov. But due to some administrative problems, Kraft has kept its sweet division on the Romanian market.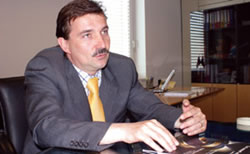 Every year from June to August, Wrigley has introduced its established brands, such as Juicy Fruit, Wrigley's Spearmint and Big Red on the local market.
This summer, Wrigley launched Juicy Fruit with a diversified range: chewing gum, drops and chews, says Mihai Georgescu regional managing director Wrigley Balkan East.
Wrigley imports all the products mostly from Poland and France and there are no immediate plans to build a production unit in Romania.
"This depends especially on the consumption levels in the area. There is still place to increase consumption," says Georgescu.
Travel plans
JW Marriott Bucharest Grand Hotel
Opened in 2000, following an investment of 150 million USD
402 deluxe rooms and suites
Six gourmet restaurants
2,000 sqm convention centre, with 12 meeting rooms.
470 employee
"I think we can safely say that the Romanian travel industry is on an ascending trend," says Kurt Strohmayer, general manager of the JW Marriott Bucharest Grand Hotel.
"As a consequence of the interest shown to Romania by foreign businesses, we have seen a constant and significant increase in 'business tourism', both in Bucharest and other major cities. Proof stands in the growth in the real estate sector, where investors have serious plans for opening new hotels. It is obvious that the accommodation offer is lower than the demand."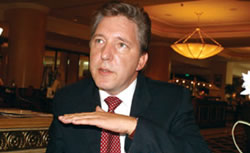 The general manager views Romania's main advantages in the travel market due to the country's geographical position in central Europe and its size and varied landscapes. "Another great benefit is the people's friendliness and the level of education. As for disadvantages, I believe that the road infrastructure and the 'legislative hesitations' are just two of the things that need improvement and coherence," says Strohmayer.
When Romania's joins the EU, standards of services and performance will need to be as close as possible to those in the member states.
"One cannot compete on uneven terms," he says.
Surveying the land
Developer
Established in Romania: 2006
Active in Europe, North America and Asia.
Developers ProLogis has bought 28 hectares of land on the Bucharest-Pitesti motorway to develop a project valued at 80 million USD (63.3 million Euro), mainly targeting logistics and production companies.
This is the first of a two-phase project.
"There will also be a second phase, comprising an extra 28 hectares on the same location, and we are now analysing the investment," says Muler Onofrei, market officer with ProLogis Romania. "The development of this project depends on the development of the market, as the two are connected."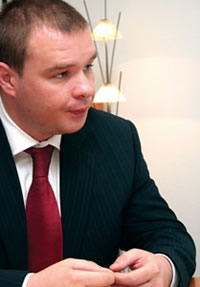 The first phase of 50,000 sqm will be ready by the end of December.
"This year Romania has seen many industrial real estate projects announced, but not carried out, therefore clients are a bit sceptical when such a project is announced," adds Onofrei.
ProLogis's local development, especially in logistics, is related to the evolution of the retail market.
"We are seeing a boom in retail, but at the same time there is a lag of about one year and a half between this boom and the actual operations," he says. "A boom in the industrial area will also follow."
In terms of future development, Onofrei says he wants his company to expand to secondary cities in Romania.
"It is likely that next year there will be concrete moves," he adds.
Going direct to home
Established in Romania: 1992
Took over Astral Telecom in 2005 for 335 million Euro (420 million USD)
2005 turnover: up to 130 million Euro
Employees: 2,600
Total number of subscribers: 1.4 million on video services, about 70,000 on data services and almost 25,000 voice subscriber
Undergoing an integration process following last year's 335 million Euro (420 million USD) takeover of cable TV company Astral, UPC Romania is also trying to strengthen its position on the direct-to-home (DTH) market, after completely taking over digital TV provider Focus Sat.
"We decided we needed full control in order to make it a success," says CEO Richard Anderson. "We believe that the DTH market is a good one. Romania is still a rural market and there are many places without access to TV other than the state television. In the DTH market we have taken a back seat since last year and we'll no longer do that, that's why we will invest heavily in Focus Sat in the next two years."
UPC dedicated the last six months to integrating all operations of Astral and the 17 companies UPC took over once it bought Astral.
"There is one management team in place now and we think that the merger will be completed in the third quarter of this year," adds the CEO.
"At the same time we are building systems of over 30 million Euro this year, upgrading systems, upgrading technology and providing better service to customers," says Anderson.
The CEO says the firm has "enough" to do at this time, such as launching voice services and data services and trying to compete with Romtelecom
"At the same time we have a competitive market place, with Romtelecom launching the ADSL services, which includes voice, video and data services across the country," he says.
"We have an extremely small market share, about one per cent, and we're just getting in business from this point of view," he adds. "RCS/RDS is probably one or two years ahead of us, and we are not a big threat to Romtelecom, but we are looking to develop in the same areas."
Print run
Photocopying company
Entered the market: 1970
Employees: 100
Revenue 2005: 44 million USD (approx 35 million Euro)
Laser printers: Market share of 16.7 per cent in sales and 10.7 per cent in units sold
This year will see the final consolidation of the Romanian business mentality's switch to colour copying – a situation Xerox hopes to benefit from.
Xerox Romania intends to add more options to its services portfolio and new products for individuals and corporates, especially in equipment for digital production printing.
"The Romanian printing market is on a very good track, evolving faster than expected and becoming more and more technologically advanced," says Marius Persinaru general manager for Xerox Romania and the Republic of Moldova. "The change from monochrome to colour is one of the most important trends that started some years ago and will be consolidated in 2006."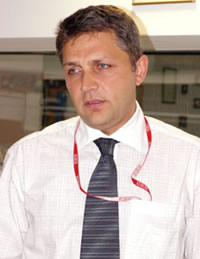 In 2005 the colour printers market grew by 34 per cent compared to 2004.
"The main reasons for this particular process is that the price per page for colour technologies is decreasing significantly, thus lowering the difference in the overall price of printing equipment," says Persinaru.
Large and medium companies are the first to implement new colour technologies and small companies and individual users will "follow shortly" says Persinaru. "This is a tangible proof that Romanians want to print more colour documents than ever before," he adds.
By Michael Bird,
Ana-Maria Smadeanu,
Corina Mica,
Mihai Alexandrescu