Energy market still needs efficiency drive
Romania has employed good strategies in the energy sector over the years, but investments are needed to make the domestic market competitive and efficient, argues Corina Mica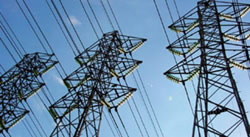 This country has progressed a great deal in the administrative steps in the energy field to create a liberal and open industry and its institutions are prepared to tackle the EU market.
But questions marks exist around the efficiency and costs of the system – especially in regard to energy production, which is still almost 100 per cent state-owned.
Romania generates its electricity from three sources, each with a state company taking care of business in the respective field.
Termoelectrica is in charge with coal-fired thermal power, Hidroelectrica handles hydro power, while Nuclearelectrica is in charge with Romania's only nuclear power plant at Cernavoda.
"The local energy market follows European Union rules," says Nicolae Opris, president of the National Regulatory Authority for Energy (ANRE). "Its strategic advantage is that it finished aligning to EU standards before all other candidate countries. Just as an example, Bulgaria, which is the biggest exporter in the Balkans, has received a red flag in energy at the May Commission Report."
Not so promising: privatisation stalled
Whereas the state has kicked off privatisation in the power distribution sector, with five out of the eight power distribution branches now in private hands, in production it has been lagging behind, especially in regard to Termoelectrica's three complexes in Turceni and Rovinari in Gorj county and Craiova, Dolj county.
"This market is very liquid, but its main disadvantage is that it is way behind in production, we have not privatised the three big complexes and we have had a hard time investing," says Opris.
Charles Frank, international consultant and former vice president of the European Bank for Reconstruction and Development (EBRD), says reform of the energy and electricity sectors in Romania is promising, especially considering the unbundled gas and electricity sectors and the selling of the national oil company, Petrom.
Still, Frank says there has been "a notable decline" last year in reform and Turceni and Rovinari's privatisation have stalled. This slowdown has come at an "inopportune moment" says Frank, due to the rising global prices of oil and gas.
Roy Maybud, senior vice president with Energy Holding, agrees that the slowdown has happened in privatisation.
"To a certain extent this is a bit unfortunate and the only thing I could see happening before 2007 would be a larger segment being privatised," he says.
But the Ministry responsible for choosing the fate of the energetic complexes views things differently.
"The way we structured the sector, as well as the market model which we chose, are fully in line with EU practice and legislation," says Ioan Codrut-Seres, Minister of Economy and Trade.
He says the Government is now focusing on better integrating the energy system with the EU internal market. This includes infrastructure projects, aimed at inter-connecting Romania with neighbouring countries such as Hungary, Serbia and the Republic of Moldova in transmission of electricity and Hungary in terms of gas interconnection.
Now, Maybud sees Romania's external energy system as very competitive.
"The power grid connection [between Romania and Europe] has improved greatly by Transelectrica and there are segments that are being added, like to Hungary, and these are extremely important," he says.
Promising: Unbundling in place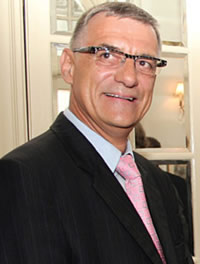 There are three pillars in the energy sector: generation, transmission and distribution – all in the course of belonging to different entities, with transmission partly in state hands and on the stock exchange and most distribution owned by private utility companies Italian Enel, Czech CEZ and German E.ON.
Peter Simon, ABB country manager, says that what is good about Romania is the fact that these entities are in different hands and that there is a regulator on the Romanian energy market, ANRE.
But there are problems.
"In the efficiency of the system, we are not competitive at all," says Siemens general manager Adrian Baicusi. "In the thermal power field, plants are old, with a big consumption, high pollution, with very high costs and large personnel. In the hydro sector, there are very many basins that are clogged and not cleaned."
This is a problem of responsibility. Hidroelectrica, which
owns the dam, but not the water itself and Apele Romane, the state company that owns all waters in Romania, need to work out ways in which they can increase efficiency in this area.
"Maintenance is costly in this respect," says Baicusi.
But there are two very competitive sectors in the production of electricity in Romania: hydro and nuclear power sectors, says John Saroudis, former head of AECL in Romania.
"Coal complexes could become competitive as well, but if hydro and nuclear power could reach 60 per cent of total electricity produced in Romania by 2015, it can mean cheaper prices," he says.
Siemens' Baicusi believes there was a wrong strategic decision ten years ago, when the state decided to split up the former giant energy firm Conel into five different entities.
This left power grid owners Transelectrica, power distributors Electrica and the three producers, Hidroelectrica, Nuclear-electrica and Termoelectrica.
But all these companies needed investment to create self-defined autonomous companies – and the funding was not there.
"There were many neglected sectors, like the thermal energy sector," says Baicusi. "In the hydro field, despite having new power plants, like the Iron Gates [by the Danube on the Serbian border] and those in Valea Jiului, big investments were needed and they were delayed."
TRANSIT COUNTRY
In the energy sector, Romania has potential to become a regional transit hub.
There is the possibility of a joint-Turkish and Romanian Government funded project to create a 300 million Euro electric cable under the Black Sea – the feasibility study is due to be started this year.
There are two much heralded transnational pipeline projects in the region. The Nabucco gas pipeline and the Pan European Oil Pipeline (PEOP), which both cross Romania. There has been a lot of talk about them and more 'memorandums of understanding' have been signed in their regard than could be thought humanely possible.
But no date is yet in place for their construction.
"The Nabucco project will lead to increased security in supplying natural gas to Europe and diversifying Europe's choices of gas suppliers, accessing important reserves in the Middle East and the Caspian Sea," says Minister Seres.
Romania is one of the five countries that will be involved in the construction of the pipeline with Turkey, Bulgaria, Hungary and Austria, through its gas transport company, Transgaz. The pipeline will be 3,282 kilometres in length, out of which 450 will be on Romanian soil.
This project should mean increased competition on the local gas market
The European Commission has acknowledged the importance of this particular project, which it included in its TEN (Trans European Networks) programme. This means the Commission will finance 50 per cent of the feasibility study.
Representatives of all five countries involved in the project will meet this month in Vienna to sign the intergovernmental support project.
If everything goes according to plan, the Nabucco pipeline should become operational by 2011.
Adrian Baicusi of Siemens thinks Nabucco has all the chances to go through.
"This is because the dispute at the beginning of the year between Russia and the Ukraine has laid the ground for the process to speed up," he says.
Meanwhile oil, originating from the Caspian Sea area, is transported to the port of Constanta and will then connect to the oil pipeline PEOP. This will cross Romania, Serbia, Croatia and Slovenia, back in Croatia to the port of Omnisalj and then to Trieste, Italy.
"Its main objective is to bypass the Bosphorus," says Saroudis, "but this pipeline has competition from other similar projects, like the Burgas (Bulgaria) to Alexandropolis (Greece) one."
PEOP has often been dubbed as the 'dream' pipeline for eastern Europe. But Baicusi says: "It is a more of a regional project, much more so than Nabucco and the truth is that the Balkan countries have almost always fought between themselves on different issues."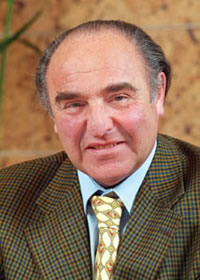 Roy Maybud of Energy Holding believes both pipelines are important.
"In the future Romania will need less and less gas, so Nabucco will be the chance to save money," he says. "Both pipelines are positive endeavours, and they complete the image of Romania as an energy hub in all sets: gas, oil production, electricity, the biofuels, the possibility of biomass. It really has a very good future. The country is on its way, it's just a question of time, but when everything falls in place it moves quickly."
Romania's own resources of oil and gas will diminish, says Maybud, and it is important to diversify the supply sources, hence Nabucco is important.
HOW SELF SUFFICIENT CAN ROMANIA GET?
Nuclear power plant Cernavoda currently has one reactor in place, Unit I and a second, Unit II is due to be operational in 2007. Romania is tendering the construction of the next two nuclear reactors at the same time. Market players feel this could lead to a strong enough self sufficiency in the electricity field.
Estimated costs for these two reactors could reach 2.2 billion Euro including costs for de-commissioning nuclear waste, while the price of energy produced by the two new units could lead to a profitability of between nine and 11 per cent.
The Ministry of Economy and Trade estimates annual operating costs of the two new nuclear reactors at 100 million Euro.
The tendering for the construction of units III and IV will be open to international energy companies.
But there is no date yet for the release of the task book, although about 30 companies have shown interest.
Maybud believes that, if the tendering happens before 2007, this could save time and the construction could be completed by 2010-2013.
"I hope the tendering will be held this year, but I doubt it," he says. "There's hydro power as well, which could be enlarged, and with all these in place, Romania could be in a very short future, power-wise, electricity independent, and there are not many countries that can say this."
Baicusi isn't so sure.
"I don't think we can become fully independent energy-wise," he says.
This is because currently ten per cent of Romania's electricity is developed by Cernavoda's Unit I and with Unit II in place next year, this could mean up to 18 per cent of the total electricity produced from nuclear power. The figure is likely to go up to 40 per cent when Units III and IV are operational.
"If that happens, we need to have a capacity reserve - be that hydro or thermal power," he says. "Having four nuclear reactors plus the hydro power as a backup would be good, but what if it does not rain?"
Saroudis, former head of AECL in Romania, which was involved in building the first two reactors of the Cernavoda nuclear plant, says: "With the nuclear power plant delivering electricity, Romania is now fairly self sufficient. It is a strategic economic growth, and demand will increase as well."
At the same time, electricity consumption will increase.
"Two reactors will help maintain self sufficiency and keep prices low," he adds.
Energy efficiency
With environment standards at the forefront of the EU's future strategy, Seres says he is now aligning the Ministry of Economy and Trade's energy policy to the European Union's green paper to have a solid decrease in energy wastage by 2015.
Energy efficiency should mean a cleaner environment, less CO2 emissions, the conservation of the underground energy sources and a saving money on energy imports.
"Its collateral benefits include saving some financial resources that can then be redirected to other fields," says Mihai Marius Voronca, executive director of investment fund the Romanian Energy Efficiency Fund.
"If we look at the efficiency, we are way behind," says ANRE president Nicolae Opris.
This is due to lack of investments in production projects, such as cogeneration plants - which can supply heath and electricity at the same time and thus reduce CO2 emissions.
But there is a new law in place to aid development in the cogeneration field in the 2006-2009 time frame.
RENEWABLE WAY
Of Romania's three forms of production, environmental NGO Greenpeace, which is not always the best friend of the energy sector, favours least nuclear power, then thermal power and lastly hydro power.
Only the latter is truly 'renewable' as it does not lead to greenhouse emissions or climate change to a great scale.
But Greenpeace opposes large scale hydro power operations which interfere with the environment – such as the building of a large dam.
"It's not ecological," says local Greenpeace representative Anamaria Bogdan.
Instead it supports initiatives for small hydro power installations in small rivers, usually only serving local communities.
Greenpeace's arguments against nuclear power stations are that the production of waste which takes centuries to resist the environment. They are also not 100 per cent secure, as the Ukraine found out to its peril.
"If it happened in Chernobyl, it could happen somewhere else," says Bogdan.
Although she acknowledges that the Canadian 'Candu' format used for Cernavoda is likely to be safer than the Soviet structure for Kozloduy in Bulgaria and Chernobyl itself, she adds: "We do not favour either of them."
Apart from hydro power, the other sources of renewable energy include biomass, biodiesel, wind, wave and solar power. A Greenpeace report estimates that 80 per cent of total electricity demand could be provided by wind and biomass and that renewable energy could be enough to cover the electricity consumption of Romania 1.5 times over.
But Baicusi thinks renewable energy is still only beginnings in Romania.
"The technology for alternative fuels exists, but the costs are high, and one needs to prove that the project is viable before investing," he says.
Wind and solar power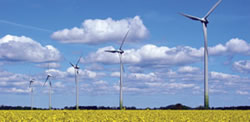 Only pilot projects for wind energy in Romania have so far been launched. "Wind energy in general is loved by environmentalists," says Roy Maybud of Energy Holding. "In reality, it is a problem. Wind is not always constant in Romania and you cannot run an economy on wind. You always need a back up. Wind energy is still more expensive than coal for example. Equipment gets worn out. Costs are immense from this point of view, and the environmentalists do not talk about it because then it's a complicated issue. The reality is a bit different than what a lot of people want to see."
Solar power may not be too much of an option as for six months of the year Romania is quite dark. But Bogdan argues that if there is "a mix" between wind and solar power, this could cover a large part of energy consumption, such as using solar power in the south of Romania and windmills at the seaside.
Most favoured option: biodiesel
Biodiesel is a renewable fuel sourced mainly from vegetable oils. It has been produced on an industrial scale in the European Union since 1992 and is an alternative source of energy that almost everyone agrees could work.
Plans by several companies to set up biofuel production facilities in Romania could help this country comply to the targets set by the European Commission.
Last year, Portuguese-based mixed interest firm Martifer and Germany's MAN Ferrostaal said they would invest both in biodiesel fuel refineries and in the production of raw materials for the fuels.
Rompetrol is also contemplating starting biodiesel fuel production in 2007, and the Romanian Agency for Foreign Investments (ARIS) has started talks with other European and North American producers of biodiesel and bioethanol fuels. The European Union has established that 5.75 per cent of the total fuels its countries uses for vehicle transportation should be green fuels by 2010, such as biodiesel. This is an ambition programme, which requires billions of tonnes of biodiesel on the market.
Biomart, a division of Portuguese Martifer, will start production of biodiesel in Romania in the fourth quarter of this year, says Marco Goodman, plant manager with Biomart Energy in Romania.
"Our plant in Lehliu Gara, Calarasi county, will produce 100,000 tonnes of biodiesel per year, following an investment of around 50 million Euro," Goodman says. "The biodiesel project also involves an agricultural component. We will use mainly rape seeds."
Germany's MAN Ferrostaal consortium will invest in establishing a farm centre and building a biodiesel factory at Atel and Loamnes, Sibiu county.
Rompetrol has also planned production of green fuels. Rompetrol chairman Dinu Patriciu recently said his company will not export biodiesel, but will have it available at Rompetrol's petrol stations. He added that Rompetrol will sell approximately 60,000 tonnes of green fuels a year from 2007, with raw materials sourced from the domestic market.
"Energy Holding is studying and is very seriously contemplating biofuels and biodiesel and biomass power generation," says senior vice president Roy Maybud. "There is a distinct future in this area. Romania has about five million hectares of unused or misused agricultural land."
On biodiesel, Greenpeace's Bogdan says she favours anything that helps reduce CO2 emissions or reduce effects of climate change. "The use of rape and sunflower could have potential," she says.
Additional reporting by Michael Bird
ALTERNATIVE VOICES
Biodiesel
Most biodiesel produced in Europe comes from oil seed rape and soy beans. Biodiesel can also be obtained from used cooking oil.
Biodiesel benefits include savings in emissions of CO2 emissions, greenhouse gases and some pollutants. Studies conclude that the use of 1kg of Biodiesel leads to the reduction of some 3kg of CO2.
Germany is the world's leading biodiesel producer, with an estimated annual capacity of over one million tonnes, followed by France and Italy with over 350,000 tonnes each. These quantities are growing faster in the EU where total biodiesel production is around 2.5 million tonnes per year, according to the European Biodiesel Board.
Since 2003, EU member states should take measures and establish national plans to increase biofuel use. Every year they have to report to the Commission measures taken to support biofuels. This means approx. 5.75 per cent of energy needs to come from biofuels from the end of 2010
Biomass
Biomass is organic matter which can be converted to energy. Fuels include wood, agricultural residues and crops grown specifically for energy. It is possible to convert municipal waste, manure or agricultural products into valuable fuels for transportation, industry, and even residential use. Wood stoves used to produce heat for buildings or for cooking make biomass one of the most common forms of energy. Utilities and commercial and industrial facilities are also using biomass to produce electricity.
"We favour this if it uses industrial waste from sawmills and household waste," says Greenpeace local representative Anamaria Bogdan.
"But not plastic, such as PVC or hospital waste."
Cogeneration
Cogeneration is the simultaneous production of more than one form of energy using a single fuel and facility. Furnaces, boilers or engines fuelled with biogas can cogenerate electricity for on-site use or sale. Biomass cogeneration has more potential growth than biomass generation alone because cogeneration produces both heat and electricity. Cogeneration results in net fuel use efficiencies of over 60 per cent compared to about 37 per cent for simple combustion. Electric power generators can become cogenerators by using residual heat from electric generation for processing heat.