Talking the same language
Italy and Romania have been keen to build on their Latin connections and now a more balanced relationship is in the works, finds Ana-Maria Smadeanu, as she talks to Italian Ambassador Daniele Mancini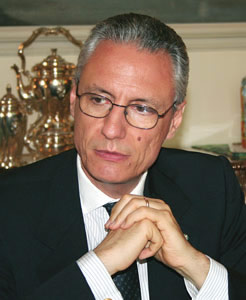 More Romanians are seeing Italy as their second home. There are 320 flights per week linking 11 Italian cities to nine Romanian ones. Last year one million Romanians flew to Italy and many nurses in Italian hospitals are now Romanian.
"Romanians in Italy have seen an evolution," says Daniele Mancini Ambassador of Italy to Romania. "They were working in the lowest-paid jobs. Now the situation is different. There are two orchestra directors who are Romanian and there are over 1,000 Romanian entrepreneurs in Italy."
Fields in which Romanians are taking leading positions in Italy include restaurants, construction and the IT sector aswell.

Daniele Mancini
Ambassador of Italy to Romania
Born: Rome
Married
University: Rome, Moral Theology
Previous postings: Served in the diplomatic services since 1978 in Madrid, Baghdad, Paris, Islamabad, Washington and the NATO headquarters in Brussels
Hobbies: Archeology, military history, astronomy, sailing, writing poems and football. A fan of AS Roma
                                              But the opposite is also true. Italians feel 'acasa' in Romania. Over the last 15 years Italian business has been present in micro or small companies, operating in traditional sectors such as textile, shoes, fashion and manufacture.
But now more Italian medium-sized firms and large corporates have entered the market.
Today, 11,000 Italian companies have fully-fledged operations in Romania, employing around 600,000 Romanians. Last year 1,000 new entrepreneurs entered the country.
"About 150 Italian new companies just registered themselves in the first two months of this year," says Mancini.
In finance, though Banca di Roma, SanPaolo IMI Bank and Banca Italo-Romena are present, only UniCredit has a significant presence on the Romanian market. But Mancini says Banca Nationale del Lavoro is coming to join them locally.
At the beginning, the bank will have a representative office, not branches open to the public, but may expand with local branches in major cities.
Italian entrepreneurs have invested in agriculture. Rice brand Riso Scotti has bought 2,000 hectares in Braila county, where it should be harvesting 20,000 tonnes of rice this year.
"I am pushing the Italian entrepreneurs not only to come here in order to invest in agriculture, but also in tourism and agro-tourism where they have a lot of opportunities in such a beautiful country as Romania," Mancini says.
In infrastructure, general contractor and construction company Astaldi could be interested in a deal to double the size of Henri Coanda Airport. Soon Astaldi will complete the motorway that links Bucharest to Constanta and is bidding for the Basarab fly-over project in Bucharest.
"What is very comfortable to me, as an Italian Ambassador, is to tell you that the speed of Italian entrepreneurs coming to Romania is increasing," Mancini says.
Italy-Romania
Ranks first in bilateral trade: a total of 9.3 billion Euro in 2005
Forecast for 2006: ten billion Euro
Foreign Direct Investment for 2005: 700 million Euro
Forecast for 2006: one billion Euro
Number of companies active on the market: 11,000
Most important investors: Enel, UniCredit Group, Finmecannica, Tenaris. Some prefer the 'Dutch route' due to tax advantages in the Netherlands, such as Generali and Agip.
                                              Energy company Enel is the most significant investor. The company bought power distributors, Electrica Dobrogea and Electrica Banat and is on the five-strong shortlist for Bucharest's power distributor Electrica Muntenia Sud, as we went to press the winner had not been announced. Another one is Pirelli, which will be operating a tyre plant in Slatina employing more than 2,500.
With companies that could see a wider presence, the Ambassador mentions fashion brand United Colors of Benetton, which plans to be more active locally.
"There are more Italian companies operating in Romania than in all the other central and eastern European countries put together," says Mancini.
Trade is balanced with a total of over nine billion Euro.
"There were years when Romania won the game, but in the last years, it has been Italy's turn to be the winner," says Mancini.
Products for sale between the countries include textiles, clothes, shoes and accessories, industrial equipment and machine tools.
"We are exporting to Romania the same things Romania exports to Italy. It is very interesting," he adds. "There is nothing we send to Romania which is not send back to us."
In the future Mancini expects to see an increase in IT and agriculture.
"I love to have Italian products exported to Romania," he says. "I want to go to the market and see Italian apples and oranges."
This month Italy will celebrate 'Iunie Italiana' in Bucharest. See press for details.
Making Moves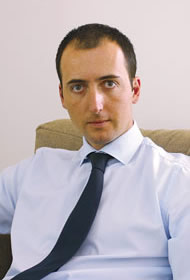 As the motorway network develops and Romania becomes both a regional hub for trade and a consumer of more products, the logistics market will develop.
This phenomenon is of special importance to George Margescu, managing director of Cefin Real Estate Romania.
"There has been no boom so far in logistics," he says, "but it will happen."
In this area, Cefin Real Estate Romania is extending the 30 hectare plot of Cefin Logistics Park on the Bucharest-Pitesti motorway on the outskirts of the capital, through the purchase of a neighbouring 40 hectares, as well as aiming to pioneer the boom in other cities.
"This turns the park into the biggest logistics park in south and eastern Europe, with more than 300,000 built square metres," says Margescu.
The whole park has been acquired by Austrian-based Europolis for 150 million Euro and Cefin Real Estate has an agreement to sell Europolis everything they build. The completion date for the entire park is now 2009. But the company will deliver between 60,000 and 70,000 sqm per year.

CEFIN REAL ESTATE ROMANIA
Major projects:
Cefin Logistics Park: 70 hectares, for Europolis
Herestrau Lake: 14-storey building with 264 apartments worth 50 million Euro: under construction
Aleea Alexandru: Luxury compound in a three million Euro investment: due to begin
Barbu Vacarescu: 150 million Euro office, hotel, conference and retail centre: due to start in 2007
                                              "We want to replicate the Bucharest story [in opening logistics parks] in cities such as Iasi, Timisoara and Arad," says Margescu. "All are at a project phase, as we think it is too early to start now. We believe in Timisoara, we have plots of land there, but so far there has been no right moment to develop a project."
The company has 20 hectares in Iasi and ten hectares in Timisoara that could be used for logistics park development.
Cefin Real Estate has also spent two million Euro in building a railway in Cefin Logistics Park. "In the far future we do not exclude the possibility of building a container terminal in the park," adds Margescu.
Drive time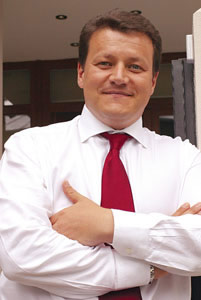 Importer of Iveco trucks and merchandiser of Pirelli tyres Cefin Romania will invest nine million Euro this year, including a new headquarters for its Eurobody bodywork plant.
The company will also invest in a retreading tyre plant, a bus plant in Arad and open another headquarters in Constanta in November. Three million Euro out of the total sum will be invested in acquiring new equipment, the IT system, technology and company cars.
The percentage of people that buy a truck in cash is similar all over the world, says Stefano Albarosa, managing director Cefin Romania. The European average is between two and three per cent of all truck sales. But Romania's percentage is higher, at five per cent. The remaining customers buy trucks through a leasing scheme, which the managing director says is cheaper than a bank credit in Romania. For this, Cefin has established a leasing company for clients to acquire new trucks – Afin Leasing.
"When the market for transport develops, that is a sign that the economy is developing," says Albarosa.
This market grew from fewer than 10,000 trucks sold three years ago to more than 16,000 trucks sold last year.
"This market is very competitive," says Albarosa. "In 2003 Iveco and Volvo together held a market share of 65 per cent, now this has decreased to 32 per cent."

CEFIN ROMANIA
Importer of Iveco trucks and merchandiser of Pirelli tyres
More than 800 employees
Number of Pirelli Tyres sold 2005: 100,000
2006 predicted turnover: 135 million Euro
                                              Cefin Romania now has seven branches countrywide covering technical services and spare parts. Its after-sales turnover is nearly 30 million Euro.
"In order to maintain our leading status, we have to become a company that is cost-effective for clients at the repair and maintenance levels," says Albarosa, "In this way we will reduce the costs for clients by ten to 15 per cent."
Dressed for success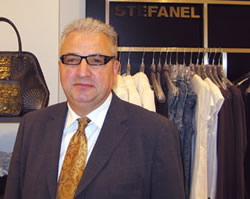 Fashion brand Stefanel will open an outlet store this Autumn on the outskirts of Bucharest and the location is now under negotiation.
The retailer will also add, to its stores in Bucharest, Timisioara, Iasi, Brasov and Constanta, new outlets in Ploiesti and Cluj-Napoca.
As one of the first foreign investors in Romania after the revolution, Stefanel became a strong premium brand and, even now, with new players on the market, the number of its customers is increasing. Peculiar for a fashion company in Romania, Stefanel introduces the latest collections present in Milan to its Romanian customers at the same time.
Now Stefanel Romania is the coordinator of eastern Europe for the company's business. Starting last year, the Romanian branch began to have a responsibility for the development, administration and supervision of operations in Hungary, Poland, Czech Republic and Slovakia. "We take into account the expansion in the Republic of Moldova aswell. Next year a mall is going to be open there, so why not?" says Lucio Manfreda managing director of the company.
With ten stores in Romania, Stefanel intends to open another one in Bucuresti Mall and next year in a mall in Cluj-Napoca.
The investment for a Stefanel store is at least 200,000 Euro and can rise to 500,000 Euro. The Italian company has a production unit in Romania, as well as cooperating with other suppliers.

STEFANEL ROMANIA
Premium clothes producer and retailer
Started activity in Romania: 1991
Stores: ten
Turnover for 2005 in Romania: three million Euro
Forecast for 2006: 4.7 million Euro
                                              "The company is trying to minimise costs, so part of the production is made in Romania," says Manfreda. "The important thing is that after the production of clothes, which are made to Italian specifications, the whole goods are sent to Italy to be checked and if they are OK, the merchandise is distributed worldwide," he adds.
Stefanel manufactures trousers, shirts and jackets in Romania.
Even if the company is opening inside malls, Manfreda says that he prefers to have standalone outlets. This is "closer to our philosophy," says Manfreda: "But Romania doesn't have the same commercial streets as Milan."
Passion for fashion
FLO & JO
Fashion store
First store opened: 2004 in Orhideea Shopping Center
Number of stores: 20 by the end of the year
Turnover for 2005: 1.3 million Euro
Total investment in Romania: 800,000 Euro
What do Russia and Italy have in common? Definately not the price of natural gas. It's Marco Tempestini, president of Unimpresa, the local branch of the association of Italian companies. Four years ago he set up women's fashion store Flo & Jo for the Russian market, when he and Italian businessman Maurizio Gadaldi created Samarcanda, which owns the brand. Two years ago they brought the format to Romania.
There are 13 Flo & Jo stores in cities such as Bucharest, Timisoara, Cluj, Constanta, Brasov and Ploiesti and will be seven more by the end of the year.
"We want to open 35 stores by the end of 2007," says Tempestini, also general manager of Flo & Jo.
Samarcanda has invested around 800,000 Euro on the Romanian market and registered a turnover of 1.3 million Euro in 2005. This year Tempestini forecasts a three million Euro turnover.
"The textile segment is very attractive for Italian investors," he adds. "About 52.4 per cent of them have invested in the industries such as textiles and shoe production."
On 8 June Unimpresa will organise the second edition of the Annual General Meeting of Unimpresa Romania. "Last year's experience was very favourable. It brought the attention of the whole political class of Romania and Italy," says Tempestini.
This year's meeting will be held under the name 'Patronat Romanesc'.
Bearing fruit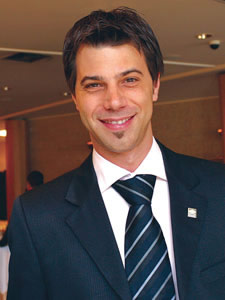 Global giant in dairy products and juice brands Parmalat has a strong presence in the retail market, but only produces fruit juice in Romania.
"Milk consumption is low in Romania and we are waiting for it to increase," says Giampaolo Manzonetto, sole administrator of the company.
Meanwhile, from the whole juice production, 95 per cent is sold locally and five per cent is exported to countries such as the Republic of Moldova, Bulgaria, Saudi Arabia and Niger. One of the main products exported is Santal Apple Juice, which is made from Romanian fruit and exported to Germany and Austria.
Today, Parmalat has three local production lines – one in glass bottling and two in carton packaging. The firm sells Santal in Romania under 24 different flavours and last year produced ten million litres of juice.
Parmalat has invested more than 16 million Euro in the past ten years since it has been active in Romania. It claims to be the market leader on the juices segment (retail and HoReCa), boasting a 76.2 per cent market share.

PARMALAT ROMANIA
Drinks producer
Employees: 130
Turnover in 2005: 30 per cent growth on 2004
Investments in Romania: 16 million Euro
The areas of maximum interest for the merchandising of Santal products are Bucharest, Timisoara, Cluj-Napoca and Brasov.
"We put all our efforts into growing our performances in the areas that, traditionally, are considered with a lower potential, like Moldavia and Oltenia, but without forgetting the rest of the country. A lot of efforts are made also in the seaside and in Valea Prahovei," Manzonetto says.
Home economics
Home appliance manufacturer Merloni Elettrodomestici changed its name last year to Indesit Company. Its brands include Indesit itself and Ariston.
"Products launched include a new line of refrigerators and gas cookers, as well as the Ariston Aqualtis range of washing machines, which we consider to be an avant-garde range in this field," says marketing manager Rodica Stere.
The firm does not have a local production facility, but supplies local retailers such as Altex, Domo and Flanco.

INDESIT COMPANY
Home appliance brands: Indesit and Ariston
Sales in 2005: 37 per cent increase compared to 2004
Stere says last year the firm increased its sales by 37 per cent on the previous year.
"We are very proud of company's performance knowing the home appliance segment had seen a ten per cent decrease," Stere says.
She adds Indesit, among companies without a local production, ranks first on the white goods segment.
"For 2006 we expect the decreasing trend of the market to continue, as well as pressures in terms of price," says Stere.
Thread start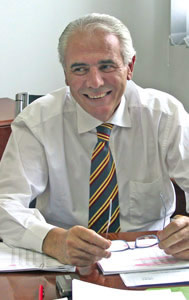 Grupo Radici has an important worldwide presence in its fibre, chemicals, plastics, textiles and auxiliary divisions and is represented in Romania by Yarnea, which produces nylon for fashion and interiors and industrial use.
Now the company, which has a factory in Savinesti, Neamt county, is evaluating potential investment projects in the industrial thread segment and intends to consolidate its local position.
"The opportunity will arise because the biggest tyre producers are about to transfer their activities to Romania. Some of them have done so already," says Aldo Paracciani general manager of Yarnea.
Last year the company had a 38 million Euro turnover and is forecasting an increase by ten per cent for 2006.

YARNEA
Part of Grupo Radici
Fibre, chemicals, plastics and textile producer
Turnover for 2005: 38 million Euro
Forecast for 2006: 41.8 million Euro
"The nylon segment is very much affected by the worldwide price of oil, because this is the base of nylon, and this also influences the price of electricity, which we use a lot," says Paracciani. Still, the manager forecasts a constant growth of Yarnea's activity in Romania.
About three quarters of Yarnea's customers are from Grupo Radici and other customers include Romanian, Ukrainian, Bulgarian and Serbian companies.
Concrete plans
During the last year construction firm Marcora has strengthened its joint venture with another Italian reinforced concrete producer Magnetti Prefabricate.

MARCORA
Construction company
Clients include: Italo-Romena Bank, Orange, Liebedi Printing, Siad
Turnover in 2005: 18 million Euro
Forecast turnover 2006: 20 million Euro
Magnetti has built a 40,000 sqm concrete plant 15 km outside Bucharest, in Bolintin Deal, in a three million Euro and forecasts to invest a further 1.5 million Euro in this unit.
"In Romania there has been a tradition of reinforced concrete manufacture, but it was badly made," says Leonardo Rossi, general manager of Marcora Romania.
Marcora and Magnetti chose Bolintin because of its position on the motorway between Bucharest to Pitesti. Rossi considers that this route is similar to the link between Milan and Bergamo and, likewise, the motorway could be transformed into an industrial platform.
"We've seen that Bucharest-Ploiesti cannot be connected in the same way, because it is not an important corridor at international level. While Bucharest-Pitesti takes Romania into Europe through Corridor VIII," adds Rossi.
At this moment Marcora is negotiating its biggest project ever in Romania - a 20 to 30 million Euro building of which details were unavailable as we went to press.
"We will sign the contract in one to two months time," says Rossi. "In two months our production capacity will be full and we will stop the offering department because we don't have the possibility to produce more. We don't want to decrease the quality of our work in terms of supporting more projects than we can."
This year Marcora's latest projects are a Liebedi printing house in Pantelimon, a new office building in Iride Business Park, a church in Drumul Taberei and the Siad factory near Metro Militari.
Marcora has started to build 20 luxury apartments in Floreasca and to cooperate in projects outside Bucharest with Italian company Termomecanica for its 15 million Euro investment into a water purifying station in Craiova. In the same city Marcora will build a branch of Italo-Romena Bank.
"But we always concentrate on Bucharest," says Rossi. "We only have projects outside the capital if the customer is loyal or it is a huge project."
Nerves of steel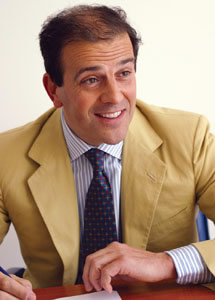 Pipe producer Tenaris is preparing to invest about 40 million Euro to build new production lines, after investing in Romania more than 157 million Euro in its two factories from Zalau and Calarasi.
Except Italy, Romania is the only country in Europe where Tenaris has invested.
"When we decided to grow in Europe we did not have an infinite number of options," says Paolo Basetti, executive vice president of Tenaris Silcotub.
The company made its first investment in Zalau, where the president says he found a very impressive plant and well-trained staff. At this plant the company produces 220,000 tonnes of pipes per year.
"What we did there was only a matter of improving the industrial aspects of the plant," says Basetti.
Until it was bought by Tenaris, Silcotub Zalau was importing steel from Russia.
"When I arrived in Zalau I asked myself: Why is the steel imported from Russia? So what I did was to look around and find a steel plant," Basetti says.
This is how Tenaris invested in Calarasi, near the Danube.
"We faced the other Romania when we went to Calarasi," he adds.
In the south of Romania, the Italians had to encounter a socially fragmented and dilapidated town. The company invested 77 million Euro in a steel plant which had not been operating for ten years and it took six months to start production in Calarasi.
Tenaris canceled the imports from Russia and started to send the equivalent quantity of steel from Calarasi to Zalau at the same costs.
"We improved the trade balance of this country substantially, because we stopped importing and left value added in the country," Basetti says.
From Romania Tenaris is exporting pipes to more than 42 countries in Europe, Russia, United States, Canada and Mexico. 70 per cent of Romanian production is for export.
Lately, Calarasi has become the biggest cluster for the Italian business community in terms of investments, but not in terms of number of companies.
"Here you have an industrial cluster that is growing and it needs to be supported," he adds. Because Tenaris's investment in Calarasi was succeeding, the company needed extra oxygen and convinced one of the biggest oxygen producers in eastern Europe.

TENARIS
Pipe producer
Owner of Silcotub Zalau and steel plant in Calarasi
Total investment in Romania: approx. 157 million Euro
Turnover in 2005: approx. 157 million Euro
Italian company Siad, to also enter the market. Siad is investing around 22 million Euro in Calarasi, where the company will build a new plant for providing oxygen for industry, agriculture and medication.
Tenaris Silcotub is active in the industrial market, but also in the automotive components segment, producing air bags. "We are number one on this segment and we are growing very much in Romania," Basetti says.
When Tenaris bought Silcotub, in the purchase package were two other companies, Laminorul Braila and Tubinox. For Laminorul Tenaris paid approx 3.1 million Euro debts and give it back to the state, meanwhile it sold Tubinox to an Indian investor.
Safe bet
GENERALI
Insurance company
Started activity in Romania: 1835, restarted after Communism
Number of agencies and working offices: 68
Turnover for 2005: 31 million Euro
Insurance company Generali is undertaking large scale expansion plans. This year it opened its new multi-storey headquarters near Gara de Nord and in April 2006 increased its share capital from 30 million RON (8.5 million Euro) to 50 million RON (14.1 million Euro).
"We are sure that in a short period of time Generali will became a brand name in the Romanian insurance market. The beginning of 2006 confirms that," says Tudor Moldovan, general manager of the company.
The first quarter of 2006 saw rises in life insurance and the gross written premium for non-life insurance increase by 190 per cent compared to a similar period of 2005 to around 16.4 million Euro.
This year also saw Generali introducing the Green Card insurance for cars. The company intends, in the middle of this year, to enter the unit-linked insurance market.
Merging market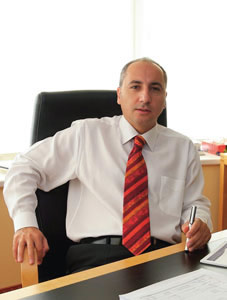 Pending the official merger, the local subsidiaries of the UniCredit Group – HVB Bank, Banca Tiriac and UniCredit Romania – last month merged their ATM networks, which now comprising 335 machines.
"This is a first step towards the final aim, that of functioning like a single entity in Romania, representing the UniCredit Group in this country," said UniCredit Romania executive president, Rasvan Radu.
The three banks have been part of the central and east European network of UniCredit Group since last November, after the previous merger between HVB Bank and Banca Tiriac. HVB was later on taken over by the Italian financial giant, with the full merger scheduled to begin after September this year. The three banks now have cumulative total assets of about three billion Euro in Romania.

UNICREDIT ROMANIA
End 2005: UniCredit Group finalised merger with HVB Group
2006: UniCredit Romania's merger with HVB Bank and Banca Tiriac is expected to start this year
Total assets: 632 million Euro (end March 2006), up 52 per cent on Q1 2005 and 15 per cent on total assets at the end of the year.
Market share: 1.6 per cent (end March 2006)
Client number (private & corporate): approx. 50,000 clients of which 15,000 companies
Branches: 50
Employees: 920
The UniCredit Romania president declined to comment on future prospects of the banks in Romania after the merger, as well as on expansion plans of the new financial entity, as they are now under discussion.
Reportedly the first leasing company opening in Romania back in 1994, UniCredit Leasing now boasts a market value of 60 million Euro and total assets of over 750 million Euro, says chairman and CEO Melih Mengu.
In the first quarter of 2006, UniCredit Leasing concluded lease contracts with the Ministry of Justice and the Public Ministry for financing IT equipment in a deal amounting to 20 million Euro.
"The financing of the local authorities and public institutions will be on of the targets of UniCredit Leasing in 2006," adds the chairman.
UniCredit Leasing Romania also provides medium and long-term financing for equipment leasing, vehicle leasing, real estate leasing and sale-and-lease-back. The firm has a national network covering 12 cities, with 17 new ones scheduled to go operational this year.
UNICREDIT LEASING ROMANIA
Value of signed leases 2005: 147 million Euro [up 84 per cent on 2004]
Portfolio breakdown
Industrial equipment: 50 per cent
Vehicles: 45 per cent
Real estate: five per cent
In the first quarter of this year the company signed leases valued at 83 million Euro, up 114 per cent on the corresponding period of 2005.
With UniCredit and HVB going through merging procedures locally, the leasing arms of the two banks will also combine.
"HVB Leasing is mainly focused on retail for vehicle business, while we are, traditionally, a leaser for industrial equipment," says Mengu. "UniCredit Leasing is constantly financing the investments of municipalities and public authorities. Moreover UniCredit Leasing and HVB Leasing are the only leasing companies focused on the financing of real estate. As a result, there is no overlapping, but a complete match between the business profiles of the two companies."
Mengu says the merger, to be initiated in late 2006, will result in the biggest local leasing company.
"The merger of UniCredit and HVB groups will create new opportunities, in Europe as well as in Romania, and the lessees will benefit from an improved and enlarged financial network," he adds.
Free press
B & P Media Group
Free papers in classified ad producers
Ploiesti: Anuntul Prahova and Target
Bucharest: Tukay.ro, Attico iti cauta casa and Auto In
Media company B&P Media Group last month launched its first two classifieds papers on the market.
Weekly general ad magazine
Tukay.ro
and bi-monthly real estate
Attico iti cauta casa
have a print run of 50,000 copies and are distributed in over 2000 locations such as commercial centers, hotels, hair-dressers, clinics and offices.
B&P will launch these two magazines only in Bucharest with the hope of being distributed in the main cities of the country next year as well.
"We decided to cooperate with the two companies which own of the stands placed all over the town in Bucharest. We took over their locations to distribute our magazines," says Gabriela Capran director, book and press, of the company.
By December the company has set as a target new locations to distribute the publications: Timisoara, Cluj and Brasov.
Last July the company bought two publication from Ploiesti,
Anuntul Prahova
and
Target
, which were specialised in real estate classifieds. B&P now prints 10,000 copies for each of these two magazines.
In Italy, B&P Media Group is specialised in free of charge press in different kind of fields. Next for the launch in Romania is
Auto In
, classifieds paper specialised in the automobile industry. "There is the possibility to bring other magazines that belong to the media group in the future, but at this moment we want to create a market for free press in the Bucharest," says Capran.
By Ana-Maria Smadeanu and
Corina Mica