First port of call
Enterprising Israeli firms are making their foreign debut in Romania, finds Ana-Maria Smadeanu as she talks to top Embassy staff and local Israeli business leaders
Large Israeli companies looking to expand their business abroad are coming to Romania.
This is the case of new entrants on the market in the last year, such as dairy producer Tnuva and rent-a-car and operational leasing firm New Kopel.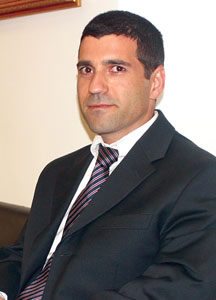 "Tnuva is going to build a dairy farm and a processing factory near Bucharest in an investment over 55 million Euro," says Arnon Arbel, first secretary of economic and commercial affairs at the Israeli Embassy.
Trade is also on a steady increase. Last year bilateral trade between two countries stood at almost 325 million Euro, an increase of almost one third on the previous year, with the balance in Israel's favour.
"We are expecting the same increase this year," says Arbel.
Many Israeli investors choose a third country to make the investment in Romania and Arbel believes indirect investments over the last two years were over 1.2 billion Euro.
"I can tell you that we consider Romania as one of the most interesting markets for the Israeli economy," adds Arbel.
2005 Bilateral trade: almost 325 million Euro [In Israel's favour]
2004 Bilateral trade: 245 million Euro
Romanian exports to Israel: chemicals, machinery, wood materials, and textiles
Israel exports to Romania: machinery, telecom services, agriculture products
Indirect FDI: over 1.2 billion Euro
Construction is where many Israeli firms see local opportunities. Neocity will invest one billion Euro in residential projects and office buildings, while Arbel says Europe Israel will invest over 100 million Euro in Hotel Bucuresti, which will become the first Radisson SAS in Romania.
Packaging is also of interest. "In my country this is a very developed segment. We have amazing companies acting in this field and I'll do my best to bring them to Romania," says Arbel.
In telecom, Israeli companies are cooperating with the biggest operators from the Romanian market and, in retail, Israel is present with brands such as Kenvelo and Castro and one of Israel's leaders in the market, Leumi Bank has bought out Eurom Bank.
Although the number of Isreali business people in Romania is increasing, despite the fact that it takes a long time for them to receive a work visa, the amount of Romanians finding work in Israel has decreased, because Government measures have restricted those receiving a work visa, in order to confront their own problem of unemployment.
But Arbel recommends Romanians to invest in Israel.
"Especially in the infrastructure sector," he says. "We have some big projects for our trains. We intend to expand the Israeli network. I believe that Romanian investors should take into account the possibility of investing here."
Last year Arbel told
The Diplomat
that a large investor in energy is looking at the Romanian market, but this company is facing an obstacle in terms of approval.
"Many projects, not only Israeli were delayed a little bit last year because it takes time for the new Government to study them," he adds.
Building a billion
Following the construction of office buildings Neocity Towers I and II, which now house the Alpha Bank headquarters in Dorobanti, Bucharest, Neocity has decided to invest one billion Euro in new projects over the next three years.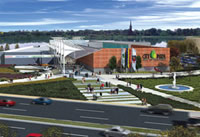 The first is City Park Mall in Constanta, scheduled for completion by the end of 2007.
"It is possible that we will start this year the Neocity Office III project," says Ben-Ami Nimrod, CEO of the group.
The company wants to continue the strategy of constructing office buildings in the main areas of Bucharest.
At present Neocity is looking to invest in residential projects and especially in areas surrounded by a lake or river. This is the case of 'Peninsula' project, which is a 300 million Euro investment on the east side of Bucharest, surrounded by the Colentina River and Fundeni Lake and stretching over 65,630 sqm, with 2,405 apartments and 35 houses.
Although smaller, Neolake project near Floreasca will be built on a 21,000 sqm area, following a 25 million Euro investment.

Established in Romania in 1999
Real estate investment and development company
Some major projects in the pipeline
City Park Mall, Constanta
Peninsula, apartments and houses, Lacul Fundeni, Bucharest
Neopark, apartments, park and landscaped public areas, Pantelimon
Other projects include Neopark, a residential project which includes 1,575 residential apartments, a park and landscaped public area, which it will build close to Cora Pantelimon. The company also intends to construct 450 high-class apartments near the JW Marriott.
There is also Neoforest, 20 km from central Bucharest, where, over a 50 hectare plot, the company will build 900 large apartments and 500 villas.
"Romania is a priority for our group as, apart from the announced projects, we will also be looking for new opportunities," says Nimrod. "Residential projects and new office buildings are among our plans for the next three years."
Taking IT a stage further
Construction company Ashtrom has taken on a ten to 11 million Euro project to build a new office building on the redeveloped Teatrul Excelsior, near Piata Revolutiei, says the firm's director Isaac Soffer.
The project is made in cooperation with the Bucharest City Hall and Ashtrom will also renovate the theatre. The building will have 12 floors and should become operational by the end of 2008.

Construction company
Deals include:
Teatrul Excelsior renovation and office development
42 Petrol stations rented to Lukoil
Union Center office buildings on Ion Campineanu and Stirbei Voda, Bucharest
Rehabilitation of roads in Constanta
Local investment: 100 million Euro
Turnover 2005: 25 million Euro
Meanwhile Ashtrom will soon finish a residential project on the place of a former 5,000 sqm rubbish dump. The company will build 31 houses in an investment of five million Euro, half of which are already occupied.
Among other projects there is a 6,000 sqm industrial park and 42 petrol stations that Ashtrom is leasing to Russian gas and oil giant Lukoil.
"One gas station is valued at one million Euro and Lukoil is going to pay the money within six years," says Soffer. The firm intends to build more petrol stations for Lukoil.
Along with another Israeli company, Ashtrom has also created a joint venture to execute infrastructure projects.
The latest is the rehabilitation of roads in Constanta. The total investment is 40 million Euro and is made in cooperation with the Ministry of Transport, Construction and Tourism. Similar infrastructure projects are also taking place in other towns such as Bistrita, Reghin, Brasov and Focsani.
But there are two main investments that Ashtrom is hoping to accomplish. In 2004, before the general election, the company won a tender to rehabilitate the road between Predeal and Brasov in a kind of Private-Public Partnership scheme, but the Government has yet to approve this.
"We have a contract with the Ministry of Transport," says Soffer. "We were going to invest 300 million Euro and the Government was due to pay us back the money over ten years. The changes toward Government led to the blocking of this project."
Ashtrom has also entered the tender to refurbish the market in Piata Obor, Bucharest, with the winner to be announced in June. This project should cost around 80 million Euro.
Breaking new ground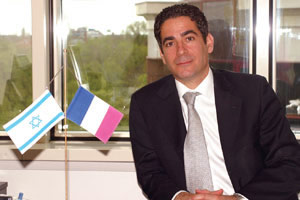 Eurom Bank will soon finish its being taken over by Israeli giant Leumi Bank.
"It is a question of a few weeks," says first deputy general manager of Eurom Bank, Alexander Regenbogen.
Leumi Bank has a market share of almost a third in Israel and bought Eurom Bank last year for around 34 million Euro plus considerations, based on performance, to be paid later on.
"This will be like a gateway for Israeli investors to Romania," he adds. "One in three Israelis have a bank account at Leumi. This will encourage other investors from Israel to come here and will be a platform for further investments."
In the meantime, Eurom Bank is in the process of delisting its shares from the local OTC market, the Rasdaq, although some shareholders have yet to come forward.
"It is in the policy of Leumi Bank worldwide not to be listed," says Regenbogen. "Being a public company means there are lots of exposures of all kinds. Small shareholders can cause problems, and for a big bank, with no plan for the future to raise capital on the stock exchange, it makes no sense to be quoted."

To rebrand as Leumi Bank
33 branches in Romania. Two more to open in Bucharest in 2006.
Balance sheet: 160 million USD (approx 130 m Euro)
End 2006 target: 200 million USD (approx.162 m Euro)
End 2010 target: 500 million USD (approx.404 m Euro)
Now, Eurom Bank is in the final stages of writing tactical and strategic plans to re-brand as Leumi. The bank will spend over 800,000 Euro on this process.
"This is one of the most important issues for the first year," says Regenbogen.
The bank will orientate its activity towards new services for corporate and large corporate clients. The strategy until now has mainly focused on SMEs, with the average loan standing at around 80,000 Euro and on short-term periods.
"Now, especially in Bucharest, we will tackle bigger companies, with credits of up to five million USD [around four million Euro], due to the fact that the capital and shareholder structure gives us the opportunity to tackle other segments as well," he adds.
"This does not mean we will neglect retail. The orientation in retail will be more toward clients that consume bank services, the likes of bank accounts, deposits, credit cards, Internet banking, capital markets, direct debit and a segment of clients that use more banking services."
Two more branches will open in Bucharest this year.
"We will focus a little bit more on Bucharest this year, and by the end of the year we will launch mortgage loans and construction loans," he adds.
Regional hub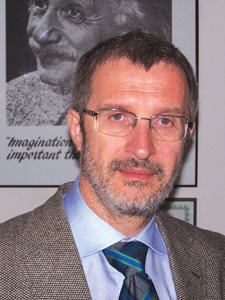 Engineering company Ludan is now investing three million Euro in a new headquarters in Bucharest, which is fast becoming a hub for its regional operations.
The company provides engineering and logistics services for industrial projects, as well as supplying turn-key projects, says general manager Dmitri Militescu.
Ludan's customers include Rompetrol and fertiliser company Azomures, but the company also offers services for the Bulgarian market from its Romanian hub.
"We now have our second project in Bulgaria, but are also targeting Serbia, where we are currently under negotiation for a project," says Militescu. "We will not focus on the Republic of Moldova for the moment."

Entered local market: 1997
No of projects: 30 in cities such as Targu Mures, Constanta, Timisoara and Iasi
Employees: 50 – which it plans to increase by 25
Turnover (2005): 3.7 million Euro
In the meantime, Ludan focuses on designing for environmental protection projects in Romania, the latest involving a cleansing installation for thermopower plant CET Iasi. The company will also start a new project working for laboratory firm Viromed, in the town of Victoria, Brasov county. The company can handle projects worth up to five million Euro in Romania.
Another project it is involved in is the automation of the Petromidia refinery on the Black Sea coast. "Even now, the engineering services market is at its beginning," says Militescu.
Rent force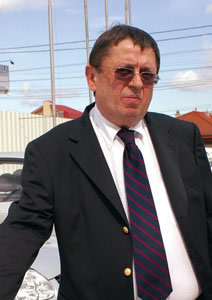 New entrant on the local market is rent-a-car and operational leasing firm New Kopel. The company is part of Shlomo Group, a leader in Israel in these two fields, and owner of companies in infrastructure, shipyards, real estate and the motor industry.
New Kopel took over the license for rent-a-car German brand Sixt.
"Rent-a-car is a product that has many targets," says Dudy Perry, CEO of the company. "It exists in Romania, but there are local companies that are very small with two to four cars fleet and are unprofessional, with low level of standards and prices that are not at all cheap. Next to them there are the international brands, which are of course bigger, but still the industry is not as developed as it should be."
Perry believes there is no more room for new players in the car rental market, but the existing ones need to improve their professionalism.
Romania is the first country in which the Israeli company decided to expand abroad. "We chose Romania because the products in which we specialise are part of an undeveloped market here but, on the other hand, there is an economy which is beginning to boom," says Perry. "We will concentrate in the next years only on our business in Romania and not take into account an investment in another country."

Rent-a-car and operational leasing firm
Clients include: Pepsi, Alka, Elite and Tnuva
Total value of contracts: eight million Euro
Investment in Romania: seven million Euro
Forecast turnover 2005: five million Euro
Although New Kopel entered the market in July last year, the official activity started in the Autumn and most of the cars were on the road this year. Last year the company signed only 150 contracts.
Today, it has 400 cars on the road but it has contracts for more than 1,000 vehicles. "We believe that we will finish this year with a fleet between 1,200 -1,400 cars at least," Perry says. "Our business plan is to have 6,000 cars by the end of 2008. I don't expect the company to be smaller than it is in Israel."
New Kopel is renting and leasing foreign cars such as Chevrolet Sparks, Hyundai Accent, Opel Corsa and Vectra, Skoda Octavia and Subaru 4x4. Perry is not taking into account the possibility of doing business with Romanian brand Dacia Logan, the most popular leased car on the market.
In terms of operational leasing at this moment, the CEO says it is easier for New Kopel to sell its products to multinationals who have operations in Romania, because they know the products from abroad.
"From my experience, the situation today in our market niche is the same as in Israel's ten years ago," says Perry.
Water works
Consulting engineering company Tahal is about to finish its first project in Romania, involving water supply for 27 counties in Romania, worth a total of around 235 million Euro.

Engineering consultants
Started activity in Romania: 1997
Employees: 90
Turnover 2005: 2.7 million Euro
Profit: 94,000 Euro
Investment in Romania: eight million Euro
This comes as a result of a joint venture with another Israeli company, Solel Boneh, established back in 1997, where Tahal was dealing with designing, supervising and technical assistance. Meanwhile Solel Boneh was the contractor for the project.
"We hope to expand the project, which is scheduled for completion in 2007. We are only covering 800 villages from the 10,000 in Romania," says Alexander Faran, general manager of the company.
From Romania, Tahal oversees projects in Bulgaria, the Republic of Moldova and Hungary.
The company mainly handles projects as part of joint ventures. About 90 per cent of them have 2007 as a deadline.
By this summer the firm will finish a 2.8 million Euro project for the rehabilitation of the water network in Timis Triaj, a neighborhood in Brasov. Another project involves rehabilitation and expanding the wastewater treatment plant in Arad, started in 2004 and valued at 13.2 million Euro. This adds to the 8.9 million Euro chunk of projects Tahal is running in the county's small and medium-sized towns.
"But our most important project is the 15.7 million Euro plan to rehabilitate and expand the water and sewage network in the city of Brasov," says Faran. "Other projects include water supply for Pascani valued at 6.4 million Euro and technical assistance and the training for wastewater management in 20 villages in Tulcea valued at 328,000 Euro. We have a programme concerning the development of roads management. This is a pilot project in which we have invested over 250,000 Euro. We introduce all the information about a county or town into the computer and the computer chooses the road that needs to be redressed immediately."
Another pilot project was initiated by the company in four towns in the Republic of Moldova in the field of water supply.
Additional reporting by Corina Mica