Taking the law into its own hands
Romania has succeeded in building up strong local firms in the commercial law market, but will foreign giants buy up the best the country has to offer? 'The Diplomat' analyses the local field
The business environment gets the law market it deserves.
And while Romania is going through an accelerated rate of development, the law market must adapt fast to the demands of mergers, acquisitions, further privatisations, EU compliance and the internationalisation of litigation and arbitration.
But there is one phenomenon which sets the country aside from much of central Europe: some of the biggest brand names in Bucharest legal are Romanian, while virtually none of the most powerful global law firms, mostly from the USA and UK, have a local office.
There are few names from the UK magazine The Lawyer's top 100 Global law firms, exceptions include Linklaters and Cameron McKenna.
Otherwise only a few large European firms, such as Gide Loyrette Nouel, Haarmann Hemmelrath, Norr Stiefenhofer Lutz, Salans, Schoenherr and Wolf Theiss have entered the market.
"Besides many of the internationally known law firms, there is a strong local-based number of reputable law firms," says Joerg Menzer, attorney-at-law, Norr Stiefenhofer Lutz. "However, due to the strong development of the economy, the accession to the European Union and the complexity of bigger transactions, internationally connected firms will have a strong development."
With the absence of leading global companies, some smaller international operations are setting up shop, while the giants are making associations with domestic firms, who they do not compete with on an international stage.
"Companies such as Clifford Chance, Norton Rose, Freshfields and Allen & Overy intervene on the Romanian market even without having offices here," says Bruno Leroy, resident partner Bucharest, Gide Loyrette Nouel.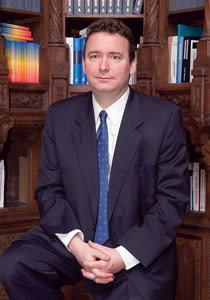 But some of the leading companies have seen benefits from having an office in Romania. After seven years' in the country, Linklaters has picked up on the quality of the personnel, due in part to the good legal tradition and good law schools, according to Michael Schilling, partner of Linklaters, Miculiti, Mihai & Asociatii.
"Years ago there were expatriate lawyers working here," he says, "now we have Romanian lawyers working in Serbia, Bulgaria, Turkey, Greece, the Middle East and Africa."
Commercial legal services tend to ride on the back of business interests and their presence mirrors the development of the market economy.
In general, lawyers believe that the commercial law market in Romania is more developed than in Serbia-Montenegro, Ukraine and Bulgaria, but less mature than Hungary, Poland and other central European countries. In Hungary nearly all the major London law firms are present, opening offices there in the 1990s.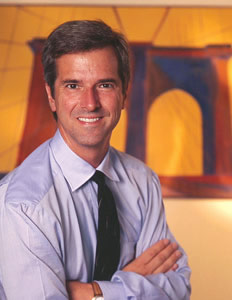 "Where clients aren't yet active is either because the law is unclear or because there is no market for a client's products or the related practice area remains underdeveloped," says Andrew Kingston, partner at Nestor Nestor Diculescu Kingston Petersen (NNDKP).
However, Cristiana Stoica, senior partner at Stoica & Asociatii, says the Romanian regulation of the legal profession has been in advance of some central European countries, due to a strong framework established in 1995.
"Hungary was not offering its legal services the sort of regulation Romania had installed in 1995," she says. But as Poland and Hungary's economies developed, so did the acceleration of the quality of their legal profession.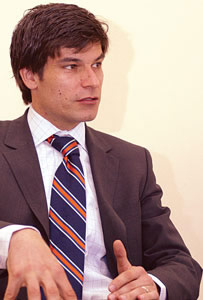 Markus Piuk, managing partner at the Bucharest office of Schoenherr & Asociatii believes Romania is more open to foreign law firms than countries like Bulgaria, which he says is a slow market, and Serbia, which has strict protections against foreign firms.
While the east may see less rapid development and the west nears saturation point, Cristina Daianu, partner at Schindhelm, is upbeat about Romania's position between the two.
"This is a dynamic market, with a bigger development potential in the legal field than countries like Hungary, Poland and the Czech Republic, even Germany or France," she says. "Countries like France and Germany are fighting structural problems because of the developed stage of the market economy, such as the workforce, the birth and mortality rates, hence the decreased development potential. In the long term, it's harder to impose yourself on such a market."
The health of legal firms is a barometer for the state of the nation's business economy. Therefore this speed of development could translate into better conditions for the legal market.
"Romania is very busy," says Florian Nitu, managing partner at Popovici & Asociatii. "So busy with catching up with the 1990-2000 decade of slower progress, that soon there won't be considerable differences between the profit of a law firm in Romania and one in Hungary or Poland."
Break free or come together?
Break-outs from international firms cause much discussion in the closed and not always amicable world of Bucharest legal.
Many lawyers are tempted to go it alone, while others like to merge, like any other business.
"Law firms are just groups of people working together and they are just as predictable as people themselves," says Schilling. "I cannot think of a year when both of the things have not happened."
But Romania witnesses quite a high degree of changes in legal personnel. Last year Zamfirescu Racoti Predoiu was founded by the merger of two law firms, Calin-Andrei Zamfirescu and Partners and Racoti-Predoiu. While in 2005 Florentin Tuca left Musat & Asociatii with a pack of lawyers and set up his own firm. The latest schism is from three lawyers from Salans who decided to set up their own practice.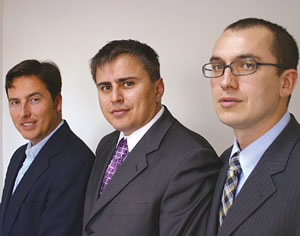 Named Biris-Goran, the new company includes Gabriel Biris, Gelu Goran, Victor Constaninescu and Dan Visoiu.
"We did this not because we were not satisfied, or because the company was not moving in the right direction, it was a personal decision that we could do better for ourselves, our families and our clients," says Gabriel Biris.
Is this the last we will see of the break-outs?
"It's never too late to do what we have done," says Dan Visoiu. "But in two or three years, if two or three foreign firms come here, it will be harder to do."
The group plans to have 15 lawyers by the end of 2006.
"The market is developing, and my opinion is that it is driven towards splits, the likes of Tuca leaving Musat," says Daniel Voicu, partner at Voicu & Filipescu.
Menzer believes "we will see mergers between local law firms and between international and local firms. However, we will also see the splitting up of firms."
However, Daniel Badea, managing partner at Badea Georgescu & Asociatii, argues it will be harder for break-outs to access the premium clients.
In mergers, Popovici believes none are possible between big Romanian firms.
"But there will be some more mergers between medium firms or acquisitions of smaller firms by big firms," he adds.
But as the market develops, clients will require more complex services and, at present, some law firms are focused on volume.
Dragos Vilau, partner at Vilau & Mitel, explains.
"There are quite a number of Romanian law firms we know where, due to, let's call it 'the Romanian managing style' the firm structure is not pyramidal and based on business principles, but on the principle of 'let's have as many lawyers as possible, in order to lure in the clients and earn more money'," he says.
Waiting for America (and the Brits)
This market is not saturated and some lawyers are surprised that they have not witnessed a wave of foreign firms from the US and UK crashing onto Romania's shores.
"It's strange to see that the privatisations are over and there is a lot of room for added value services, and still we see very few major law firms," says Badea.
Popovici estimates that there is still place on the market even for 30 important law firms.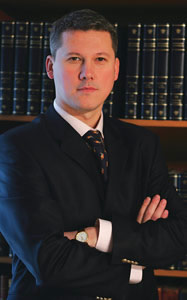 "In Romania their presence is more shy, maybe also because of the fact that a quite strong platoon of Romanian law firms has gradually consolidated, conquered and authoritatively occupied the market," says Catalin Predoiu, senior partner at Zamfirescu Racoti Predoiu.
But managing partner of Tuca, Zbarcea & Asociatii, Florentin Tuca, says the legal services market, although promising, has a long way to go to become really attractive to international law firms.
"The Romanian legal services market will probably come to a turning point once the accession to the EU is complete," he adds, "and I can only dream of a consolidated legal services market, as compared to the western markets, in the upcoming three to four years."
But EU accession may not make much of a difference. Daianu says Romania may see a couple of foreign law firms stepping in after EU accession, but not a large wave.
"Look at the neighbouring countries," she says. "None of the big international law firms present in countries like Hungary, Czech Republic or Poland waited for these countries to join the EU."
Badea believes the kind of law firms that will come to Romania will be the 'second tier'. These are those companies active on the international scene, but not the giants employing around 3,000 lawyers worldwide.
He could see one or two top law firms and perhaps a couple of second ranking companies.
"The market is buoyant and dynamic but might not accommodate four, five or six major global law firms," he says. "But as for all the British and American firms coming in here at once? That will probably not happen."
Too shy
What is keeping the foreign firms away?
Badea believes it is a classic case of supply and demand.
"If foreign law firms haven't come, it's not because the bar discouraged them or the bar didn't provide rules," he says. "It's because the client demands were not sufficient."
But Cristiana Stoica argues that, on top of the assurance they can have a return on their investment, such companies have probably have probably in the past been discouraged by the Romanian law regarding the legal profession.
"They have to find a Romanian partner, be registered in the bar and they have to make a selection of local lawyers – this is not a simple process," she says.
Foreign law firms in central and eastern Europe have built up offices in centres of the region, such as Warsaw, Prague, Budapest and Bratislava, which tend to co-ordinate the work for countries such as Romania and Bulgaria.
"I do not expect to see this policy change in the near future," says Tuca. "But I would definitely say it is likely that several top international law firms will seek to set up their own offices in Bucharest, to form alliances or to take over other local firms."
But managing partner at the Bucharest Salans office, Obie Moore, says such international firms may be suffering from absorption overload.
"It is a bit like the EU," he says. "The magic circle is in nearly all the other ten new EU member states in central and eastern Europe. Some have pulled out, like US firm Shearman & Sterling."
One key factor is that expanding abroad can dilute their total profits per partner, if the company has a significant number of Romanian or Hungarian partners.
Moore says firms are very conscious of this.
Another barrier to entry could be that if a law firm expands too far and assumes too many clients, it has to manage more potential conflicts.
If a company represents a multinational in a small nation such as Romania, it cannot represent another firm that may want to sue that company in a much larger and more important country.
"You are restricted based on professional conflict rules," he says, "that is a deterrent to entering new markets."
Entry strategy
Unlike other central and eastern European countries, Stoica says foreign law firms are now "almost balanced" in terms of their presence on the Romanian market with purely local firms.
If they do choose to enter, most law firms believe it is less likely to happen organically.
"The era of international law firms starting offices in Romania from scratch is pretty much over," Kingston says. "International law firms who want a direct presence in Romania will achieve this through association with existing Romanian law firms, not through acquisition."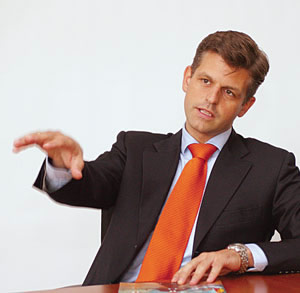 But Jorg Menzer of Norr Stiefenhofer Lutz says international law firms will come as their clients invest in Romania as well as for the business opportunities the country offers.
"Some firms will try to buy or merge with local firms, while others will start from the scratch," he says.
In 2005 the Austrian law firm Wolf Theiss entered Romania as a greenfield operation. As Romania and the Balkans are important markets for Austrian giants such as Erste and OMV, as well as a raft of large companies and medium-sized enterprises, it made sense for the firm to come to the largest market in that area.
Wolf Theiss also had experience as a counsellor for HVB for the Banca Tiriac acquisition.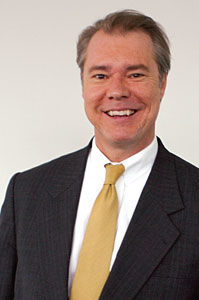 "This happened to go hand in hand with the implementation of Wolf Theiss' long term strategy to create a presence in Romania and made our market entry more visible," says managing partner at the Bucharest office Bryan Jardine.
Bucharest is now the company's largest office outside Vienna.
Jardine says the market perceives the neighbouring EU members as "over-lawyered", which could draw more international law firms to opportunities in Romania.
There is also not a national bias in practice.
"Naturally, [companies have] a tendency to draw towards a law firm from the same nation," Leroy says. "One reason Wolf Theiss came is because HVB is their historical client."
But there are exceptions. For example German utility company E.ON Ruhrgas chose French law firm Gide Loyrette Nouel as their adviser in the acquisition of Distrigaz Nord.
Greek law firm Drakopoulos has also made new steps on to the market.
"There is certainly a more favourable environment in Romania in comparison to its neighbours, due to Romania's bolder steps towards a market economy and the rule of law," says its senior partner Panagiotis Drakopoulos. "We are confident in the capacity of the Romanian legal market, hence we decided to get established in Bucharest with a fully fledged commercial practice."
But he does notice that bureaucratic hurdles still hinder the effective provision of legal services.
"It is therefore important for a law firm to be already there when such bottlenecks disappear in the future," he adds.
But Drakopoulos also believes that international law firms will prefer to acquire or team up with strong local practices rather than set up organically in Romania.
Forging alliances
Most international law firms partner with Romanian law firms on a case-by-case basis for specific transactions.
"The fashion of coming organically or acquiring local firms has disappeared and an easier strategy was created: that of alliances with local firms," says Doru Bostina, managing partner with Bostina & Asociatii. "The advantages are that you have their cooperation, but you don't get burdened by their problems, you have only project costs, not office maintenance costs."
A Romanian firm looking to partner up with a foreign company has three options. Firstly, it can sell itself out. Secondly, it could offer a foreign company an exclusive cooperation. The problem with this choice is the domestic company cannot work with other international firms if the main partner moves its orientation away from Romania.
The third option is for a firm to develop a 'friendship' with a large law firm – but not exclusively, which seems to be happening in Romania.
"What international firms not present in Romania will be looking for is a big Romanian firm to have a working relationship with," says Biris.
Voicu and Filipescu, for example, has an association with Squire Sanders, but the international company does not have control in its operations.
Specialise or perish?
There is a lack of specialists on the Romanian market. This tends not to be due to lawyers' lack of knowledge, but the absence of putting that intelligence to the test.
"No one can say they are specialist," says Stoica. "Companies are doing their best to become specialist and are tending to become specialist, but I wouldn't say that one law office is 100 per cent specialist in a particular area."
She says that a lawyer could argue that he or she is "a very good litigator" or has good experience and results in corporate litigation.
"But you cannot say you are the best in litigation between shareholders, against the administrator of a company or in copyright infringement disputes," she says. "The market does not give you the necessary volume of work to contribute towards the qualification of a lawyer as such."
Partly this is because many precedents do not exist relating to the flood of new laws that have entered the statute books in the last few years. There also may not be very good precedents, created by a judge who was less than competent and did not have correct knowledge of new legislation.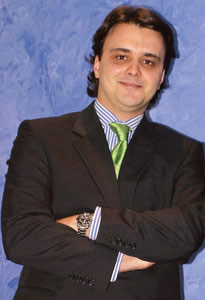 Lawyers need to show they can specialise, argues partner at Haarmann Hemmelrath Catalin Grigorescu, because a one-stop-shop for all legal needs does not always excite client interest.
"The situations in which lawyers know everything give out a sense of distrust," he says. "Of course, there are cases when those lawyers really know their job in different areas, but when there are too many, the business is not credible."
Drakopoulos feels there are some niche practices in Bucharest, but the local legal market lacks turnkey corporate solutions.
"Romanian companies and foreign investors are in urgent need of sophisticated legal advice in many areas," he says, "such as in the fields of competition, intellectual property, public procurement, stock exchange regulations, proper due diligence in M&As and creative corporate advice."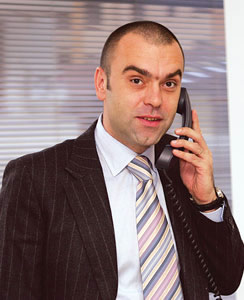 Tuca Zbarcea & Asociatii, for example, prefers to concentrate its efforts in areas which it sees of particular importance.
"Thus we have gathered a handful of expert lawyers in real estate, mergers & acquisitions, competition, intellectual property, international arbitration, public-private partnerships, capital markets and we have created specialised departments for each of these practice areas," says Tuca.
He adds that areas where the local market lacks aptitude are EU accession related law, private equity and international arbitration.
There is also a lack of litigation experience. The judges in the courts often do not understand new laws and the process is slow.
Voicu believes areas which will develop are commercial and real estate litigation, while Drakopoulos foresees disputes in intellectual and industrial property, as well as competition and administrative decisions and commercial disputes, especially regarding banking law and stock exchange regulations.
Law of the jungle
Some competition issues will also come under European law. Therefore firms which have strong relationships with European law groups will be advantaged, Leroy argues, as they will benefit from the knowledge of EU law of their partners.
Partly under pressure from the European Commission's regular report into Romania's worthiness for EU membership, last year saw the Competition Council sharpening its teeth and imposing fines totaling 40 million Euro on consumer goods, cement producers, harbour services, and branches of the real estate union, many of which were multinationals.
"These are due to issues that, if the company had had good legal assistance and compliance in place, may not have happened," says Gelu Goran, founding partner of Biris-Goran.
Most of the competition cases that went to court, the state won.
But competition lawyer Raluca Tiparu, senior associate at Tuca, Zbarcea & Asociatii, said she has no knowledge of any Romanian case where the court undertook a substantial analysis or looked into the finer details of the competition case.
"The state only lost [anti-competitive] cases because procedural aspects of the process were at fault," she says.
The defending lawyers caught the state out.
The Competition Council undertook around nine dawn raids last year. Next year the council could carry out dawn raids with the muscle of the European Commission.
"The EC know their business, there will be more enforcement," says Goran.
Companies will need to know the European Union precedents on anti-competitive practices from the European Court of Justice, EU member states and Romania. This will not be easy.
Knowledge of the tax laws is also lacking, especially as the legislation is always on a roller-coaster of change.
"Very few Romanian lawyers are experts in tax," says Biris. "Tax advocacy still sits with accountants and this should stop in the near future. Accounting firms have experience and expertise of an accountant, not of a tax lawyer."
This will be essential, argues Biris, as knowledge of European law will be necessary for VAT and excise duties next year.
Making the move ABROAD
There is not a lot of optimism regarding the success of Romanian law firms expanding abroad in large numbers, even to the Republic of Moldova.
"Let's say you're a Romanian law firm and you open an office in Sofia," says Grigorescu. "Why should a Bulgarian company come to you and not to a Bulgarian law firm? Maybe if they're a Romanian client. But then again, how many Romanian clients are there in Bulgaria, or better said, how many Romanian companies run their business over there? Very few."
Romanian law firms are instead establishing collaborations in locations such as Sofia or Kiev, but are not opening offices abroad.
"To survive the battle with US and UK firms for supremacy in eastern Europe, independent law firms in Romania could rather band together to form regional alliances, as has happened in several Baltic and eastern European countries," says Tuca. "I expect these kinds of alliances to become closer in the coming years, including a strengthening of the referrals system, rather than Romanian law firms setting up in Hungary or the Republic of Moldova."
Popovici says that his firm aims to continue developing existing collaborative relations with lawyers from Sofia, Belgrade and Chisinau, while Mitel is working with law firms in Kiev and Sofia and is in the process of establishing such a relationship in Serbia.
"I am tempted to establish an office in the Republic of Moldova," says Voicu, "because I have clients that question me about that… Bucharest is the centre for the Republic of Moldova and for the Balkans for some of the clients, then why not take the chance?"
However large domestic law firms may open representative offices in continental legal hubs, such as Brussels or Strasbourg.
A law unto itself: developments in Romania since 1990
At the beginning of the 1990s there was virtually no commercial law presence in Romania. The Bucharest bar decided to keep the law market closed and not allow foreign firms to set up without strong conditions.
This method of allowing the market to "strengthen itself" has, according to Daniel Voicu, partner at Voicu & Filipescu, avoided situations like in Hungary or Poland, where local firms do not have a strong presence, while foreign law firms prevail.
Since 2001 the Romanian law market has kept on growing.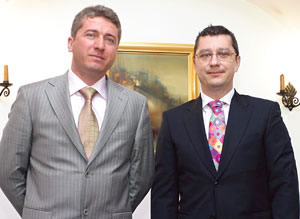 "Two reasons for this could be the approach of Romania's integration in the EU," says partner at
Vilau & Mitel
, Sorin Mitel, "but also the saturation of the more developed law markets in central and eastern Europe which pushes law activity to Romania."
Since 2002 the law market has also liberalized to allow easier access for foreign lawyers and companies to set up in Romania.
But this process of protecting the integrity of Romanian law firms will have an interesting effect: in order for local firms to be competitive and integrate into EU legislation, it will force Romanian firms to hire foreign lawyers, rather than vice versa.
"We'll see law firms going up to 100 lawyers," says managing partner for the Bucharest office of Schoenherr & Asociatii, Markus Piuk. "It will be more interesting for Romanian firms the likes of Musat and Tuca to get foreign lawyers to be able to live up to all EU challenges. It'll be a mix."
---
The next big thing
The state has sold its biggest assets, such as oil and gas firm Petrom and Banca Comerciala Romana, so where do this year's opportunities lie?
"2006 is a year which is more and more governed by the private sector," says Daniel Voicu, partner at Voicu & Filipescu.
Nearly three quarters of the Romanian GDP is now privately generated.
"Romania is more private than most countries in western Europe from the economic point of view," says Michael Schilling of Linklaters.
With the essential privatisations the Government had to undertake to ensure its status as a functioning market economy coming to an end, the next step is the voluntary privatisations the state may choose to make to either off-load a loss-making entity or bring in some much-needed cash.
At present, the Ministry of Finance is selling Savings Bank CEC and the Ministry of Economy and Trade the energy distribution companies.
But with a neo-liberal Government of businessmen in charge of the country, there may be more opportunities.
Andrew Kingston of NNDKP sees the power generation field as an option. Hydroelectric plants and thermoelectric power stations are very attractive to some energy firms.
Florentin Tuca of Tuca Zbarcea & Asociatii also adds to this list Loteria Romana and Imprimeria Romana, postal service Posta Romana, communication provider Radiocom, airline Tarom, chemical firm Oltchim and drilling contractor Foradex.
"As well as a number of mining companies and companies acting in the field of the defense industry," he adds. "Also, shares of substantial companies will be listed on the Bucharest Stock Exchange, ensuring a steady stream of work for law firms."
Apres le deluge
Post-privatisation means law firms can advise on the development of industries.
"Romania has EU compliant legislation, we have to learn how to implement and apply it," says Schilling.
But this country is not a developed market, yet.
"The end of big privatisations does not mean that the Romanian economy has reached maturity and sufficient consolidation," says Greek lawyer Panagiotis Drakopoulos. "We eagerly expect de-regulation in important industries, such as in the gas and electricity sectors and a large M&A wave. These will open large windows of opportunity for more foreign direct investment in the country with the ensuing need for legal services."
Catalin Predoiu of ZRP says there will be a more interesting and professionally challenging period in restructuring, strategic acquisitions and mergers of companies.
"If in privatisations the view of the lawyer is focused on the shares acquisition alone, maybe preceded by a due diligence, in the next step the lawyer will have to have a panoramic view on a more complex situation, from the application of the regulations to the acquisition itself, competition issues and labour law," adds Predoiu.
The areas were most lawyers see further work is in mergers and acquisitions, infrastructure projects, private equity deals and real estate.
Fat of the land
Land ownership is more or less sorted out. Their development plans are in place. The finishing times for buildings are ready.
The next step, says lawyer Daniel Badea, is to refinance or repackage these developments and transfer those to more sophisticated real estate investors. He sees global real estate funds coming here to purchase a whole portfolio of developments.
Daniel Voicu says a good yield will come from renting and those with lots of cash can make lots more. "There still is place to invest in real estate, but not anywhere and anyhow. One can very easily lose with arable land," he says.
Taking stock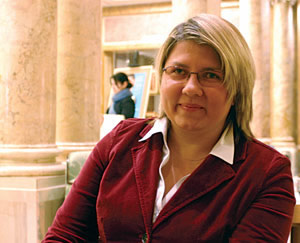 The new board of the Bucharest Stock Exchange wants to boost the size and active members of the local stock market.
"The next step after real estate deals come to an end will be investments on the stock exchange," says Daianu. "The capital markets are developing, and this type of transaction is more sophisticated."
But this may need some more work.
"The stock exchange is a big disillusion," says Voicu. "It should be a financing tool, but at this point in time it is small and mainly based on speculative transactions. It'll take some time to get where it should be, and surprisingly, now the trend is to de-list companies."
Domestic companies that have grown to a significant size will start to have access to lots of new and complicated funding mechanisms from abroad. Visoiu says that lawyers need to know ways of raising money outside of Romania.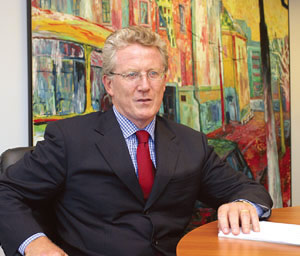 Meanwhile, Salans' Obie Moore says that Romanian companies are now looking to raise money on other stock exchanges other than in Bucharest.
Because of heavy regulations on the New York Stock Exchange, they are interested in London's Alternative Investment Market, which is very popular among Russian firms.
"It's very attractive and easy to list," he says. "There are fewer hurdles and restrictions. It's a good way of raising money on the capital markets."
Building up
In the next decade road-building, rehabilitation of the infrastructure and utility development will be under the spotlight. Private-public partnerships will increase. This could be ideal for Romania, especially as it accesses new funding mechanisms for building up infrastructure.
"Project finance initiatives and public-private-partnerships in the field of roads and infrastructure will require big resources," says Grigorescu. "Also, when local administrations will launch into large projects, like the modernisation of historic centres for example, that would require significant resources as well."
In this respect construction, rather than real estate, may see the most significant development.
Readying for Europe
Many domestic companies still have no clue what they have to change about their business practices to be compliant for the EU. Step in the lawyers.
Obie Moore has found that firms know little about EU criteria on data privacy, personal privacy of employees, pension laws, auditing and labour contracts. Salans, for example, has thus set up an EU Compliance Audit which helps firms develop a plan to comply with all the new EU legislation.
This has proven to be an ongoing necessity for countries joining the EU in 2004.
So sue me
Litigations are likely to increase. But most lawyers believe that private litigations will probably remain the same, as the number of these has been relatively stable in the last three years. There could however be increases in the number of disputes between the Romanian state and a third party, as well as international arbitrations.
"International arbitration and litigation are becoming more in demand," says Moore, "because it is becoming a much more contingent environment. This means bringing standards and know-how from other jurisdictions to work here."
Litigation will mean more foreign lawyers working with Romania, but they will not relocate and will come on a case-by-case basis.
Shop attack
Retail will grow, argues Goran. "Once Ikea comes in it will change the way Romanians shop," he says.
At the moment retailers, such as Marks and Spencers and Ikea are only entering the country through franchises. Some of these brands may test the water before they decide to jump in with their own cash.
There are also a raft of Romanian non-food retailers, such as Flamingo, Altex and Domo, which may be waiting for the right bidder.
Surge in mergers
Deals are larger, profits are smaller but the risk is less. Banks are funding more businesses. These companies are now leveraging more. But because the market is moving at an accelerated pace, both financial investors and strategic investors are bidding for companies at the same time.
"What you would normally see in a company's evolution is a private equity fund entering and exiting together with the entrepreneur and a few years down the road to a strategic," says Badea. "But because Romania is burning so many stages at once and is so attractive to investors, you see private equity firms fighting shoulder to shoulder with strategic investors for targets… Two or three years down the road everyone will get strategic investors."
Banking on buyers
There are three domestic banks on the Romanian market that could sell out: Banca Transilvania, Romexterra and Banca Carpatica, as well as some state banks such as Eximbank, which is owned by the privatisation authority AVAS.
"Some Romanian banks may merge with each other to become more attractive to an investor," says Moore. "This would provide more national coverage, more synergy and more critical mass to attract a foreign strategic investor."
In finance, Badea also sees opportunities in 'cash-pulling', where a large multinational firm can pool all the money into one place accessible from foreign territories. So if its Romanian operations are profitable, but its Croatian branch is losing money, it can pull the profits from Bucharest and dump it in Zagreb.
"We are trying to implement this now in Romania," says Badea.
But the biggest thing is ... Fondul Proprietatea
The Fondul Proprietatea or 'Ownership Fund' is meant to solve about ten problems in the financial health of Romania in one go.
Currently the state gives individuals who have lost property during the Communist period, their houses and land back. But those who have lost property that the state cannot return need to receive compensation.
The budget does not have money to give them, so instead will offer them a portfolio of shares in state companies, which the citizens can either cash in or use to play the capital markets.
Therefore this should allow the state to exit from a number of companies where it has residual shares, create liquidity in the capital markets at the same time as bringing justice to the restitution process - without bankrupting the state.
"It is a valuable fund and the shares will be listed from the first week at a higher value than the nominal value," says Nicolae Ivan, president of the fund.
The fund is worth in the region of four billion Euro.
"This makes the market visible," says Badea. "It will help put Romania on the radar screen of those investors who because of ignorance or lack of focus wouldn't care about Romania."
On the bright side, this will create a new class of stock market investors.
"It will allow the fund to play as an active investor in a number of businesses which are attractive to the market," Badea adds.
But this process, which has been active in Hungary and the Czech Republic, is not without problems, such as: can it be implemented and is it fair?
It will need a complex network of involvement from all state institutions, such as the Bucharest Stock Exchange and the Securities Commission (CNVM). It also needs competent and professional staff. What is left to do is to select the Fund Manager, an administrator, who will finish the process of activating the fund.
Deadlines for implementation have already been breached, and now the institution exists, but not the application.
"If there is too large a time lapse between these two, it is dangerous because the institution is artificial and cannot operate," says Stoica. "It is also costly to pay the staff."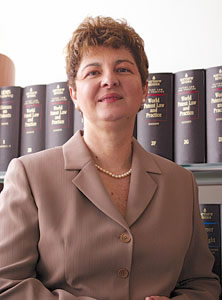 Stoica says that with good management it can work.
"We have to resolve the problem the fund is trying to solve," she says. "It should have been created many years ago and it is probably a little bit too late, but it's better late than never."
Ivan says it is not too late, but there have been difficulties, which means the authorities were not able to list the fund as fast as they wanted.
But founding partner of Biris-Goran and shareholder in Balkan Advisory Company BAC Dan Visoiu has concerns over a European Court of Human Rights precedent, the Brumarescu vs. Romania case of 2001, which demanded that the Romanian state must offer 'just and equitable compensation' to these owners. This may not include shares in a state company.
"By definition a risk-bearing instrument cannot be just and equitable since, for example, the value of such shares could dramatically drop within a short time," he says.
But Ivan says the fund's shares are as risky as any asset, including cash. "Money is also an asset that changes value, affected by macroeconomic events," he says. "Any American citizen, for example, will be able to say that they lost money in the last years as the value of the dollar decreased."
Visoiu foresees many cases of litigations based around the 2001 precedent, which he says could result in the state paying out billions to property heirs. "Especially since a large number of previous owners (and their heirs) are aware of the Brumarescu vs. Romania case and the legal precedent which has been established," he adds.
How can the state ensure against those who may sue it it the shares lose value?
"I have a question: How can they loose their value?" says Ivan. "This would mean that, practically, the whole Romanian economy would collapse."
Ivan points out that many owners who had property returned did not have protection against speculators. He says the stock exchange is not a lottery.
"If it is, why do we let private pension funds invest in shares?" he argues. "This has happened in the developed markets for over 100 years. In no other European market is the stock market considered a lottery."
Instead Visoiu says the state could issue bonds on the international markets, use the cash from the sale to pay former owners and then use the fund's shares as collateral.
But he does concede that the existing Fondul Proprietatea would mean more activity on the Bucharest Stock Exchange.
"This is one of the reasons why in principle I am in favour of the 'concept'," he says, "but as we have seen, the 'execution' to date has been sourly deficient."
By Anca Pol,
Corina Mica and
Michael Bird
Would you like to open a branch in Bucharest?
Although they will not directly tell The Diplomat of their plans, foreign law firms seem interested in Romania and do want to open an office here.
"This will be a natural process and we cannot stop it," says Cristiana Stoica, senior partner at Stoica & Asociatii. "They will bring the best standards from a professional point of view – this will also help Romanians to perform in a better way."
One senior Romanian lawyer said that, regarding the big foreign companies most likely to come to Romania, he could see them arriving in this order: Eversheds, then Clifford Chance, followed by Allen and Overy, which is currently advising the Fondul Proprietatea.
So, The Diplomat contacted all of the top global legal firms, not expecting very much, to be honest, and this is what some of them told this magazine.
Taking a chance?
Law firms will open in Bucharest if the client demand reaches a critical point, which has not yet happened.
"Despite not having an office in Bucharest, we have been very active in Romania over the past few years on behalf of both foreign investors and major local entities," says Michael Cuthbert, regional managing partner of Clifford Chance in central and eastern Europe.
"It is a buoyant and attractive market and will remain so up to and post EU accession and we would look very closely at the right opportunity to open up a local office," says Cuthbert.
Pastures new?
Without an office in Romania, UK firm Freshfields has been working on three recent privatisations, BCR, CEC and Electrica Muntenia Sud, and is involved in the Nabucco gas pipeline project.
"South-east Europe in general and Romania in particular is an area of growing importance for our firm," says Sebastian Lawson, the Freshfields lawyer permanently based in Bucharest. "This year we have already been instructed on what should be the leading capital markets transaction, Romtelecom, and international arbitration case, the Romanian Government versus European Drinks."
But he says the firm has no current intention to open an office in Bucharest and instead works with preferred local firms.
Happy ever after?
For Eversheds, Romania is a country of considerable interest because its clients are undertaking increased business there or are at least showing more interest in doing so.
Part of this interest is clearly fuelled by Romania's expected accession to the EU," says Alan Jenkins, chairman of Eversheds. "Eversheds will be paying close attention to the possibilities for its own development of business in Romania."
The firm's strategy allows for flexibility in how it develops its business. "Whether that will be by our own branch is unlikely, but that is an option as are an association with a local firm, as we have in other parts of Europe, or some arrangement such as a 'best friend'," adds Jenkins.
"The essential preconditions for any formula we follow are a sound business case for the relationship, a shared strategic vision for the development of the business and cultural fit in terms of client service."
Coming up roses?
Norton Rose has been involved in Romania for more than 30 years and its partners have been active in privatisations such as the Ursus brewery, Dero Ploiesti, Bancpost, Romtelecom and Electica Muntenia Sud.
But Campbell Steedman, corporate finance partner and head of emerging markets with Norton Rose, which has offices in Poland and the Czech Republic, says the firm's strategy does "not currently include" opening an office in Romania.
"It has been our policy to work alongside leading Romanian law firms," he says, "including Radu Taracila Padurari Retevoescu, Nestor, Tuca & Asociatii and Musat, who provide us with greater local capability than we believe could be established by simply opening our own branch or office."
City of London law firm Simmons & Simmons does not have an office in Romania, nor does it have "any immediate plans to open one at this time", according to a spokesperson, while US giant Baker & McKenzie also has no plans to start-up in Romania