Greek Investments Awards 2006
Bold and beautiful
Over 120 leading figures in business and politics attended the first ever Greek Investment Awards Gala last month, celebrating the dynamic partnership of Greek investors in Romania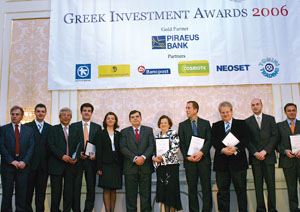 President Traian Basescu has already admired Greek business people for their "boldness" in coming to Romania when few other investors were taking the gamble.
And celebrating the commitment that the Greeks have shown to Romanian economy and social development, at the first Greek Investment Awards Gala, were guests such as Minister of Economy and Commerce Ioan Codrut Seres, Secretary of State in the Ministry of Public Finance Jakab Istvan and president of the Romanian Agency for Foreign Investments Ana Maria Cristina, who paid tribute to the strong will of Greek business in the positive appreciation of the local economy in the past 16 years.
"From a year's experience that I have had in this country, I have a good justification why this happens," Ambassador of Greece to Romania Thanos Dendoulis told over 100 top executives of Greek companies active in Romania.
"Except our boldness in general, as a people, we have one specific advantage: we are fearless. We make a social contribution to the community where we establish and we are not merely profit-oriented. This is why there is an increasing wave of Greek businessmen wishing to establish here and invest in Romania."
Presenting the award for 'Commitment to the Romanian economy', Minister Ioan Codrut Seres added: "I have to confess that I am a little bit sad that this investment is not in the energy field. The good news is that [Greeks] still have time to be present with investments in this sector."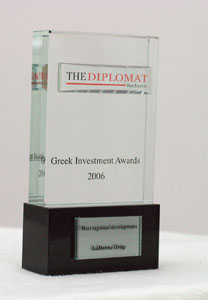 Sofronis Strinopoulos, general manager of Piraeus Bank, reminded that, "the first time Greek investments were flowing out of our country was thousands of years ago, when in ancient Greece we were expanding the limited boundaries of our country. Now, the countries in this region are going through experiences which are not far from what Greece went through ten, 20 and 30 years ago. The Greeks have the privilege of having lived through what is about to come in the future of these countries."
In the banking sector, Strinopoulos pointed out the strong local representation of six banks. In total, the Greek banking community has exceeded four billion Euro in total assets, around 13 per cent of the market. "All six banks, with the rest of the activities, in investment banking, leasing, brokerage services and insurance are all successful and growing every day," he added.
Held at the JW Marriott Bucharest Grand Hotel by The Diplomat - Bucharest, the event was co-organised by the Embassy of Greece in Romania, with partners including Piraeus Bank, Bancpost, Alpha Bank, Alexandrion Group, Cosmote and Tomini Trading and supporting partners Neoset and PayNet.
---
Best Success Story - Romtelecom
For successful privatisation of a state company and its development
One company that has made a significant impact on the Romanian business environment is landline operator Romtelecom, which is majority-owned by Greek company OTE. This firm has managed to turn around a state owned company and now, after years of losses, registers a healthy profit. Romtelecom's turnover for 2005 approached one billion Euro with the profit at 237 million Euro.
"Romtelecom is changing and we receive a good feedback from people," said general manager marketing Paul Renaud. "It is a success story as seen by the amount of people that want to sign up. Romtelecom is the organisation of the future, our success in financial results speaks for itself, in the very vibrant telecom industry."
Now the company aims to implement changes to compete with new players on the landline market and provide new applications such as rapid Internet access and video services.
The firm will also go public with a listing on the stock exchange this year as the Government sells its remaining 46 per cent stake.
Romtelecom general manager James Hubley added that Romtelecom will this year invest to modernise its access network, including installing fibre optic rings in all cities and installing optical network units in the streets. Investments for 2006 alone will cost the company more than 100 million Euro.
---
Commitment to Romania's economy - Bancpost
For combining continuous innovation in the banking sector with social commitment to Romania
Committing to Romania for the long term and keeping an eye on bringing social benefits to a country, while running a competitive business at the same time, is a tricky balancing act. In the midst of a restructuring process, Bancpost, now owned by one of the biggest financial groups in Greece, EFG Eurobank, has assets that grew last year by almost 50 per cent and it is now launching new services, including two mutual funds, an insurance arm and involvement in the privatisation of state savings bank CEC.
Presenting the award, Minister of Economy and Commerce Ioan Codrut Seres said that Romania feels "lucky" to have so many investments from the Greek community in the banking sector, because this means they can bring better services.
General manager Giorgios Michelis said: "At Bancpost we try to organise the bank to meet the increasing needs of today. We have proceeded to sizeable financial investments in IT, branch development, HR and training.
Bancpost is a Romanian bank, operating in Romania.
We feel we are on the right track and we'll try to deliver what's expected from us." Bancpost posted a growth of total assets by 46 per cent last year, as well as growing its activity in lending and attracting resources, investing a total of 22 million Euro.
---
Most impressive expansion - Loulis
For consistent development in Romania
Some of the biggest Greek companies seized the opportunities offered by an open market and established operations that have expanded rapidly to become leaders in their area of business.
Loulis Group, the winner of the 'Most impressive expansion' award, has a couple of hundreds of years' history in Greece, and is a leader in flour, bread and bakery products. After launching in Romania in 1999, Loulis saw a rapid growth, incorporating two Romanian companies and building a brand new industrial complex in 2003. The total investment in Romania reached 80 million Euro with almost 1,000 people and 30 retailers. Ana Maria Cristina, president of the Romanian Agency for Foreign Investments (ARIS) paid tribute to the success of Greek companies in Romania, calling them the best ambassadors for investing in Romania.
"A few years ago, I saw in Braila that many buildings still have Greek names, which means that the Greek tradition, especially in the agricultural field, is very old in Romania. I'm happy that this company, the winner of this award, is keeping this tradition alive."
Accepting the award was president of Loulis Romania, Nikolaos Voudouris.
"When a small enterprise based in a small city in Greece concludes a 240 million Euro investment in five years, it is really an achievement," he said.
"However, it's been much more difficult to maintain, grow and expand on a daily basis and this is what we are focusing on today."
---
Best regional development - Dorna Group
For successful development and support of a region in Romania
Developing consistent growth across a country in declining industrial areas and in deprived rural zones is the sine qua non of the European Union. Private investment and long-term dedication to a region can be a vital partner in this process.
Presenting the award, State Secretary in the Ministry of Finance Jakab Istvan said: "The development of different regions in Romania is very important and it can help us have a balanced development of the entire country. The Romanian food and agriculture sector has very much potential for the future." La Dorna Group has managed to transform a Romanian region into a brand name associated with healthy and quality products now found on the shelves of stores in Greece and Germany. From mineral water to milk, dairy products and now to wine, the regional development of the Dorna area has witnessed a massive restructuring for the better.
La Dorna Group president and CEO Jean Valvis said: "This award consolidates our efforts to sell Romanian values abroad. This gives us hope that we can prove here what we are already doing in Greece - selling quality organic products, with added value, on markets that can't produce such products. I can only express our joy, that in Greece, we are the number one operator in organic products and that Greeks prefer to pay for organic milk produced in Romania. We want to expand this tradition throughout Europe."
---
Corporate Social Responsibility Award - Alexandrion Group Romania
For constant support and involvement in social projects through Fundatia Umanitara Alexandrion
As a company's success increases it is only fair that a measure of its profits should go back to the community and help ease the suffering of those less fortunate.
Brandy producer and mixed interest firm Alexandrion Group has offered over 700,000 Euro to social support programs last year alone. Economic and commercial counsellor at the Embassy of Greece, Lambis Kounalakis, paid tribute.
"In 1994 a group of Greek and Romanian businessmen decided to set up a plant for producing alcoholic beverages," he said.
"Since then this company became a leader in the brandy market in Romania and has one of the highest local brand awareness levels. At the same time, this company has increased the cultural relationship and friendship between Greece and Romania."
The firm established a humanitarian foundation ten years ago to support social development. Projects it has developed or participated in include those for the Romanian Olympic Committee, the Ministry of Interior and the Government of Romania.
Marketing director Konstantinos Agaliotis said: "This award means a lot to us who have dedicated a lot last year to promote our social activities and this really encourages us and gives us more power to do much more in the year to come."
Beneficiaries of the foundation include projects for child development
and children with exceptional talents. It financed educational programs in child care centres and offered scholarships nationwide. The foundation also took part in rebuilding churches and helped modernise hospitals in Bucharest and Cluj-Napoca.
---
Community Award - Catherine Sofianou, President - SofMedica
For personal involvement and support of social projects
Besides helping to run a company with almost 200 employees, the winner, Catherine Sofianou, president of SofMedica, has contributed to the Friends of the National Museum of Art, the International Women's Association, the Greek Ladies Association, Friends of the Minovici Museums and the Renasterea Foundation.
Of Greek nationality, born in Cairo but now living in Bucharest, Sofianou was recently recognised as one of the 2006 nominees of the Leading Women Entrepreneurs of the World.
"Her social contribution has been remarkable so far and has been recognised not only by Romanian society, but also at an international level," said Ambassador Thanos Dendoulis.
Accepting the award, Sofianou chose to point out those who had assisted her.
"I have to share the honour of this award with other Greek companies as well, that have helped me a lot, including Bancpost, Alpha Bank, Piraeus Bank, Alumil and Tomini Trading." Sofianou was born in Cairo, Egypt and moved back to Greece in 1963, married and started her 40- year career, with her husband Pandelis, in establishing a trading company importing luxury cars and designer furniture from Germany and Denmark to Greece and North Africa.
In the early 1990s, she saw the opportunity in the healthcare field in
central and eastern Europe and launched a company in Bucharest specialising in the import and distribution of high-end medical devices and biogenetic products from the United States, which contribute to Artificial Heart and Robotic Surgery.
| | |
| --- | --- |
| | |
---
For more photos please visit http:\\events.thediplomat.ro\event2.htm