Cautious optimists
Though its citizens rejected the EU constitution and many are wary of further enlargement, The Netherlands has thrown its weight behind Romanian accession: its Ambassador to Romania Jaap Werner talks to Michael Bird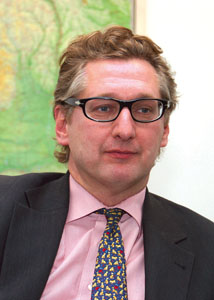 Rightly or wrongly, the Netherlands has gained a new reputation as Eurosceptic following its strong rejection of the European Constitution last year.
Ambassador Jaap Werner says the main issue that mobilised the opposition camp was concern that Dutch decisionmaking powers may be lost to Brussels.
"This 'No' vote was an alarm bell – the people said involve us better at a national and European level on European issues, including enlargement," he says. "Romanian and Bulgarian accession is not such a hot issue, but Dutch citizens want to know: where does it end?"
With Turkey and Croatia opening accession negotiations, the Dutch want to know what benefits enlargement, and the European Union as a whole, will bring them. One necessity, says Werner, is to communicate to the Dutch that European solutions for their problems can be the best solutions.

Jacques Louis Werner
Ambassador of the Kingdom of Netherlands to Romania
Born: 7 March 1959
Status: Married with two children.
Education: University of Leiden (Public International Law) and Institut Universitaire de Hautes Etudes Internationales, Geneva (Public International Law)
1984 Joined the Ministry of Foreign Affairs
Postings include Denmark (1985) and Belgrade (1990), Netherlands Assistant to the Permanent Representative to the EU in Brussels (1998) and Director of the Political Affairs Department, Ministry of Foreign Affairs, The Hague (2003)
While The Netherlands' second chamber of the Parliament passed the ratification of Romania's accession, its Minister of Foreign Affairs Bernard Bot recently came to Bucharest to see the state of play at the frontline. "He saw confirmation of the positive trends in this country. He thinks in all sectors where Romania is working hard, there is physical progress and he looks with a critical eye to a number of shortcomings," says Werner.
But he is positive the issue of targeting corruption is on the table.
"Now what we need is more credible investigations and indictments and, somewhat in the longer term, convictions."
But many commentators believe there is little chance that the big fish will be reeled in and prosecuted by the time the European Commission issues its report on 16 May. So will the mechanisms of anti-corruption have to show only structural indications of progress, rather than proof?
"It's up to the European Commission to make the report – the requirement in this field is one of a credible track record, not necessarily convictions, but a clear indication that the anti-corruption infrastructure is in place and is producing investigations and indictments and, in the end, the judicial system will no doubt produce convictions."
Positive signals emerge from the Senate's second reading and passing of the anti-corruption bill, which now puts politicians under the same scrutiny as the common man.
But Werner says its initial rejection by the Senate "raised some eyebrows and doubts" as to whether there was broad political support for the new anti-corruption department (DNA) as the best tool to fight corruption.
"After that disappointing short while, there is now relief and conviction that things are in order, so that DNA can do work with proper legitimacy," he adds.
NEGATIVE SPIRAL
Werner has witnessed the worst abuses of power in recent Balkan politics, when he was posted in Belgrade between 1990 and 1993.
"It was the beginning of a process of a country that was going down the drain," he said. "All trends and developments were negative. Here the situation is the opposite.
All trends are in the right direction. With a little help from the EU, Romania is getting back on its feet with a potential to become a powerful player in Europe."
In Belgrade Werner saw how the "bad guys" took over economic power, including smugglers and the worst divisions of the army. Living a few hundred metres from the ice cream parlour where Serbian paramilitary leader of the 'Tigers', Arkan, used to have his headquarters, Werner would see their military vehicles pass to go to Bosnia on weekend murder sprees.
Now the debate centres on whether Kosovo will become independent – a status some politicians believe is inevitable. This is despite strong opposition in Serbia, in part due to the presence of Serbs in the majority Kosovan Albanian province who fear being marginalised.
Romania has favoured something called 'negotiated autonomy' for the province.
"Romania has ideas on what Kosovo should become and not become, defined from Romanian interests and a little bit of fear of precedents that might result from a Kosovo solution," says Werner.
Other unofficial nations in the Black Sea area, such as Transnistria, may see Kosovan independence as a pretext to declare its own desires for full autonomy, which could upset regional stability.
"Romania has good access to Belgrade and is in a good position to translate European solutions for the Kosovo issue," says Werner. "There is no doubt that at some point in time the western Balkans will become part and parcel of the EU integration process."
STABILISING FORCE
Black Sea stability has been at the core of President Basescu's desire to internationalise Romanian politics. This move is welcomed by the EU because this region will soon be its border.
But this entails a cluster of issues, such as democratisation of Georgia, Republic of Moldova and Ukraine, the fight against organised crime, terrorism, drugs and people trafficking, the control of energy and foreign military interests.
"In Romania we find a new member state that will put that issue on the table – it is not an easy subject – the mixed bag of issues it represents have smaller and bigger players which each have their own agenda, from USA to Russia to Turkey and Ukraine."
Though Romania may have the right agenda, some fear that it does not quite carry the international weight among regional nations to be a power broker on major issues.
Werner says it would be helpful if Romania and Ukraine could sort out their territorial issues, "the headaches here and there" such as the status of who owns Snake Island and whether-or-not the Bastroe Canal is going to wreck the Danube Delta.
After confidence is built between countries, the next step is to act jointly against common threats such as organised crime. Werner says all must engage Russia in these areas.
"Russia is too big a player to be ignored and from the Romanian side I see positive efforts to improve bilateral relations with Russia to enhance economic exchanges," he adds. "Russia holds the key to much of what can be achieved in the Black Sea region."
VIEW FROM THE WEST
Now the Netherlands has ratified the Accession Treaty of Romania and Bulgaria to the EU, Romanian Ambassador to The Hague, Iulian Buga, says Dutch interest in Romania is increasing.
"The economic and commercial exchanges will clearly surge," he says, "as has been the case with the previous ten countries who joined in May 2004." Romania is also fighting fewer prejudices about its suitability to join.
"People always have prejudices about things they do not know much about," says Buga. "But I feel it is no longer the case for most of the Dutch business community in Romania. There are still voices complaining about corruption, bureaucracy or certain ambiguities in the legislation, but these are diminishing and are counter-balanced by enthusiasm and optimism about opportunities in the fast-growing Romanian economy."
With The Netherlands ranking high on the list of foreign investors in Romania, Buga sees new potential in energy.
"Energy efficiency, renewable energy, clean fossil fuels and liquefied natural gas are fields with high potential for future bilateral cooperation," he adds.
TRADE TALK
2005 Bilateral trade: 1.2 billion Euro
Romanian exports to Holland: 0.597 billion Euro
Holland exports to Romania: 0.575 billion Euro
Balance: 22.4 million Euro in Romania's favour
Waterway to go
Inland waterways could offer great potential for Dutch investors as 'The Diplomat – Bucharest' publishes an analysis of top Dutch business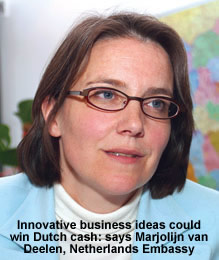 Romania has a bounty of natural resources that are not exploited to full capacity. One area under close examination by The Netherlands is the Danube for waterway transport.
"Dutch companies can be involved because of their vast experience with inland shipping," says head of the economic section and environment at the Netherlands Embassy, Marjolijn van Deelen. "It is a
very cheap way of transporting goods between Rotterdam and Constanta."
While the wars in Yugoslavia bankrupted many Danube shipping firms, more open Governments in the Balkans could allow direct transport in bulk, such as raw materials or heavy goods to Constanta and then on to Europe's main artery.
Currently there are almost no barges taking cargo from the Black Sea entirely up to the North Sea, with the exception of new ship hulls from Romania coming to western Europe, says a spokeswoman for the Inland Navigation Europe (INE)
This route can be a cheaper option for bulk goods, or those that are not time-sensitive.
"Storage costs can be reduced because ships act as floating warehouses," says the INE representative.
Advantages over road, rail and air are reduced congestion, increased safety and reduced pollution.
But there are physical obstacles.
These include no guaranteed passage all year round, some bridge clearance means only two layers of containers are allowed on some sections, while container transport usually requires three layers.
The Danube passage also needs infrastructure development that respects environmental regulations. Austria has taken up this opportunity, says INE, but although the scenarios for infrastructure exist, other countries in the corridor have not considered this a priority.
Idea Factory
Joint Romanian-Dutch entrepreneurships with a good business idea in a new industry to Romania could benefit from Dutch Government funding in its 'Programme for Co-operation with Emerging Markets'.
"An idea that would not be approved would be exporting ping-pong balls to China, or, to here, exporting cabbage to Romania," says van Deelen.
Since 1996, 95 projects have gained funding from The Hague with grants of up to around 900,000 Euro, the majority in agriculture and food processing.
However, complaints from local Dutch business show the common trinity of annoyance: bureaucracy, corruption and bad roads.
Some Dutch companies seem to be put off by deals if it appears that the tender procedure is awry.
"If they sit at their desk in the Netherlands and think: Oh, I see this tender procedure for roads in Romania, well that's probably going to be corrupt, let's not bother – there is this road in Germany, let's do that," says van Deelen. "The perception may be right or wrong."
- To give regional support, the Embassy set up a Netherlands Business Support Office in Cluj-Napoca, due to be operational as we went to press.
- Fancy going Dutch? The Netherlands business community and anyone wanting to meet them collect for a drink every second Wednesday of the month at the Amsterdam Cafe, 6 Str Covaci, Bucharest
New broom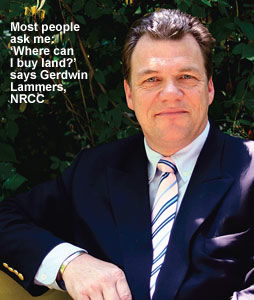 Gerdwin Lammers has just landed the job of executive director of the newly-formed Netherlands - Roma n i a Chamber of Commerce (NRCC).
Since then his mobile has been buzzing and most callers have only one thing on their mind.
"The most commonly asked question is: Where can I buy land?" says Lammers. "The answer is: It doesn't matter."
As well as suggesting to callers to search out boom towns such as Arad, Sibiu and Cluj-Napoca, Lammers believes there will be a ringroad in Bucharest by 2011, which will make access to the undeveloped south and east easier.
"Five Euro per sqm in the south will probably give a higher return than 60 Euro per sqm in the north," he adds.
NRCC debuted last year and now has 30 members with a target of 200. Open for Dutch or Dutch related companies, the Chamber includes Romanian firms who want to trade with The Netherlands and its concerns vary from tax and commercial to legal issues. Ways of doing business differ between western Europe and Romania, says Lammers.
"If we organise an event in Romania and after the event schedule there is a drink, the Dutch are all there, but the Romanians are gone. It's not in there culture to socialise that way – yet."
But he believes Romanians need to be more active. "Today it is the Dutch who come to Romania to search for business, not the Romanians who go to Holland," he adds.
The EU may bring drawbacks to some investors: an increase in wages could turn off some foreign firms looking to relocate production and choosing between Asia, CIS and Romania.
"Yes, the wages will increase, but Romanians can afford to become more expensive," he says.
This is not the prime problem. That, Lammers argues, is productivity. "The Romanian labour force should and can catch up with its standard of productivity, if it does, it will be in a strong position."
Banking : staying organic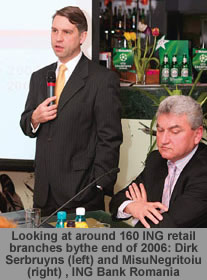 ING Bank is the only bank that has managed to become one of the five largest in the country exclusively through organic growth.
Its assets grew last year by almost 50 per cent, partly due to a massive branch expansion programme through its automated 'Self-Bank' outlets.
"Last year was one of great decisions and challenges, but we chose the organic growth strategy, which proved to be the winning card," says ING Romania president Dirk Serbruyns.
Now, with around 90 retail branches, the bank intends to open 70 new ING offices by the end of 2006.
With a policy of separating corporate from retail services, Director of wholesale banking Misu Negritoiu says the bank will open ten more branches in the business sector from its current 20.

ING ROMANIA
Employs: 900 staff full-time, plus 2,000 insurance consultants
Coverage: 62 towns and cities
ING Bank
Total assets increased by 45.7 per cent in 2005 over 2004
Total assets: 1.84 billion Euro Market position in Romania: 5th
ING Life Insurance Romania
Gross profit 2005: 9.52 million
Euro
Net premium income 2005: 107.9 million Euro, up 27.6 per cent on 2004
Market leader
ABN Amro Romania
Employees (Dec 2005): 700
Branches: 17 in Romania in 15 cities, three in Bucharest
ING Bank Romania will "most probably" launch Internet banking by the end of the year, adds Negritoiu.
With state bank Banca Comerciala Romana now in the hands of Austrian Erste, Negritoiu says this can contribute to a more competitive environment.
"The costs of banking services - fees and commissions - will dramatically go down," he adds. "This includes prices for cash withdrawals. Only 50 per cent of Romanians have an account. Once 70
per cent have an account, costs will go down."
Long-time market leader ING Life Insurance just announced it has consolidated its market share at 37 per cent, with an increase in gross profit of 72 per cent over 2004, according to executive general manager Bram Boon.
He says the firm's Financial Plans for Children are among the most successful products in its portfolio.
This year he says the company will focus on diversifying its portfolio, with an increased focus on the protection plan segment.
"Romania is a key market for ING Life Insurance, especially since the protection need is bigger," says Boon.
The bank estimates the protection deficit in Romania now stands at around 130 billion RON [37 billion Euro].
The general manager added that one of his firm's priorities this year is supporting private pension reform.
Last year ABN Amro bank entered the retail banking market, in particular targeting the 'mass-affluent' niche.
This includes entrepreneurs who have started their own businesses and look to grow.
One of the initial contenders for Romania's largest bank, BCR, ABN Amro since withdrew from the race and has no immediate plans for an acquisition.
"Instead we will focus on growing organically, and are not thinking at a takeover as of now," says Peter Weiss, country executive and chairman of the board of ABN Amro Romania. "We will look at an opportunity to acquire a local bank if that bank fits with our strategy and culture, and is for sale at a reasonable price."
HEALTH: Private options
Following success in insurance products in Euro, Interamerican launched last March new products Ronsafe, Ronmedium and Ronplus, which are unit-linked and use the local currency with low, middle and high risk levels.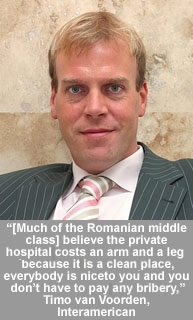 "I can't tell now which one Romanians will prefer, but looking at the Euro funds launched in 2004, there is a clear preference for high risk," says Timo van Voorden, CEO of Interamerican.
He says people's risk appetite is linked to how the stock exchange operates.
"If there are too many good indexes on the stock exchange, people feel invincible and then high risk equals high return," he says. "Now the stock exchange is not doing so well and you see a migration to lower risk."
Interamerican started the activity on the market with life and non-life insurance products. Last year the company introduced health insurance products and opened a private hospital, Medisystem.
Diplomats, expats and Government officials have responded fast to the idea of private health, but the Romanian middle class is under the impression this is an expensive product.

Interamerican
Owned by Dutch Group Eureko Insurance company, owner of Medisystem private hospital, Floreasca
Products: life, non life and health insurance
2005 turnover: 13 million Euro
Employs 1,000 people
"People are intimidated," says van Voodren. "They think it costs an arm and a leg because it is a clean place, everybody is nice to you and you don't have to pay any bribery."
Insurance giving a customer unlimited access to the hospital costs around 35 Euro per month and Interamerican plans this year to develop the health insurance and private hospital segment.
AGRICULTURE: Dairy farms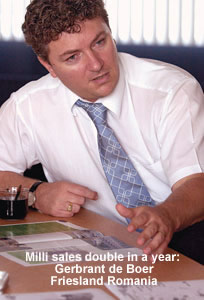 Dairy product firm Friesland Romania is consolidating its market position by investing six million Euro in 2006 in upgrading its factories in Mures and Baciu, Cluj county.
The owner of dairy brand Milli and chocolate bar Dots sees its largest sales in Bucharest, Transylvania and Banat and fewer in Moldavia and south Romania.
"Milli sales more than doubled last year and now represent 35 per cent of our turnover," says Friesland Romania general manager Gerbrant de Boer. "Dots sales also increased by almost 40 per cent."
This year, Friesland will continue to invest in its raw material base and factories, develop its brands and distribution.
Flower-crazed
"No more tulips were imported into Romania this year," says Gheorghe Teodorescu, administrator of Fresh Flowers. "We provided around 2.5 million tulips and this covered the whole of the country's request for tulips." Now this Dutch-Romanian joint venture, which cultivates 43 breeds of tulip, is gaining interest from Turkey and Ukraine.
In January Adriean Videanu baptised the Bucharest Tulip, a red petalled flower with a white edge, which Fresh Flowers cultivates.
Between February and March, when Romania has three national days that benefit women, Valentine's Day, Martisor (1 March) and Women's Day (8 March), demand grew to between 80,000 and 120,000 tulips per day.
This year Teodorescu says the firm plans to buy a lot near Bucharest to build a 5,000 sqm greenhouse. Equipment for this site will include shadowing screens on the roof and water sprays to cool the air.
Need for feed
Friesland
Eight dairy plants in Transylvania and Banat
2005 turnover: 91 million Euro
2004 turnover: 71 million Euro
Market share: 20 per cent
Fresh Flowers
Cultivates 43 types of tulip, lilies, Irises and gladioli
No of flowers grown in 2006 (predicted): three million
LNB Romania Feed
Animal Feed
Employees: 40 people
2005 Turnover: Eight million
Euro
2006 Forecast Turnover: 30 per cent increase
Specialists in tailoring different feed products to livestock from backyard farms to large corporations, Sibiu-based LNB Romania Feed will further invest in storage, production and a laboratory.
LNB Romania Feed now covers all Romania and the best selling area is Transylvania and around Bucharest.
The firm boasts a 15 per cent market share, says general manager Lambert Reudink.
Set up in 1998, the company operates a plant in Sura Mare, Sibiu county and this year is investing in extending its production line.
"We intend to construct a silo building for storage of almost 750 metric tonnes of ingredients, an automation of the production process, a micro dosing system and a 600 cubic metre office and laboratory," says Reudink.
The general manager says nearly all international players are more or less present in Romania, but LNB Romania Feed has strength in its local production.
With the Romanian Government passing new GMO laws to bring Romania in line with Europe, such as banning the growth of soy, Reudink says this will not affect his business directly.
"We are ready for it and we have all certifications needed, so our business and production process won't be affected," he says.
LNB Romania Feed also runs activities in Bulgaria and the Republic of
Moldova. "We are also thinking about Ukraine, but have no clear sales or plans yet," says Reudink.
Wine : Boxing clever
Vinterra
Wine producer, distributor and exporter
Turnover 2005: 1.4 million Euro
Investment since 1998: 2.6 million Euro.
With local wine consumption soaring, producer Vinterra intends to expand its distribution towards Moldova and south of the country this year, especially to markets such as Bacau, Iasi and Suceava.
In its core market of Bucharest, Vinterra is about to launch 'Bag in a Box' (BIB) in three, five, 15 and 20 litre-formats of Merlot and Feteasca Regala for supermarkets, says David Nicolae, general manager of Vinterra The firm produces its Black Peak, Bucur Villa and Hariton brands in Prahova County vineyards. When the company started in Romania in 1998, there was little local appetite for premium wines, so the company sent most of the products abroad.
But now 50 per cent of the firm's sales are in Romania.
In 2006 the company expects 60 to 70 per cent of its sales to be local.
Global consumer trends favour varieties such as Cabernet, Merlot and the German Riesling. These are being grown around the world, even though the difference between a Cabernet Sauvignon made in Australia or Romania, says Nicolae, is huge.
However consumers are looking for something different.
"Lately around the world there is a demand for local wines with their own stories, so every country comes on the market with something peculiar," he adds. Romania has as its representative variety Feteasca (Neagra, Alba or Regala), wines which international experts are already declaring as world class.
Electronics: Harmonising launches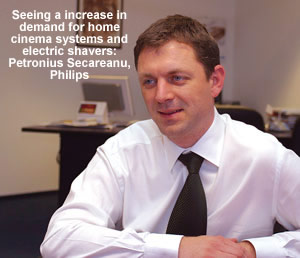 In consumer electronics, Philips's best sold products are home cinema systems, DVD players and flat screen televisions, says Petronius Secareanu general manager consumer electronics Philips.
But domestic appliance products see a good evolution on the local market, with Philips selling many electric shavers.
"We've reached that point when there is no difference between what is launched abroad and in Romania," says Secareanu. Missing from Philips' portfolio is the semiconductors segment, but there are no future plans to bring in this division for the moment.

PHILIPS
Products in medical Systems, lighting, consumer electronics, domestic appliances & personal care
Software development: video coding and image processing
Started local activity: 1925
Following Communism,
restarted in 1992
Most of the demand is for necessity and everyday products, such as televisions and vacuum cleaners, but there is growing demand for premium and luxury products such as home cinema systems.
Thanks to access to credits, low and middle income customers have more accessibility to many Philips brands.
In 1927 Philips opened the first radio equipment factory in Romania.
But Hungary, Poland and Czech Republic are where Philips has production units in the Eastern part of Europe.
Philips has not made serious research into the possibility of investing in production in Romania, says Secareanu and Romanians' intelligence in the software sector is more attractive to the general manager.
Software : Backing the service boom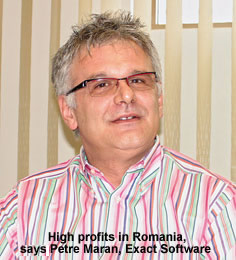 Despite its fast growing potential, large size and considerable number of experts, the Romanian software market lacks investment, says Exact Software general manager Petre Maran.
"The market became competitive in the last years, mainly due to the presence of more international companies which brought their know-how to Romania, but also because of the development of the software industry locally," says Maran.
"In terms of percentage, Romania is a country that generates a higher profit compared to the profit of the big countries that are already part of the EU."

Exact Software
E-business software company
Fully established in Romania in
1997
70 per cent of the firm's customers are from Bucharest
Dutch-based Exact provides software for small and medium-sized enterprises and subsidiaries of multinationals.
"We are now more or less on the same segment with Microsoft and Oracle and the profile of our clients has changed," says Maran.
One product attracting existing customers and new business is E-Synergy, which provides real-time management of a company and integrates the back and front office.
Though most of the business is from Bucharest, the company has gained customers from Transylvania, Banat and Dobrogea.
Sealant producers : Sticking up for fair play
Global sealant producer Den Braven has used its success in Romania to open a subsidiary in the Republic of Moldova since 2003, where its major adhesive brands are now available.
"We are very fond of our business in the Republic of Moldova. In January President Voronin gave us an award for the best tax payer," says Adrian State, Den Braven Romania general manager.
However in the Republic of Moldova the black market is a competitor, while in Romania, competition does not always play by the rules.
With products imported from The Netherlands for both the industrial and commercial markets, Den Braven sells 80 per cent of its products by direct distribution to 5,000 clients.
"We played with the idea of producing in Romania, but it would not be profitable for our business," says State.
Ship -building : 2006 to be a better year
Damen Ship yards Galati
Employees: 3,000
Turnover 2004: 72 million Euro, profit: 10.4 million Euro
Turnover 2005: 58 million Euro, profit: six million Euro
Predicted turnover 2006: 100
million Euro, profit 6.5 million
Euro
In February ship-builders Damen Galati launched a new support ship
for the Royal Netherlands Navy 'The Pelikaan' for transport of personnel and materials.
Last year the firm sold 25 vessels and this year will deliver 26 units.
"We have ensured orders at least until the end of the first half of 2008," says Gelu Stan, managing director of Damen Galati.
The managing director predicts a more prosperous year for 2006 with a turnover of 100 million Euro and investments of 3.1 million Euro.
So far the firm has invested 26 million Euro in the Danube shipyards.
Staying in or going out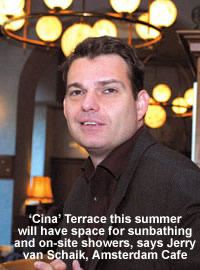 After opening Amsterdam Grand Cafe, the 'Cina' Terrace and Rembrandt Hotel, Jerry van Schaik is planning to launch a new three-star hotel in the historic centre and this summer bring the beach to Bucharest.
The hotel will have 40 rooms and, although it will not be called Rembrandt, will have a Dutch artistic connection, so guesses are 'Van Gogh' or 'Vermeer'.
"The hotel market is in the developing stage and that's the business market I want to develop in the future," says Jerry van Schaik.
Taking the space of a former bank built in 1925, Rembrandt Hotel opened in January 2005 with 15 rooms in a one million Euro investment. It also boasts a bar and bistro, which is popular among the office crowd. Ninety per cent of the hotel's clientele are business people.
Van Schaik has been approached to open branches of Amsterdam in shopping malls. But he is not thrilled with the idea.
"Amsterdam is unique and I don't want to duplicate it," he says.
Last year van Schaik took over the decrepit Cina terrace opposite the Athenaeum and, along with some help from ING Bank, transformed it into a year-round terrace.
Although the customer numbers have dropped in the winter, van Schaik has grand plans for the summer.
This includes a city beach on the flat roof of the building with space for sunbathing and showers for cooling off.
Meanwhile, in a new taste phenomenon, Amsterdam Cafe will start blindfolding its customers and feeding them mystery food.
Strategic moves
TNT Romania
10,000 active clients
380 employees
180 transport vehicles, three planes
Market share (2004): 48 per cent
Local market leader in courier services and delivering packages TNT is focusing on organic growth through its nationwide coverage of Romania, but does not rule out the chance of a takeover as competition heats up.
TNT bought its exclusive agent for Romania, Romcargo, in 1999 and now contends with the other three major global players present here: DHL, UPS and FedEx, through agents.
"We focus on the business to business sector in Europe, where the private sector is a frequent consumer and loyal client," says Bodgan Enache, general manager of TNT Romania. "We do not approach the business to consumer line - we don't work with online shops for example."
The general manager says the local market is "extremely dynamic" and a few players have developed their business in a short time, such as Cargo and Fan Courier Express.
Mergers and acquisitions are next on the cards for the market.
"It is fashionable to buy somebody in Romania, but TNT has so far focused on organic growth," says Enache. "If we identify a Romanian player worth buying, we will do it. I am both for organic growth and a takeover, and if it were for us to take over somebody, I'd look at Cargo or Fan Courier Express, but there have been no discussions on this matter."
First class call
KLM Romania
Turnover 2005: around 25 million euro
Flights: 21 flights per week
Bucharest-Amsterdam flight:
average occupancy: 84 per cent.
KLM is looking to operate on other Romanian airports outside of Henri Coanda, says Alexandru Dobrescu, the company's manager for Romania, but he would prefer to cooperate with another company active on the Romanian market for this.
But, if there is a breakdown in negotiations or the activity is delayed, KLM will go with its own fleet.
Romanians' flying mentality is different from its western counterparts.
"Often on a normal flight from Bucharest to Amsterdam, there are passengers with a strong financial situation who drive cars no cheaper than 70,000 Euro, who stop at a famous shop and buy shoes for 3,000 Euro. These people are travelling with the cheapest ticket and not with business class," he says.
Abroad, he says, those with a strong financial situation, by default, use business class.
More than 80 per cent of the passengers KLM transports are not for Amsterdam but to connecting flights in Europe, USA, Asia or the Pacific.
With last year's merger with Air France, both companies are keeping distinct brands and identities but trying to pool their qualities. Together, the companies have a market share of around 20 per cent of Romanian flights.
Freighting game
Frans Maas Romania
International freight forwar-ding, logistics warehousing, ground handling services and custom clearance
Employees: 450
2005 Turnover: 16 million Euro
Although the announcement of the merger between Dutch-based Frans Maas and Denmark's DSV will become official any day now, it is still business as usual for the local activities of the international freight forwarder and logistics provider.
Frans Maas Romania, which employs 450 people, now has 30,000 sqm of warehouse facilities.
Having opened its latest warehouse in Pipera last year over 10,000 sqm, Frans Maas area manager Romania, Dragos Geletu says the company is now in talks with a developer to open another 10,000 sqm warehouse in Bucharest this year.
"Our plans also include opening new warehouses in Timisoara and maybe Moldova, in cities such as Bacau or Iasi, but nothing is yet definite," says Geletu.
"The market here is not yet as mature as it should be at the logistics level," says the area manager. "Other important market players need to step in."
Construction: Finding a place on the market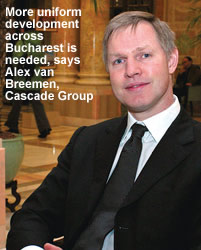 Building developer Cascade Group is counting the months until it begins construction on a new office building in the Barbu Vacarescu area, an investment effort of 25 million Euro, says general manager Alex Van Breemen.
Designed by Dorin Stefan, the architect behind the HQ for ProCredit Bank Romania on Str Buzesti, Park Plaza will be an 18-storey building scheduled for delivery at the end of 2007.
The new state-of-the-art office building will also have five underground levels stretching over 9,000 sqm, which will be available to local residents at weekends. Cascade is also interested in the proposed plan by the City Hall to build underground parking lots and is pondering ways to become involved.
"Elsewhere, we have become involved in a new mixed-used project in eastern Bucharest, close to the exit of the highway to Constanta," he says. "This is a much more complex project, comprising retail, residential and office ventures and could cost up to 200 million Euro and take five to seven years to complete."

Cascade Group
Building developer
Fully owned subsidiary of Dutch fund East and Central European Venture Capital
Started in Romania: 1998
Total investment in Romania:
30 million Euro
But a more uniform development across Bucharest is needed as the cost and construction gap between the north and centre and the rest of the city expands.
"The northern area is overrated, overbuilt, too expensive and too crowded traffic-wise," he says. "Office development projects like the [one billion Euro] Baneasa need more vision. This particular project is either too early on the Romanian market or it needs to quickly put infrastructure and utilities in place, because it could break the city rather than make it develop."
Building up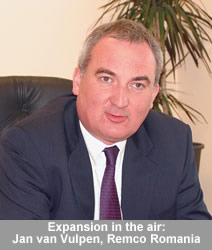 "We are now facing a moment when expansion cannot be avoided and postponed," says Jan van Vulpen, managing director of building systems firm Remco Romania, which sells quick to assemble prefabricated buildings brought over in a kit from The Netherlands.
"Almost 60,000 sqm were contracted last year, from which more than a half were delivered in 2005, the rest are right now under construction," says van Vulpen.
Projects the company has been involved in last year include building a chocolate and marzipan factory for a Dutch client in Ovidiu, Constanta county, due to become operational this month".

Remco Romania
Contractors for light steel buildings
No of employees 2006: will rise
from six to ten
2005 amount of space contracted: 60,000 sqm
      Also Remco is general contractor for Dutch company Tonerfill, for which it has built a facility in Oltenita on an area of almost 4,000 sqm, accommodating offices, production and storage space, to be delivered this month.
FURNITURE: Quality matters
Quadra Invest
'European Heritage' pine furniture producer and global exporter
Total sales 2005: 5.6 million Euro
Under the 'European Heritage' brand, pine furniture producer and exporter Quadra Invest is seeing new sales opportunities in central and eastern Europe as the regional metropolitan market opens up for quality products.
In 2004 most of the customers were from USA, UK, France, even Japan, South Korea and Australia.
This year the situation changes.
"Central and eastern Europe is starting to become destinations for our products, because they are markets with increasing potential," says Gijsbert Huijink, general manager of the company.
"The furniture offer is quite limited and the Romanian buyer is directed to two options: cheap or high quality furniture," says Huijink.
But he says Romanians are slowly choosing wood furniture or products with real leather upholstery.
Opening doors
Solid Works
Door merchandiser
2005 Turnover: 600,000 Euro
(An increase of around 35 per cent on 2004)
Started in Romania: 2001
Doors in Romania have a bad reputation.
Often they do not close properly, the lock jams and they have a nasty habit of opening by themselves. New developments therefore need better doors which have consistency and flexibility.
To fill this gap in the market arrives Solid Works, which last year imported over 2,000 doors to Romania from Dutch door producer Reinaerdt.
Romania is a nation of timber processing and there was some discussion on whether production could be start up in Romania, but Reinaerdt is more comfortable with only one production centre for Europe.
"They can give me 3,000 doors in six weeks if I need," says Nico Pulskens, general manager of Solid Works. "But if we have to do some adaptation or modification, we can do this in Romania."
Glass doors are the most popular product. "Romanians very much like glass doors," says Pulskens.
Although when Romanians are looking for a new portal, they lack the
need for security – maybe because the local burglary industry is still in its infancy.
"Proper security for doors is not very developed here," the manager says. This includes doors that may cost up to 2,000 to 3,000 Euro per unit.
Most of Solid Works' customers are companies, such as ABN Amro, Petrom and Carrefour, with individuals representing only ten to 20 per cent of the business and mostly in Bucharest.
Solid Works will organise the second Oranjebal with the Embassy of the Netherlands on 5 May