Call to arms
New operators in the mobile and landline market will shake up the costs of calls as operators battle over services to the consumer. Does this mean there will be blood on the handset?
On a cold March afternoon, hundreds of people, mostly young, are staying out in the snow and sleet outside a mobile phone shop.
They are facing the chill for hours.
Why?
"Are you kidding me?" says 18-yearold Alex, a pupil at a near-by high school.
"I skipped school today and have been waiting for about two hours to get the chance to buy a card. If I queue up here, I can talk for ages on my mobile for free. I'm not sorry at all."
This phenomenon was due to phone operator Cosmote Romania's offer of 2,000 monthly minutes for just three Euro. Part of the Greek operator's aggressive strategy to break the duopoly of Connex-Vodafone and Orange, the campaign saw consumers bunk school and work to line up in their thousands in snow, rain and freezing temperatures to pick up a SIM card so they could talk at a cheaper rate on their phone.

CONVERGING FORCES
Fast-speed data transfer, video downloads and entertainment via a socket in the wall or a wireless modem will be the stage.
The next move is for alternative operators to introduce the quad play service to the Romanian market, which adds the mobile operator to Cable TV, landline and Internet, says Malacopol of UPC/Astral.
But to undertake this a landline or cable company would have to make a deal with an existing mobile operator.
Some of the local operators already have quad-play experience, such as Orange in France.
Orange Romania says it would look at forming alliances within its own France Telecom group before partnering with another provider.
Orange Romania already has
fixed wire capability with 3,000 km of fibre optic and some local access capability and CEO Richard Moat says it is the firm's ambition to develop its fixed wire capability more.
"There is a gap left in the market in the lack of investment in fixed wire," he says. "So there is opportunity for us to move in that direction. We would leverage the capability of the group. That is the major thrust of the France Telecom Group. The next stage is all about convergence."
Even though the operator's network crashed due to tens of thousands of people using it simultaneously, more customers still braved the queues.
Getting the young, in particular, to buy into a product has always been a strong marketing ploy and Cosmote's strategy seems to have worked, with early rumours indicating that as many of 500,000 or more were sold in the first week of the 21-day campaign.
Standing the queue, 18 year-old Manuela says: "The bad thing is that you can only buy two cards per person, hence the queues. I tried to buy some cards for my friends as well, but I couldn't, so they have to come and stand in line for themselves."
Many already have a phone and SIM card.
"I have a Connex card, which I don't intend to get rid of," says 17-year-old Dan, who is also skipping school to line up for a Cosmote card. "I can still use that to call some of my friends who don't have one of these new cards."
Ileana, also an 18-year-old student, says she intends to throw the Cosmote card once the year expires.
"This is an offer which is good just for one year and these queues are like this because you have to buy and activate a card by the end of the month," she says.
"I don't know what will happen after that."
RAISING THE STAKES
At the moment there are three major phone operators in Romania.
In mobile telephony, Connex- Vodafone and Orange have 6.2 million and seven million users respectively, while in landline Romtelecom is the clear market leader. But alternative operators are battling for the market with packages of offers and new services.
Together with Cosmote, European giant Deutsche Telekom has, through its Hungarian landline company Magyar Telecom, seized its first chance on the Romanian market. The Eufonica service, launched by Romanian subsidiary Combridge, is a carrier selection service, which piggybacks on Romtelecom's infrastructure and aims to slash national calls by 20 per cent.
In both this and Cosmote's cases, consumers are only likely to switch their landline to a new operator or carrier if, knowing that they can get through to the other line easily, the cost of calls will be less.
So with big name operators entering the market - are we about to witness a price war?
"Romania is now seeing a very fiery price war," says Ovidiu Ghiman, commercial director of RCS/RDS, a cable TV operator which offers landline telephony. "The price is a very important element when we talk about services for the residential segment of clients."
Rumours on the market claim Cosmote sold 500,000 pre-paid cards in the first week. In the three weeks the offer lasted this could have comfortably risen to above one million. Officials at Cosmote did not confirm this figure as we went to press.
But the existing mobile phone operators are circumspect about a price war.
"There has always been fierce competition between us and Connex-Vodafone even before Cosmote was re-launched," says Richard Moat, CEO of Orange Romania. "If we look at the price of a minute's call over the last few years there has been a substantial effective reduction in that cost. So that level of competition is not simply because of the advent of Cosmote. But with a third player in the market seeking to establish themselves, competition is going to rise.
There's always price competition. There has to be."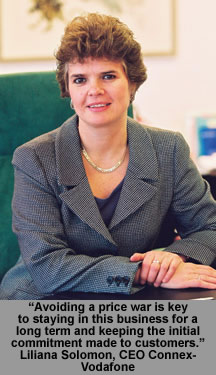 A price war could be bad for business, argues Liliana Solomon, CEO of
Connex-Vodafone.
"Romania is experiencing some of the lowest tariffs in Europe," she says, "so avoiding a price war is key to staying in this business for a long term and keeping the initial commitment made to customers."
Prices are a major incentive, but services are also important.
"I wouldn't say we are seeing a price war, because I believe this war is fought more at the service quality level," says Dinu Malacopol B2B director at cable TV company UPC/Astral, which also offers landline telephony. "It doesn't matter how small the prices from a certain operator are if the quality of the service is lacking."
So the competition in services will have to step up. Something mobile operators continue to undertake.
"In the long term our research has shown that Romanian consumers are discerning and are interested in quality rather than simply quantity or price," says Moat.
Solomon says her firm has a strategy of offering increased value to both its prepaid and post-paid customers through exclusive propositions and continuously adding benefits to reward the loyalty and usage. New services for this year include Vodafone Live!, Vodafone Passport and Vodafone Simply.
Orange also has bundles of offers, such as discounts for calls to favourite numbers and flexible tariffs for business and individuals.
So does this mean there will not be a battle over who can maintain prices at one cent per minute, but one on packages – a bundle war?
"Quite possibly – it all comes down to the effective cost of the call," says Moat.
"But offers like this are something new and provide better value for money."
LANDLINE BATTLE
Competing on price with the monopoly of Romtelecom is hard. Especially when, after 8pm, Romtelecom charges one Eurocent per minute for all calls on its own network.
A figure near-impossible for competitors to undercut. "As an alternative operator," Malacopol says, "trying to beat the market leader at better costs is unreal, as one cannot better their special offers without losing."
Instead these companies need to offer new services and multimedia packages.
But Malacopol says none of the alternative [landline] operators have been that aggressive so far.
"On the corporate segment, though, Romtelecom has stronger competition from alternative and mobile operators," Ghiman says.
But the individual consumer or family is less likely to switch from Romtelecom, which means alternative landline operators are now focusing on homeowners rather than businesses.
"In this case the inertia is bigger," says Ghiman. "One needs to come up with interesting offers to attract the consumer who does not spend a lot of money on telephone services to switch their landline provider."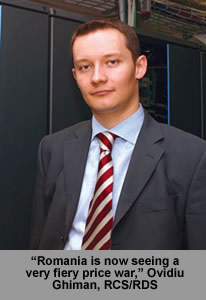 Last year RCS/RDS signed up more than 350,000 clients, which is more than ten per cent of Romtelecom's client base, added to 100,000 Internet clients.
"For this year we target a doubling of the number of clients, to 700,000, which actually means a very good percentage of the main landline operator's clients," says Ghiman.
Meanwhile Astral Telecom caters for about 1.4 million subscribers, which Malacopol says puts it first among local alternative operators.
But to ask clients to migrate is not easy.
"Changing your service provider means changing your phone number," Ghiman says. "This is why when we launched into landline telephony we launched it very aggressively with very attractive offers. At the same time we launched a few very aggressive service packages."
Forcing someone to change their number can be a problem.
This is partly why new mobile operators seem to be targeting the young: their flexibility.
They are more willing to change their phone number or hold two or three numbers, SIM cards for as many different operators they may have, or groups of friends, or families, colleagues or girl- and boyfriends.
However, at this moment, the two main mobile phone operators do not appear to have any data to show how many consumers have more than one mobile phone SIM card or how many of the 14 million mobile phone customers are overlapping.
"There is some element of duplication," Moat says.
"I'd be guessing at how large it is. It might be five per cent."
LONG-TERM VIEW
Cosmote's approach of targeting the pre-pay market mirrors the demands of the majority of Romanian consumers.
Connex-Vodafone now has a customer base of around 6.2 million, from which post-paid clients account for 36 per cent, an increase of two per cent on 2004.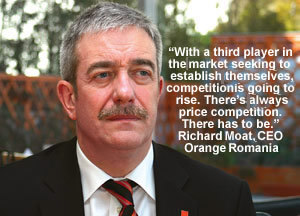 This is roughly the same for Orange, although the company says the proportions have remained stable.
The mobile market has grown massively over the last five years. This makes some observers believe the bubble will soon burst.
At the end of last year, the mobile phone penetration rate was 63 per cent at the population level compared with 20 per cent for landline.
"We can expect the penetration rate of mobile telephony to reach over 70 per cent by the year-end, which means that the Romanian market will enter the maturity stage," says Connex-Vodafone CEO Liliana Solomon.
Richard Moat is more ambitious, with Orange initially expecting a 75 per cent population penetration by the end of 2006. "Our current thinking it might so slightly above that. At least 75 per cent in 2006."
But, in news that may be good for both existing and new operators, the market is still not letting up, when will it mature?
"When the growth curve starts to flatten out," says Moat. "At the moment we are on a steep growth curve. A lot of people thought 2004 would be the big year in the market. That has been equalled by 2005. It looks as though 2006 will be a similarly good year. The curve will probably start to level out on the other side of 75 per cent penetration."
FAIR MARKET?
But a liberal and bullish market does not necessary mean that all operators believe the playing field is level.
Romtelecom last year took Romania's National Regulatory Authority for Communication (ANRC) to court over its decision to slash the costs the ANRC levies for calling between different phone operators - interconnection tariffs. ANRC's decision sets some tariffs that are below the amount it costs Romtelecom to make the connections, causing Romtelecom losses, said the operator.
The regulatory body replied: "Interconnection tariffs are the key to competition. Therefore, ANRC will not jeopardise competition and the endusers' interests for the sake of protecting one single operator."
James Hubley, general director of Romtelecom, said that considering the ongoing issue with ANRC it "makes no sense" for Romtelecom to continue making massive investments of up to half a billion Euro in landline telephony, although it will invest to keep the network alive.
Romtelecom has also raised the issue of whether or not state aid to some operators is taking place, thus distorting the market.
Hubley says Romtelecom is facing huge problems given the Government's decision to subsidise the company's competitors, namely RCS/RDS, which, Hubley said failed to pay about 22 million Euro in tax, but is still allowed to operate.
He added that cable TV operators that have also launched landline telephony services, such as Astral and RCS/RDS, are allowed cross-subsidies in Romania, a fact which has proved to be non-competitive worldwide.
Neither ANRC nor the Competition Council wants to investigate this, he says.
"Romtelecom's accusations have no real basis," says Alexandru Oprea, general manager of RCS/RDS. "We never owed 22 million Euro to the state budget, and we never benefited from any tax pardon, on the contrary, we paid all our dues, even penalties when it was the case."
Hubley says he is frustrated.
"We worked very hard to turn things around for Romtelecom and now we find ourselves active on a market that does not give equal chances to all players," says Hubley.
But alternative landline operators argue that interconnection tariffs are small.
Report by Corina Mica
and Michael Bird
GENERATION GAME
Although the two largest mobile phone operators both bought third generation (3G) licenses from the Government in 2004, Connex was the
first to introduce 3G services locally, which offers a faster download time for data and video telephony.
At the end of last year the operator reported almost 100,000 subscribers.
The operator says it will continue to enhance its 3G services portfolio and expand its network coverage, which is currently in a number of cities and motorways.
CEO of Orange Romania Richard Moat says the infrastructure is in place for Orange to launch 3G services.
"We've been following a different strategy from our competitors," he says.
Since October 2004 Orange has been investing in EDGE, the next technology in terms of data speed up from the most commonly used mobile platform, GPRS.
The company is aiming to have the same nationwide coverage of EDGE as for voice coverage. In parallel Orange has been developing 3G for a launch between April and June this year. The Government is preparing to issue two licenses this year in 3G telephony. Cosmote is interested in picking up one of these, but will the fourth ever be sold?
"Looking at other people who have invested in greenfield licenses in Europe, such as 3, without having existing GSM markets, particularly in highly penetrated markets, it has proved to be a challenging business
model in terms of investment required and the necessity to break into the market," says Moat. "Here Cosmote had infrastructure to build on."
But to start from zero means a lot of costs to provide wide coverage to compete with the established leaders in a market that is consolidating.
"You're talking about getting a license this year and then building that network out and maybe hitting the market when it's 75 per cent penetrated," says Moat. "People will think twice about the viability of a business model. I'm not writing it off – but it's challenging."