Fear of Friday
For foreign travel, Bucharest is dead at the weekend. Hoteliers, city officials, tour operators and the business community need to make a joined-up effort in its revival
On any Monday morning thousands of businesspeople fly into the largest capital city in the EU's east, wrestling for a room at one of the city's top hotels.
They book in, work solidly for four days, make deals, organise meetings, phone lawyers, check the price of property and shake their heads in disgust. Sometimes they are pretending to work, while really visiting restaurants and bars.
Then on Friday they all leave.
The dust settles, the cafes lay empty and tumble-weed rolls from Piata Romana to a barren Calea Victoriei, which the dogs have to themselves again.
Weekend occupancy at the capital's top hotels falls to around 30 per cent. This also happens at the height of summer and in midwinter.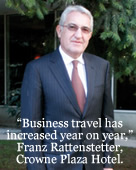 "Business travel has increased year on year," says Franz Rattenstetter, general manager of the Crowne Plaza Hotel. All the majors hotels find Mondays to Fridays booked up and the prices are not low.
"Prices are similar to Budapest and Prague," says president of Romania's Skal Club Antoni Kuhnen. "But Budapest is even cheaper at times."
Meanwhile, no one has witnessed an increase in leisure tourism in the last three years.
Rattenstetter says that Summer 2006 was "weak" for leisure groups. The typical tourists will arrive in Bucharest and stay only a day before moving round the country for six or nine days and returning to fly out.
"I don't see a lot of tourists, this is the biggest worry as we move forward," says general manager of the Howard Johnson, Peter Martin. "If hotels are driven purely by business, there will be natural dips in demand in areas such as weekends and holidays, when businessmen go home or on holiday, which are normally compensated by the leisure market."
Some hotels have started offering discounts for weekend tourists – but they are struggling to fill these beds.
Identity crisis
Bucharest has an image problem.
Travellers expect knife attacks or a mauling by a stray mongrel. But, for most, the only danger is falling into a hole in the road
"Bucharest is not viewed as a tourist destination," says Kurt Strohmayer, general manager of the JW Marriott Bucharest Grand Hotel. "It has the image of a poor city, not safe and with beggars all over the place. But once you are here, you get a different image."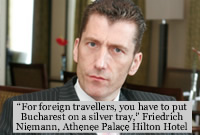 The city has attractions. For Friedrich Niemann, manager of the Athenee Palace Hilton Hotel, this is its size and diversity. He is convinced the city has enough for a good weekend experience. Although it is not a shopping destination, he says that visitors are impressed by the variety.
This includes the leafy north, the 1930s centre and the bizarre Communist south.
"It can be compared to Berlin," he says. "It has a dramatic history and you can see history in buildings, such as bullet-holes in the walls."
There are beautiful buildings. But these do not all reside in a composite centre, such as Sibiu. They need to be clearly shown to a traveller, much like the German capital, which witnessed a similar patchwork of destruction and recovery in its architecture.
There is a good night-life. While foreign visitors may not be flocking to the capital on a weekend, it is hard to get a table in many bars, because the locals are on the town.
The culture is interesting: the museums of art, contemporary art, natural history and the Peasant's and Village museums all equal their European counterparts with impressive displays and stunning architecture.
But they lack coordination. There is no 'Museum Pass' granting entry to all museums in a day. The staff rarely speak foreign languages. There are no 'flyers' in one museum advertising all the others.
"The unfriendliness of the staff in museums and restaurants is in stark contrast with the natural hospitality of the people," says one travel manager. "It's a Communist mentality, where people had no incentive to provide for customers."
Holding back the attractiveness of the city is the lack of restoration of the 18th and 19th century Historical Centre. The infrastructure of the area around Piata Universitatii is now undergoing development but, as we went to press, the tender for redesigning the building facades, planned for last Autumn, was still due. "The old city centre has to be restored," says Kuhnen. "Then, all budget airlines plan to come here."
Communist tourism, a kind of voyeuristic fascination foreigners have with other nations' recent tyrannies, is also a big money-spinner in countries such as Ukraine. Romania has opened Ceausescu's People's Palace, now the Parliament Building, to tourists. However it is hard to find any signs indicating that the building is open. This is something visitors discover by accident or word of mouth. But it is a location that works: it was the most popular tourist destination in Bucharest, among foreigners resident in Romania, as asked by The Diplomat.
This is because they get what they expect: a vulgar building constructed by an evil dictator.
"In 50 or 20 years' time I see the same situation with this building as with Versailles," says Niemann. "When it was being built, it was thought: this guy is crazy, he's taking our money. It's an amazing and impressive building, but whether it's beautiful or not is a different story."
General manager of the Ramada Majestic Hotel on Calea Victoriei, Mihail Acatrinei, also sees interest in the 1980s elephant. "Most of the tourists come here to visit People's Palace," he says. "They don't come to visit the art museums."
Competing attractions
"When you are reading your Sunday paper in Paris, you can fly for 19 Euro to Milan and 25 Euro to Prague and then 350 Euro to Bucharest, the choice is pretty obvious," says Niemann.
Cheap flights are the answer, together with package deals with hotels to reduce the overall costs – targeted at the young, mobile and curious. Low-cost airlines are already coming to the city that should bring tourist traffic. However early signs are that Romanians are using them to get out – rather than foreigners hopping on-board to come in.
The offer for foreigners has to be simple and clear. "You have to put in on a silver tray," says Niemann. This means everyone involved - from hotels, airlines, shopping malls, cultural institutions, night-club owners, municipalities and the National Authority for Tourism working together on projects that can increase the Capital's visibility.
Howard Johnson's Peter Martin says that Bucharest is, in its tourist offer, three or four years behind Budapest and Warsaw in creating a 'City Break' destination of four to five night stays. "The capital is not enough to sustain an effective marketing campaign to drag in mass quantities of people," says Martin. "But the capital plus Brasov and Bran are."
Other major cities have built up their attractiveness by offering three days of fun in the city and then a 'manageable' one-day, or overnight, trip out of town, usually within two hours' travel. This include Vilnius with island castle Trakai, or, more bleakly, Krakow and Auschwitz.
But this would be hard with the current transport system, even for an overnight stay, to Sighisoara or Brasov.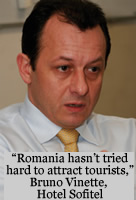 "Romania hasn't tried hard to attract tourists," says Bruno Vinette, manager of Sofitel Hotel, Bucharest.
"There is a need for more airports and highways. If someone coming to Bucharest during the week-end prefers to go for one day to Sibiu, that day is lost on the road."
The capital will remain an attractive business destination, but for tourists, due to the many needs, Vinette is not so sure. "You don't build a highway in one year, it is a long process." he says. "The hotels are ready, but the values are missing."
Rising stars: the hotel market
The occupancy dip at the end of the week has not stopped the expansion of four and five star hotels, with three opening last year and at least two more scheduled for 2007.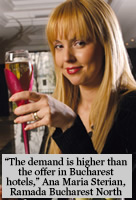 The Pro Confort Group plans a 1,500 rooms hotel with four and five star areas, close to Bucuresti Mall and this Autumn will see the Radisson SAS on Calea Victoriei.
"Compared to the capitals of the countries which last joined the EU, including Bulgaria, the Bucharest market is continuously expanding, the demand is higher than the offer and the international chains enjoy a high occupancy rate all year long," says Ana Maria Sterian, marketing manager of Ramada Bucharest North.
"I think we can see one five star hotel every year for the next ten years," says Peter Martin.
But Vinette is more cautious. "I don't have big expectations this year in terms of a better occupancy rate," he says. "This year new hotels enter the market and 2008 will be a tough year. It is hard to absorb a large number of rooms."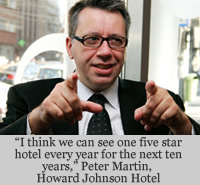 There are fears that the luxury market may be overheating. "Everyone is building five and four star hotels because they want to have the best, but it is not necessarily what the market needs," says Niemann.
But once Romania builds up a sufficient number of hotels and conference spaces it could become a centre for attracting more international delegations. "I believe that in five years Bucharest will become a regional and international conference destination for 100 to 300 delegates," says Jonathan Soper, general manager of Intercontinental Bucharest.
The hotel market sees the largest opportunities for hotels offering bed and breakfast, clean rooms and TV without 'hidden extra costs'.
"There are gaps in meeting international standards in the three star and two star hotels category, like Mecure, Ibis or Etap," says Kuhnen.
This market would cater for more speculative business travellers and those from other parts of Romania and south-east Europe. But many warn that if they all come at the same time, there could be an oversupply.
Most see a boom in hotels in the north, due to the travel links and the gravitation of major business to this area. However, the costs of a new build for such a hotel are massive.
"At present we should emphasise on renovating existing hotel buildings rather than create new ones," says Pierre Boissel, new general director of Ana Hotels. "With the shortage of land in the city centre it might prove difficult to build new hotels."
New horizons: Hotels in development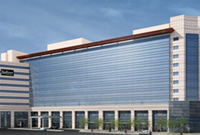 This year's biggest opening will be the Radisson SAS on the redeveloped site of the late 1970s Hotel Bucuresti.
The original Communist-era building has been near-gutted to make way for the new hotel, managed by the Swedish Rezidor Group and due to open in November. With 424 rooms, new general manager Torbjorn Bodin says he aims for the hotel to be "the biggest and best" in Bucharest.
The site, opposite the Athenee Palace Hilton Hotel on Calea Victoriei, will include two bars, three restaurants, conference centres and a giant casino.
The eight-floor building will have a glass-roofed hall at the centre which should offer an impressive play of light in the meeting areas. There will also be a 600 sqm ballroom with a silk-padded ceiling.
There will be indoor and outdoor pools, jacuzzis, a pool bar, jogging track and a garden. "It will be a resort in the middle of the city," says Bodin.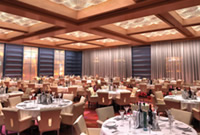 The minimalist design will be similar to the Centre Ville Aparthotels next door. There will also be a 250-seat all-day restaurant, 100-seat coffee shop and 70-seat 'fine-dining' restaurant. Bodin says the choice of cuisine is "not yet finalised". There will also be a vodka bar, sure to serve Swedish tipple Absolut and an Irish bar, acting as a counterweight to the Hilton's English bar over the road.
The hotel will also offer free Internet, undermining many of the high class hotels' systems. Most of them charge their customers to dial-up the world wide web. Now Radisson is raising the bar, every top-tier hotel in the capital will need to dump the extra cost.
Hotel managers say they are not that concerned about the arrival of a big neighbour in their backyard. "I do not think we will lose in occupancy," says Franz Rattenstetter of the Crowne Plaza. "More regional meetings and conferences will come to Bucharest, especially because more international companies have Romania as their eastern European base."
Bucharest can take it, argues Hilton's Friedrich Niemann, and will continue to be a strong destination. "We may see one or two customers move over, but we can accommodate bigger events now that we have 700 beds in the same location," he says.
There will not be much of an effect, says Peter Martin of the Howard Johnson. "If a capital city cannot absorb one hotel a year," he says, "then that market is not doing very well."
INTERCONTINENTAL
Looming over the city, but lacking a fixed identity in a modern Bucharest is the Intercontinental. Before, despite carrying the same name, the hotel owners operated this on their own – and paid a franchise fee to the international group. The 23-floor 1970s hotel has suffered an image setback – creating a reputation as a toy for the ruling classes. "There was a perception that we're old, not a real Intercontinental, but that's unfair," says new general manager Jonathan Soper.
Last year the hotel switched management to the UK's Intercontinental Hotels Group (IHG) and is now undergoing a ten to 15 million Euro renovation. This includes room restoration, air conditioning overhaul and extensions of the bar and fitness centre. Meanwhile the IHG group is parachuting in experts in everything from back office computer networks to front-of-house meet and greet. "The objective is to re-establish us as the leading hotel in the city," says Soper. The hotel also plans to make a club lounge on the 21st floor. "It aims to be the pre-eminent executive lounge in the city," he adds.
CONTINENTAL VICTORIEI
Renovations will end this year on the classic hotel, which will reopen by the beginning of 2008. Now the property, which is part of the Romanian Patrimony, has four stars. This may upgrade to five, says Radu Enache, president of Continental Hotels. "No decision has yet been taken," he adds. The 54-bedroom building has a restaurant, bar and conference rooms. After the renovation is over, it may have a spa and a small shopping area, but this depends on a decision by a commission for historical sites and monuments.
Europa Royale Bucharest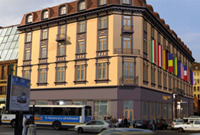 Lithuanian Europa Group is investing 14.5 million Euro in a four-star hotel on the edge of Bucharest's historical centre, due for Spring 2009.
Europa Royale Bucharest will include 80 rooms in a 19th century building on 60 Str Franceza. The hotel will have a sauna, jacuzzi, gynamisum and glass-covered atrium, plus four conference halls with capacity for 190, 80-seater restaurant, 120 parking spaces and casinos.
"Europa Group Hotels is interested in other three and four star hotels in Bucharest, with 7,000 to 10,000 sqm or already operating hotels that could be managed under franchise or management agreement," says a spokesman for the Group.
Sema Park Hotel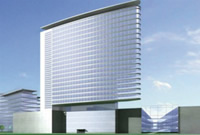 Part of the 700 million Euro Sema Park project on the site of a combine harvester factory, in Semanatoarea, is planned a four-star glass wedge of a hotel. This will have restaurant, coffee shop and conference facilities.
With 22 floors designed in the shape of a ship's bow, the project should have 240 rooms, 18,000 sqm and is scheduled to be ready in Spring 2009.
WHAT IS NOT HAPPENING YET
Park Plaza Hotels Europe will no longer open a four-star 'art'otel' hotel on the site of an office building near Parcul Cismigiu on Str Ionel Perlea. Plans for the 62-room hotel have been shelved, confirmed a spokeswoman for the group, the master franchiser of Carlson Hospitality. There are no other plans for art'otels in Bucharest in 2007. The building is now a grey shell with no construction work taking place.
Although rumoured to be interested in a number of sites, high class Kempinski Hotels does not have a project to manage in Bucharest.
"We would always be interested to add Bucharest to our international portfolio, if the right property comes along," says a spokeswoman for the German group.
Hyatt has also been linked to the Casa Radio project – a joint public-private scheme to rehabilitate a Communist-style Parthenon near Eroilor.
"Hyatt have no current projects in Bucharest, however, we keep monitoring the market with interest and will look at potential projects, if the right opportunity arises," says Malene Rydahl, PR director for Hyatt Europe, Africa and Middle East.
Holiday Inn has nothing signed and none of the Starwood brands, such as Sheraton or Meridian, are in Bucharest. "Sheraton will probably come with a downtown location," says Mihail Acatrinei, general manager of the Ramada Majestic. "They've been struggling for several years to enter the market."
WHAT ELSE IS HAPPENING
Many developers of hotel properties were stuck in limbo due to legal disputes over whether the building belonged to its post or pre-Communist owners. "No foreign investor came here to start a business without having the guarantee that the property he was buying wasn't somebody's else's," says Dan Dulciu, marketing director of Casa Capsa. "That is why for a while hotel developments stopped." But this is starting up again. The Niro Group is reconverting the 19th century neoclassical Hotel Bulevard, at the corner of Calea Victoriei and Regina Elisabeta, reputed to be the capital's first hotel with running water in the rooms.
Meanwhile, on Blvd Poligrafiei, the former Hotel Turist, next to Best Western Parc Hotel, is undergoing a massive renovation. This could become a new four-star Ramada that may open this Autumn with 300 rooms.
But the largest plan comes from the Negoita brothers, owners of the Pro-Confort group, who will build one of Europe's biggest hotels. Work has begun on up to 1,500 room hotel in Vitan, close to the Bucuresti Mall. The hotel plans to have 11 floors and areas ranked at three, four and five stars.
by Michael Bird,
Mihai Alexandrescu,
and Ana-Maria Smadeanu