Gambling on the future
New choices are now available to investors, as Corina Mica takes a look at where individuals can place their money in 2006
This is still a country lacking a strong middle class and marred by investment highs and lows.
There are large foreign investments and increased capital flows on the one hand, but a history of catastrophes in the mutual funds market on the other.
Since Communism collapsed over 5.5 million Romanians have lost almost 20 million Euro in all the financial scandals the nation has suffered.
But now the Bucharest Stock Exchange is one of the most dynamic in the central and eastern European region. The mutual funds market is picking up, despite huge losses just half a decade ago. Meanwhile the local real estate field is still attractive for medium to long term investments.
However, while the profits are still up in local stock exchange and real estate transactions, the return on investment for bank deposits and foreign currency has dropped drastically.
But, in Romania, nothing is ever certain.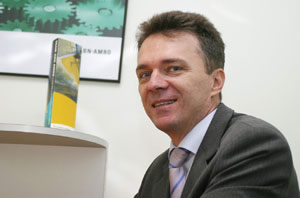 "Whatever the choice of investment is, there is one golden rule: never invest in a risky asset more than you are prepared to lose," Radu Craciun, senior analyst with ABN Amro tells The Diplomat.
But risk comes with reward, according to Guy Verduystert, head of corporate finance at KPMG Romania, who says the country now offers enough choices for investors between low and high risk.
"Bank deposits would go under low risk, mutual funds in medium risk," Verduystert says, "whereas investing on the capital market is, in my view, high risk."
Diversifying the risk when making an investment would be the best choice, he adds. The Bucharest Stock Exchange is currently a good investment vehicle, although Verduystert says it is "rather illiquid", which means there are not as large a number of transactions going on as one might expect.
The BSE is due any time soon to merge with the local over-the-counter stock market, the Rasdaq. This partnership is likely to offer a better portfolio of stock to invest in.
---
Riding high
Stocks remain the biggest gamble for the high risk investor, but offer the greatest rewards
Opinions are divided on what is a high risk investment.
Although the majority of people interviewed see playing the stock exchange as the riskiest, some view the real estate market as highly volatile.
In real estate, land prices have risen exponentially and the return is not as high as it was five years ago, says Guy Verduystert of KPMG.
The property market is driven by the size of the mortgage market.
"Still, a price of 1,000 Euro per square metre is still low compared to other European capitals," he says. "We may see a correction in property prices, as what goes up has to come down. Prices will peak and then, depending on how severe the correction will be, we will witness another burst. With new property developers coming in, we may see prices going
down to 800 Euro/sqm. If five years ago investing in property was a low risk investment, now I would day it's a medium risk type of investment."
However, there is security, argues Alexandru Nitescu, manager of the Land Investments Department at Regatta. "The real estate market is one of the most secure and good fields for investments, because it follows in close connection with the development of a country," he tells The Diplomat.
Marius Luca, residential sales negotiator at CB Richard Ellis, says last year saw an increased interest for plots of land in Romania, whereas those that focused on residential properties looked at new areas, like northern Bucharest.
Luca says the return on buy/rent averages 8.5 per cent, meaning that a profit could be obtained in 11 or 12 years for an investment in a property. "But we have to admit that, until the investment becomes profitable, it is a constant source of income, as the property can be rented," he says.
EXPAND INTO LAND
The main trend now is to look for land plots.
"Real estate agents are flooded with requests for plots of land around Bucharest," says Luca. "This type of investments also offers more opportunities.
The market for residential buildings is quite unbalanced, so the tendency is to invest in land."
With security coming first, Luca says the best choice for a private investor would be to mix their interests, namely to invest in more instruments, like the stock exchange, real estate properties and mutual funds.
However, investments in real estate are only safe until a bigger and more appealing building pops up next to the property one has just bought.
"There is a bigger return if one first builds and then sells (25-40 per cent) or buys and sells (up to ten per cent)," Luca adds.
Banks also see opportunities in real estate.

"We have seen good money made in the real estate field, and it is only logical that the uptrend will continue," says Stylianos Sofianos, president of Egnatia Bank Romania. "In real estate it is important what type of investment one looks for, and next year lots of offers are expected in this respect."
But he adds that, if Bucharest becomes overpopulated, there will be more demand for mortgage loans and here banks will have a greater stake in what happens.
"One should get a good return on one's money, especially considering the good development of the stock exchange and the continuous uptrend, which will continue over the coming years," he says.
ROARING TRADE
One element missing from the local banking and financial market, Verduystert says, is online brokering. "When and if major banks will launch such a product, that will stimulate stocks trading in Romania," he adds.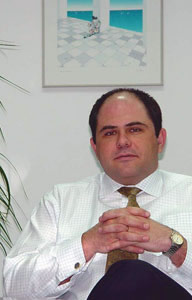 Steps are starting to be taken in this respect. Sergiu Oprescu, executive vice president of Alpha Bank Romania, will be implementing this type of service in the brokering company Alpha Finance, in 2006.
ABN Amro's Craciun thinks the stock exchange is mainly a speculative market and very risky. "With the Bucharest Stock Exchange merging with [the over-the-counter market] Rasdaq, bigger companies will be listed, such as the likes of BCR and Romtelecom," he says. "It's best to have a few large companies traded rather than lots of small ones. The capital markets need to be regulated, as foreign investors will look at liquid shares, and a key will be a large free float. Also, there are perception problems with regards to mutual funds and the stock exchange."
There do seem to be captivating investment opportunities at the Bucharest Stock Exchange.
"A major advantage of this type of investment is the fact that one can create a strategy for any amount of money, be that 10,000 or 500,000 Euro, keeping the same portfolio structure but increasing the values based on the available amount of money," Razvan Pasol, president of fund managers Intercapital Invest, tells The Diplomat.
Investing on the capital markets brings along a high risk, but financial theory means this risk can be diversified.
"There would be a very high risk if the capital markets industry was volatile," says Daniel Palita, associate director at Alpha Finance. "Investments on a very long term are more risky, depending on the rate at which the economy develops.
If somebody needs the money in one or two months, this is safer, as the volatility is quite low, but in the end it all depends on the client's profile, who should consider on what term they want to invest in."
Palita also says the instruments are limited by the legislation.

WELCOME TO
THE HOUSE OF FUNDS
What are the different types of funds available and the risks?
The National Union of the Organisation for Collective Investment (UNOPC) classifies local investment funds as follows:
1. MONETARY FUNDS
These tackle monetary instruments in the short term (a maximum of one year). The risk for investors in these funds is close to zero.
2. FIXED INCOME
INSTRUMENTS FUNDS
Investors' money will mainly go
onto the bonds market. There is a higher risk when one invests in bonds, because they are constantly traded (there is a risk of liquidity) on the stock market.
3. DIVERSIFIED FUNDS
In these funds, money is invested in different instruments or risk categories. In their portfolio, these funds can place the money on fixedincome level instruments, such as bank deposits, and in stock.
4. STOCK FUNDS
These types have a higher than 50 per cent exposure on stocks. Thus the risk is higher, but so is the return on investment.
      "There is no secondary legislation to regulate this market, so it's just the Securities Commission overseeing the market," he says. "Norms need to appear to complement the existing legislation."
Romanian brokers can also invest their clients' money on foreign markets, says Pasol. He feels the local capital market offers now, and in two to three years, more interesting opportunities than many foreign markets.
The local stock exchange has doubled in 2004 over 2003.
"An investor must differentiate between a good company and a good investment," says Palita. "A good company posts a year-on-year growth in sales, profits, cash flow, and its investment policy confers with its strategy. A good investment does not necessarily mean the same thing."
To counteract the risks a diverse portfolio is essential.
Pasol also argues that, for a continuous reduction of risks, one can recommend adding bonds, diversified investment funds or fixed-income instruments to a portfolio.
But Andreea Crainic, commercial risk evaluation expert with Coface Romania says a good investment decision needs a thorough observation of the market over a longer period of time.
"Once a decision to invest on the stock exchange is taken, the investment should stretch at least over two to three years for the return to make a difference," she says. "In the next two years the stock exchange will grow significantly, following the models of the stock exchanges in the countries that joined the EU in 2004, with an average increase of 50 per cent per year."
---
Happy medium
Shaking off their status as a by-word for bankruptcy in Romania, mutual funds are making a resurgence for the medium risk investor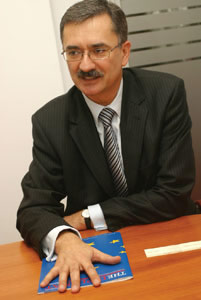 "Investment funds are the most recommended investment instruments, as the risk is close to zero, " Eugen Voicu, Certinvest
A form of collective investment managed by a company or a bank, mutual funds have had a nasty past in Romania.
At the beginning of the 1990s, the country was more enthusiastic in developing mutual funds than the legislative framework to check their progress. So, after numerous bankruptcies, in 1996, a new regulatory body, the National Securities Commission (CNVM) introduced rules to assess the value for investment funds. The largest of these, the then threeyear old SAFI/FMOA, suffered a massive correction in its value and
failed to come close to the new regulations. The funds froze and its value
dropped, leading to huge losses for over 100,000 people.
But the pain did not stop there. In 2000, 8,000 billion lei (around 400 million Euro) 'disappeared' when the National Investment Fund (FNI) self-destructed. This scandal led to the arrest of the president of the CNVM.
Marred by such examples, the local investment funds market still lags behind more established central and eastern European ones, according to US-based Investment Company Institute (ICI).
The Romanian mutual fund market is 72 times smaller than in Hungary, 60 times smaller than in the Czech Republic and 34 times smaller than in Slovakia, says ICI.
Still, despite a scandalous past, the market is now becoming more interesting.
"This industry has not managed yet to shake off its ghosts," says Craciun. "People are still afraid and the total value of the market, although on the rise, is low compared to other markets. And we have to admit that the mutual funds market has a limited range of instruments."
SLEEPING GIANT
Sergiu Oprescu, Alpha Bank Romania, adds that as interest rates come down, a window of opportunity is starting to appear for this investment segment.
And as open-end funds begin to perform better, more investors will be attracted to such instruments Fund managers confirm the rising trends.
"At this point, investment funds are the most recommended investment instruments, as the risk is close to zero," Eugen Voicu, president of Certinvest, tells The Diplomat.
"This is a sector which balances investments on the capital market. In turn it is dynamic and offers a good return.
There is no risk right now on the Romanian market and frauds are hard to put into practice."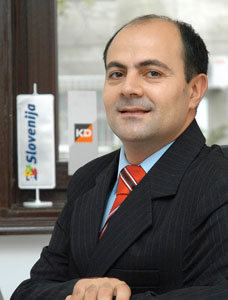 "There is no risk whatsoever attached to investment funds at this point in Romania, as this market is overregulated," Ion Mincu Radulescu, KD Investments
The same opinion is shared by Ion Mincu-Radulescu, who leads Slovenianbased KD Investments in Romania.
"This country is an emerging market and is kind of 'sleepy' on the mutual funds side," he says. "There are statistics showing that the average investment in Europe is between 300 and 700 Euro per inhabitant, whereas in Romania this only amounts to three to five Euro per inhabitant."
The 'leaders' in Europe are countries like Ireland, Luxembourg, Austria and France, where an inhabitant invests up to 12,000 Euro on average. But quality information about the benefits of mutual funds is not always available, says Voicu.
"The aftershock resulting from the infamous SAFI and FNI examples is still present, to a great extent, unfortunately," he says. "It is hard to predict when the investment funds market in Romania will explode, but they are on the right track."
In the meantime, many factors influence the Romanian market.
KD Investments has seen an evolution from fixed-incomes instruments (like bank deposits), to more liquid and dynamic instruments, like shares on the stock exchange.
"There is no risk whatsoever attached to investment funds at this point in Romania, as this market is overregulated," says Mincu-Radulescu.
The market is in line with the appetite for risk an investor has. If one wants to aim for large and fast returns, one has to assume more risk of loss.
Open funds dominate the Romanian market. Closed funds, which attract more money, are used more by institutional investors with special interests, such as companies.
Certinvest now administrates four such investment funds and a fifth one, a closed fund in real estate, is on its way.
MUTUALLY EXCLUDED

Net assets of central and eastern European mutual funds (January to June 2005)
Hungary: 4.7 billion Euro
Czech Republic: 3.9 billion Euro
Slovakia: 2.3 billion Euro
Romania: 66 million Euro
Source: Investment Company
Institute (ICI).
      The depository bank for Certinvest is BRD - Groupe Societe Generale and the distributor banks are Banca Transilvania and Eurom Bank (now owned by Leumi Bank). The president says Certinvest is in final negotiations with savings bank CEC as another.
KD Investments works with HVB as a depository bank, while the financial auditor is PriceWaterhouseCoopers. "We work with both of them in all central and eastern Europe and New Europe countries," says Mincu-Radulescu.
Now KD Investments manages KD Maximus, which at the end of the year posted net assets of three million Euro and managed to attract 970 investors, beating its target of two million Euro in net assets. The second fund, KD Optimus, is in the process of being authorised by the regulatory body, CNVM.
This will invest about 20 per cent on the stock exchange, says Mincu-Radulescu, in very liquid companies from the top category and 80 per cent in lowrisk instruments, such as bank deposits and bonds.
Both managers say there are funds locally that bring a return in the range of 30 to 40 per cent on average.
BANKS ARE READY
Banks have their own opinion on asset management and private investments.
"We recommend our clients invest in recognised investments vehicles, on the OPCVM market [in companies that operate collective investments in securities]," says Dan Nicu, general manager of SG Asset Management BRD. "An investor can put in amounts that can be lower than 10,000 Euro or larger than 500,000 Euro. The question about the choice in investment instruments is related more to an investor's profile, his tolerance for risk and his expectations, more than to the amount he wants to invest."
Radu Hanga, head of Capital Markets at Banca Transilvania, says the bank's products tackle both the retail market and the high net-worth individuals segment.
"The products that address the retail market are mainly the open investment funds," he tells The Diplomat.
The two open funds that BT Asset Management administrates are BT Maxim and BT Clasic and they are distributed through the branches network, targeting small investors, who are looking at alternative vehicles as opposed to the classic bank deposits.
BT Maxim is a stock-based investment fund, mainly dedicated to investments in shares listed on the BSE. "This fund will capitalise on the growth potential of the Romanian market, based on economic growth and EU integration," says Hanga.
On the other hand, BT Clasic is a diversified fund, mixing monetary placements with those in capital [a maximum of 20 per cent of the assets are invested in listed shares], offering a balance between the risk involved and the return obtained.
Hanga says the total assets value of the two funds administrated by BT Asset Management, four months after their launch, is more than 5.5 million Euro.
"In this short timeframe we attained a market share of six per cent," he adds.
BT Asset Management also administrates a closed fund, BT Invest 1, addressing qualified investors, with a life span of ten years.
STRUCTURED DEPOSITS DEBUT ON MARKET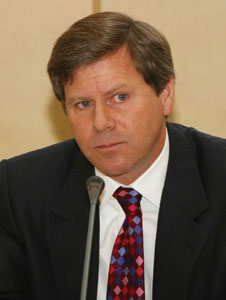 A new medium risk alternative on the local market is structured deposits, launched by Raiffeisen Bank Romania, which are deposits related to instruments such as exchange rates.
Structured deposits combine a deposit and an embedded derivative, whose return is dependent on the performance of underlying financial instruments, says
Raiffeisen Bank vice president in charge with the Treasury Division, James Stewart
.
These financial instruments require a minimum of 50,000 Euro for an individual to become a client of Raiffeisen Bank in this segment.
What are their advantages? "Structured deposits generally provide the possibility of higher returns compared to fixed deposits," Stewart says. "At the same time, they are riskier than traditional deposits because their returns are dependent on the performance of the other financial instruments they are tied to."
Raiffeisen launched six such treasury products just last month, under the Diamond brand, and announced it will soon launch other structural deposits, including the interest rate structured ones.
---
Lying low
Locking up the cash in a bank remains the safest path for the low risk investor
"If you want zero risk, the recipe is simple: go open a bank deposit at a reputable bank or start looking at state bonds," says ABN Amro's senior analyst, Radu Craciun.
At present the local currency, the leu (RON), is a safe bet and there is a general positive trend in bank deposits.
"Our deposits are increasing faster than the banking system," says executive vice president of Alpha Bank Romania Sergiu Oprescu. "The growth of all deposits of the bank, equivalent in Euro, has been almost 43 per cent until October 2005, compared to December last year. At the same time, leu deposits have grown the most during 2005."
Other useful instruments could be bank bonds and certificates of deposit, says Stylianos Sofianos, president and general manager of Egnatia Bank Romania.
"A bank's interest rates depend on the market," he says. "Now in Romania they are not as high as before, as the market is more mature. But the majority of Egnatia clients prefer deposits in local currency.
Investing your money in this type of instruments means you don't want to block your money for a long time. This applies for three to six months."
KEEP LOCAL
But at the same time, bank deposits cannot give an investor a very high yield. "The majority of clients want to keep about 40 to 50 per cent of their funds in liquid assets," says Sofianos. "At the same time there is a trend to turn to local currency, as it offers a higher return as opposed to deposits in hard currency."
The president says estimations cannot be made for the next two years, but expects a similar situation in 2006, especially in the private banking field.
Egnatia is thus preparing to launch its own range of products, including loans for individuals secured with shares on the local stock market.
But Craciun says that, in Romania, bank deposits' interest can cover the inflation- depreciation in the best case scenario, but nothing more.
"One sign is that the pace at which people chose bank deposits is now quite slow," he says. "The interest rates are low as well."
Going even further, Andreea Crainic, commercial risk evaluation expert with Coface Romania, says having the money tied up in a bank account is "no longer the best option," as bank interests are no longer that attractive and can be even worse than before. "There are times where they are really negative, as they equal or are under the inflation rate," she says.
But some, such as combined deposits, are very popular, according to the Liliana Damianov, head of private banking with HVB Bank Romania. This means that a client ties up part of his or her cash for one month and another part for one week.
But Damianov says a 'real return' is not given by deposits at her bank. "Deposits are or should be giving merely a preservation of the money's real purchase value and give a limited extra return," she says.
Adriana Tudorancea, product management and development director with Unicredit Romania says, at present, the most popular are term deposits, over a period of one to 12 months, with larger returns depending on the length of deposit and quantity of cash.
"But people's savings tend to focus on shorter terms, such as one or three months," she adds.
GOING LARGE
However, if an investor is looking for a low risk on a large amount, benefits can exist.
A client should have a minimum of 100,000 Euro to become a private banking client of BRD - Groupe Societe Generale, says Dana Bajescu, group Dorobanti director at the bank.
"For higher amounts, one can request more sophisticated banking services," she adds. "If we're talking about private investments of several hundred thousands of Euro, our clients can access services offered by Societe Generale in Luxembourg, Geneva or Zurich, where they can benefit from financial instruments that cannot be created in Romania due to legislation and restrictions."
Tudorancea says that at Unicredit, when a client disposes a large amount (over 100,000 Euro) and does not want to deposit them on long terms, a personal banker can ask the Treasury Department to negotiate a better interest.
INSURING RETURNS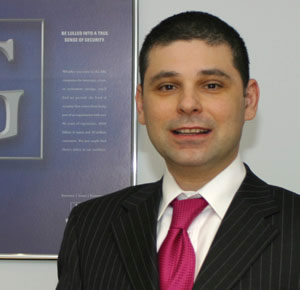 Insurance policies are more of a savings instrument than an investment one, says
AIG Life general manager Theodor Alexandrescu.
"When taking up such an instrument, one should consider three components: the yield, the liquidity and the risk attached," he tells The Diplomat. "Regardless of the type of insurance product an individual
chooses, this offers a low risk for a long period of time, and covers all three main risks one can encounter during their lives: that of dying, that of becoming handicapped or that of living too long."
The general manager does not see insurance policies as a form of getting high returns, but of compensating for losses.
"A life insurance policy is signed for a minimum of ten years and can get to a maximum of 47 years, guaranteeing a yield of between three per cent (the average on the Romanian market) and five per cent (AIG's case)," Alexandrescu adds.
He says the local insurance market has a value of about 240 million Euro, which is "quite small" compared to neighbouring countries.
"Romanians lack the education and the competencies in this respect, and for this reason the market and the legislative framework has developed at a slower pace," he adds.
---
Rate of the art
Looking to invest in culture? Anca Pol puts you in the picture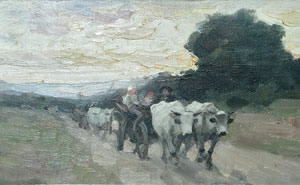 The Romanian art market is growing in a similar fashion to other mature countries, but slowly.
Like elsewhere, visionaries will say bet on the contemporary, while the more conservative specialists urge investors to go with the classics.
But if the superior market of New York is focused on mainly contemporary work, buyers in Romania are still reluctant to invest in fresh names. What investors seek at the moment is quality that has been appraised and re-appraised through successive sales over the last century.
This includes the paintings of the Romanian masters of the 19th century, such as Grigorescu, Tonitza, Andreescu, Aman, Iser and Luchian, who one can always count on when seeking for value and return.
"The paintings of the great masters sell the best, here and in any other country," says Mihai Papagheorghiu, director of the Alis Auction House.
Despite its population's often limited financial muscle, Romania has always had a buying elite with an eye for quality.
"Some have just the interest, but not the taste," Papagheorgiu says. "Others regard art acquisitions as a mere investment, but I think that sooner or later they also grow sentimentally attached to art, because you cannot buy a painting in the same way you purchase shares on the stock exchange."
Information on the value of an artist is important. But in this market there are no Bloomberg updates. If one lacks education in the field and experience with the art market, one needs an adviser, a specialist who knows the market from the inside, such as appraisers in art galleries, auction houses or antique shops.
WATCH FOR FAKES
But it is very rare to have friends in the art commerce, so it is easy to get fooled and the risk of buying a fake is quite high, according to one expert.
"We are only at the tip of the iceberg in the art market," Papagheorghiu says. There are too few authorized art sellers, such as auction houses and art galleries, and most of the best deals seem to take place on the black market.
Meanwhile in the capital's auction market the main players are Alis and Monavissa, owned by artist Alexandru Ghildus.
Three years ago Alis sold its most expensive painting, 'Girl lying in the grass' by the romantic Nicolae Grigorescu, for 59,900 Euro. The auction house's ten most expensive paintings include eight Grigorescus. Ion Andreescu and Nicolae Tonitza also sell well.
Seemingly, it is almost exclusively Romanians that buy such classics. Foreign diplomats based in Bucharest seem to prefer the acquisition of antiques, such as beautiful porcelain and silver objects, which can be a valuable pick if one avoids a lot of kitsch.
Nevertheless there are a limited number of classics. "We can notice a decrease in the quality of the offer in classical art works on sale at present," Papagheorhiu says. "What was first class was sold first. What was second class is now sold as first class and so on."
No auction houses sell contemporary work at present. They are available either directly from the artists or from the few contemporary art galleries.
There are around nine contemporary art galleries in Romania, most of which sell the works they exhibit. According to Matei Caltia, the manager of Galeria Posibila, around 30 contemporary art galleries might be opened by 2010 in Bucharest. Some of these are trend-setters, others are just shops.
At H'art gallery, its director Dan Popescu says the field offers investors another financial opportunity - that of one day opening their own contemporary art gallery.
The initial investment in the opening of an art gallery is, according to Popescu, around 100,000 Euro. With this amount, one could break even in six to seven years.
"In ten years, contemporary art will surpass, in value and in profit, classical and modern art," he says.
Auction houses may then begin to sell such material in four to five years. But in order to become more attractive, the Romanian art market has to become more transparent and the waters are muddy at present.
Like any insecure investment, one could step on quicksand if one does not know who to gamble on.
"Some choose to bet on a whole generation of seven to ten artists, because thus there is a chance that at least one will become so valuable the he will cover the whole expense," Caltia says. Dan Popescu rates contemporary artists, many of whom he has exhibited, such as Dumitru Gorzo, Alexandra Croitoru, Suzana Dan, Roman Tolici, Gili Mocanu and Vlad Nanca.
Attending art openings, asking in galleries and gauging the climate can contribute towards an educated opinion.
Popescu says the notion that an artist has to be dead before becoming valuable is no longer in force and that the works of the above artists could double or treble their value in less than five years.
But one has to be careful - no one wants to be left with last year's fashion mistakes.
---
I find myself with a lot of money What can I do with it?
Local investment specialists, quizzed by The Diplomat, reply to where they would invest large amounts of cash
Ion Mincu-Radulescu, CEO, KD Investments Romania says if he had money:
• two to three per cent would go into a bank
• 40 per cent in open funds
• 40 per cent on the stock exchange
• around 20 per cent looking at land options and houses
Razvan Pasol, president of Intercapital Invest: "For a medium risk appetite over a longer period of time, I would divide the amount as follows:
• 35 per cent in SIF Oltenia shares
• 25 per cent in BRD stock
• 25 per cent in Petrom shares
• "And a more risky component: 15 per cent in Broker Cluj stock."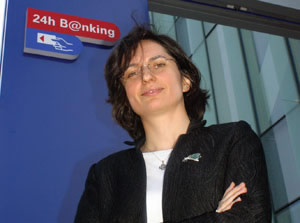 Liliana Damianov, Head of private banking HVB Bank Romania, says that one of her bank's portfolios for her clients advises the following:
• 70 per cent investments in bonds
• 20 per cent in equity
• ten per cent in a deposit
"I have 500,000 Euro going spare, what should I do with it?"
Irina Albu, Colliers International
"I could buy a luxury apartment in a new building in northern Bucharest or an apartment in one of the capital's old villas or even a large villa, with a garden and a swimming pool in Baneasa- Pipera, Snagov or Corbeanca."
Guy Verduystert, head of corporate finance, KPMG Romania
"With that money I'd play on the international stock markets, as limitations are literally disappearing."
Ionut Bordei, Eurisko residential for sale department manager "Investing in apartments in the city. A recommendation for investors is to buy the apartment in its project phase it is cheaper and you get the chance to choose your own interior finishing. This type of investment is recommended both for reselling after a certain period, and for renting."
Marius Luca, residential sales negotiator, CB Richard Ellis
"Definitely I would buy an apartment in Washington Residence in Dorobanti."
Andreea Crainic, commercial risk evaluation expert with Coface Romania
"Investing in real estate amounts that are close to 500,000 Euro can be a valuable solution, especially when one acquires more apartments in a central area, modernising them and renting them on a daily basis. Also buying real estate in areas of high development potential. With 500,000 Euro and depending on one's professional training, starting a larger business can be more appealing. The recommended fields are constructions, design and manufacturing of installations (thermal, electric and sanitary), because, despite the fact that these fields of activities are quite risky right now in Romania and, in the future, one will see a lot of construction work going on."
Eugen Voicu of investment managing company Certinvest would split 500,000 Euro as follows:
"• 100,000 Euro: down payment on 33 per cent of a new house
• 100,000 Euro: an investment in a real estate fund and collateral for the mortgage loan
• 100,000 Euro: investments in a stock fund. This would also give solid ground to support the mortgage loan as well as bringing good benefits from the increase of the funds' return.
• 100,000 Euro: I would start a new business in the service field
• 50,000 Euro: Investments in education for the family, in schools and training
• 50,000 Euro: This would be 'travel' money to visit as many countries as possible, including parts of Romania."
"I have 100,000 Euro going spare, what should I do with it?"
Irina Albu, Colliers International
"For between 50,000 to 100,000 Euro, I would recommend the purchase of an apartment in a new residential area, under construction or planned to be constructed soon."
Marius Luca, CB Richard Ellis
"One could look at plots of lands, worth at least 50,000 Euro."
Radu Craciun, ABN Amro
"One can look at investments in the real estate field, but the truth is that all money would be swallowed by such an investment. A return could be reached through buy and rent."
Ionut Bordei, Eurisko
"One could buy a quality apartment in central or northern Bucharest, or even a villa."
Andreea Crainic, Coface Romania
"For amounts between 50,000 and 100,000 Euro starting up a business, preferably a family business. Nevertheless, it depends on the profile and the training of a given person. The stock market is also an option. Unfortunately, Romania does not see that many common people playing the stock exchange. This does not mean that the stock exchange does not offer appealing returns, but that a certain economic training and more information of the market are needed. With 100,000 Euro one can buy a franchise from a successful business, and make the difference through an inspired idea."
I would put
100,000 Euro in a
mutual fund or on
the stock exchange:
Guy Verduystert,
KPMG Romania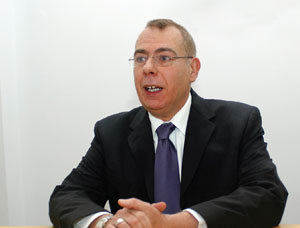 Alexandru Nitescu, manager of the Land Investments Department, Regatta
"One can buy an apartment in a more central area of Bucharest."
Guy Verduystert, KPMG Romania
"I'd either put it in a mutual fund or invest it on the stock exchange."
"I have 10,000 Euro, what should I do with it?"
Andreea Crainic, Coface Romania
"One does not have that many options. Still, if the investment decision does not include buying a car, modernising the apartment or using it as a down payment for the purchase of an apartment, one can start a small
business. Young, ambitious and welltrained people can use 10,000 Euro as a start-up amount. It can tackle the software field, the promotion activities sector, website development, leaflets, business cards and other marketing- related activities. The return on investment will only depend on the inventiveness and entrepreneurial spirit of the young investor, and can bring profits ranging from 20 to 100 per cent of the invested capital."
Alexandru Nitescu, Regatta
"One could buy a hectare of arable land 30 to 40 kilometres away from Bucharest, but not in the northern area. One could also buy a plot of land in the countryside, near Craiova for example."
Radu Craciun, ABN Amro
"The average Romanian does not have a high appetite for risk, so for this
amount I would not recommend playing the stock markets. The best decision would be a mix between bank deposits in RON or a foreign currency and investment in a mutual fund that would help cover the risk."
Marius Luca, CB Richard Ellis
"Part on the stock exchange and part in mutual funds."