Record budget aims to fund social services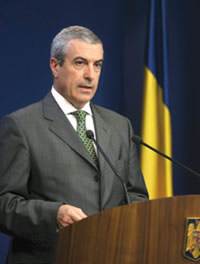 Calling it the first European budget, Prime Minister Calin Popescu Tariceanu presented a record allocation of the budget for education and health, with labour and social protection winning the biggest percentages of an estimated 107.9 billion Euro Gross Domestic Product (GDP).
The draft budget law provides for an economic growth of 6.4 per cent for 2007, an inflation rate of 4.5 per cent and a budget deficit of 2.8 per cent of GDP, compared to 2.5 per cent forecast for 2006.
The Prime Minister said next year's budget will finance Romania's priorities and obligations for EU accession and allow significant investments in key areas like infrastructure, education, agriculture and health.
He said it will insure Romania's contribution to the EU budget, which will stand at 1.1 billion Euro.
"Education will receive the biggest budget increase since 1990," said Tariceanu.
This will mean 5.2 per cent of GDP to education, close to the EU average of six per cent. The money will be invested in education infrastructure, consolidation and rehabilitation of schools, laboratories and basic financing for higher education, as well as supporting research and development.
Also in the 'biggest so far' chapter is health, with 4.4 billion Euro being slotted for the ailing system, 900 million Euro more than this year's sum.
"The money will be used to build eight new emergency hospitals, modernise 15 existing ones, build 20 county hospitals and acquire state-of-the-art equipment and 1,000 ambulances," Tariceanu said.
In the infrastructure field, the Government presented its 2007-2010 plan to build 505 kilometres of highways, repair and modernise 3,523 national roads and build 499 km of ring roads for the larger cities.
2007 Ministry Highs and Lows
Labour and Social Protection: 9.5 billion Euro
Education and Research: 5.6 billion Euro
Health: 4.4 billion Euro
Transports, Construction and Tourism: over three billion Euro
Public Administration and Interior Affairs: 2.1 billion Euro
Agriculture: 2.1 billion Euro
Defence: 1.9 billion Euro
Justice: 477 million Euro
Environment and Waters Management: 466 million Euro
Economy and Trade: 378 million Euro
European Integration: 272 million Euro
Culture and Religious Affairs: 204.7 million Euro
Foreign Affairs: 141.3 million Euro
Information Technology & Communications: 24 million Euro
---
Cosmote loses out in race for 3G license
Romania's Government awarded the last two third generation (3G) phone licenses, which includes video telephony services, to telecom operators RDS&RCS and Telemobil, the owner of the Zapp brand.
Greek-based Cosmote, which came third on the list, and Romanian Radiocom lost out on the chance to offer 3G services in Romania.
Currently Orange and Vodafone offer these services.
Defending their decision, officials from Romania's Inspectorate General for Communication and Information Technology (IGCTI) said the two winning companies respected more the criteria in the original task book, which included geographical and population coverage, technical feasibility, financial power, specialisation, experience and commercial feasibility for the project.
The cost of the license is 35 million USD (about 28 million Euro) and the two winners can use licenses after they pay the first tranche of 10.5 million USD, in the next four months.
"If, for different reasons, a license cannot be given to any of the winners, it will go to the following on the list," said Catalin Marinescu, president of IGCTI.
"We are confident that we will meet all criteria to actually get the license and we will keep the promises made through submitting an offer, especially to our current and future customers," said RCS& RDS general manager Alexandru Oprea. Despite the fact that Cosmote was the only of the four contenders with previous experience in operating 3G services, it said it will continue its investment plan in Romania.
"Cosmote will continue to speedily develop its 2G and 2.5G networks in Romania and assure coverage for the country's entire population," said Cosmote Romania CEO Nikolaos Tsolas.
Vodafone Romania has announced that it has over 230,000 3G users, while Orange estimates about 250,000 EDGE and 3G users by the end of this year.
---
Journalist exodus to Rompetrol boss's media empire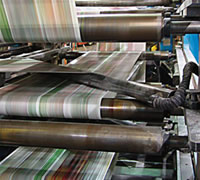 Local media land is set for further turmoil as Swiss-owned media company Ringier Romania suffered a mass resignation of staff from its tabloid Libertatea, the most read daily paper in Romania.
Last year a group of journalists left the same company's quality daily Evenimentul Zilei, in support of outgoing chief editor Dan Turturica – although a few press members returned.
Many from the Libertatea exodus are following their chief editor Adrian Halpert to Rompetrol CEO Dinu Patriciu's growing media empire.
The oil and gas magnate owns both the quality Adevarul and tabloid Averea newspapers through a company, Adevarul Holding.
Firstly, Razvan Corneteanu gave up his position as executive manager of the mass-market 'Bulevard' division of Ringier to join Patriciu's new holding, according to sources at Libertatea.
Corneteanu wanted to bring alone the same team from Libertatea including Halpert. Then a reported 75 journalists of the tabloid initially resigned, though only around 51 of these joined Halpert at the new media group.
"Among the things that determined people to leave Libertatea were the salaries, but also the wish of working with the same team," said one former journalist at Libertatea.
The salary for a Libertatea reporter varies between around 400 and 500 Euro per month. Many journalists returned to the paper after renegotiating their wages with a 50 per cent increase.
Patriciu's new holding intends to revamp the existing tabloid, Averea, in what may include a name change for the brand, according to sources.
---
SHORT STORIES
Bucharest underground wins cash for eastern extension
European Investment Bank (EIB) has leant the Romanian state 60 million Euro to modernise the underground transport system. This is the third phase of a modernisation programme worth 127 million Euro, and the local budget will pour in the rest of the money, said underground train firm Metrorex general manager Liviu Soava. The modernisation programme will support the delivery of the eastern extension (Nicolae Grigorescu to Linia de Centura), due for the end of 2007 or beginning of 2008, install facilities for the disabled, modernise low voltage equipment for the network and the acquisition of six new trains. EIB has leant Metrorex 215 million Euro in the past.
European Drinks wins alcohol license battle
Scandic Distileries, part of the European Drinks group, has regained its license to produce alcohol, after the Ministry of Finance withdrew its right to produce. This came at the same time European Drinks was in the process of finalising a 250 million Euro loan from the European Bank for Reconstruction and Development (EBRD).The Special Commission for Authorisation in the Ministry of Finance decided to stop Scandic Distileries from producing alcohol in October because the firm did not possess special equipment to dry sediments used to manufacture alcohol. Following an appeal from the firm's owners, the Micula brothers, the annulment was suspended. Scandic Distileries produces budget spirits such as Scandic Pop vodka, Tanita cream liqueur and Gilman's Dry Gin.
British-based coffee chain heads east
UK coffee chain Costa Coffee will open in Romania this December. The cafes will open in 200 locations in Poland, Romania and Bulgaria in the next five years. Costa Coffee is part of UK group Whitbread, which also has leisure centres, hotels and restaurants.
Romania keen to work with India in energy
On a visit to India, President Traian Basescu said Romania is keen to enter into partnership with India in energy and defence, describing the country as a 'very important' global player. "No one can afford to ignore India," Basescu told a business summit in Mumbai last month.
Cluj-Napoca to complete first ring road in 2007
Cluj-Napoca has kicked off works on the completion of the city's first ring road, an investment valued at about 71 million Euro. This last arc of the road, the north-east section, will be 8.3 km in length and is scheduled for completion in 2007. This arc will link up with the road to Dej and Baia Mare through Apahida, a village near Cluj-Napoca.
Siemens expands voice-data communication network
Siemens Networks Group, part of Siemens Romania has signed an 8.9 million Euro deal to expand the voice-data communication network for Romania's north-western and south-western borders. The project is financed by Phare programme and is scheduled for completion by October 2007.

State trade bank finds Turkish partner
State trade bank Eximbank has signed two cooperation agreements with Turkish-based Finansbank to help it increase its offer of products and services and a 4.6 million financing facility for small and medium enterprises.
Danube Bridge received offers for 235 million Euro project
Offers have come in to the Bulgarian Government to construct the 235 million Euro Danube Bridge II, a two km road and railway transport link connecting Bulgaria's Vidin and Romania's Calafat, Dolj county, forming part of the southern branch of European Corridor IV. Making offers were French-Bulgarian-Italian consortium Bouygues - Transstroy Varna - Rizzani de Eccher, Spanish FCC, French-German consortium Zublin - Eiffel and French-Bulgarian consortium Vinci - Glavbolgarstroy – Moststroy. European Commission, European Investment Bank, Kreditanschtalt fur Wiederaufbau and the French Agency for Development are the investors.
Cancer-beating medical tech firm enters local market
International Brachytherapy will start business in Romania. The Belgian firm designs, produces and sells radiotherapy implants used in brachytherapy. This is a technology where implants containing radio isotopes are placed in the heart of cancer tissue. Precision-dosed local radiation from the implants destroys the cancerous cells. Bucharest and Cluj-Napoca university hospitals have used Brachytherapy radiotherapy implants to treat prostrate cancer.
Siemens VDO strengthens Timisoara position
Electronic component designer and manufacturer Siemens VDO Romania has opened a new production unit in Timisoara, following an investment of 25 million Euro. The new plant stretches over 18,000 square metres and includes office and production space. Moreover, the plant aims to invest up to 60 million Euro in the next five years to produce electronic equipment for cars. Siemens VDO started activities in Romania back in 2000. Since then it has developed software and hardware applications integrated in electronic equipments for cars. This year the company will begin production of electronic components in the Timisoara plant.
Pharma machine firm to open new unit in Chitila
Pharmaceutical machine manufacturer Technophar plans to invest more than 28 million Euro to develop a new production facility for machines to manufacture pharmaceutical capsules. The firm has two production and distribution centres, in Harghita and Prahova counties and a third will open in Chitila, near Bucharest. The initial investments in Chitila will total 12.5 million Euro. The facility will become operational in the first quarter of next year, said the company's chairman Herman Victorov.
Atlas Telecom expands broadband network
ECI Telecom has signed a contract with Atlas Telecom Romania to expand its broadband network. The three-year contract will provide Atlas Telecom Romania with the chance to offer more cost-effective triple play and IP (Internet Protocol) TV services, according to Reuters. ECI will provide a special platform to support Atlas Telecom's applications to both residential and business subscribers.
State Hydropower firm gains 50 million Euro loan
ING Bank has given a 50 million Euro loan to state hydropwer company Hidroelectrica to support investments. The loan has a five year maturity, with a grace period of two years.
Henri Coanda airport bridges terminals
Henri Coanda International Airport in Otopeni has invested 2.5 million Euro in a building to unite the terminal of International Departures terminal with that of International Arrivals and Domestic Flights. The new building stretches over 3,000 square metres and comprises a transit corridor and commercial area which covers 1,300 sqm.
Local currency loan for microfinance bank
Microfinancing bank ProCredit has won a local currency syndicated loan to help fund micro-entrepreneurs and small businesses. The 150 million RON (worth about 42.6 million Euro) has a five year maturity. Citigroup Corporate and Investment Banking was sole arranger of the loan. Other lenders in the syndicated loan include Alpha Bank, Bancpost, BCR, Eximbank, UniCredit and Volksbank.
Petrom opts for 50 million Euro SAP revamp
Petrom introduced the Enterprise Resource Planning (ERP) System SAP as its main business software application in a 50 million Euro investment. The SAP implementation at Petrom started in June and will continue until end of 2007 before the full functionalities are installed across the company.
German gas maker wins contract for Petrom
Industrial gas maker Linde AG has won an order to build a liquefied petroleum gas plant in Romania valued at more than 70 million Euro. Linde will build the plant in Constanta for Petrom which is scheduled for completion in the second half of 2008.