Petrom plans giant local finance and IT & C service centre
Market oil and gas leader Petrom, a member of the OMV Group, is building up a service centre in Romania - Petrom Solutions - providing accounting and IT&C services to its business divisions - exploration and production, refining, marketing, gas and chemicals.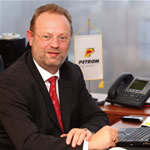 "We will invest up to 100 million Euro in the following years to build up this service centre," said Reinhard Pichler, CFO of Petrom. "Based on our market research and experience we believe this could be the largest finance and IT&C service centre in south-eastern Europe. This is a far reaching project and an important step in Petrom's modernisation program."
The centralisation of the support functions, accounting and IT&C in Bucharest aims to increase the effectiveness and quality of nationwide Petrom operations and to fulfil the requirements of the international capital markets, such as reporting standards.
Pichler added that the investment targets both the latest technologies to support the business requirements, such as the introduction of the Enterprise Resource Planning system SAP and also the modernisation of the office environment and improvement of the qualification of the Petrom employees.
Approximately 1,200 employees will be working in Petrom Solutions, most of them coming from current finance and IT departments.
---
World Bank throws confidence in local economy with RON bond launch
The World Bank has launched its first bond issue in local currency, valued at 525 million RON (almost 150 million Euro), following a pattern of similar bond issues launched in the Czech and Slovak Republics and Hungary in the past years.
Officials said this is the first supranational issue in Romania under local law and domestic clearing systems.
The manager of the bond issue is Intercapital Invest, while the financial advisor, distributor group and payment agent is ABN Amro Bank Romania.
The World Bank will use the net gains of its sale for its general operations, said Doris Herrera-Pol, head of capital markets at the World Bank.
The main characteristics for the bond issue include a maturity of three years, with a fixed interest rate of 6.5 per cent, to be paid semi-annually. The principal repayment date is 18 September 2009 and an application has been made to admit the bonds for trading on the Bucharest Stock Exchange, which will probably happen at the beginning of October.
"We hope that this issue will contribute to the depth of the Romanian capital market and serve as a useful benchmark," said Herrera-Pol. "The main difference lies in the fact that this issue is truly Romanian-anchored, as yields in the other issues were used for off-shore investments."
Added Razvan Pasol, president of Intercapital Invest: "This is real proof that the local capital market has reached its maturity point, which makes this issue very important. We hope to be able to attract many local and foreign investors, be them institutional or private."
---
Two left in the last major state bank sell-off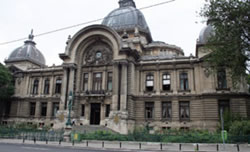 Hungary's OTP Bank and National Bank of Greece (NBG) are the two contenders left in the race for state-owned Savings Bank (CEC), reportedly Romania's sixth bank in terms of total assets.
The two banks alongside Raiffeisen, were the only banks to submit financial binding offers by the 1 August deadline, despite the seven initial contenders, who also included Erste Bank, Monte dei Paschi di Siena, Dexia and EFG Eurobank.
Final financial offers are expected to be submitted by 15 September, despite an initial deadline of 31 August, mainly due to re-evaluation of the bank's assets.
The Romanian state is selling 69.9 per cent in CEC, including a stake of 9.9 per cent which will subsequently transferred to Fondul Proprietatea: a mechanism where former owners of property nationalised during Communism are given shares in state-owned companies.
In addition, another five per cent of the shares will be sold to CEC's current and former employees. Officials also said the shares remaining after the conclusion of the sale will be sold through a public offer on the local capital market.
Finance Minister Sebastian Vladescu, who is also head of the CEC privatisation commission, refused to comment on the value of the two offers by OTP and NBG.
News agency Mediafax quotes insiders saying one of the two offers is above 500 million Euro for 69.9 per cent of the bank's assets.
Founded in 1864, CEC is Romania's oldest bank and the last major one still majority-owned by the state.
It reported total assets of 1.7 billion Euro at the end of March this year, with a net profit of just over 35 million Euro.
The bank has the most extensive national network, with over 1,400 branches, and employs in excess of 7,000 people.
On the local market, National Bank of Greece owns Banca Romaneasca, while OTP bank has a titular network since taking over Robank in 2004.
---
INA Schaeffler invests in Brasov manufacturing future
German component producer INA Schaeffler will invest about 100 million Euro to build a new production hall by the end of next year. The Germans have already invested 180 million Euro in three production halls in Cristian, Brasov county. "The group made the decision to boost its investment in Romania, as we have seen very good results here so far, and Romania is still interesting in terms of labour costs," Alexandru Blemovici, general manager of the Brasov division of INA Schaeffler told Ziarul Financiar. The automotive and industrial subassemblies manufactured in Cristian are currently exported to western European countries such as France, Germany and Spain. The new hall will produce large bearings, wind power stations and other industrial equipment.
---
SHORT NEWS
Ford takes pole position on Daewoo Craiova
Ford announced plans to prepare for due diligence on the Daweoo Craiova car plant, after the Romanian state last month took back the Korean stake for 46.8 million Euro. The Ministry of Economy and Trade reportedly intends to sell the company to foreign investors such as GM, Ford, Renault-Nissan or the Chinese car manufacturer Chery, but Ford was the first car-maker to issue a statement: "Following the signing of the financial agreement between the Romanian and South Korean institutions, we can confirm that we are definitely interested in acquiring the facility. Therefore, we will continue to develop our business plan, and be prepared to pursue due diligence when the government begins the privatisation process."
Banca Intesa could gain foothold in Arad region
Banca Intesa plans to buy smaller competitor Sanpaolo IMI for 29.6 billion Euro to create Italy's biggest bank, with about 13 million customers. The move means Banca Intesa will gain a foothold in Romania, particularly in the west, as Sanpaolo IMI Bank has been present there since it took over Arad-based West Bank.
Historical centre revamp auction due for October
Beautiful Bucharest, the redevelopment programme for the exteriors of the buildings in the historical centre, will launch an auction for a construction firm this October. This is part of a 23.5 million Euro project co-funded by the Bucharest City Hall, Romanian Government and the United Nations Development Programme.
Swiss bank gains grip on Energy Holding
Geneva-based bank Societe Bancaire Privee (SBP) has taken over Swiss energy trader Energy Holding, for an undisclosed amount. The deal is pending completion. SBP will own 95 per cent of the company and then plans to become its single shareholder. The entire management of Energy Holding will remain in place. Energy Holding was advised on the transaction by law firm Bostina & Asociatii.
Arad train wagon plant slips out of US hands
International Railway Systems took over the European division of US-owned train wagon company Trinity Inc, including its subsidiaries in Great Britain, the Czech Republic, Slovakia and Romania. This includes the Astra Vagoane plant in Arad, which Trinity bought from the state in 1999. The price of the transaction was not made public. International Railway Systems is owned by Cyprus-based Krishman Holding. The local representative of the Luxembourg company is Cristian Burci, former head of Prima TV and radio stations Kiss FM and Radio Star.
Israeli bank launches with ex-local Volksbank boss
Leumi Bank officially launched in Romania one year after taking on Eurom Bank. The Romanian office will be used as a platform to focus on clients in the former eastern European bloc. Leumi Bank Romania's strategy aims to provide an increased focus on individuals with higher incomes, micro enterprises and small and medium enterprises, as well as corporates. Newly appointed general manager of the Romanian operation is Laurentiu Mitrache, former head of Volksbank Romania.
Taiwanese plastics group heads for Moldavia
Plastics firm Styropan Buzau, part of Taiwanese-based Living Plastic, is set to invest six million Euro in production capacities for extruded polyester in Iasi and Buzau. Each facility will be able to produce about 65,000 cubic metres of extruded polyester per year, and the Buzau plant is scheduled for completion this October, while the Iasi production facility will be operational in 2007.
Romexterra goes foreign
Bank MKB, a subsidiary of German-based Bayerische Landesbank, has signed an agreement to take over 51 per cent in local bank Romexterra, traditionally a bank focused on the energy sector. Official details of the deal are expected to be released later this year, but analysts said it could be worth 100 million Euro.
Central bank withdraws Nova Bank license
Romania's central bank (BNR) has decided to withdraw the license of Nova Bank, reportedly the smallest bank in the Romanian banking system, with total assets of just 8.1 million Euro. Nova Bank is the former Unirea Bank, whose main shareholder was Banca Populara Romania, which later went bankrupt. Subsequently, the bank was taken over in 2003 by Swiss-based Alpur, which was controlled by a group of Russian investors, according to Mediafax.
Alba county roads take Dexia cash
Alba County Council has taken on a 14 million Euro loan to modernise 100 km of road from a consortium comprising Dexia Kommunalkredit Bank and BT Securities, a member of the Banca Transilvania financial group. The deal includes a bridge loan with a life span of two years to be repaid through a municipal bonds issue.
Siemens lands five million Euro border communication deal
Siemens Communications, part of Siemens Romania, has signed a 5.13 million Euro deal to expand the voice-data communication network on the north-eastern border of Romania, in Botosani and Suceava counties. The project is financed through an EU Phare loan and is scheduled for completion in February 2007.
Mamaia hotel changes local tycoon owner
Mamaia-based seaside hotel Rex has been bought by Tycoon Imobiliar, a company controlled by businessman Dan Adamescu, in a deal valued at ten million Euro, according to Ziarul Financiar. Rex was until now owned by businessman Viorel Paunescu, who also owns the majority stake in Intercontinental and Lido hotels in Bucharest. Dan Adamescu controls Nova Trade, which in its turn owns Unirea Shopping Center in Bucharest, as well as a stake in Astra-Uniqa insurance firm.
Poultry firm expands despite bird flu threats
Alba Iulia-based poultry producer Trans-avia said it will invest over ten million Euro in building a new plant to process bird meat. The plant, located near the Transylvanian city, will stretch over 8,000 square metres and will have two meat processing lines, which will deliver convenience food and bird meat sausages.
Who do Romanians have least confidence in? Businessmen
Around 70 per cent of Romanians have little confidence in businessmen, according to a new Gallop and Open Society Poll. Also lacking confidence in around 60 per cent of the population are the police and public officials. Meanwhile, 73 per cent have confidence in priests, the highest number, followed by teachers and then doctors.
Rosia Montana mining firm shows nuclear interest
Romania's Ministry of Economy and Trade announced 13 companies are interested to build Units III and IV of Cernavoda nuclear power plant, including Gabriel Resources from Canada, which is attempting to build a gold mine in Rosia Montana valley. The other companies issuing letters of intent are AES Corporation (USA), Alro Slatina (Romania), a consortium comprising TESS Conex - ASAM Iasi (Romania), international consortium Ansaldo (Italy) – AECL (Canada), international consortium Unit Investments (Luxembourg) - Dogan Enerji Yatırımları/Dogus Holding (Turkey), Electrabel (Belgium), Electrica Bucharest (Romania), Enel (Italy), E.ON Energie (Germany), Iberdrola (Spain), KHNP (South Korea) and RWE Power (Germany).