Belgian giant enters local financial services market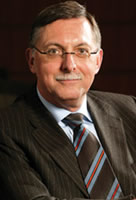 Belgian financial group KBC has taken over financial services company Romstal Leasing for 70 million Euro.
The bank also does not rule out the possibility of opening a universal banking service in Romania.
As part of the deal, KBC, also acquired the firm's majority stake in INK Insurance Broker. Andre Bergen, KBC Group CEO said: "This will strengthen KBC's position as one of the biggest investors in this region."
In related news, KBC Securities has acquired majority shareholding in Swiss Capital Romania, the second biggest independent broking company in Romania. KBC was one of the initial bidders for Banca Comerciala Romana in 2005 and still does not have a branch presence of banks in Romania.
"We are still convinced that Romania could become one of the most important banking markets in central and eastern Europe due to the size of its population, its growth potential and trade relationships," KBC spokeswoman Viviane Huybrecht told The Diplomat.
"If interesting opportunities arise, such as universal banking or in certain niches such as non-life insurance, leasing or asset management, we will of course look into those opportunities," she added.
---
Regulatory Authority delays tariff slashes
Despite protests by telecom operators Romtelecom, Cosmote Romania and Telemobil (Zapp), the National Regulatory Authority for Communications and Information Technology (ANRCTI) has decided to delay by one year its decision to force Orange and Vodafone Romania to cut their interconnection tariffs. This is the money one operator pays to another when a customer makes calls between two different networks.
The maximum interconnection tariffs that may be charged by Orange and Vodafone as of 1 January 2007, will be 7.21 Euro cents per minute.
The second stage of tariff reduction will be postponed by one year and, therefore, the level of 6.4 Euro cents per minute will be applied as of 1 January 2008.
ANRCTI's plan is to impose the maximum level of 5.03 Euro cents per minute by 1 January 2009.
---
Competition watchdog fines cable TV cartel
Romania's Competition Council has fined the top players on the local cable TV market a total of 7.5 million Euro following an investigation into cartel-like activity.
The Council investigated moves dating back to 2001 from UPC Romania and HI-FI Quadral (subsequently taken over by RCS&RDS) to split the cable TV market in Timisoara.
UPC was fined 2.1 million Euro, whereas RCS&RDS 235,000 Euro in this case. Moreover, Astral Telecom and Cablevision of Romania have abused their dominant market position in Bucharest, argued the watchdog, and upped the tariffs, hence the fines standing at over 5.1 million Euro for UPC (now the owner of Astral) and 79,000 Euro for Cablevision of Romania.
---
Romania postpones Savings Bank privatisation
Romanian Government last December postponed the privatisation of the country's last state-owned bank, the Savings Bank (CEC), due to lower than expected bids.
The Ministry of Finance, which owns CEC, will focus instead on restructuring the bank before trying again to sell it in the next two years, said Minister Sebastian Vladescu.
National Bank of Greece and Hungary's OTP Bank were in competition to become the majority owner of CEC after submitting bids for the 69.9 percent stake in the bank, but OTP withdrew at the last minute.
Vladescu said that the National Bank of Greece had offered 560 million Euro. The Minister had threatened in the past to cancel the sale if the bids were deemed too low. The Greek bank's offer was in line, however, with what analysts were expecting.
Established in 1864, CEC has assets under management worth 1.3 billion Euro and 1,400 branches, many in small towns. It controls about five per cent of the Romanian banking market.
---
Ex-Communist shopping apex due for gentrification revamp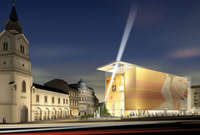 Centrally-located budget bazaar Cocor is heading for an 18 million Euro gentrification including new stores, offices, restaurant and a car park.
Refurbishment of the Blvd Bratianu-based mall aims to transform the chaotic market of small-holders into an assembly of boutiques reminiscent of an airport lounge.
The proposal, designed by architects Vlad Simionescu and Associates, includes outside glass lifts, an exterior 2,400 sqm screen showing filmed commercials and a large balcony on the top floors with views on the city
Work on the ex-Communist-era shopping centre will start in January 2008 with a deadline for September, during which time the store will close.
The new shopping centre will add 3,000 sqm to the existing 6,000 sqm, including a new sixth floor, which will probably host a restaurant, according to Iulian Trasa, marketing manager at Cocor. Cocor will also build a further 10,000 sqm, ten-floor office block on the surface and, behind the store, 240 parking places on six to eight levels. On 14 February Cocor will organise a tender for renting surfaces. Cocor's main shareholder is SIF Muntenia.
---
New tax import hike for cars gives EU road rage
Taxes for registering imported cars in Romania have received criticism from the European Commission for contradicting laws on the free irculation of goods.
The new import tax, introduced on 1 January, penalises the age of a car and the size of the engine.
This favours new against second-hand models and is meant to discourage the import of second hand cars. For example, a 4,000 Euro ten year old Volkswagen Passat with a petrol engine would cost an additional 5,000 Euro to register in Romania, while a new 18,000 Euro Passat would cost only 535 Euro to register.
Following intense criticism from European Commission officials, Romanian minister of finance Sebastian Vladescu has conducted high-level debates with European tax commissioner Laszlo Kovacs to modify the tax – with indications this could be lower.
---
Short News
Rompetrol looks to buy Serbian petrol business
Oil group Rompetrol has submitted a letter of interest to buy the majority stake in Serbia's biggest petroleum company Nafta Industrija Srbije (NIS). The Serbian state aims to sell a 37 per cent controlling stake in NIS to a strategic investor for a figure estimated to be in the region of 300 million Euro. The rest of the shares would be dealt among the Serbian Government, which would hold around 35 percent, pension funds and other investors.Rompetrol has an expansion strategy to build an operational bridge between the Balkans and the French-Spanish Atlantic coast. The group's most important assets include Petromidia refinery on the Black Sea coast and French company Dyneff. NIS has refineries in Belgrade, Pancevo and Novi Sad.
French and EU banks agree on small enterprise loan
BRD - Groupe Societe Generale and the European Bank for Reconstruction and Development (EBRD) have signed a 200 million Euro loan agreement to support the development of the private sector, with a focus on small and medium-sized enterprises. This will also include the allocation of mortgage loans to individuals. The loan is structured and arranged by the EBRD, which will open a part of it for syndication.
Car plant finds suitors in the east
India and Ukraine joined global heavyweights GM and Ford expressing interest in the privatisation of Daewoo Automobile Craiova. Indian car manufacturer Tata has submitted a bid for the plant in Craiova, said Foreign Trade Minister Delegate Iuliu Winkler. Meanwhile, Ukrainian president, Victor Yushchenko, said his country is also interested in purchasing the plant. Romanian Government officials have said they hoped to wrap up the sale of the car maker by June this year.
Orange hits eight million target
Leading mobile telecom operator Orange Romania has ended 2006 with its forecast of eight million customers, adding 500,000 new clients in the fourth quarter. The firm also announced it has managed to reach 3G coverage in 20 cities, and expand its EDGE coverage to a national level.
Local bank and Dutch insurer plan pension company
Romania's fifth largest commercial bank, Banca Transilvania, and Dutch top insurer Aegon have established a joint venture to develop and operate a mandatory pension company in Romania. With a share capital of five million Euro, BT – Aegon is pending approval from Romanian and EU authorities in the field, and will be up and running during the summer of 2007 in anticipation of the mandatory pension system, which is expected to be operational in Romania by early 2008. Also, Aegon will establish a life insurance company in Romania that will enter into a distribution agreement with Banca Transilvania.
Iasi road infrastructure scores
60 million Euro deal
Iasi City Hall has won a 200 million RON (almost 60 million Euro) bridge-loan to help finance modernisation of the north-eastern city's road infrastructure, financed by Dexia Kommunalkredit Romania and BT Securities. "Our partnership will be a durable one for 22 years as this is the way we want to get involved in the development of local communities," Dexia Kommunalkredit CEO, Roxana Lazar, told The Diplomat. The Romanian Government has also gained approval to fund modernisation on the Bucharest-Constanta railway with a credit worth 100 million Euro from Dexia Kommunalkredit Bank.
Timisoara aims to trade carbon
credits with EU backing
Using a 15 million Euro loan from the European Bank for Reconstruction and Development (EBRD), Timisoara's district heating company, Colterm, will invest in the energy efficiency generation to reduce greenhouse gas emissions. This should produce up to four million Euro worth of carbon credits, which will be sold to the EBRD for the account of the Netherlands. With this revenue, Colterm will be able to co-finance the investment. This is the first project in Romania to link financing with carbon credits.
Risky times trigger risky ratings
Romania is on a par with Bulgaria in the risk management stakes, according to credit risk management group Coface. Romania maintains an A4 rating, but Bulgaria, which had a B+ rating in January 2006, is now listed under the same country risk. Businesses in the country thus have an "average" level of risk when undertaking monetary transactions in the short-term. "We estimate that in the next two years Romania will pass to the next level, A3, where the risk of non-payment decreases considerably," said Coface Romania managing director Cristian Ionescu.
Owing to a significant current account deficit, Hungary became vulnerable to the risk of a turnaround in market confidence and witnessed a sharp exchange rate depreciation. Its listing dropped from A2 minus to A3.
Timisoara car parking boost unlikely to solve space problem
Timisoara City Hall said it will invest about 35 million Euro in building 4,000 new parking spaces in the western city, where existing parking facilities can only satisfy one twelfth of the number of cars. The city administration has forwarded a draft proposal to the Local Council for the construction of seven car parks, six of which will be over-the-ground. If passed by the Local Council, the decision to build the 4,000 spaces will partially solve the parking problem in Timisoara, which currently can accommodate 12,500 cars out of 150,000 registered.
Social-focused building loan for leading bank
Austrian Erste Bank-owned Banca Comerciala Romana (BCR) last month signed a 50 million Euro loan agreement with the European Investment Bank (EIB), to finance municipalities and small and medium companies. This will be in fields such as energy, environmental protection, infrastructure - including in education, health and social housing, industry, services and tourism. The agreement has a 20 year credit.
New southern underground line wins European cash
Bucharest's metro company Metrorex has received 370 million Euro from the European Investment Bank (EIB), to finance the construction of the fifth metro line in the capital city, connecting western Drumul Taberei district to the centre of Bucharest at Piata Univesitatii. The money, part of a total investment programme valued at 743 million Euro, will also be used to acquire 21 new trains. Metrorex and the state budget will pour in the rest of 373 million Euro.
Government approves one billion Euro road boost
Approval for an almost one billion Euro national road project has come from the Government, with 450 million Euro of this figure funded by a European Investment Bank (EIB) loan approved last July. "Romania will pour in the remaining 537 million Euro," said Transport Minister Radu Berceanu. The loan will be paid back in 20 years with a five years grace period. The EIB money will be used for 1,112 km of road in north-east, central, north-west and western Romania.
Flood warning system for 2009
Romania's Ministry of Environment and Water Management has paid 46 million Euro for a water prevention system from US infrastructure giant Lockheed Martin, part of a 46-hour flood warning project due for 2009. The system has been installed in 60 water stations in the Arges-Vedea water basin, one of Romania's 11 such basins. By the end of 2008, the other ten water basins in the country will have similar systems.
Realitatea TV owner Vantu sentenced to jail
Controversial businessman Sorin Ovidiu Vantu has been convicted, pending appeal, to two years prison and ordered to pay around 44,000 Euro in damages for using misleading documents during the establishment of the Bank for Investments and Development (BID). In 1999 Vantu claimed he set up BID using the equivalent of over four million Euro from his own resources, but prosecutors have alleged that the money came straight from the account of the National Investment Fund (FNI), a mutual fund partly-founded by Vantu. FNI crashed in 2000, with around 300,000 investors reportedly losing savings totaling 394 million USD. In June 2005 Vantu was found guilty of using fake statements, but he appealed and won. This case was re-tried in 2006 at the Sector One Court House. As we went to press, Vantu, who now owns Realitatea TV station and Academia Catavencu media group, had time to appeal.
Romanian shop chain
goes bust
Univers'all, the largest Romanian-owned supermarket chain, has gone bankrupt and its owner Razvan Petrovici has begun to sell its branches. He has sold one to Turkish company Gimrom Holding, owner of the G'market supermarkets, and another to CDE Interex, part of the French group Intermarche. Petrovici will keep the premium location of his store at Unirea Shopping Center in Bucharest for another potential supermarket project, he told Ziarul Financiar. The total investment in the units for Univers'all stands at 34 million Euro but the owner expects to gain 20 million Euro from the sale.
Wizz Air looking to fly from Arad
Low-cost airline Wizz Air is still looking at flights from Arad to foreign destinations, following its initial cancellation of plans to fly from the western city to Bergamo, Italy.
Wizz Air, which operates from Targu Mures and Bucharest Baneasa airport, now has flights to Barcelona, Budapest, Dortmund, London and Rome.
"New routes will be launched very soon as we intend to become the largest low cost company in Romania by 2008," said Jozsef Varadi, CEO of the airline.
Wizz Air will establish its sixth European operational base in Baneasa Airport in May.
Turkish and Swiss media empires team up
Switzerland's Ringier has bought 25.1 per cent in Turkish firm Dogan Yayin Holding's TV channel Kanal D, which launches this month in Romania.
Ringier is present in Romania through its ownership of tabloid Liberatea and daily newspaper Evenimentul Zilei, but could have problems purchasing further newspapers due to concerns over competition.
Kanal D, a mass-market channel, is the first launch from Dogan Yayin Holding in Romania.
Greeks construction firms to revive water plant
Following a 83.5 million Euro offer, a consortium comprising two Greek construction companies, Aktor and Athena, has won the first stage of a project to rehabilitate the Bucharest - Glina wastewater treatment plant, worth a total of 250 million Euro.
Majority funded by the European Union, the entire project has a completion date of 2015.