All hail the king of bling
Preferred ride of hip-hop artists and favoured drive for golfers, this US-built Lexus IS enters Romania. Mihai Alexandrescu checks it out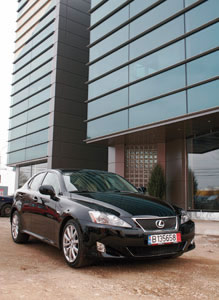 After driving only diesels for the last four months I was hungry for a high revving petrol engine and the Lexus IS 2500 was just the right temptation to fall for.
I remember when I first saw the commercial for the new Lexus IS I was amazed by its good looks, which are immediately arresting and give the motor an alien quality in the car world. It also has top technology and the WOW factor that makes you take another look before you leave it parked outside your home. Only the new Alfa Romeo 159 has the same visual impact.
Lexus is known for its luxury and reliability. This is helped by its parent company Toyota, which is number one in customer satisfaction and reliability surveys in JD Power studies. So it's no surprise that Lexus competes with the German premium heavyweights Audi, BMW and Mercedes. But, while they are the prize-fighters in the premium car brand segments, Lexus is the ninja master.
This is because it's more disciplined, unlike anything else on the market and looks great. Lexus is also pretty expensive and is the ultimate bling, taking part in almost every hip-hop video. Because the Lexus is a status symbol, it's also popular among golf players.
But if you've never rapped with Pharrell Williams before teeing off with Colin Montgomery, it doesn't mean you can't steer shy of this sleek model.
For someone who knows a thing or two about cars and is fed up with the German-built company director carriers, this could be the treat one is looking for.
I took out a shiny black sedan with large wheels and macho-looks that made the ladies turn their heads 180 degrees. Women swoon when they see this kind of vehicle, especially when it's black and has a logo in the shape of a big L: which stands for the three most important things in life: Love, Luxury and Lots of money. Such a reaction makes one want to rob a bank to pay for the car.
Take a look inside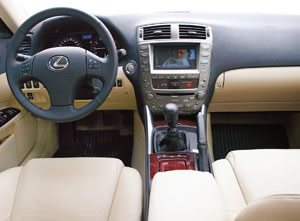 Inside there is a little less space than I was expecting (especially in the back) and also a lack of visibility because the coupe line makes the rear windows and windshield smaller. But the large side mirrors compensate for this lack without making the car look like it has bat-ears.
Then, one sees that there is a start button instead of an ignition key, a crystal clear display, comfortable steering wheel and a sizeable touch screen navigation system with multimedia technology.
Lexus helps dogs
When you put the car in reverse, a camera mounted in the back bumper displays the area where you can park. This is great in Romania, where there are often street dogs taking a nap under the back bonnet. Such life-saving initiatives will keep Brigitte Bardot happy.
Inside there is a full leather and wooden interior.
And you can listen to the sound of silence.
It's so quiet you can hear your nails growing. You have to push the engine to 4,000 to 5,000 rpm to be able to hear it. The petrol 2.5 litre V6 with 24 valves in the IS develops 208 BHP at 6,400 rpm that makes it go from zero to 100 in 8.4 seconds.
This isn't very fast on paper and it does not feel so fast either, but it's so smooth and quiet it makes you never want to floor it. Put it this way, if you don't like someone talking in the seat in front of you at the cinema, then you will enjoy this car: the experience is akin to watching a great movie in a perfect atmosphere.
Sharp drive
The steering is sharp and the manual gearbox as swift and precise as an elite sniper. Although it does not have the mechanism to mount the driver in the seat when he pushes the pedal to the floor, it has the right dynamics to consider itself a sports sedan. The car was developed in the USA, where there are fewer craters in the roads than in Romania, but the suspension is well balanced, so you don't bang your head on the ceiling when you drive over a road bump. It's not perfectly suited for Romanian roads, but when you are inside this car, avoiding the holes in the asphalt is not your biggest worry.
As I see it, the Lexus is not the perfect alternative to the German premium brands we see on large numbers on Romanian roads, but is the choice of a connoisseur with money to spend.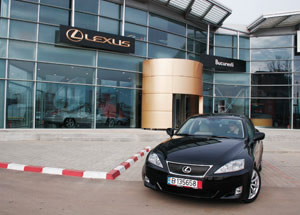 When you buy a new car you tend to be very careful before making a choice: if you're too careful you end up with a Dacia Logan Diesel.
Because Lexus is a relatively new brand in Europe, some car enthusiasts may still prefer the traditional Mercedes, Audi or BMW. So, Lexus still has a long fight ahead before grabbing number one spot in the hearts of premium customers, but it is likely to happen in the future if they keep on building up the quality.
In Romania, the luxury equipped model I tested costs 53,000 Euro. This is more than an Audi, BMW or Mercedes, but with a lot more to offer.
If it wasn't for the taxes added to the non-EU brand that makes Lexus more expensive than its rivals, then it would be the car of choice of many of its customers.