Looking sharp
Hyundai has gone to town with the design for its new addition to the crowded SUV segment, the revamped Sante Fe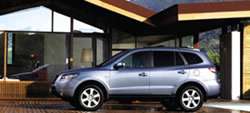 Korean cars are the Cinderella of the auto world.
They do not have the brand image of German or the engineering of Japanese cars, but they have the potential, skills and the ambition to surprise us with great products. And they are inexpensive too.
Things have changed with this new model range. So Hyundai is on a roll. Cinderella has cast aside her rags, dressed to impress, and come out to the ball.
The SUV segment is becoming very crowded in Romania. Bad roads and hard winters are turning the Romanians on to these vehicles. To succeed in a price-driven market, like Romania, Hyundai came up with the Santa Fe SUV model. According to Hyundai, the purpose is to sell a car with lots of equipment that cost the same as a competitor in its standard version.
I had to see this myself, so I took the new Santa Fe for a drive in Bucharest, where owning an SUV is the trend.
The old Santa Fe was just a car. There was nothing special about it.
Physical attraction
The new one has an interesting new design, that oozes a premium look. All car manufacturers brag about now their new design philosophy imvokes "energy in motion" or "emotion of motion". In the case of this new Santa Fe, this is not a facade. On a closer look, the details and finishings are top class.
I'm not a big fan of SUVs, so I can't say it's attractive, but I don't think it's ugly. I was surprised to see that Korean designers came up with something original. It is not an opulent car, with shiny bull-bars and chromed grills, but it has clean lines and curves that are pleasant to encounter. It is similar to watching a single piranha in a fish tank; there is little action, but a potential to pounce that makes one stop to stare.
Anyway, I had to, because it was time to step in.
On the inside
The new Santa Fe is larger than its previous incarnation so has a spacious interior and an option for seven seats, targeting clients with large families. This feature is very common with American SUVs and lately with European versions, but, if you ask me, having five kids screaming in the back while you are driving will not make the ride more enjoyable.
The built quality improvement I mentioned can also be seen inside the car. The old plastics and the ugly dashboard from the previous model have been replaced by wood, leather and aluminum inserts. It is a nice environment. The seats have a decent comfort and offer a good driver's postion. All you need and more.
Test drive
The car we drove had a 2.2 litre diesel Common Rail engine, developing 150 bhp and a manual gearbox. All new diesels have more things in common with the petrol ones and this is also the case for this engine. The noise and the vibrations were reduced for a refined and pleasant ride. It's not a dynamic engine but it's easy to handle in traffic and offers enough performance for long distance drives.
The 4WD sistem can be activated or deactivated depending on driver needs and was improved for emergency situations like braking in tight corners or passing through water. Bigger brakes, ABS and ABD improves the breaking capacity of the new Santa Fe. Also, in terms of safety, the new model offers six standard airbags, three point seat belts and active head rests.
I think the Koreans did a great job with this new Santa Fe. Probably the engineers and the designers working for Hyundai are also black belt karate masters, because everything about this car is heavy on discipline.
In Romania, the new Santa Fe was awarded with Best 4X4 of the year and is considered one of the best value for money cars on the market. It managed to overtake our expectations and with a price tag of only 19,900 Euro could be a serious temptation for the clients of premium SUVs.