Big wheels
Looking for the perfect journey on and off road? The new larger Nissan Pathfinder model offers a chance for a great escape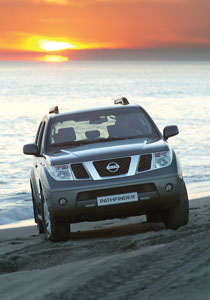 Nissan is a manufacturer that surely knows its business in the 4x4 territory. For many years its Patrol model was king of the outback. But time has gone by and the market demands of SUVs have changed dramatically. Nissan had to exploit its own expertise in off-roading and the 4x4 Nissan family expanded from the small Xtrail to the stylish Murano.
In between these models there was a Looking for the perfect journey on and off road? The new larger Nissan Pathfinder model offers a chance for a great escape gap for drivers who wanted a model hardy enough for hard-core off-roading and smooth enough for normal roads. The solution was the third-generation Pathfinder, which was designed to launch in 2005.
Going outside
For a ride, I took a Pathfinder equipped with the diesel engine boosting 174 hp, the model which is expected to be the best-sold.
The massive body and angular lines of the Pathfinder emphasise the off-road abilities of the model, with its bold front end surrounded by a chromed grille. From the side, the fenders are oversized and give substance to the mostly smooth body panels. This SUV is larger than past years' Pathfinders. This adds leg room and cargo space. There is now a third-row seating option, which grows the overall seating capacity to seven. The second- row legroom is also larger. In addition the Pathfinder's extra long doors make it easy to climb into the cabin.
Driving Impress ions
One could say that the massive body line of the Pathfinder will be a major problem in the qualities of ride and handling. This is where the electronics come in handy as ABS and electronic stability program will eventually save the day.
The Pathfinder features front and rear double wishbone suspension, which really gives the vehicle superb handling and an excellent ride. Nissan also has put an all-mode 4WD system in its 4X4 versions, which gives off-roaders some options. There's automatic 4WD, 4WD high and 4WD low. An off-road traction control system is also on board.
Transmission shifts are smooth, executed by the slick computerised engine management system that now incorporates driveby- wire. For the petrol version, Nissan chose to put in a V6 power plant instead of a V8.
Offering 269 hp and 291 Nm of torque, its only fault is its thirst. For those more concerned about fuel consumption, the 2.5 litre diesel engine with 174 hp is the option to consider. The diesel offers reasonable acceleration but the sound level from the engine becomes intrusive after 2,500 revs.
Summing up
Civilised and stylish enough to be used as in the city, this may be too big to handle in Bucharest traffic, but the model also has a prominent rugged side, with solid on/offroad skills that should make this model a success.
Nissan has done a good job in keeping the prices quite low, the cost for a Pathfinder starting from 27,700 Euro plus taxes and rising to 37,680 Euro plus taxes for the LE plus version (fully-equipped). The new Pathfinder has what it takes to be even more of a presence in this class, but conquests will not come easy in an area where consumer taste for SUVs has started a ferocious battle with almost every car manufacturer competing for a slice of the market.
Staying in
The model I test drove was equipped with all options that you would expect to find in even the most luxurious vehicles.
Nicely finished for an off-road vehicle and generously equipped, the Pathfinder displays numerous design qualities. The most obvious is the dash, replete with legible instruments and friendly audio and climate controls. Standards include a full array of power assists, air conditioning (dual-zone auto with rear controls are optional), cruise control, six-speaker sound system, key-less remote entry, tyre pressure monitor and privacy glass, with the LE swapping cloth trim for leather.
Front seats are comfortable and supportive, on-road and off, but would benefit from a deeper bottom cushion for added thigh support.
Storage bins and pockets are plentiful. Each row of seats has two cup holders. All four doors have map pockets and Nissan has moulded in secondary beverage receptacles into the front doors.