Cool cat
Adrian Ion purrs with delight following a spin in this reasonably-priced Baby Jag diesel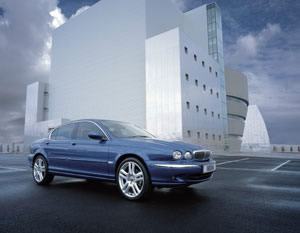 This baby Jaguar was probably the car I most waited to test drive this year. Not only because it was a member of the legendary big cat family, but also because it was a model that I definitely can put on my wish list.
Where should I start: the curvaceous body lines that remind one of a smaller XJ or the amazing 2.2 diesel engine that leaves even many of the more powerful petrol engine saloons in the dust?
Not so long ago, premium car fans could not conceive of the association of a high-performance sedan with a diesel engine. But other top brands such as Audi, BMW and Mercedes have capitalised on the latest technological developments in the diesel field and boomed their sales.
Fuel efficiency and powerful, high-torque, common-rail, fuel injected diesel engines are getting equal and even better in performance compared to their petrol equivalents.
Now the Jaguar owner, Ford Motor Company, has decided it is high time to follow the trend and they are increasing the offer of diesel choices with the amazing 2.2-litre X-Type diesel. The new engine takes the number of Jaguar's diesel range to five, with a sixth soon to be announced in the shape of the new XJ Diesel.
Look like a million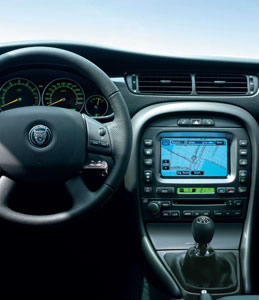 The feature that comes as standard on a Jaguar is the feeling of being in an exclusive club, whose members include Mercs, Beemers and Audis. This often brings with it the sense of being the only one in the parking lot with the cat insignia on the bonnet, a motif that still turns the heads of both intrigued blondes and envious men.
As soon as I mounted the driving seat, I felt comfortable. Every switch and button was either in the right place or a logical position and ergonomically friendly, although this could be due to years of conditioning by Mondeo. Long-legged drivers could complain about the fact that they just cannot get comfortable in an X-Type, but this also applies to 3-Series, 5-Series and numerous other cars.
The feeling of small space is due mainly to the special design of every Jaguar. The roof of the car is close to the driver's head, just like in a sports car. But if you are no taller than 1.85 metres (six feet, one inch), this should not bother you too much.
Standard diesel X-Type specifica-tion includes wood veneer finishes, power adjustment for the driver seat, radio/CD, power windows with one-touch up/down, power external mirrors, automatic airconditioning, remotecontrolled central locking and a bunch of safety features. Crash protection equipment includes three-point seat belts with pre-tensioners, two front crash bags, side bags, door curtain bags front and rear and anti-lock brakes.
On the prowl
I test drove an X-Type this winter that was equipped with the 155PS engine that gives customers the choice of a premium diesel with high performance and refinement in equal measure. With torque peaking on overboost at a solid 400Nm, the 2.2 litre engine delivers an ideal combination of effortless cruising power and rapid acceleration and, frankly, I believe that soon we could witness the death of the petrol engine when such low fuel consumption is possible in parallel with such terrific performance.
Taking 80-120km/h acceleration in fourth gear as an example, the X-Type 2.2 is timed at 6.7 seconds, and will reach 100 km/h from zero in just 8.9 seconds.
Do not expect the same level of performance as a petrol engine, either, expect better, because that is exactly what you get with this engine.
The six-speed manual does the job well enough and is the only option available, strangely enough, no automatic transmission can be ordered. The brakes are fine, with a nice progressive feel and strong stopping power when needed.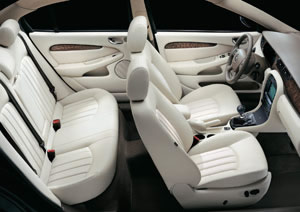 The Jaguar ride quality is a good compromise in terms of comfort and sportiveness. It's a front wheel drive, the only in the Jag family, and this is because the X-Type is based on a Ford Mondeo platform. It may upset the traditionalists, but not many of them would ever notice it on the road.
I did not make a valid fuel consumption check, but the onboard computer showed a healthy 10.4 litre consumption in Bucharest traffic. The manufacturer claims that on open roads this can be as small as 4.7 litres per 100km. Add to this at least one litre and you could find out the real life consumption figures.
Ownership costs
I was asking around how much people think this car is worth. The lowest guess I heard is around 30,000 Euro without taxes.
But the real price for an X Type is set at an unbelievable 21,900 Euro plus taxes. This is the same price that you would have to pay for a Passat!
The local importer Premium Auto struggled to come up with this price and get a low profit margin to increase the Ownership costs awareness of the brand in Romania and boost sales for this model. It is cheaper than its closest competitors and has an engine range that really fits the image of the car.
The price range is from 21,900 Euro for the X 2.0 diesel Classic model to 35,700 Euro for the Luxury version equipped with the 231 hp. V6 petrol engine.
The estate version is also available for a higher price (an average of 1,000 Euro more) than the saloon.
Overall running costs are good and pretty much on a par with the other premium segment representatives.
So, should you pay thousands more for it than for a Ford Mondeo with the same engine? If image is important and you expect more from a car than just taking you from A to B, then the answer is definitely yes.