The filth and the fury
Known as the dirty boy of Romanian art, Gorzo's latest exhibition shows there is more to this artist than playground porn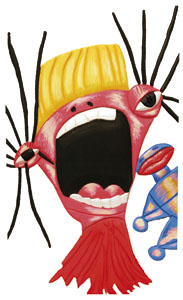 The first thing that hits a visitor to Romanian artist Gorzo's retrospective are penises. And lots of them.
From his bold images on painted wood, they bulge out at the gallery-goer: fat women in stockings or high heels or carrying the head of a lover on a plate, all sporting massive penises. A man with a rocket pack and an erect penis twice the size of his head. When a literal penis is not exposed, allegorically one makes its presence felt, such as pictures of lumpy pink creatures screaming and wrestling. Gorzo even paints a distorted self-portrait with a background layered with carved penises.
But only in the first room is the visitor overcome by such flesh.
It is a shame, because Gorzo, seen by many as the best young painter in Romania, has suffered from over-hype for his early work, which did resort to shock tactics.
But in this exhibition, now at the National Museum of Contemporary Arts and soon at the Brukenthal Museum in Sibiu, he has carved out a consistent groove: finally living up to the praise of which he has received too much.
31-year old Dumitru Gorzo holed up in his rural Maramures homeland for three months to chip out out these 40 nightmares that show a stylistic consistency that promises a great future. The exhibition's name comes from Austro-Hungarian Emperor Joseph II's visit to Transylvania around 1790, where, examining his own territory, he stated: 'Salve fiat romuli parva nepos' [Hail little nephews of Romans]. In Bistrita-Nasaud, just south of Maramures, five villages were named after the much-appreciated quote: Salva, Fiad, Romuli, Parva and Nepos.
Gorzo uses the garish colours and mixture of carving and painting that decorates front porches, gates and graves from nearby that region to create a modern message on the state of the nation.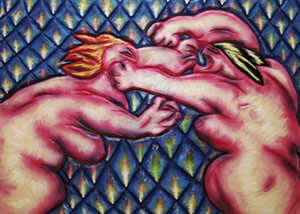 There are primitive images of unholy beasts, minotaurs with sagging breasts and women punching each others' faces, next to frightening caricatures of old Romanian peasants. These miserable creatures, in scarves and long dresses, seem as prescient a sage of doom as an Oracle or Grim Reaper. One enormous carving shows a woman carrying a scythe and pointing a finger at the visitor to the museum, as though she were a killer dwarf in an adult horror comic passing judgement on the reader.
While this lower gallery is expressionist disgust, the upper gallery is overtly political.
This is a series of portraits of peasants from Maramures in their traditional costumes which line the balcony above the room of porn. They sit on benches, ride horses or gather for a marriage, watching the horror that lies beneath.
In one wedding portrait, their faces are in detail while their costumes are in black outline: seeming to denote the fading of tradition. In another, their heads are enclosed in naively painted bird cages or television sets: here the message of modern trappings is too obvious.
But the occasional muscular monster from the gallery below invades the portraits upstairs, scampering across the family gathering like a rat at a dinner party.
This is an angry exhibition. It states that there are two Romanias: a fake and weak traditional style and a violent and destructive force. One is stuck in the past, while the other offers a catastrophic present. Neither can coexist. Neither of them are very pretty - and there are no alternatives.
It's grim.
Not an exhibition to take your kids to – unless you want them to shut up for a month.
Michael Bird
Gorzo: 'Salve Fiat Romuli'
National Museum of Contemporary Arts, Palatul Parlamentului, Calea 13 Septembrie Entrance. Until 15 December
Brukenthal Museum, Sibiu, 30 December 2006 until 25 January 2007