Hard man of art
While Antoine Bourdelle may be a master of sculpting war and man stretched to his limit, the tranquil side of life poses a challenge for the artist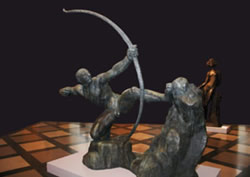 Tough visions of glory and defeat dominate the sculptures of early 20th century French artist Antoine Bourdelle, as he creates striking images of masculine endeavour.
His expressionist spin on classical forms, on display at the National Museum of Art (MNAR), make the works perfect for a pedestal at the centre of a busy Parisian thoroughfare or guarding the entrance to a French Ministry.
These bronzes have some of the rough nature of Rodin, one of Bourdelle's teachers, with rugged plinths and rough-hewn faces, where the force of expression is more important than creating a final polished artifact.
Worryingly, the museum has crammed too many sculptures into too small a space. Visitors do not have enough perspective to admire Sappho in repose next to a Grecian harp, the dying centaur or Hercules as an archer. Any of these formalistic masterworks could each command a room of the dimensions in which 30 or so works jostle for attention here.
Undoubtedly, Bourdelle is a master of bronze, but his works are masculine in the worst sense: cold, distant and unsympathetic. Sappho seems to have no interior life, she remains in passive contemplation, while Hercules has no premonition of his downfall. He stays as a plain superman. They may work as perfect illustrations of Classical myths, but do not sum up the full complexities of the lives of the characters.
Interestingly, this exhibition includes some of Bourdelle's pupils. Romanian-born Margareta Cosaceanu-Lavrillier's sculpted head of a girl and a woman at prayer seem to capture the dualism of frailty and self-assertion lacking in Bourdelle's stunning but empty Sappho.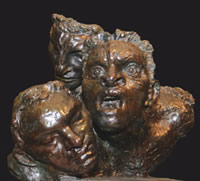 Although well-known for his portraits, Bourdelle's work in this style is thin and uninspiring here. The busts of writer Anatole France and poet Adam Mickiewicz seem sketchy and unfinished. Even Rodin's portrait by the fellow Frenchman appears to be fat, humourless and dull – an unhappy Santa Claus in no mood to give out presents.
But decoratively, Bourdelle excels. His bas-reliefs from a threatre from the Champs-Elysees are impressive and, in a rare piece of visual wit, he shows Perseus's hand gripping the hair of a decapitated Medusa manipulated into a bronze door-knocker.
Above all, Bourdelle is best when depicting terror.
Arresting the viewer are the sculptures of the struggle and defence of southern French district Tarn-en-Garonne. Most notable is a composition of three faces: one screaming, one vanquished, another in repose (above). There is also a giant lumpen creature holding back an invading force, with a face showing the same mix of defiance and fear that haunts the actors of Delacroix's paintings.
Although one does not get to the heart of this tough guy of art, there is still enough shock and awe to keep one busy on a wet afternoon in the capital.
Michael Bird
'Antoine Bourdelle: (1861-1929) vector of modernity'
Romanian National Museum of Art (MNAR)
49-53 Calea Victoriei Until 28 January