Up the garden path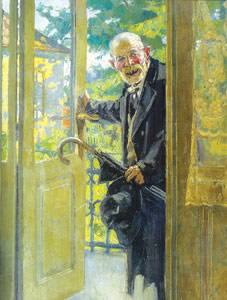 Light shining through parasols, gossiping women in long dresses, knitting in the kitchen garden and spending long summer afternoons with nothing to vex one's mind but who of one's company deserves to eat the last peach from the picnic basket.
The pleasures of the bourgeoisie before the Second World War is on display at the National Museum of Art as it parades the delights of the Romanian garden and countryside in oil and canvass.
These 134 paintings from the late 19th century to early 20th century manages to show both the best and worst aspects of art leading up to Communism.
On the one hand, there is a warm and refreshing view onto the private lives of a lost time and the concerns of an idle class that differ in so few ways to their western counterparts.
However, it also shows the complacency of an aesthetic that is in love with the same pastoral myth that made Marie Antoinette come to such a gruesome end.
There are few, if any, pictures of the peasant class and its struggles, for example, in these images of nature – it is as though they had been painted out of history.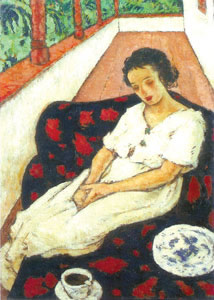 There is also a minor infection of kitsch. Such as the riposte to Manet's 'Le dejeuner sur l'herbe' in Mihail Stefanescu's 'What have my eyes seen?' (Ce-mi vazura ochi) where a peeping tom watches a buxom Romanian girl bathe – naked except for a scarf around her hair. This is bad farce.
But this exhibition's highlights include stylistic flourishes from some of Romania's class palettes. The nation's signature painter, Nicolae Grigorescu, manages to capture the soft but bright Romanian light by framing, with the rustic and dark interior of a cottage, an open door revealing a white hot summer illuminating a garden. It is a smart trick.
Another is Costin Petrescu's 'Misitul' (The Commissioner). An old man drops in through the back door in a red face and bad teeth. He has a black umbrella in hand and wears a warm coat and hat, despite the summer heat – looking like a minor fool from a Chekhov play.
A bland subject matter such as a girl reclining on an armchair at tea time is invigorated by Nicolae Tonitza as he uses bold colours and deep foreshortened fields in a brilliantly composed work that uses his trademark style of a mannered Gauguin.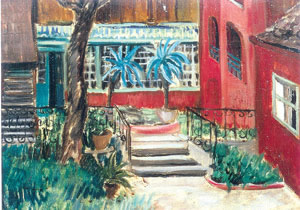 Towards the end is the emergence of a strain of naive art, which pays less attention to scale, three dimensionality and straight lines in favour of an expressive creative spirit. Mihaela Eleutheriade's excellent landscapes from the 1930s and 1940s show how this interesting tendency in Romanian art could have been elaborated, if it was not cut short, one guesses, by the rigid imperatives of the Communist aesthetic.
Gardens, forests and flowers are not the most challenging subject matter. There is nothing here to rouse the revolutionary spirit. In fact it would be hard to find a least offensive content than a painter's own back garden or an old woman looking at flowers.
But this means it can act as a neutral agent that can more easily reveal the changing tendencies of Romanian art, as it moves from figurative to more abstract and expressionistic forms of representation.
Michael Bird
The Colours of the Garden in Romanian Painting 1850- 1955 (Culorile Gradinii in Peisajul Romanesc) Romanian National Museum of Art (MNAR) 49 – 53 Calea Victoriei
Until 26 November