Playing to the gallery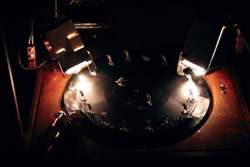 If you have the kind of children who come home in tears after being teased by their classmates for putting their hand up and answering too many questions about quantum physics and longitudinal waves, this is the perfect playground for them.
This exhibition of Dutch Installation Art from the Netherlands Media Art Institute, on display at the National Museum of Contemporary Arts, gathers together some of the most technological-savvy installation artists from the low lands for a sensory extravaganza that aims to change your perspective on the modern image.
Physics and computer science are the canvass and easel of this playful bunch of eggheads, who mix video art with engineering to show three-dimensional images floating in space, a 360-degree visual sensory overload and an interactive imperative that forces the viewer to become a contributor in the display.
In 'Dream of Beauty 2.2 Touch Me' the viewer can press his or her finger against a video of a woman's face, manipulating her to cry, laugh or frown – touching her lips can make her blow a kiss.
'Dislocations' by Martijn Veldhoen shows videos of empty rural and urban panoramas, where the viewer stands on a movement-detector. This triggers small boxed-out videos on the screen set in the same space from different times – showing donkeys, cars, cows, birds, people chatting – it's a kind of narrative cubism where a viewer can choose whether to watch the landscape populated or empty.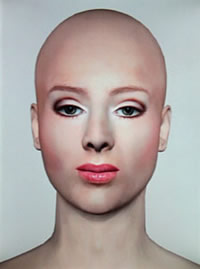 Messing with your vision, a video spins through an underground highway in Jasper van den Brink's 'Tunnelvision' where he affixes a camera to the hub of a cement mixer. While Bernard Gigounon's 'Starship' is a fun visual pun in which the top half of seagoing vessels are mirrored below, creating the image of a craft floating through an empty space. This has both ingenuity and grace, but is little more than camera trickery.
Most popular is 'It's about time' by Bill Spinhoven - a screen showing the actions of the viewer in front of the image with a few seconds delay, slowed down and distorted. You can see your own movements after having just made them. It's an unsettling feeling, but like most of the works here, in order to activate the artwork – one has to move. If you stand still nothing happens.
This upsets the notion that art should be a passive one-dimensional image that one ponders in silence and stillness until it excites some form of profundity or disillusion. It provokes action, as art should.
Sometimes the work is just too much fun and one can forget that some of these artists are trying to make important comments on the nature of the video image, the ease of its manipulation and the insidious nature of a screen-obsessed age.
But contemporary art is too often the like of videos of bald men sitting in a disused factory talking about what it means to make art about bald men sitting in a disused factory.
This is a modern exhibition that is fun for all the family – just be careful not to break anything.
Michael Bird
'Dutch Installation Art'
National Museum of Contemporary
Arts (MNAC)
Palatul Parlamentului
Calea 13 Septembrie Entrance
Wednesday to Sunday 10hrs to 18hrs
Until 9 September