Analyse this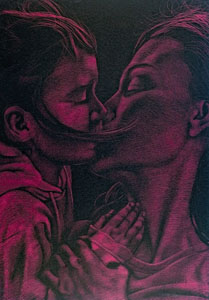 It is a proven fact - bring childhood into discussion and everybody starts to recall anecdotes involving geese, grandpas, stolen apples and other Tom Sawyer-style exploits. Exhibit a series of works about childhood and one will attract to the gallery a flood of broody aunts bent on seeing pastoral idylls of innocent cherubs running through summer meadows, playing on swings or stroking a dog.
The exhibition of 'Recent drawings' by contemporary Moldovan artist Roman Tolici is about childhood. "My childhood, other people's childhood and the whole world's childhood," he tells The Diplomat.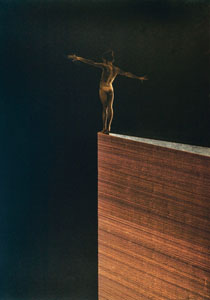 But pushed on how much of the formative years of Roman Tolici are here and he answers: "Little. The fewest number of these images are from my childhood, the rest are drawn after childhood photographs of others."
This is others' toys, mothers, fathers and siblings drawn in crayon on large black sheets of paper. Dad is carrying his boy on his shoulders. A girl on her hands and knees is crawling out of a vortex with her hair standing on end. Another girl in her underpants walks on a sharp edge, walking towards some sort of unknown peril. Another one pulls the bubble gum from between her front teeth, with a cheeky grin.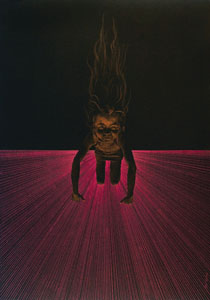 Three excited kids ride a giant black pigeon, taking off on a bizarre quest to God
knows where.
Speaking of the divine: despite the fact that there is sensuality and fear in all the drawings, they still maintain a somewhat religious aura. This is most omnipresent in 'The Kiss', a purple drawing on a black background of a mother and child, not in a Madonnaand- Christ pose, but kissing with eyes shut in a pose of big time sensuality, as Bjork would put it.
Tolici's works on display seem like intimate and troublesome confessions and some may find it hard to escape the urge to raise an eyebrow and ask Tolici: "Whose mummy is that?" They are sensual, but are they meant to be sexual, incestuous even? "Sure they're sexual," says Roman Tolici. "We all live an Oedipian myth."
This being said, this exhibition at Galeria Posibila, is still about childhood, but I would not advice you to take your auntie at this one. Unless she's a cool auntie.
Anca Pol
'Recent drawings' at Galeria
Posibila, 6 Str. Popa Petre, until
16 April, open Wednesdays to
Sundays, 14.00 hrs – 19.00 hrs