Practical beauty
Turning industry into art is the theme of a new Ion Grigorescu and Geta Bratescu retrospective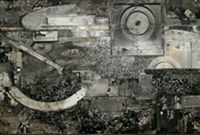 To most people, cardboard, crepe paper, oil and cotton are little more than colourless materials of dull functionality.
But Ion Grigorescu and Geta Bratescu specialise in playing with images and materials with an industrial theme, creating a Do-it-Yourself abstract chic that, at best, recalls the everyday aesthetics of Joseph Beuys and, at worst, looks like the scrappy left-overs following a house removal.
This retrospective of the works of 20th century Romanian veterans at the National Museum of Contemporary Arts shows an inspired and experimental play at work in sculpture, collage and video.
Bratescu rearranges carpet-making materials into a multi-layered soft-sculpture and creates collages of industrial objects, while Grigorescu uses metal, plaster and leftover fabric to create a kind of scrapyard art, as well as taking photographs of himself rubbed in motor oil.
Both artists undermine the utility of industrial media by reconstituting its materials into abstract or surrealist sculpture. Their work makes the useful impractical.
But covering almost 50 years means a lot of diversity in the gallery. Impressive but incongruous is Grigorescu's 'Killing of Stolnic (Constantin) Cantacuzino'. This is a rare moment of figurative art – a plaster and fabric statue of the 17th century Romanian historian, bent down on his knees, with his head staring upwards, a collar of dried mud and a pair of empty shoes behind him.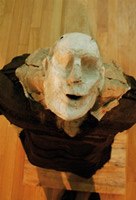 Short films reveal a further dimension to their work. While Bratescu's movies show herself drawing lines, dancing and playing with stones, Grigorescu's films are aggressive and political. Frustration and self-defeat are major themes. He is seen shadow boxing, but superimposing images of himself as the opponent, so it looks as though he is beating himself up. There is also 'Conversation with Ceausescu' – a cheeky piece of Samizdat art where the artist appears to be confiding in another man who wears a mask of the mad Romanian dictator. Meanwhile indecipherable words appear across the screen. The instruments of communication are in place for the artist, but no one will listen to his complaints.
This may not be a show of rediscovered genius, but at least it is further indication of life in the creative pulse during Romania's sickest periods.
Michael Bird
Geta Bratescu and Ion Grigorescu: 'Resources'
Works from the MNAC Collection
National Museum of Contemporary Arts (MNAC)
Palatul Parlamentului, Calea 13 Septembrie entrance
Until 15 May