Personality clash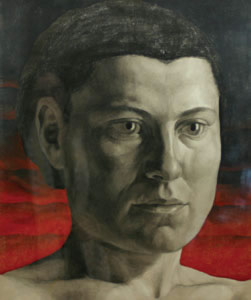 Let us make it clear from the beginning that we are talking about a painter of multiple personalities. We are not talking about crazy geniuses who cut off their ear-lobes, such as Van Gogh, or who painted the carcasses of dead cows, such as Chaim Soutine, but about someone who combined the best and worst artistic personalities of her age, Dorothea Schmierer Roth. Or Lola to her friends.
The first Lola was born in 1893 to a rich Jewish family of ship owners and merchants in the port of Galati on the Danube. Her home was a sumptuous residence of the consul of the Netherlands, her father Leopold Schmierer. Lola was a happy kid, as she appears in the photos of the time, with long ribbons in her hair, among uncles with huge moustaches and aunts with big hair buns. She receives an education appropriate for her status in high society. She speaks German, French and English, has private piano lessons and studies drawing with Venetian academic Antonio Zumino. She takes photos with her girlfriends, all clothed in long dresses, riding bikes and smoking. Travelling to Austria, Germany, France, Greece, Italy and Switzerland, she attends art classes and exhibitions wherever she goes. Whatever she sees, she takes in and she is well informed about all the European art trends of the time.
In this guise, she paints in water colours, painting friends playing the piano in well-lit salons.
But then another personality kicks in. She is attentive to details and paints as though she were seeing her subjects through a magnifying glass. The lines of the portraits are over-sized, over-grown, like characters in feverish dreams.
Then come the male nudes - in charcoal on cardboard with edgy, aggressive lines and female nudes with continuous and fine linearity. She takes in and takes on Egon Schiele's expressionist intensity, troubled and loving it.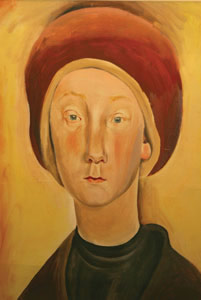 Another personality - a belated discovery of cubism. Portraits of little girls and boys and still life fragmented into squares and triangles.
Then a further style, self portraits in the manner of Van Gogh in vibrating and sharp colours. Next up is an inspiration from Kandinsky, a more pure form of abstraction, before she becomes Romantic and Surrealist like Chagall.
With the rise of Communism in Romania, she loses her native house to the state and seems to have no more personalities left to play with. She continues to paint, but the works of her last years are lifeless. It is as though she is expressing that all she has achieved has been taken away by a new system which does not leave her space and air. She dies in 1981.
Lola Schmierer Roth has days of genius and of amateurism, takes up all artistic trends of her time and has fun with them. This exhibition, at the National Art Museum, will introduce the crowds to a fascinating woman of many colours and shades.
Anca Pol
'Lola Schmierer-Roth. Paintings and
graphics' is at the National Art Museum
of Romania, Calea Victoriei 49-53. Until 26 February
---
Out of their heads

Like watching modern artists get water chucked in their faces?
Then you will enjoy this exhibition of Bulgarians Nina Kovcheva and Valentin Stefanoff at the National Museum of Contemporary Arts, because this pair of video art veterans specialise in filming themselves engaged in a variety of mundane and tortuous activities.
Five of their works now dominate the giant ground floor space in and outside the Parliament Palace-based museum.
'Wet Contact' has filmed portraits of the two artists staring at the camera. From either side, a strong slap of water comes hurtling into their faces. They stand, stoic, for a further two minutes, before it happens all over again. It is painful to watch.
The film 'How near so far' shows naked legs running through grass in yellow sandals to an electronic soundtrack for four minutes. What are we meant to question? What is the pursuit for? Why is the person naked? Where is this going? Is there a point? Why I am I watching this? When will this end?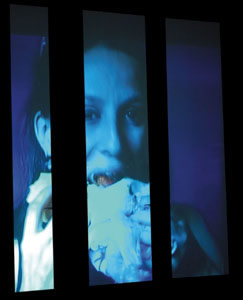 Far more compelling is a brilliantly arranged video loop in the gloom of a separate annex to the museum's main hall. A visitor walks into a room of darkness, except for the huge disembodied heads of the two artists projected onto a slope, opening and shutting their eyes and mouths.
However this eerie and arresting image is undermined by a soundtrack of a lilting Scottish voice issuing tedious musings on creative responsibility. 'Are artists superior to society?' intones the fey Braveheart. 'The foreigner is generous to the artist, but the artist is a foreigner as well.' This contributes to the view that there is nothing less inspiring than listening to artists talk about their own work. Kovcheva and Stefanoff, stick to the visuals. Don't tell us what to think and feel. We can find out for ourselves. We're adults.
When the Bulgarians dump the aesthetics and stick to politics there are better results. '0.039225' is a video loop of different percentages, decimals and ratios of the territory of the Balkans to the rest of the world (if interested, it's 1: 30). Meanwhile a soundtrack reads out these numbers in the different languages of the Balkans, including Romanian.
It shows that, maybe, the single element that unites all these countries is a statistic. Now there is an idea.
Michael Bird
'Au-dela de ce qui est visible' by Nina
Kovcheva and Valentin Stefanoff at the
National Museum of Contemporary
Arts (MNAC) Palatul Parlamentului,
Calea 13 Septembrie entrance, Wednesday
to Sunday 10:00 to 18:00 hrs. Until 7 March