Ferenc Horváth, MOL Group: "No company can or actually should try to stop the trend of sustainability"
---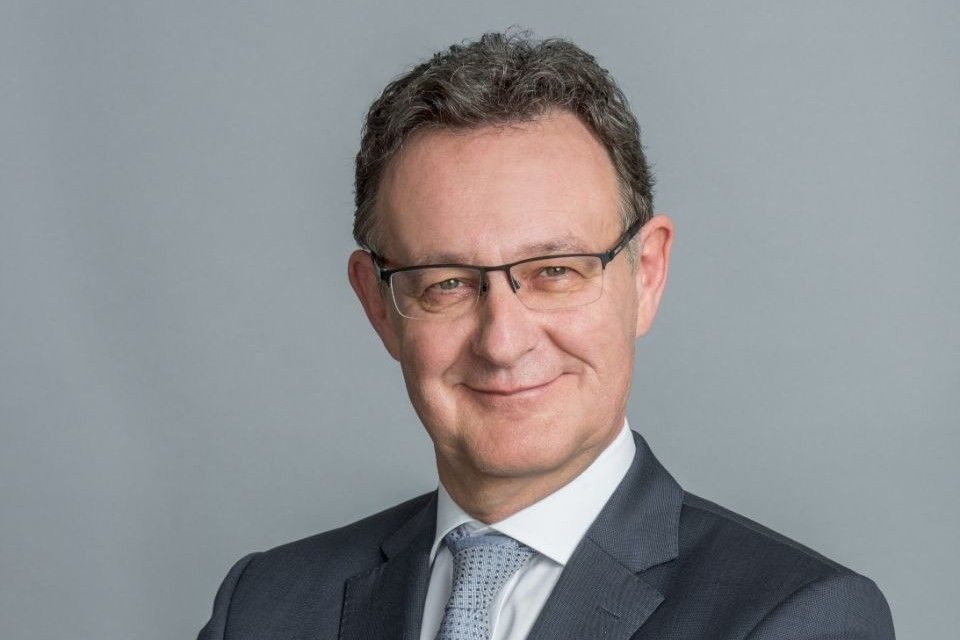 "Sustainability – fortunately – becomes a basic expectation of larger and larger part of the society. This is such a trend that no company can or actually should try to stop. In the oil and gas sector, the green energy transition is perceived as a major challenge, both from technology and from economic aspect, but more and more companies realise that this is something inevitable and if they want to stay in the game, they will have to transform their business models to a sustainable one," Ferenc Horváth, Sustainability Special Envoy of the Chairman, MOL Group, told The Diplomat-Bucharest.
Why is it important for a company to become sustainable? How are the sustainability aspects approached in your industry?
Sustainability – fortunately – becomes a basic expectation of larger and larger part of the society. This is such a trend that no company can or actually should try to stop. In the oil and gas sector, the green energy transition is perceived as a major challenge, both from technology and from economic aspect, but more and more companies realise that this is something inevitable and if they want to stay in the game, they will have to transform their business models to a sustainable one. We started this transformation journey already in 2016. We believe that oil and gas companies will have a major role in the green energy transition. First, we cannot get rid of fossil fuels from one day to the other. The demand will inevitably start to decrease, in the developed world sooner, in the developing regions somewhat later. But the transition process will take decades and during this period, although in a decreasing volume, we will still need traditional fossil fuels. Second, we will still need materials and energy in a carbon neutral economy – a considerable part of this energy will actually be needed in the mobility sector as people will still want to move and products will still have to be transported; even if we order them online. The challenge is to produce and use these materials and this energy on a sustainable way. Also, we have to make our economies more circular to reduce the quantity of waste, and meanwhile to utilise the biggest possible part of it as raw material and the rest as energy to decrease the need for fossil molecules. Actually, a major part of the waste we will be able to utilise only via chemical technologies, very similar to the ones that are used in today's refineries and chemical plants. Of course, the share of renewable electricity will continuously grow in the energy mix, but until – if at all – we can fully get rid of fossil energy sources, it will be key to minimise the carbon emitted via carbon capture, utilisation and storage. Here, oil and gas companies also have a key role as they are the ones who have the experience and the assets to handle and safely store CO2 underground in depleted hydrocarbon reservoirs. Actually, MOL Group is amongst the most experienced companies in handling CO2.
Please name and shortly describe a recent sustainable project and initiative run recently in your company (in the past year and so far in 2021) with impact in your industry/ community, etc.
We have several projects we can be proud of in terms of sustainability, I will name 2 where the research and development played a big role as well.
In 2020, we have completed a new rubber bitumen plant in Zalaegerszeg for recycling tire waste. As we believe that circular economy is key to the low carbon future, we consider this achievement as a major step towards sustainable development. In addition, the road-quality improves: excellent adhesion of the rubber bitumen to minerals reduces the chances of pot-holes forming and its higher load capacity will result in a lower likelihood of ruts appearing. Rubber bitumen roads result in significantly lower levels of traffic noise, therefore decreasing noise pollution, making it ideal to use around residential areas. The facility, built in one year, is capable of producing 20,000 tons of rubber bitumen annually and recycles 8-10 percent of Hungarian domestic tire waste, using about 3,000 tons of rubber scrap, half a million used tyres per year. The yearly capacity is enough to construct a new 2×1 lane 200 km highway or to refurbish the upper layer of 600 km of a 2×1 lane highway.
In 2012, MOL opened and successfully operated a pilot plant for rubber bitumen with an annual capacity of 5,000 tons at the Zala Site. In response to increased demand, MOL started building a 4-times bigger capacity new plant in the spring of 2019. The plant was completed in just over a year and, despite the COVID pandemic.
Also in 2020, following several years of research and development, MOL started biofuel production at its Danube Refinery, where bio feedstock, like vegetable oils, used cooking oils and animal fats is co-processed with fossil components during fuel production to create more sustainable diesel. By increasing the renewable share of fuels, MOL is reducing up to 200,000 tons /year CO2 emission without negatively affecting fuel quality.
MOL Group has been a biofuel user by purchasing more than 500.000 tons of biofuels (bioethanol and biodiesel) for blending. With this investment, we have started to produce sustainable diesel for the first time within MOL Group and we became biofuel producers. The benefits are numerous, as we produce more sustainable fuel, we will also help the circular economy by recycling waste. In line with our recently updated strategy, "SHAPE TOMORROW" we are planning to produce 100.000+ tons of biofuel by 2030. MOL aims to gradually increase the share of waste and residue raw materials in the process.
At what extent education plays a role in supporting sustainability? Please name an educational initiative run within your company or in your industry towards this goal.
Companies can deliver solutions to combat climate change, but of course they can't win the fight alone. For that, we need commitment from the society as a whole. We need consciousness from consumers and effective policies from governments to set the right frame for companies, so we are able to develop and implement climate-friendly solutions. Education must start within the company, as we have 26.000 employees in more than 30 countries, in the transformation process it's crucial that all of our colleagues should be well informed about sustainability. We have started extensive internal education campaigns with many articles, workshops and webinars.
What partnership with impact in the development of a sustainable project or initiative would you name?
Of course, further technology developments are needed to achieve the net zero emission and other long-term environmental and sustainability targets, we are also involved in early phase researches, incubations, created science parks with major regional universities to support innovation. For example, the new production technology for the already mentioned rubber grit from bitumen and waste tires was developed by MOL together with Pannon University.
We also run a venture capital fund to have our own platform to finance the growth of innovative companies as well. We also search for good technological partnerships in order to deliver the strategic transformation developments on time. Here to mention few examples: we produce high quality synthetic rubber (SSBR) with the Japanese JSR in Hungary, we have strategic cooperation with APK in solvent based recycling and with Meraxis in plastic compounding. We solve what we can on our own but in these partnerships both MOL and our partners have added value.
How do you measure your progress toward sustainability? What milestones do you have?
MOL Group has set several sustainability related goals and targets in its recently updated long term strategy. There are several important milestones along the journey. Just to mention a few examples: we would like to increase the woman participation in management to 30% from the current 26% – which is already amongst the highest in our industry – until the end of 2022. We would like to invest USD 1 billion to the low-carbon circular economy until 2025. We will decrease our own carbon emissions by 30% until 2030 and strive for net zero until 2050. 50% of our investments will be EU Taxonomy compliant by 2030 and 100% by 2050 the latest.
You can see that we have set quantitative KPIs, wherever it was possible. These ambitious quantitative targets don't only show that we take sustainability seriously, but also enable us to efficiently track our progress towards our vision.
Which are the DOs and DON'Ts when approaching the sustainability aspects in your business?
The most important do is that to put together a plausible roadmap for an oil and gas company, you have to think for a very long term, probably longer than ever before. You have to figure out where you want to be in 20-30 years from now. This long-time horizon, the complexity and the magnitude of changes that we expect to happen in the next decades also means that you have to deal with a bigger uncertainty than before. You have to accept that you cannot predict what will exactly happen. However, by applying more scenarios in your analysis, you can figure out which investments are the most solid ones, but you cannot get rid of uncertainty. Therefore, you also have to reshape your organisation to make it more flexible, more agile so it will be able to adapt quicker to the ever-changing environment.
And there is one big don't. Strategy of an oil and gas company is not about defending the status quo anymore. What was good enough for the success in the past, will not be so in the future. We will have to become more and more sustainable and in parallel, also more and more efficient, which is a great challenge, but I'm certain that it is a mission we will be able to accomplish.
From 1984 to 1991, Ferenc Horváth was involved in the import of crude oil and natural gas and the export of petroleum products at the foreign trade company Mineralimpex. Between 1991 and 1998, he led the Hungarian joint venture of Mineralimpex and Phibro Energy, Allcom Trading Inc., which trades crude oil and petroleum products in Europe. He joined MOL in 1998 as Director of the newly established LPG business. Since 2001, as the Sales Director of MOL, he has been responsible for the sales of all products manufactured by MOL (petrol, diesel, chemical products, bitumen, LPG, lubricants, etc.). From 2002 to 2003, he was the Commercial Director of MOL, in addition to sales, its activities expanded to include the procurement of crude oil and raw materials for petroleum refining.
He was a member of the Board of Directors of petrochemical company TVK from 1 May 2011 to 15 April 2015 as well as the Executive Vice President of MOL Refining & Marketing Division since November 2003, while between 1 May, 2011 and 14 July, 2020 he has been the Executive Vice President of MOL Group Downstream. Furthermore, he has been Member of the Board of Directors of SLOVNAFT since 2003, Chairman of the Supervisory Board of MOL Petrochemicals since 2018, Chairman of the Board of Directors of IES Mantua since November, 2007 and Special Envoy to the MOL Group Chairman since 15 July, 2020.
Between 2012 and 2020 Mr. Horváth was a member of the Supervisory Board of INA and he was appointed member of INA Management Board as of February 1, 2021.
---
Trending Now