Romanian business: There is still room for improvement

Romania is still an attractive market for investors within South-eastern Europe, with advantages in terms of labour cost and skilled professionals. But local entrepreneurs and Romanian-based companies are concerned about Romania's poor performance in terms of public investments, in national infrastructure and EU funds attraction, and in lacking legal predictability and transparency. A report by Petre Barac

---

---

|

Daily Info

P3 relocates HQ to Charles de Gaulle Plaza

European investor and developer of logistic properties P3 relocated its headquarters to Charles de Gaulle Plaza, one of the most iconic office buildings in Bucharest, owned by...

Deloitte Romania assists transactions exceeding 500 million Euro in the last three months

Deloitte M&A specialists assisted in transactions exceeding half a billion Euro during the past three months, providing support buy-side and sell-side in M&A, due diligence, t...

Believe in people's potential

"The greatest danger for most of us is not that our aim is too high, and we miss it, but that it is too low, and we reach it." (Michelangelo Buonarroti) This is my motto that ...

Veeam estimates record growth, one billion USD turnover in 2018

Veeam Software posts another quarterly growth, 21 per cent higher than last year. Overall, the financial performance for 2017 was remarkable, with revenues of 827 million USD....

TransferGo attracts 8.6 million Euro financing for international expansion

TransferGo, the international fast online transfer company, has attracted a round of investment of 8.6 million Euro, which is the biggest amount received in a single financing...
Advertising
More on Features
Romanian office market ripening, in both leasing and acquisition

From the investment standpoint, lower rates of return and increased liquidity lure the investors, Andreea Paun, Managing Partner, Griffes said in an interview for The Diplo...
ISS: External FM market volume will grow as more Western European FM companies open subsidiaries in Romania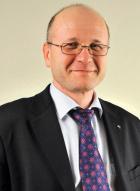 In the last few years as well as in 2017, the Romanian FM market has been in the process of maturing, focusing more and more on quality, efficiency and added value, demandi...
Digital Finance - driving force for the banking industry

Digitalization is radically transforming the banking industry, enabling new products, services and business models. This transformation will take time to complete, forcing ...
Global efforts to develop low-carbon, energy-efficient solutions

Interview with Robert Tudorache, Secretary of State, Ministry of Energy
Fresh Delivery (P)

Up to speed with the courier sector in an interview with Gian Sharp, CEO at Urgent Cargus
ANCOM: We look at the postal services market in the light of e-commerce developments

Romania's courier business is pretty dynamic these days and tends to become more and more high-tech as players are trying to find innovative solutions to keep up with users...
High potential for sustainable growth on Romanian FM market

Facility Management is still a developing market in Romania, with a lot of challenges to overcome. The Romanian Facility Management Association (ROFMA) analyses the relevan...