Business Lease - A Mobility Partner for People with Sensory Impairments in Romania
Business Lease, one of the leaders in operating leasing, supports for the second consecutive year people in Romania with sensory impairments
Being already on the Romanian market for three years now, Business Lease is an expert in providing complete operational leasing and mobility solutions for both large companies as well as small- and medium-sized companies. Business Lease focuses on providing full-service operational leasing and car fleet management to provide reliable mobility and to reduce mobility costs for customers. Moreover the company constantly monitors the effects of daily use of vehicles in relation to TCO (Total Cost of Ownership) and also impacts on the environment and society as a whole.
The company has committed itself in 2016 to actively engage in supporting the blind and hearing impaired by providing them support. Business Lease then decided to offer a free transport vehicle for one year to one of the associations that advocates helping and respecting the rights of people with such deficiencies.
For the enthusiasts from Light into Europe, Business Lease′s car was, as they confess, a vital aid. The vehicle has facilitated dozens of trips to Bucharest and several cities in the country, to various events, both for the association′s staff and for the blind and the dogs trained to accompany them. "Due to the mobility offered by Business Lease, we were able to make it easier for people with sensory impairments in different parts of the country to work with us and guide dogs, we went to hearing impaired children to learn new methods of communication and we were able to get closer to those who need help," says Robert Bousie, Development Manager of Light into Europe.
Facilitating access to mobility for people with sensory impairments has been a great help for Light into Europe, and for this reason, Business Lease has committed to extend the collaboration for at least another year.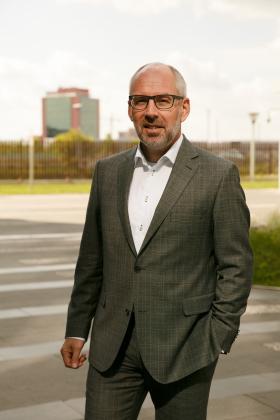 Light into Europe trains guide dogs since 2009 in Romania, where there are 100,000 blind people and only a few dozen dogs trained to help them. So far, nine blind people, two with epilepsy, one child with autism, and a young man who loses his vision gradually got the help of guide dogs.
"Mobility is directly related to the environment; therefore, Business Lease continuously monitors the effects of car use in everyday life, both in terms of Total Costs of Ownership (TCO) and its environmental and social impacts. Business Lease is a 100% non-polluting company and our experts carefully look at the customer′s offer. Thus we offer cars with the least harmful environmental impact. Blue Care is our form of social responsibility translated by actions such as reducing fleet management costs and CO2 emissions compensation. So, engaging in the Light into Europe project came naturally. It is an honor to support mobility and to get involved in helping people who are less fortunate compared to most of us. We want to be more and more involved in helping people with sensory impairments in Romania in the future," says
Philip Aarsman, Business Lease Romania′s Managing Director
.