EU seals trade deal with Canada

The European Parliament voted in favour of the Comprehensive Economic and Trade Agreement (CETA) between the EU and Canada, concluding the ratification process of this deal at the EU level, a press release shows.

Welcoming the outcome of the vote held in Strasbourg, president Jean-Claude Juncker said: "Today's vote by the European Parliament is an important milestone in the democratic process of ratification of the agreement reached with Canada and it also allows for its provisional entry into force. Thus, EU companies and citizens will start to reap the benefits that the agreement offers as soon as possible. This trade deal has been subject to an in-depth parliamentary scrutiny which reflects the increased interest of citizens in trade policy. The intense exchanges on CETA throughout this process are testimony to the democratic nature of European decision making. I now call on all Member States to conduct an inclusive and thorough discussion at national level with the relevant stakeholders in the context of the national ratification process of the agreement."

According to the same source, CETA creates new opportunities for EU companies. "It will save EU businesses over 500 million Euro a year currently paid in tariffs on goods that are exported to Canada. It will give EU companies the best access they have ever had to Canadian public procurement contracts, including at provincial level (as well as federal and municipal)," the press release shows.

CETA will also create new opportunities for farmers and food producers, while fully protecting the sensitivities of the EU. The EUs openings on certain products are limited and calibrated and are balanced out by Canadian openings that satisfy important European exporting interests, such as cheese, wine and spirits, fruit and vegetables, processed products and the protection of 143 high quality European products (so-called "geographical indications") on the Canadian market.

On 30 October, the EU and Canada signed the trade agreement and today the European Parliament gave its consent. This paves the way for CETA to enter force provisionally, once it has also been ratified on the Canadian side. CETA will be fully implemented once the parliaments in all Member States ratify the deal according to their respective domestic constitutional requirements.

---

---

|

Daily Info

Damages to electricity networks caused by severe weather conditions do not increase the distribution tariffs, says ACUE

Lately, Romania confronted with extreme, unpredictable meteorological phenomena that have caused major damages, in large areas, to electricity distribution networks.

Orbis turnover increased to 62 million Euro in Q1

The Orbis Hotel Group turnover increased by 4.4 million Euro in Q1 2017 up to 62 million Euro, a press release shows. Group's EBITDA in the first quarter totalled 8.9 millio...

Deloitte Romania appoints Alexandru Reff as new country managing partner

Alexandru Reff has been appointed country managing partner Deloitte Romania and Moldova, effective June 1, 2017. He will succeed Ahmed Hassan, who takes on a regional leadersh...

Cushman & Wakefield Echinox expands its retail department with new appointment

Cushman & Wakefield Echinox consolidates its retail team by recruiting Dana Radoveneanu, a specialist with six years of experience of the local retail market, a press release ...

Banca Transilvania posts 246 million RON profit in the first quarter of 2017

Banca Transilvania's net profit is 246 million RON (54.6 million Euro) for the first quarter of 2017, whereas Banca Transilvania Financial Group's net profit amounts to 267 mi...
advertising
---
advertising
---
advertising
---
advertising
---
More on News
Iohannis: I explained to EU leaders multi-speed Europe is not a good solution, could end in split-up

President Klaus Iohannis, speaking after the European Council's meeting, said that he explained to EU leaders that a multi-speed Europe is not a good solution and that in e...
BRUA pipeline to operate in 2020 when Exxon, Petrom will extract Black Sea gas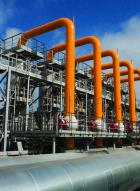 The works at the BRUA (Bulgaria - Romania - Hungary - Austria) pipeline will start at the end of 2017, and the gas pipeline will become operational in 2020, when ExxonMobil...
Ninety-seven per cent of household waste ends up in landfills, says ARBIO

As much as 97 per cent of Romania's household waste ends up in landfills, and Romania could be fined starting in 2020 about 500,000 Euro per day if it fails to bring the nu...
Net investment in national economy, down 3.3 per cent in 2016

Net investment carried out last year in Romania's national economy stood at 70.281 billion RON (15.6 billion Euro, declining 3.3 per cent from 2015, according to data relea...
Commercial property investments in Romania exceeded 850 million Euro last year, says DTZ

In 2016, the total volume invested in commercial property in Romania exceeded 850 million Euro, a DTZ Echinox report shows. Bucharest attracted 660 million Euro, which repr...
Romania has significant potential in agriculture, but low productivity, says PwC Romania

Romania is one of the European countries with the highest potential in agriculture with the sixth biggest agricultural use area in the EU, but it has a low productivity due...
PM Grindeanu in Brussels: Policies on cohesion funds, common agricultural policies important to Romania
The policies regarding the cohesion funds and the common agricultural policies are important to Romania, Prime Minister Sorin Grindeanu said in Brussels, in talks with seve...