SAP to invest two billion Euro for companies and public institutions to adopt IoT technologies

SAP, business software solutions provider, recently announced total investments of two billion Euro, in the next five years, to provide support for companies and public institutions who want to adopt Internet of Things technologies, a press release issued by the company shows.

SAP launches a programme dedicated to companies wishing to implement pilot projects in this area by offering a fixed cost for the first year of using IoT solutions. The programme, available worldwide, is part of SAP's strategy to accelerate innovation in IoT, a market estimated to reach 250 billion Euro by 2020.

"Through our SAP Leonardo portfolio, we can connect any existing data with business processes and people, making it possible to streamline all activities, using the latest technologies such as artificial intelligence and autonomous systems," said Tanja Rueckert, executive vice-president Digital Assets and IoT, SAP.

---

---

|

Daily Info

evoMAG estimates 20 per cent sales growth at new school year start

Online retailer evoMAG announced the launch of the campaign 'Back to School' between August 22- September 3, and estimates a 20 per cent sales growth compared to the previous ...

Vienna Insurance Group posts 221 million Euro profit in the first half of 2017

Vienna Insurance Group reached a profit before taxes of around 221 million Euro (9.6 percent increase) in the first half of 2017, with all figures showing improvement, a press...

Commercial property investments in Romania reached 530 million Euro in the first six months

In H1 2017, the total volume invested in commercial property in Romania reached 530 million Euro, compared to 370 million Euro during H1 2016, a 43 per cent increase, accordin...

AFI Europe Romania posts increasing net operating income in H1 2017

AFI Europe Romania published its H1 2017 financial results, generating a Net Operating Income (NOI) from its income producing assets in Romania of 25 million Euro in H1, repre...

Bonds of Globalworth will start trading on Bucharest Stock Exchange on July 31

Bucharest Stock Exchange (BVB) informs that the bonds of Globalworth will start trading on the main market on July 31, 2017, and are defined by the following: 5,500 bonds, nom...
advertising
---
advertising
---
advertising
---
advertising
---
advertising
---
More on News
Over 19,000 business plans submitted for Start-Up Nation program

Start-Up Nation Government program attracted over 19,000 business plans and a new edition will take place next year, said Ilan Laufer, Minister for the Business Environment...
PM Sorin Grindeanu: 5.7 per cent economic growth - confirmation that the measures taken by the Government are the right

The 5.7 percent economic growth registered in the first quarter of 2017, as compared to the first quarter of 2016, an evolution which exceeds the expectations of analysts a...
President Iohannis to hold political consultation to designate future PM

Parliamentary parties are invited today to the Cotroceni Presidential Palace for consultations with President Klaus Iohannis over the designation of the future prime minist...
Sorin Grindeanu hails the support for CVM lifting before 2019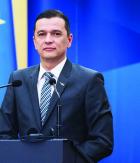 Prime Minister Sorin Grindeanu met at Victoria Palace with the European Commission President Jean-Claude Juncker. The meeting was also attended by the Public Finance Minist...
New trading symbol for Patria Bank shares on Bucharest Stock Exchange

Patria Bank shares, a credit institution that operates on the Romanian banking sector, are traded under a new symbol on the Bucharest Stock Exchange (BVB) market, following...
Fondul Proprietatea urges President Iohannis not to promulgate the Ports Law

Fondul Proprietatea has sent a letter to President Klaus Iohannis outlining several reasons that constitute, in the Fund's view, a strong basis for the non-promulgation of ...
Romanian ruling coalition plans tax overhaul ahead of key parliament vote

Romania's ruling Social Democrats unveiled plans on Thursday to overhaul taxation from 2018, ditching a flat 16 per cent tax on income and profit that has attracted investm...