Austrians thrive in a recovering market
As the second largest investor in Romania, Austria has not reached the top by leaps and bounds, but by a steady and constant growth. In the context of a healing economy, Alexandra Cioboata (Lopotaru) talks to Austrian Ambassador Gerhard Reiweger and major players in order to stress the development of Austrian business community in Romania this year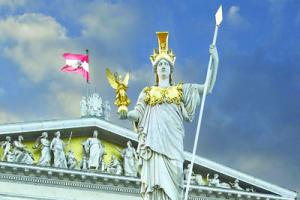 Romania and Austria enjoy strong cooperation in terms of both diplomatic and economic relations, given the fact that the latter is the second largest investor in Romania, only behind the Netherlands, with an overall foreign investment of around 11.4 billion Euro (19.1 per cent of total FDI) at the end of 2013, according to BNR data. In 2014, the bilateral exchange between the two countries was on an upwards trend, amounting to three billion Euro: Austrian exports to Romania registered 1.88 billion Euro, up by 4.1 per cent, while imports reached 1.2 billion Euro, up by 8.6 per cent, according to data provided by the Embassy of the Republic of Austria in Romania. This year, the trend seems to be keeping its pace, as in the first five months of 2015 Austrian exports to Romania increased by 8.3 per cent and Romanian exports to Austria remained stable.
In order to enhance the partnership between Romania and Austria at a diplomatic level, Romania′s President Klaus Iohannis paid an official visit in late July to Austria to meet his counterpart, Heinz Fischer. The event was much appreciated by the Austrian business community in Romania and contributed to enhancing the positive image of Romania in Austria, according to Gerhard Reiweger, the Ambassador of Austria in Romania.
"We were very happy about this visit, which highlighted the close relations between Romania and Austria," the Ambassador tells The Diplomat - Bucharest. "The economic relations between our two countries are a solid foundation for our intensive cooperation as partners within the European Union. In this context, high level contacts on a political level are also much appreciated by the Austrian business community in Romania and we will continue our efforts to further intensify bilateral political contacts next year. President Iohannis′ visit to Austria was also very well received by Austrian media and undoubtedly was an important contribution to enhancing the positive image of Romania in Austria."
The political bond between Austria and Romania has also deepened in the past few years since the launch of the Danube Strategy, designed to develop the riparian region. The Danube Strategy was adopted by the European Council on June 24, 2011, as a macro-regional strategy for the entire European Union. The project, which brings together 14 countries, consists of four main segments which could help develop and enhance the Danube region, which starts with Germany and ends with Romania and Ukraine: connectivity, in terms of intermodal transport, culture, tourism and energy networks; environmental protection, for water management, biodiversity protection and risk management; prosperity and growth for the Danube Region, involving education, research and competitiveness; and improving the system of governance, institutional capacity and internal security.
According to the Austrian Ambassador in Romania, one of its main priorities in the coming years is to solidify the cooperation between the two countries in this - and other - regards. European Neighbourhood policy, refugee crisis and EU funds are also topics on his agenda.
"One of our main priorities will be to strengthen our cooperation within the EU on issues of common concern like the Danube Strategy, the European Neighbourhood policy - or the present refugee crisis," says the Ambassador. "As far as economic cooperation is concerned, we are looking forward to the new programming period of EU funds, which provides a huge potential for economic activities in which Austrian companies would be most interested to participate. In this context I would like to emphasize that a well-functioning internal market is the main instrument for achieving the overarching goal of EU cooperation; to reduce disparities in income and standard of living between member states, a goal to which we would be glad to contribute."
The Ambassador goes on to add that another important focus of the Embassy′s objectives to develop bilateral relations will be to enhance the cooperation on the regional level, given that next year Austria and the Banat region will commemorate their "300-year anniversary of special relations." "We will take this as an occasion to further strengthen not only our historic and cultural ties, but also our political and economic cooperation," he says. "Finally, I would like to mention one more focus of our cooperation strategy and that is education. In particular, we are very happy about the interest the Romanian authorities have shown in introducing a dual vocational education system, which we will be happy to support. Some Austrian cooperation projects with vocational schools in Bucharest and Ploiesti are already up and running."
Austrian direct investment is expected to increase by the end of 2015
By end of July 2014, there were 6,794 companies in the Commercial Register with Austrian capital, out of which 1,000 are estimated to be active, creating 100,000 direct jobs. Austrian investors can be found in a variety of sectors, including banking and insurance, oil and gas, environmental technology and services, real estate, agriculture, construction material and services, wood processing, packaging, transport and logistics as well as retail. Most Austrian investors come to Romania for the large market and its development potential, but also because of competitive production costs, says the Ambassador. Furthermore, the positive economic perspectives of the domestic market give hope to Austrian investors to further develop their business.
"I am generally optimistic regarding economic growth in Romania," the Ambassador tells The Diplomat - Bucharest. "Economic experts predict an annual growth rate of the Romanian economy of around three per cent in a medium-term perspective. This would make Romania one of the fastest growing economies in the EU. This is excellent news for the Austrian investors in this country, some of whom have gone through difficult times in the past crisis years. In order to sustain this growth a stable investment climate is essential. In that respect, there are still some shortcomings that we would be happy to see improved on the political level in order to maintain and regain the trust of foreign investors."
Nevertheless, despite political and economic turmoil, Austrian players kept investing. Last year, OMV Petrom completed in mid-September the 2010-2014 modernization program of its Petrobrazi refinery, near Ploiesti, requiring around 600 million Euro, while Salesianer Miettex opened a second facility in Oradea worth six million Euro, offering laundry outsourcing and textile rental to the North and West of Romania.
This year is no exception. Holzindustrie Schweighofer started the construction of the 150 million-Euro sawmill plant in Reci, Covasna county, planning to create roughly 650 jobs. OMP Petrom is investing around one billion Euro, of which 85 per cent will go to the Upstream segment. Egger Romania, part of the Austrian manufacturer of wood-panel products Egger Group and present in Romania since 2008, invested 20 million Euro in a wood recycling installation and a wood waste collection point this year. In addition, Austrian-based Immofinanz, one of the leading real-estate developers and investors in Romania, continued works on Metroffice and Iride City, as well as LOG.IQ Bucharest and the next phase of LOG.IQ Ploiesti. Only a few companies left the market, while Volksbank merged with Banca Transilvania, and Baumax was bought by French-based Adeo Group.
By the end of the year, the Austrian Ambassador expects to see a further growth in terms of Austrian direct investment in Romania. "Austria is among the largest investors in Romania," he says. "It is quite remarkable that enterprises from a country as small as Austria have invested 11.4 billion Euro in Romania, thereby directly creating roughly 100,000 jobs. We expect investment to increase further in 2015. Much of the new investment will come from established investors, who seek to expand their presence in Romania. This is clear evidence that the Austrian business community puts a lot of trust into the positive development of Romanian-Austrian relations."
Next, The Diplomat-Bucharest talks to more than ten major Austrian players active on the local market to find out how they are faring so far in 2015, what their main expectations are for the year end, and how they see the development of the industries in which they are active.
Raiffeisen Leasing sees 13 per cent rise in financed volumes in H1
Raiffeisen Leasing, member of Austrian-based financial group Raiffeisen and one of the largest domestic players in the industry, ended the first half (H1) of 2015 with funded assets worth around 54.3 million Euro, up 13 per cent from the same period last year, when the figure stood at 48 million Euro. The distribution by type of assets financed includes 63 per cent vehicles, 35 per cent equipment and the rest real estate. By the end of the year, the company expects to record funded assets worth 100 million Euro, a similar figure to last year, when Raiffeisen Leasing totalled 99.3 million Euro, 15 per cent growth to the previous year.
"The development of the company in the first six months of this year was marked by a repositioning in terms of our sales department, where we tried to settle the requests of a new business context with our team′s competences within the company," Felix Daniliuc, the general manager of Raiffeisen Leasing, tells The Diplomat - Bucharest. "Taking a look at the figures, the volumes are growing. Raiffeisen Leasing saw a positive development in the SMEs segment, our main target, but also in the corporate sector. In both segments, the main assets leased were vehicles. Our objective by the end of the year is to surpass 100 million Euro."
Romania′s financial leasing market ended 2014 with new funding worth 1.324 billion Euro, up seven per cent compared to the end of 2013. In H1 this year, the industry registered a new financed volume amounting to 769 million Euro, representing an increase of 16 per cent compared with the same period in 2014. The distribution by types of assets was as follows: 77.5 per cent (596 million Euro) for vehicles; 20 per cent (154 million Euro) for equipment; 2.5 per cent (19 million Euro) for real estate. According to Daniliuc, the growing trend will maintain its pace through the end of the year.
"We expect to see a 15-16 per cent rise by the end of the year," says Daniliuc. "One of the reasons that sustain my estimate is that, compared to last year, where we had a 22 per cent growth in Q1 and we ended up with seven per cent increase by the end of 2014, this year the growth rate remained constant in H1. I didn′t sense any worries among financial leasing players concerning Q3, so I think the industry will be heading towards our expectations by the end of 2015. "
Present in 15 cities with its own offices and in more than 500 agencies of Raiffeisen Bank, Raiffeisen Leasing became operational on the local market in 2002. Counting 83 employees, the company has registered almost the same figures in H1 this year in terms of new contracts. In 2014, the company posted a 3.12 million Euro profit, up by 11 per cent compared to 2013, when it had 2.8 million. Raiffeisen Leasing is a member of the Financial Companies Association in Romania (ALB) since 2004, where Felix Daniliuc is also president.
Immofinanz to be in full swing this year
The first half of 2015 has been a busy period for Austrian-based Immofinanz, one of the leading real-estate developers and investors in Romania: the company continued works on Metroffice and Iride City, as well as LOG.IQ Bucharest and the next phase of LOG.IQ Ploiesti. Moreover, the reconversion works for Armonia Mall in Arad into a logistics centre are nearing completion. One of the reasons why the company has so many projects in progress is that Romania′s economic environment is steadily improving, with direct impact on real estate, according to Sorin Visoianu, country manager Office & Logistics Romania and Bulgaria at Immofinanz.
"Romania is slowly confirming its substantial growth potential and is benefitting from exports to Germany, Austria and other countries in Western Europe," Visoianu tells The Diplomat - Bucharest. "In line with our long term strategy, we closely observe the market dynamics in all sectors, in order to identify any new opportunities. As such, we have noticed clear signs of economic growth, particularly visible in the office sector. Generally speaking, the demand for high quality real estate is directly influenced by the country′s economy and its ability to attract investors. The fact that there are many real estate projects in progress confirms our view: Romania′s economy is on an upward trend and is faster growing than other CEE countries."
The Immofinanz properties in Romania represent 14.3 per cent of the company′s total portfolio, including 88 properties, of which 20 are standing investments, 12 are developments and 56 are pipeline projects, carrying an amount of 952.4 million Euro. The standing investment portfolio splits into eight office buildings, four retail properties and three logistics assets. However, in August this year, the company announced that it plans to sell its logistics portfolio which counts a leasable area of one million sqm including in Romania, in order to concentrate on its core retail and office sectors. Regarding the ongoing logistics projects the company is developing in Romania, Visoianu notes that they will evolve according to plan.
"In accordance with our recently announced group strategy, we intend to concentrate on our core retail and office sectors to further expand Immofinanz′s competitive position in these areas," says the country manager. "Nevertheless, we are fully committed to successfully finalizing our current logistics projects also."
Immofinanz′s logistics projects include LOG.IQ Bucharest and the next phase of LOG.IQ Ploiesti, as well as the final reconversion of Armonia Mall Arad into a logistics park. The first phase of the LOG.IQ Bucharest project (Hall A and Hall B), with a rentable surface of about 40,000 sqm, is due to be delivered in the final quarter of this year and the first quarter of 2016, with an investment value of 36 million Euro. The total project will have, however, around 140,000 sqm, needing around 81 million Euro of investment. Furthermore, Immofinanz continues works on LOG.IQ Ploiesti, a large-scale industrial development that stretches over a 38-hectare plot, out of which 15,000 sqm are already developed, as part of the first stage. The second development phase will be delivered by Immofinanz in 2016 and it will have a rentable surface of 15,000 sqm. The investment value for this project is 4.9 million Euro.
Nevertheless, the company′s biggest current project is in the office sector: Metroffice, which will be realised as the first part of a long-term master plan. This involves the redesign of the entire area within Immofinanz′s Iride Business Park into the future Iride City. The Metroffice office complex covers three buildings, with a rentable surface totalling around 40,000 sqm. The first section, where construction has started, will cover nearly 20,000 sqm. The investment volume for the first building will total about 34 million Euro.
"Construction has recently started and should be completed in the second calendar quarter of 2016," says Visoianu. "Plans call for the transformation of this area into an innovative quarter with office, retail, leisure and residential space - in other words, a new, open and vitalised section for the city. When the final stage of construction is completed, Iride City will provide space for restaurants, a hotel and conference centre and day-care centre as well as park and sports facilities."
Regarding the second phase, Visoianu confesses that it depends on "how several discussions with potential clients will go." Nevertheless, Metroffice is expected to be completed either at the end of 2016 or in early 2017, providing work spaces for about 5,000 employees.
The Romanian results of Immofinanz′s operations amounted to 16.7 million Euro at the end of the 2014/15 financial year (on April 30th, 2015), and represent 5.3 per cent of Immofinanz′s total results of operations.
Adama to register 35 per cent increase in sales volume in H1
This year is the third year in a row in which real estate developer Adama, owned by Austrian-based Immofinanz Group, registers an increasing sales volume and rhythm, Laszlo Csiki, the CEO of Adama, tells The Diplomat - Bucharest. Reported as a 12-month time span, H1 2015 recorded over 35 per cent growth compared to H1 2014. Adama′s latest products in the Titan neighbourhood in Bucharest and the final development phase in Iasi benefit from an increased sales rhythm, he says.
"Not only do the sales rhythm and dynamics entitle us to be more confident about the outlooks, but so do recent statistics on the market," says Csiki. "For instance, price evolution shows signs of stability, with insignificant flows, while the number of closed transactions is increasing as well as demand. Taking into consideration these aspects, we have reasons to consider that H2 2015 will register at least a similar performance as H1 2015."
Adama has invested in the local residential market, over the last three years, almost 20 million Euro exclusively allotted from the company′s funds for the second development phases of Edenia Titan and Evocasa Optima (Bucharest) and last development phase of Copou Bellevue (Iasi), plus the in-progress investment for Evocasa Serenia (Bucharest). "Our strategy is to start developments one step before the flourishing of the market so as to have the suitable residential product completed when the demand is prepared to re-enter the market significantly," says the CEO. "Considering the current context, we are just one step before this phase."
Analysing the real estate sector in general, Csiki compares Romania′s yields level to other countries, noticing that Romania is still an emergent market, on its way to maturity. Compared to Poland where they have reached a maximum six per cent ceiling, in Romania, good yields range around 6.5-7 per cent for the residential sector and 7.5 per cent for the office one. "In addition to this, the domestic market size in Romania provides real estate investment opportunities, as the market is more liquid," he says. "We therefore notice an extensive availability for developments in our segment. Besides Bucharest, which is the prime emanant market, there are other large secondary cities in Romania economically progressing where development is appropriate."
Speaking about the rest of the year, the GM thinks that no major changes are expected in H2, taking into consideration current evolution and market indicators. According to him, Romania in general and the real estate market in particular are heading toward progress and an upward trend, slowly but steadily. The task at this moment for all stakeholders is to optimally adapt to this new context and set the basis for a sustainable growth. "In real estate, we can say we are currently part of a time machine, facing 2008 again with developments resuming, increasing demand and loaning appetite," he says. "Yet, this time machine will no longer lead us to 2009, but directly to 2016, opening the gates for a feasible sector." Adama has delivered over 1,700 units in Bucharest and in another four cities around Romania - Ploiesti, Brasov, Bacau and Iasi - since 2004 when it was founded, gathering more than 1,200 customers up to this June.
Porsche Finance Group to see around 20 per cent growth in H1
Porsche Finance Group (PFG) Romania, part of Austrian-based Porsche Holding, offering car financing and insurance for the Group brands, saw around 20 per cent business growth in the first eight months of 2015 compared to the same period of last year, according to David Gedlicka, CEO of PFG Romania. One of the main reasons for the positive development is the increase of new car deliveries on the local market, he says.
"The first half of the year has been quite good for us," Gedlicka tells The Diplomat - Bucharest. "The trend is becoming favourable again to new cars. We see that the auto market has been growing visibly from month to month, and this brings numerous new opportunities to our car financing and insurance business as well, which is growing. At the group level, business has grown with 18 per cent compared to last year in the first eight months of 2015."
Porsche Finance Group is present on the Romanian market since 1999, operating through five different legal entities: Porsche Leasing, which offers internal financial leasing for legal entities and private individuals, Porsche Bank, Porsche Mobility (operational leasing), Porsche Asigurari and Porsche Broker de Asigurare. As a general market trend, the CEO notices an increase of client openness towards operational leasing, a sign that the local market is much more mature, he says. Regarding projects and plans for this year, the company is starting the Porsche Stars programme, aimed at new and existing credit clients. According to Gedlicka, the programme offers loyalty points to clients with every instalment they pay, points which can be later exchanged for various benefits.
"PFG is very optimistic about the future, as we base our entire strategy on constantly evolving and developing our offers, in order to offer our clients the best possible products and services," says the CEO. "For example, we are now in the full process of launching the Porsche Stars program, through which we reward our existing and new clients. Another very important area for us is becoming that of heavy trucks financing and insurance - and here we place a lot of focus already and will continue to do so in the future as well. We should be able to provide more details shortly."
Speaking about Romania′s economic perspectives in general, Gedlicka expects the country′s economy to continue its increase as Romania remains one of the fastest growing economies of the EU. "In terms of my personal feeling, I can say that I see Romania as a market with still-significant potential in all major economic sectors," says the CEO. "I still see scores of talented and well-trained people here, and a visible increase in purchasing power, which seems to be a long-term trend. As such, I am quite optimistic regarding Romania′s economic growth. To me, it is a question of ′how long will it take?′ rather than ′if′," he concludes. Porsche Finance Group is a captive financing company within the Porsche Holding, itself a part of Volkswagen AG. As such, the company facilitates the car sales for the Holding′s brands.
VIG Romania to register around 18 per cent increase in H1 due to restructuring process
Vienna Insurance Group, represented by three insurance companies in the Romanian market - Omniasig Non-life, Asirom and BCR Life - recorded a major premium increase of 17.6 per cent in the first half of 2015 compared to the same period last year. Positive growth was achieved in both life and non-life, while profit (before taxes) rose to 3.5 million Euro. The positive results are mainly due to the systematic implementation of restructuring measures that continued to have an effect on premiums and earnings in Romania, according to Peter Hagen, CEO Vienna Insurance Group.
"In the last few years, our Romanian companies underwent major restructuring due to the very adverse market conditions," Hagen tells The Diplomat - Bucharest. "In fact, we are currently employing less than half the number of people compared to 2008. This is not a very pleasant development, but given the market conditions we had no other option. Thanks to the restructuring measures, we managed to substantially improve our loss experience as well as costs. And what is particularly satisfying is how we kept on recording increasing profits for the past few quarters. We will continue to be very cautious and to further improve our cost situation. But I am looking forward to the times where a well-functioning market will allow us again to grow sustainably and to employ many more people. This is for sure VIG′s long term goal."
According to the latest report from the company, the combined ratio improved again by around five percentage points in H1, currently only slightly higher than the 100 per cent mark. By the end of the year, however, the CEO hopes to see further betterment. "Romania is still the only major market of VIG where the combined ratio is above 100 per cent," says Hagen. "We are optimistic to be able to reach a below-100 per cent-ratio by year end, but it will not be easy. Overall, I sincerely hope that the improvements made by our companies as well as by the market as a whole are sustainable."
Speaking about the Romanian insurance market in general, Hagen notes that Romania′s insurance supervisory agency ASF has taken several measures to stabilize the market and to bring Romanian regulation back to a European level. "VIG appreciates these steps," he says. "I hope that we will see the insurance market further improving, as the indications we can see this year are encouraging," he concludes.
VIG pursues a multi-brand strategy, which means that in most of its markets the company is present with more than one brand. Each company has its own brand, its own product focus and therefore an individual client structure. In Romania, Omniasig is one of the leading non-life insurers, BCR Life is an important player in the life market, representing VIG′s cooperation with Erste Group, while Asirom, offering life and non-life insurance, is a traditional brand with a long history in the Romanian insurance market.
Friedl, Lacerta: "Cheap labour costs should not be the cause for investors to enter the market"
Romania′s economic growth perspective of around three per cent by the end of the year spreads hope among foreign investors, and experts are confident that new companies will enter the market. However, cheap labour costs should not be the cause for foreign investors to come to Romania, as Walter Friedl, the CEO of wine manufacturer Lacerta Winery, tells The Diplomat - Bucharest. Foreign investors should take a look at the economic potential, the safety of the European Union and the young professionals, he says.
"There is trust from European, Asian and US American companies in Romania and foreign capital is coming," says Friedl. "Romania is doing well and many investors realize this. Cheap labour costs should not be the cause for foreign investors to enter into the market. They should have a look at the solid supply of raw materials and energy, the serious anticorruption measures, the attractive business environment and the proximity to the top European markets. Of course this gives hope for an increase in the consumption of premium, high quality products like top wines from the world wine region Dealu Mare for example."
Lacerta′s CEO goes on to add that the low level of salaries is not doing any favours to Romania, given the fact that specialists from the medical and academic sectors tend to leave the country. Furthermore, the infrastructure, environment and agricultural segments also need attention from authorities. "The small salaries, mainly in the public sector, in the medical sector and at the universities lead to an unnecessary brain-drain, which hurts the country massively," he says. "In addition, environmental problems like those in the forest sector, waste management, or agriculture must be solved urgently."
Set up in 2002 and worth nine million Euro, Lacerta Winery sold its first bottle of wine in 2011. With over 250,000 litres of wine produced annually and 44 employees, Lacerta Winery plans to post an around 900,000 Euro turnover this year, a ten per cent increase compared to 2014. Last year, 90 per cent of total production went to the local market, while ten per cent was sent to the European Union and China. In the first half of this year, however, Lacerta registers an increase of over 20 per cent in export sales. "The local market is still difficult, but very important for us," says Friedl. "We hope and count on a positive development in Romania through the end of the year."
In terms of future objectives, the CEO wants to improve its wine-tourism activities, and also to invest a few hundred thousand Euro into new technologies and equipment to improve the quality of its products. Furthermore, he hopes for the release of the promised EU funds for SMEs with export orientation in the agricultural field in order to make the wine region of Dealu Mare more attractive. "EU funds would be helpful to make Dealu Mare more attractive," he says. "The infrastructure - streets, water, wastewater - is very bad. A country with more than 6,000 years of wine tradition should deserve more. Many investors from Romania and from abroad would be willing to invest in the region - in wineries, restaurants, hotels and distilleries, but the lack of infrastructure and the lack of funds for common promotion activities make this too unattractive," he concludes.
Agricola Stirbey′s vineyard sees recovery in H1 after last year′s hailstorm
Agricola Stirbey, present on the local market since 2004 and owned by Ileana and Jakob Kripp, produces around 100,000 bottles of wine per year from eight different grape varieties under the Prince Stirbey brand in Dragasani (Valcea county), stretching over 20 hectares. Last year, the company faced major challenges, thanks to a heavy hailstorm in July which destroyed three-quarters of its grape crops and defoliated many vineyards in the Dragasani wine region. However, due to favourable weather conditions in the first half of 2015, the vineyard recovered surprisingly well and the quality of all grape varieties looks promising, according to Jakob Kripp.
"Weather conditions were favourable for a healthy evolution of the vineyards in the first six months of 2015," Kripp tells The Diplomat - Bucharest. "After a cold January, a quite cool late winter and early spring followed, giving the vines enough time for a vegetative pause and recovery after the very difficult year of 2014. Thanks to the efforts of our whole team and with the help of favourable weather conditions, the vines recovered very well. This year′s production of grapes is still below average, because not all wounds in the vines′ wood are healed yet. But the quality of all grape varieties looks promising. We started harvesting on 28th August in nearly perfect conditions."
Regarding the sales, Kripp is satisfied with this year′s evolution: compared to last year, all the company′s market segments showed a solid development in quantities and price level - be it sales directly from the winery in Dragasani, or to restaurants or to specialised wine shops all over the country. Especially for the range of sparkling wines of local grape varieties, vinified in the traditional champenoise method, Kripp received positive feed-backs.
Speaking about legal changes that influenced the business this year, Kripp notes that the coming into force of the new Law for Vines and Wine (′Legea Viei si Vinului′) was the most important change. According to him, this law aligns - with a huge delay of about five years - the Romanian legislation in this field to the European Union′s regulations. The most important change for consumers will be the introduction of grape varieties′ names on the labels of wines without geographical denomination (formerly table wines). In terms of the recent reduction of VAT from 24 per cent to nine per cent for food, Kripp points out that the change is not applicable to wine although it is defined as food in the legal framework. "This is clearly discriminatory, as wine is defined as food in Romanian legislation, just like beer - which does benefit from the nine per cent VAT rate," he says. "This discrimination will hopefully be corrected soon."
The turnover of Agricola Stirbey in 2014 was around 550,000 Euro, and it had 14 permanent employees. This year it invested in a new filtering system, improving the results in the vinification of white wines. "But our main goal in the cellar will always be a most natural vinification process, in order to preserve the huge potential of each single grape variety, given by nature, during the whole vinification, and to let it reflect in the final product," he says. "We are convinced that nature can make the wine much better than we human beings with all our sophisticated technology."
Gutiu, Schoenherr: "Despite the issues faced locally, Romania remains an oasis of economic and political stability in the region"
Romania′s economic development looks positive this year based on macroeconomic data, but taking a closer look, there are still several important aspects left to tackle. Sebastian Gutiu, managing partner at Austrian-based law firm Schoenherr si Asociatii, analyses both sides of the coin for The Diplomat - Bucharest. On one hand, Gutiu notes that the gross domestic product (GDP) is growing, investment is thawing and foreign players are once again starting to look towards Romania with business plans, also encouraged by the fight against corruption. On the other hand, the business environment is burdened by low public investment and several taxes stipulated in the long-debated Fiscal Code.
"First, even though the Government is working with a considerable budget surplus in the first seven months of this year, public investment is at a low of 0.7 per cent of the GDP," says Gutiu. "The plan is to boost economic growth through consumption, based on higher salaries, but investors need infrastructure and that fact is lost in the political debate. Secondly, the anticipated amendment of the Fiscal Code will bring the value added tax to 20 per cent and, eventually, to 19 per cent, from the current 24 per cent, which is a good thing. But despite long lasting debates the document came out with some of the most contested taxes still in place: excise on fuel, the special construction tax and the tax on dividends that were and still are hurting business."
Nevertheless, despite the issues faced locally, Gutiu believes that Romania remains an oasis of economic and political stability in the region. Its geographic position and the fact that it is not yet a member of the Euro zone enables it to better navigate current international problems, he says. "At this point, if there are no major legislative or economic mistakes made by authorities, economic growth is a matter of momentum," says the managing partner. "The percentage by which the economy will grow is still up for debate, but investors are seeing the improvements in the local business environment and they are once again making plans that include Romania."
Schoenherr si Asociatii is one of the largest players active locally. One of the major projects in which it was involved this year was the sale of Volksbank Romania to Banca Transilvania, a transaction where Schoenherr advised the shareholders of Volksbank. The deal was completed in April this year and it was the largest transaction seen by the banking sector in the past decade. Another important project this year was the floating of bonds worth 500 million Euro unfolded by the Bucharest City Hall. In this project Schoenherr worked with the brokers Raiffeisen Bank and BT Securities, being the first bond issue approved by financial market watchdog ASF. The firm′s plans for the coming years include the development of its tax department, a plan that makes sense given the current business environment and client demands, says Gutiu.
"The overall goal is sustainable growth based on client satisfaction and market demands. The lessons learned during the economic crisis will surely make the coming years interesting in terms of legal market innovation, competition and legal service," he concludes. Active on the local market since 1996, the firm counts 50 employees.
Wolf Theiss sees positive development this year
So far, 2015 has been a good year for the Wolf Theiss law office in Bucharest, on the heels of two similarly positive years in 2013 and 2014, according to Bryan W. Jardine, managing partner at Wolf Theiss Romania. Revenues have been stable and the law firm is on target to have improved margins as it focuses on effective cost control measures, he says. Two of the most important projects in which the firm was involved this year include the representation of UniCredit on their recent acquisition of the remainder of the shares from Tiriac Holding in UniCredit Tiriac Bank in Romania and that of Ikea in their recently-announced large forestry acquisition in Romania.
"2015 is a significant year for Wolf Theiss, as it marks ten years of our office being present in Romania," Jardine tells The Diplomat - Bucharest. "These past ten years our work has involved some very significant transactions and litigation matters and we are pleased with the success that our lawyers have achieved in this highly dynamic and competitive market for legal services. We look forward to continued work on high profile matters and transactions here in Romania, particularly by leveraging our existing relationships with top international law firms in Europe and the US-which often serve as key sources of client referrals."
Jardine goes on to add that Wolf Theiss has seen many more sophisticated and complex matters in 2015, including in the area of banking and finance, M&A and litigation. Project work is not as robust as in years past, he says, and the interest in developing new renewable energy projects has declined significantly from prior years, given the adoption of changes the green certificate support scheme which have dramatically and detrimentally impacted this previously high growth sector.
Regarding business opportunities the domestic market offers to investors, Jardine notes that the attractions of Romania include a skilled and relatively low-cost labour force, relatively flexible labour laws and a more simplified 16 per cent flat tax regime, compared to neighbouring countries. "The country is also strategically located along major transit corridors from the Middle East and Mediterranean, through the Balkans into Central and Eastern Europe," says the managing partner. "Romania enjoys a fairly stable local currency, low inflation and is a member of the EU. These are all attractive features to foreign investors."
Founded in 1957, Austrian-based Wolf Theiss is one of the leading European law firms in Central, Eastern and South-Eastern Europe with a focus on international business law. With 300 lawyers in 13 countries, Wolf Theiss represents local and international industrial, trade and service companies, as well as banks and insurance companies.
Agrana′s CEO: sugar consumption expected to rise, beet production expected to drop
Romania′s sugar market experienced an almost 40 per cent slump in prices within just two years, a significant downturn for all stakeholders leading to disinvestments, trimmed operations and factory closures. However, Gabriela Petrea, CEO of Austrian-based Agrana Romania, one of the most important sugar producers on the local market, believes that this year the industry has now no other choice but to grow, given that its lowest development level was already achieved within the past few years.
"After two years of continuous sugar price slides, we do believe it [Romania′s sugar market] reached the bottom and any perspective has to be positive; otherwise there shall be no perspective at all," Petrea tells The Diplomat - Bucharest. "On other hand, if there are no high slides in economic policy decisions, we have good reason to expect a raise in consumption and consumer confidence wrapped up in a better economic environment."
Petrea goes on to add that the sugar market development is directly linked to agricultural performance, food industry, tourism and retail distribution. This year, the sugar beet production was severely impacted by drought, especially in Northwest and Northeast areas and thus the production forecast is reduced compared to last year, with Petrea estimating a decrease of sugar beet production by 15 - 20 per cent. This will directly affect all major players, including Agrana. "Logically, a weak agriculture output leads to lower profitability of beet production, and thus a questionable future for this crop," she says. "As a manufacturer of agri-products, our company is an active participant of the whole value-chain and it is directly impacted."
Asked about the impact of the VAT reduction on the company′s development, Agrana′s CEO says that since its advent in late 2013, price volatility has encouraged caution from fraudsters and market speculators, a positive stimulus for an endangered industrial sector. Finally, in 2015, with the VAT reduction in place, the sugar market gained in stability, she says, diminishing fiscal fraud that may underpin a future recovery of the industry′s stability and predictability. "But even at nine per cent VAT, a continuous and rigorous fiscal checking has to continue in order to preserve a fair economic environment," she concludes.
At the end of 2014, Agrana Romania′s net turnover amounted to around 955.7 million RON (about 215 million Euro), having 529 permanent employees. The Austrian company holds in Romania two factories located in Roman and Buzau that produce sugar by processing sugar beet and raw sugar from sugar cane, and a starch factory located in Tandarei, in the south - east of the country, halfway between Bucharest and Constanta. In terms of the Group, Petrea says that Agrana′s strategy stays on track and Central and Eastern markets continue to be key, planning to invest 25 million Euro this year in a new logistics centre in Hungary, destined to serve all neighbouring markets.
Egger Romania to invest 20 million Euro this year in collection point and recycling system of wood waste
Egger Romania, part of the Austrian manufacturer of wood-panel products Egger Group and present in Romania since 2008, continues to develop its 500-million Euro factory in Radauti (Suceava county) by investing another 20 million Euro into a wood recycling installation and a wood waste collection point this year. The recycling installation is integrated into the platform in Radauti and will reduce the consumption of fresh wood used in the manufacture of particleboard, according to Ioan Banciu, country manager of Egger Romania. The recycled wood collection and conservation of resources is achieved by Egger Timberpak in Cernica (Ilfov county), retrieving and processing various types of wood waste.
"The collection point Timberpak from Cernica and the recycling installation from the factory platform completes the integrated production circuit of the factory in Radauti," Banciu tells The Diplomat - Bucharest. "The new investments are part of Egger Group′s plans to develop Radauti into a fully-integrated production site. We developed Timberpak and the recycling facility in order to reduce the amount of wood coming from logging and to support long-term conservation of forests. Sustainable use of resources is a priority for us and is firmly anchored in our core values."
Egger Timberpak takes over and processes different types of recyclable wood: damaged pallets, old furniture, scrap wood particle board, wood packaging, wood waste from construction and demolition waste, municipal wood waste, and biomass (derived from trimming green spaces). Banciu estimates that by the end of the year, Timberpak Cernica will have collected about 15,000 tonnes of recycled timber, an amount increasing progressively up to 20 per cent within three years. "Egger′s target for 2020 is 40,000 tonnes collected of recyclable wood/year, equivalent to 65,000 cubic meters/year of wood from forestry," he adds. "Permanent optimization of the use of our raw material is included in Egger′s environmental protection policy."
Analyzing Romania′s economic perspectives this year, Banciu notes that although the local market is making progress, the general situation in Europe has a direct influence on the country′s development and on the markets. According to him, one of the main challenges of this year will be the implementation of the new Fiscal Code, which will influence the activity of all sectors and should contribute to a sustainable growth of the business environment.
"The new Fiscal Code of Romania has been on the public agenda for several months now," he says. "The changes adopted and the long-term procedure until its publication in the Official Gazette has created confusion in terms of planning and possible investments. (...) The outlook [of Romania′s economy] has improved in the last few months and we are optimistic regarding the growth of the economy by the end of this year. Anyway, without a stable and transparent fiscal policy, the Romanian business environment cannot register sustainable growth."
Banciu goes on to add that the infrastructure remains one of the weaknesses of our country. Without investments in highways to connect all the country territories as well as the modernization of the railways, Romania will not realise valuable progress in the near future, he says. Another local topic he points out is the lack of city ring roads, which ultimately leads to higher logistic costs and higher delivery terms in a very competitive and dynamic market. "As Romania has to improve the country infrastructure and to modernize the public administration, interested foreign investors have the chance to contribute directly and indirectly to the development in the medium and long terms by creating new working places and reviving some sectors of the economy," he concludes.
Egger Romania registered a small decrease in sales in H1 due to over-capacity production for OSB boards, but also due to smaller prices for MFC boards in Central and Eastern Europe, says Banciu, expecting a similar situation by the end of 2015. The company registered a turnover of 297 million Euro in the previous year and employs 750 persons.
GW′s managing director sees foreign investors as more selective this year
Foreign direct investment in Romania registered an increase of 45 per cent this year compared to 2014, the market also enjoying this growth in the context of regional crises - Russia-Ukraine and Greece, according to Viorel Leca, the managing director of Gebruder Weiss (GW) Romania, the local branch of the Austrian-based transport and logistics provider Gebruder Weiss. According to him, foreign investors are more selective this year compared to previous years, looking to invest in areas with legal stability, developed infrastructure and educational systems meant to support the business environment. Moreover, regions with cheaper labour cost could also represent a target in the future for potential investors, he says.
"Although numerous investments have been done in the capital area among others, it′s likely that, in the future, foreign companies will shift their attention towards less developed regions, where labour cost is cheaper," Leca tells The Diplomat - Bucharest. "However, the challenge Romania is facing in this situation is the creation of proper connection infrastructure to big economic centres in the country."
GW Romania posted last year a more than 44 million Euro turnover and this year the managing director expects to see a five per cent increase in terms of revenues. If last year the company counted 470 employees, GW expects to reach 510 people by the end of 2015, representing a growth of 8.5 per cent. The managing director further adds that that the company invests annually in equipment and systems that allow GW to start new projects and increase process efficiency and, ultimately, customer satisfaction: handling equipment, storage systems, cost control systems, IT equipment and systems.
"Moreover, we are also ready to invest in new deposits, either rented or privately owned, according to GW′s standards, in any area of Romania, on request," he says. "We want to have further organic growth by increasing and diversifying our client portfolio, to strengthen our position in the premium market by delivering high-quality services to efficiently meet existing and future customer needs," he concludes.
Gebruder Weiss is present in Romania since 1994 through a partnership with local company Cargolog and since 2005 after buying the whole share capital of the local company, whereupon the firm was re-branded as Gebruder Weiss SRL. In terms of the Group, GW posted net sales of 1.24 billion Euro in 2014, counting 6,000 employees worldwide.