RAZVAN BOTEZATU

has been appointed strategic account operations and services director for Central Europe, Israel and Turkey (CIT) at Xerox. He will manage the direct sales and marketing for document management activities. Botezatu joined Xerox in 2000 and held several positions in sales, services, operations and management. In 2011, he became strategic account operations director after heading up the document management externalization services division.

---

---
advertising
---
advertising
---
advertising
---
advertising
---
advertising
---
More on News
Four new ministers at Transports, Communications, Education and Relations with Romanians Abroad

July brought novelties in ministerial structure, with Prime Minister Dacian Ciolos discharging four ministers: Dan Costescu (Transports), Marius Bostan (Communications), Ad...
Telus International to employ up to 550 specialists in Romania this year

Telus International will increase its headcount in Romania by more than 80 per cent this year.
Orange launches convergent services in more than 90 cities on the local market

After the launch in Cluj-Napoca, Iasi and Timisoara, Orange expands nationally the range of services for households, targeting more than 90 cities.
SAP Romania will reach 500 employees by the end of the year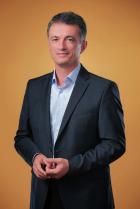 SAP Romania will employ another 100 specialists by the end of the year in its all three centres located in Bucharest, Timisoara and Cluj-Napoca.
John Griffin, Australia's Ambassador to Romania

"I want to promote Romania as a potential destination for Australian investors"
Transgaz and Transelectrica to sign agreements with specialized companies in Vietnam

During the visit of Dacian Ciolos, Prime Minister of Romania, to Vietnam in mid-July, Transgaz and Transelectrica signed Memoranda with specialized companies, the Energy fi...
Wizz Air invests 100 million Euro in its Bucharest base
In late May, Wizz Air announced the increase of its transport capacity by adding a new aircraft to its Bucharest base. Starting November 2016, the Romanian capital will hav...