Transavia opens new chicken breeding farm

Romanian company Transavia, operating locally 15 chicken breeding farms announced it opened a new facility at Cristuru Secuiesc, in Harghita county, where it plans to breed over 2 million chickens yearly. The new farm will operate 36 production halls and it will function with 30 employees. According to Ioan Popa, general manager of Transavia, the new farm will produce an yearly 5,500 tones but the production capacity will be sustain following the latest additions to the incubators station, the feed plant at Sintimbru and the butchery from Oiejdea. With an overall yearly production capacity exceeding 50,000 tones of chicken meet obtained from 15 farms, Transavia also operates two breeding farms and two incubator stations, a plant for feed, two industrial butchery plants, one plant for processing meet and two vegetable farms in Romania. In 2010, Transavia reported a turnover exceeding 100 million and a gross profit of EUR 7.5 million.

---

---

|

Daily Info

CBRE: 300,000 sqm of office space to be delivered this year in Bucharest

Over 294,000 sqm of class A office space will be delivered this year on Bucharest, on 16 real estate projects, according to a CBRE research.

Raiffeisen Leasing completes 440 million Euro securitisation transaction

The EIB Group, consisting of the European Investment Bank (EIB) and the European Investment Fund (EIF), has supported a Raiffeisen Leasing securitisation transaction of 440 mi...

British investment fund to develop new residential project in Romania

British Romanian Investment Partnership, part of the British investment fund ARDC (UK) Ltd announces the release of their second residential project developed in Romania, New ...

Airbus Helicopters to create suppliers cluster in Romania

Airbus Helicopters Industries is willing to create in Romania a cluster of suppliers capable of delivering solutions and equipment for Airbus Helicopters, the company announce...

New tenants for Prima Shops Oradea

Oasis Retail Consulting & Development, developer of Prima Shops in Oradea, announces new tenants for the retail park project: Deichmann and Pepco. Both retailers have rented a...
advertising
---
advertising
---
advertising
---
advertising
---
advertising
---
More on News
Romania takes over rotating presidency of Open Skies Consultative Commission

Romania has taken over the rotating presidency of the Open Skies Consultative Commission (OSCC), and in late September, it chaired the first meeting in a series of four for...
Six companies shortlisted to benefit from state aid for new investment projects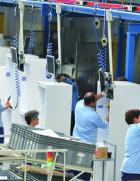 The Finance Ministry has selected six companies out of 36 applicants to grant them state aid for new investment projects that would positively impact the local economy
Providers forced to purchase gas only through the stock exchange
The Romanian Government adopted, in late September, an emergency ordinance governing the obligation of suppliers to purchase gas delivered to domestic customers "on the b...
CTP to invest 250 million Euro in Romania so far
CTP, one of the largest investors and developers of logistics projects in Romania, has invested 250 million Euro on the local market so far, according to a press release is...
The government approved the General Masterplan for transport
The government approved in the meeting on Wednesday the General masterplan for transport of Romania, announced Minister of Transport Sorin Buse
Romania's first residential complex with green energy sold 200 apartments in first phase

Cartierul Solar, the first residential complex with green energy in Romania, located in southern Bucharest and developed by Ad Astra Partners, has completed its first phase...
Timisoara sees 30-million Euro investment in a new office building project

Werk Property Group, one of the largest real estate developers in Timisoara, will invest 30 million Euro in the development of Vox Technology Park, an A-class office projec...