Exclusive

Danu Temelie, Euro Mini Storage: We are constantly analyzing new locations that could potentially be added to our network

This year, Euro Mini Storage bids on expansion. After an investment of EUR 150.000 in the expansion of their actual location, Danu Temelie, managing partner at Euro Mini Storage said that they are analyzing new locations that could potentially be added to the network. "We will continue focusing on looking for suitable locations in the Bucharest area", said Temelie. The Euro Mini Storage was rented over 90 percent until the expansion and now, with the next units added, is about 60 percent rented. The minimum rental period is 30 days and the average stay is about 9 months. The tenants are a mix of private individuals and small companies. "As it happened in every business and every area, 2011 was a challenging year. While being in full recession, we had to become more creative, to find revenue and work aggressively at cutting unnecessary expenses," Danu Temelie told The Diplomat-Bucharest about the last year challenges. According to him, the general recession forced people and businesses to rethink how they spent/invested money. "Considering that, a new service such as self-storage was at the bottom of their list, therefore we had to fight hard even to become noticed – we developed special offers, special prices," added.

---

---

|

Daily Info

EY: The Romanian M&A market size has decreased with almost 50 per cent in H1 2016

Romania occupies the fifth place among the CSE (Central and Eastern Europe) countries, with 56 transactions in H1 2016. Germany, France and Poland were the most active investo...

CBRE: 300,000 sqm of office space to be delivered this year in Bucharest

Over 294,000 sqm of class A office space will be delivered this year on Bucharest, on 16 real estate projects, according to a CBRE research.

Raiffeisen Leasing completes 440 million Euro securitisation transaction

The EIB Group, consisting of the European Investment Bank (EIB) and the European Investment Fund (EIF), has supported a Raiffeisen Leasing securitisation transaction of 440 mi...

British investment fund to develop new residential project in Romania

British Romanian Investment Partnership, part of the British investment fund ARDC (UK) Ltd announces the release of their second residential project developed in Romania, New ...

Airbus Helicopters to create suppliers cluster in Romania

Airbus Helicopters Industries is willing to create in Romania a cluster of suppliers capable of delivering solutions and equipment for Airbus Helicopters, the company announce...
advertising
---
advertising
---
advertising
---
advertising
---
advertising
---
More on News
Romania takes over rotating presidency of Open Skies Consultative Commission

Romania has taken over the rotating presidency of the Open Skies Consultative Commission (OSCC), and in late September, it chaired the first meeting in a series of four for...
Six companies shortlisted to benefit from state aid for new investment projects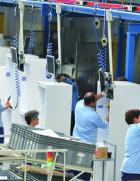 The Finance Ministry has selected six companies out of 36 applicants to grant them state aid for new investment projects that would positively impact the local economy
Providers forced to purchase gas only through the stock exchange
The Romanian Government adopted, in late September, an emergency ordinance governing the obligation of suppliers to purchase gas delivered to domestic customers "on the b...
CTP to invest 250 million Euro in Romania so far
CTP, one of the largest investors and developers of logistics projects in Romania, has invested 250 million Euro on the local market so far, according to a press release is...
The government approved the General Masterplan for transport
The government approved in the meeting on Wednesday the General masterplan for transport of Romania, announced Minister of Transport Sorin Buse
Romania's first residential complex with green energy sold 200 apartments in first phase

Cartierul Solar, the first residential complex with green energy in Romania, located in southern Bucharest and developed by Ad Astra Partners, has completed its first phase...
Timisoara sees 30-million Euro investment in a new office building project

Werk Property Group, one of the largest real estate developers in Timisoara, will invest 30 million Euro in the development of Vox Technology Park, an A-class office projec...