Exclusive

Danu Temelie, Euro Mini Storage: We are constantly analyzing new locations that could potentially be added to our network

This year, Euro Mini Storage bids on expansion. After an investment of EUR 150.000 in the expansion of their actual location, Danu Temelie, managing partner at Euro Mini Storage said that they are analyzing new locations that could potentially be added to the network. "We will continue focusing on looking for suitable locations in the Bucharest area", said Temelie. The Euro Mini Storage was rented over 90 percent until the expansion and now, with the next units added, is about 60 percent rented. The minimum rental period is 30 days and the average stay is about 9 months. The tenants are a mix of private individuals and small companies. "As it happened in every business and every area, 2011 was a challenging year. While being in full recession, we had to become more creative, to find revenue and work aggressively at cutting unnecessary expenses," Danu Temelie told The Diplomat-Bucharest about the last year challenges. According to him, the general recession forced people and businesses to rethink how they spent/invested money. "Considering that, a new service such as self-storage was at the bottom of their list, therefore we had to fight hard even to become noticed – we developed special offers, special prices," added.

---

---

|

Daily Info

Number of employees working in modern offices in Bucharest and large cities expected to reach 300.000 by yearend

According to the latest research conducted by real estate consultant DTZ Echinox, the modern office spaces in Bucharest and large regional Romanian cities accommodate over 250...

Carmen Adamescu, EY Romania: The key of city transportation planning in Bucharest might be a telephone

According to a study conducted by EY, due to the city transformation towards busier and busier transportation services and traffic and population accumulation, now it is a per...

Continental invests six million Euro in a new R&D center in Brasov

Continental AG, the leading German automotive manufacturing, inaugurated on Tuesday a new center for research and development (R&D) in Romania at Brasov, following a 6 million...

Arctic has new CEO

Turkish group Arçelik Group announced the appointment of Nihat Bayız as the new CEO of Arctic, producing home appliance products.

Lantmannen Unibake to acquire hamburger bun business in Romania

International bakery group Lantmannen Unibake announces the acquisition of Romanian company Frozen Bakery Products SA, a hamburger bun bakery in Bucharest, Romania, today owne...
advertising
---
advertising
---
advertising
---
advertising
---
advertising
---
advertising
---
More on News
Four new ministers at Transports, Communications, Education and Relations with Romanians Abroad

July brought novelties in ministerial structure, with Prime Minister Dacian Ciolos discharging four ministers: Dan Costescu (Transports), Marius Bostan (Communications), Ad...
Orange launches convergent services in more than 90 cities on the local market

After the launch in Cluj-Napoca, Iasi and Timisoara, Orange expands nationally the range of services for households, targeting more than 90 cities.
Telus International to employ up to 550 specialists in Romania this year

Telus International will increase its headcount in Romania by more than 80 per cent this year.
John Griffin, Australia's Ambassador to Romania

"I want to promote Romania as a potential destination for Australian investors"
SAP Romania will reach 500 employees by the end of the year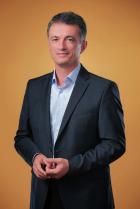 SAP Romania will employ another 100 specialists by the end of the year in its all three centres located in Bucharest, Timisoara and Cluj-Napoca.
Transgaz and Transelectrica to sign agreements with specialized companies in Vietnam

During the visit of Dacian Ciolos, Prime Minister of Romania, to Vietnam in mid-July, Transgaz and Transelectrica signed Memoranda with specialized companies, the Energy fi...
Wizz Air invests 100 million Euro in its Bucharest base
In late May, Wizz Air announced the increase of its transport capacity by adding a new aircraft to its Bucharest base. Starting November 2016, the Romanian capital will hav...