Exclusive

Danu Temelie, Euro Mini Storage: We are constantly analyzing new locations that could potentially be added to our network

This year, Euro Mini Storage bids on expansion. After an investment of EUR 150.000 in the expansion of their actual location, Danu Temelie, managing partner at Euro Mini Storage said that they are analyzing new locations that could potentially be added to the network. "We will continue focusing on looking for suitable locations in the Bucharest area", said Temelie. The Euro Mini Storage was rented over 90 percent until the expansion and now, with the next units added, is about 60 percent rented. The minimum rental period is 30 days and the average stay is about 9 months. The tenants are a mix of private individuals and small companies. "As it happened in every business and every area, 2011 was a challenging year. While being in full recession, we had to become more creative, to find revenue and work aggressively at cutting unnecessary expenses," Danu Temelie told The Diplomat-Bucharest about the last year challenges. According to him, the general recession forced people and businesses to rethink how they spent/invested money. "Considering that, a new service such as self-storage was at the bottom of their list, therefore we had to fight hard even to become noticed – we developed special offers, special prices," added.

---

---

|

Daily Info

Law firm CMS Cameron McKenna lobbies for enabled investments on local capital market

Legal office of CMS Cameron McKenna resumed this week the meetings with the key decision representatives of major financial institutions and organizations in Romania in order ...

Symmetrica: 7 per cent business increase on a stagnant market

Symmetrica, the local leader on the paving bricks and vibropressed curbs market and the largest local producer, reported a 7 per cent increase in business in 2013 both in valu...

Bucharest underground mainline, motor way to Brasov and Magurele laser among the first 20 public investment projects

The first 20 public investment projects which will have the highest financing from the national budget in 2014 will qualify for about EUR 1.12 billion (5 billion lei), of a to...

Orange Romania consolidates business to EUR 934 million in 2013

The revenues of Orange Romania rose in 2013 with 1.8 per cent to EUR 934 million, mainly payable to the significant increase of mobile internet services. The company posts tot...

Romtelecom and Cosmote Romania announce key performance indicators for 2013 fiscal year

For the full year 2013, Romtelecom continued its growth path, based on its defined key development pillars: turn-key ICT solutions, TV, and Internet services, with a solid con...
advertising
---
advertising
---
advertising
---
advertising
---
advertising
---
More on News
Traian Basescu wants Schengen accession by October

Following a recent meeting in Brussels with European Council President Hermann von Rompuy, Romanian President Traian Basescu said that he had informed the European official...
Consumers subsidize green energy production by extra 34 percent

Energy consumers paid EUR 415.8 million last year to support renewable energy through the green certificate system, up 33.7 percent on the EUR 310.8 million in 2012, despit...
Romania and Turkey to strengthen energy cooperation

Minister Delegate for Energy, Constantin Nita, met with Turkey's Minister of Energy and Natural Resources, Taner Yildiz, in late January
Sebes gets EUR 40 million production hall
Star Transmission, owned by the German-based multinational automotive corporation Daimler, has opened a gearbox with double clutch assembly unit for Mercedes-Benz passenger...
EC Environment Commissioner: 'Proper waste management could create 30,000 local jobs'

Thousands of jobs could be created if Romania implements existing waste management legislation to the full, Janez Potocnik, the European Commissioner for the Environment, t...
PM: Bucharest-Comarnic highway to be ready in 2017

The long-awaited and disputed highway linking Bucharest to Comarnic is expected to be completed in 2017, the Premier Victor Ponta said during a press meeting earlier this m...
DTZ takes over property management of Cocor store in Bucharest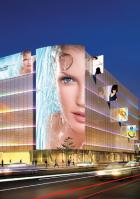 DTZ Echinox has been assigned to take over the property management operations of the Cocor store in Bucharest . The consultant's mission is to attract new tenants to the ...