Animal rights groups: Bucharest stray dog problem could be solved by 2012

Bucharest could solve its stray dog problem by late 2012 if a consistent programme of capturing, neutering and releasing dogs continues unopposed, according to animal rights groups

However the Bucharest City Hall believes that the capital can only control the dog numbers with the addition of an animal shelter to house up to 20,000 strays.
Currently Austrian charity Vier Pfoten is working with Bucharest City Hall's Authority for Supervising Animals (ASPA) on a city programme which sees the the capture, sterilisation and release of stray dogs back to the place where they were picked up.
The charity and City Hall reached a deal last September, after Bucharest Mayor Sorin Oprescu agreed to stop allowing the killing of street dogs.
"If we are working consistently - with enough resources to keep going at a steady pace of castration and neutering of around 100 a day - we could solve the problem in two years," says project coordinator of Vier Pfoten Romania, Anca Tomescu.
Meanwhile ASPA general director Robert Lorentz argues the new project is making a difference, but says that this will not be enough to "solve the problem".
A major issue is that dogs are entering this city from the outskirts of Bucharest - especially from the county of Ilfov, which has no policy on sterilising dogs.
ASPA currently has two shelters in Bucharest which house up to 225 dogs, but is planning to boost this with a mega-shelter which could host 20,000 dogs.
The plan is to renovate a broken-down 1960s Institute of Agricultural Research close to the city as a home for stray hounds.
Vier Pfoten estimates there are around 15,000 to 25,000 stray dogs in Bucharest - however ASPA estimates this figure is double. Both agree that around half the canine population are neutered.
Lorentz says ASPA has killed no street dogs since the City Hall and Vier Pfoten signed the deal. ■


---

---

|

Daily Info

Law firm CMS Cameron McKenna lobbies for enabled investments on local capital market

Legal office of CMS Cameron McKenna resumed this week the meetings with the key decision representatives of major financial institutions and organizations in Romania in order ...

Symmetrica: 7 per cent business increase on a stagnant market

Symmetrica, the local leader on the paving bricks and vibropressed curbs market and the largest local producer, reported a 7 per cent increase in business in 2013 both in valu...

Bucharest underground mainline, motor way to Brasov and Magurele laser among the first 20 public investment projects

The first 20 public investment projects which will have the highest financing from the national budget in 2014 will qualify for about EUR 1.12 billion (5 billion lei), of a to...

Orange Romania consolidates business to EUR 934 million in 2013

The revenues of Orange Romania rose in 2013 with 1.8 per cent to EUR 934 million, mainly payable to the significant increase of mobile internet services. The company posts tot...

Romtelecom and Cosmote Romania announce key performance indicators for 2013 fiscal year

For the full year 2013, Romtelecom continued its growth path, based on its defined key development pillars: turn-key ICT solutions, TV, and Internet services, with a solid con...
advertising
---
advertising
---
advertising
---
advertising
---
advertising
---
More on News
Traian Basescu wants Schengen accession by October

Following a recent meeting in Brussels with European Council President Hermann von Rompuy, Romanian President Traian Basescu said that he had informed the European official...
Consumers subsidize green energy production by extra 34 percent

Energy consumers paid EUR 415.8 million last year to support renewable energy through the green certificate system, up 33.7 percent on the EUR 310.8 million in 2012, despit...
Romania and Turkey to strengthen energy cooperation

Minister Delegate for Energy, Constantin Nita, met with Turkey's Minister of Energy and Natural Resources, Taner Yildiz, in late January
Sebes gets EUR 40 million production hall
Star Transmission, owned by the German-based multinational automotive corporation Daimler, has opened a gearbox with double clutch assembly unit for Mercedes-Benz passenger...
PM: Bucharest-Comarnic highway to be ready in 2017

The long-awaited and disputed highway linking Bucharest to Comarnic is expected to be completed in 2017, the Premier Victor Ponta said during a press meeting earlier this m...
EC Environment Commissioner: 'Proper waste management could create 30,000 local jobs'

Thousands of jobs could be created if Romania implements existing waste management legislation to the full, Janez Potocnik, the European Commissioner for the Environment, t...
DTZ takes over property management of Cocor store in Bucharest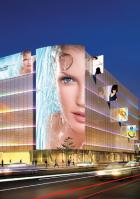 DTZ Echinox has been assigned to take over the property management operations of the Cocor store in Bucharest . The consultant's mission is to attract new tenants to the ...