Communism favoured by half of Romanians

Romania's job insecurity and a drop in the quality of life has brought forth a wave of nostalgia for the Communist period. The majority of Romanians have neutral or favourable views on Communism, according to a pole by the Institute of Investigating Communist Crimes (IICCMER) and CSOP. 46 per cent of Romanians polled have a favourable view of Communism and five per cent a neutral view. Around 49 per cent of Romanians believe that life was much better in the country before 1989. However most Romanians believe it is necessary to set up a Day of Remembrance for the Victims of Communism and a National Museum of Communist Dictators in Romania.

---

---

|

Daily Info

King and Candy Crash Saga move into Opera Center office building

King, the leading interactive entertainment company for the mobile word, leased an office space of 1.700 sqm in Opera Center, which will host the company Creative Studio in Bu...

BNP Paribas Real Estate posts results for 2013

The company posted EUR 716 million turnover last year, up by 8 per cent over previous year. Also, it registered EUR 164 million operating profit, up by 6 per cent in 2013 comp...

Enel Green Power achieves EUR 2.78 billion revenues in 2013

Enel Green Power announced the financial results for 2013, with total revenues of EUR 2.78 billion in 2013, an advance of 12.2 percent compared to 2012, when it achieved EUR 2...

Fondul Proprietatea to be listed on London Stock Exchange specialist market

Administrator of the Fondul Proprietatea (FP) sovereign fund, US company Franklin Templeton, suggests the secondary listing of FP on the specialist market for closed-end inves...

Law firm CMS Cameron McKenna lobbies for enabled investments on local capital market

Legal office of CMS Cameron McKenna resumed this week the meetings with the key decision representatives of major financial institutions and organizations in Romania in order ...
advertising
---
advertising
---
advertising
---
advertising
---
advertising
---
More on News
Traian Basescu wants Schengen accession by October

Following a recent meeting in Brussels with European Council President Hermann von Rompuy, Romanian President Traian Basescu said that he had informed the European official...
Consumers subsidize green energy production by extra 34 percent

Energy consumers paid EUR 415.8 million last year to support renewable energy through the green certificate system, up 33.7 percent on the EUR 310.8 million in 2012, despit...
Romania and Turkey to strengthen energy cooperation

Minister Delegate for Energy, Constantin Nita, met with Turkey's Minister of Energy and Natural Resources, Taner Yildiz, in late January
Sebes gets EUR 40 million production hall
Star Transmission, owned by the German-based multinational automotive corporation Daimler, has opened a gearbox with double clutch assembly unit for Mercedes-Benz passenger...
EC Environment Commissioner: 'Proper waste management could create 30,000 local jobs'

Thousands of jobs could be created if Romania implements existing waste management legislation to the full, Janez Potocnik, the European Commissioner for the Environment, t...
PM: Bucharest-Comarnic highway to be ready in 2017

The long-awaited and disputed highway linking Bucharest to Comarnic is expected to be completed in 2017, the Premier Victor Ponta said during a press meeting earlier this m...
DTZ takes over property management of Cocor store in Bucharest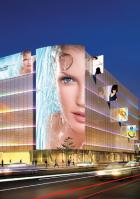 DTZ Echinox has been assigned to take over the property management operations of the Cocor store in Bucharest . The consultant's mission is to attract new tenants to the ...